Welcome to the greatest time of year: The Stanley Cup Playoffs. For the second consecutive season, the Blackhawks will not be taking part in these playoffs, but there is still reason for excitement among hockey fans. The NHL has the greatest playoffs of any sport. Yes, it's better than the NFL. I don't even want to hear "March Madness."
The Stanley Cup Playoffs are truly "madness." Two long, grueling months filled with edge-of-your-seat hockey finalized with one team skating the greatest trophy in sports around the ice. 16 teams. Only one champion. It is truly a bloodbath, and those of us at Four Feathers cannot wait.
The Washington Capitals will look to defend their title as 15 other clubs look to dethrone the defending champions. Will Alexander Ovechkin have another summer for the storybooks? Will the Penguins claim their fourth cup since 2009? Or will a newcomer claim the ultimate prize. Patrick Comiskey, Ron Luce, Tony Marchese and Jonnie Nonnie are here to preview all of this and toss out our predictions.
But first, with the Blackhawks on the outside looking in, who are we rooting for in these playoffs?
Rooting Interests
Comiskey: Winnipeg Jets
Even though Winnipeg resides in the Central Division, I love every thing about them. The white out: awesome. The noise: deafening. Oh, and they also have Dustin Byfuglien. Go Jets Go!
Luce: Carolina Hurricanes
I really like the Hurricanes just because of the team atmosphere and the talent. However, as much as it pains me, the team I like to possibly win the cup is the Blues. The Blues have been so good, making the playoffs after being dead last in the NHL on January 4th. They have the talent to win the whole thing, especially if Jordan Binnington continues to play as well as he has played this year.
Marchese: Colorado Avalanche
I've always had a soft spot for Colorado ever since Peter Forsberg graced the cover of the first hockey video game I ever owned — NHL 98. Loading into the game and playing the default matchup of Colorado vs. Detroit while learning to play probably formed this rooting interest, although today it really doesn't hold any water as the Forsberg, Roy, and Sakic era is long gone. However, since I used them to beat Detroit on the regular, LETS GO AVS!
Nonnie: Calgary Flames
One thing that really draws me to the Flames is how complete their game is. After watching an extremely top-heavy Blackhawks team all season, it was refreshing to tune into a Hockey Night in Canada broadcast to watch the Flames beat up on various Western Conference foes using all four lines. Sure, they have their top guns in Johnny Hockey, Sean Monahan and Elias Lindholm, but their depth lines wear teams down and end up creating even more opportunities for said top scorers. Add in one of my favorite NHL defensemen in Mark Giordano and former Blackhawk winger Michael Frolik for some nostalgia and I'm sold on the Flames.
Under the newer playoff format, these first round round series feature predominately inter-division match-ups. Let's dive in.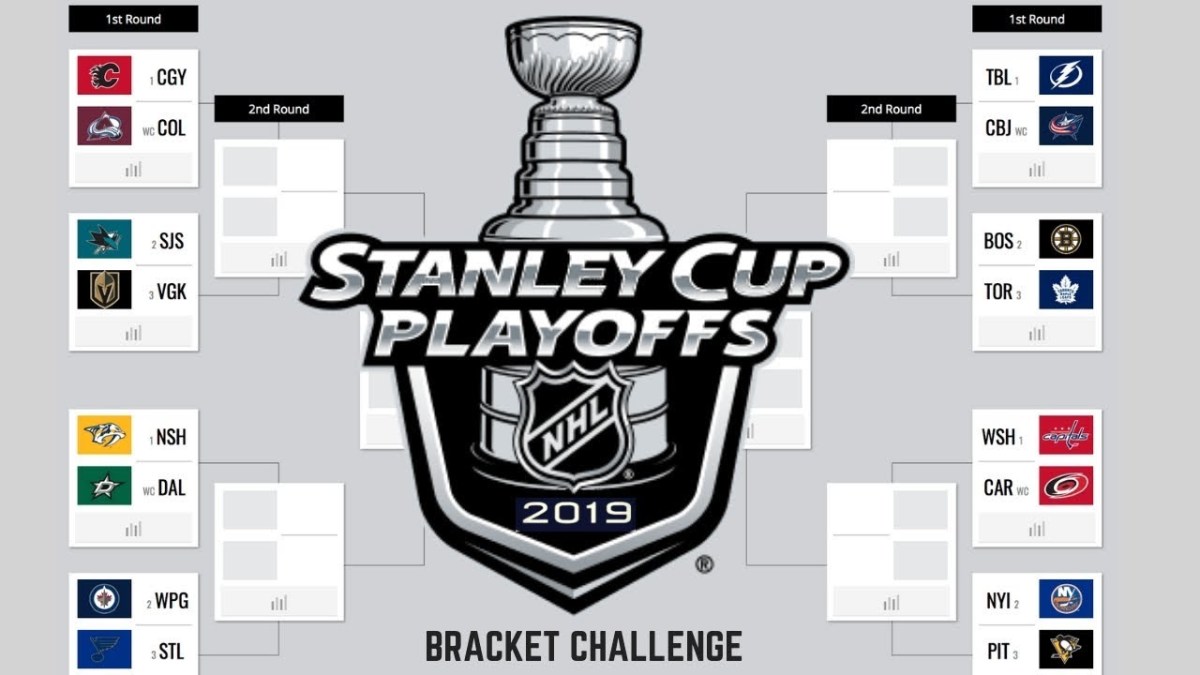 Calgary Flames vs. Colorado Avalanche
Preview: Two teams who can light the lamp with the best of them. Expect a lot of goals to be scored here. Calgary amassed the second best record in the NHL (50-25-7; 107 points) and match up with Colorado, who carries the worst record of any playoff team (38-30-14; 90 points). Goaltending will be the question for the West's number 1 seed, who split the duties all year between Mike Smith and David Rittich. Riitich had better numbers than Smith in every statistical category, but Calgary is giving the veteran Smith the nod in game one. Colorado comes into the playoffs as hot as anyone, taking points in nine of their last ten games.
Goaltender Matchup: Mike Smith (23-16-2) GAA: 2.73 SV%: .898 vs. Philipp Graubauer (18-9-5) GAA: 2.64 SV%: .917
Leading Scorers: CGY: Johnny Gaudreau (99 Points) COL: Nathan MacKinnon (99 Points)
Regular Season Series: 3-0 Calgary (One win came in OT)
Predictions:
Comiskey: Flames in 7.
Calgary can score with ease and that should be enough to move past the Avs, but for the long term, they are going to need one goalie to step up and be the guy.
Luce: Flames in 6.
The Flames have been a sensational team all season long and their depth will be too much for the Avs to match. The Avs are good, but this series belongs to the Flames.
Marchese: Avalanche in 6.
I'll be the only one to pick this for no reason other than I picked the Avs as my rooting interest. The Flames have been amazing all year, but the Avalanche will keep on rolling here.
Nonnie: Flames in 6.
Can't go against my rooting interest in round one. Colorado will get enough timely scoring to make this series an intruiging six-game battle, but at the end of the day the balance in the Calgary lineup will be too much for the Avs to navigate.
Nashville Predators vs. Dallas Stars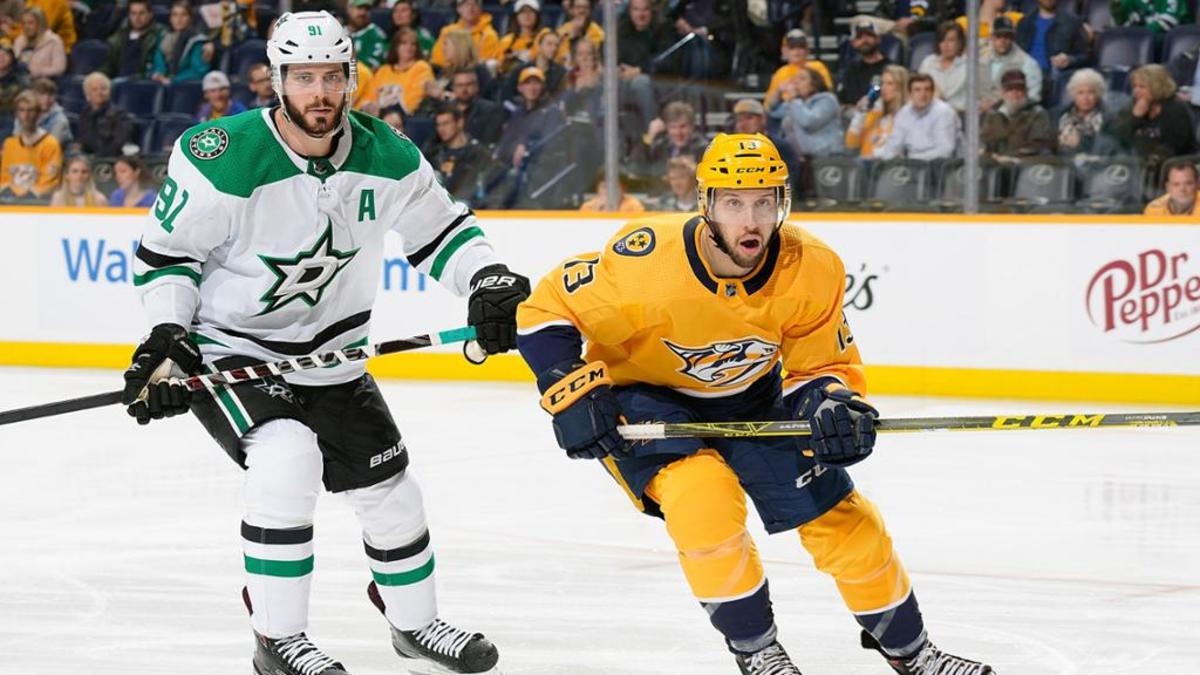 Preview: Nashville clinched the Central Division on the last day of the regular season and will play host to the first wild card team, the Dallas Stars. Nashville comes into the playoffs hot, going 7-2-1 over their last ten. Typically, teams stress staying out of the box, but Dallas may be able to survive without doing so, as Nashville carries a league worst power play. Dallas struggles putting the puck in the net (they scored the third fewest goals in the league) and 43% of their goals came from their top line. If Nashville is able to shut down that line, Dallas's lack of depth could result in a quick series.
Goaltender Matchup: Pekka Rinne (30-19-4) GAA: 2.42 SV%: .918 vs Ben Bishop: (27-15-2) GAA: 1.98 SV%: .934
Leading Scorers: NSH: Johansen (64 Points) DAL: Seguin (80 Points)
Regular Season Series: 3-2 Nashville (2 of Nashville's wins came in OT)
Predictions:
Comiskey: Stars in 7.
This isn't even a hater pick. Something doesn't seem right about this Nashville team. On paper, it might be their best ever, but it hasn't fully come together. Their dreadful power play will come back to bite them and Dallas pulls off the upset.
Luce: Predators in 5.
It's no secret, the Predators are simply a better team than the Stars, especially in a seven game series. No doubt Nashville wins.
Marchese: Stars in 6.
Patrick wants to say he's picking Dallas and it isn't a hater pick, but I'll come right out and say it… I just hate Nashville and everything about it. Maybe it's the country music, maybe it's Pekka Rinne? Either way, don't care. Dallas and the "best jersey in sports" move on to round two.
Nonnie: Predators in 5.
As much as we hate Nashville here at Four Feathers, there's no denying that Bridgestone Arena has turned into a raucous environment. Pair home-ice advantage with the Preds' ability to generate offense from the blue line and Dallas will be golfing soon.
San Jose Sharks vs. Vegas Golden Knights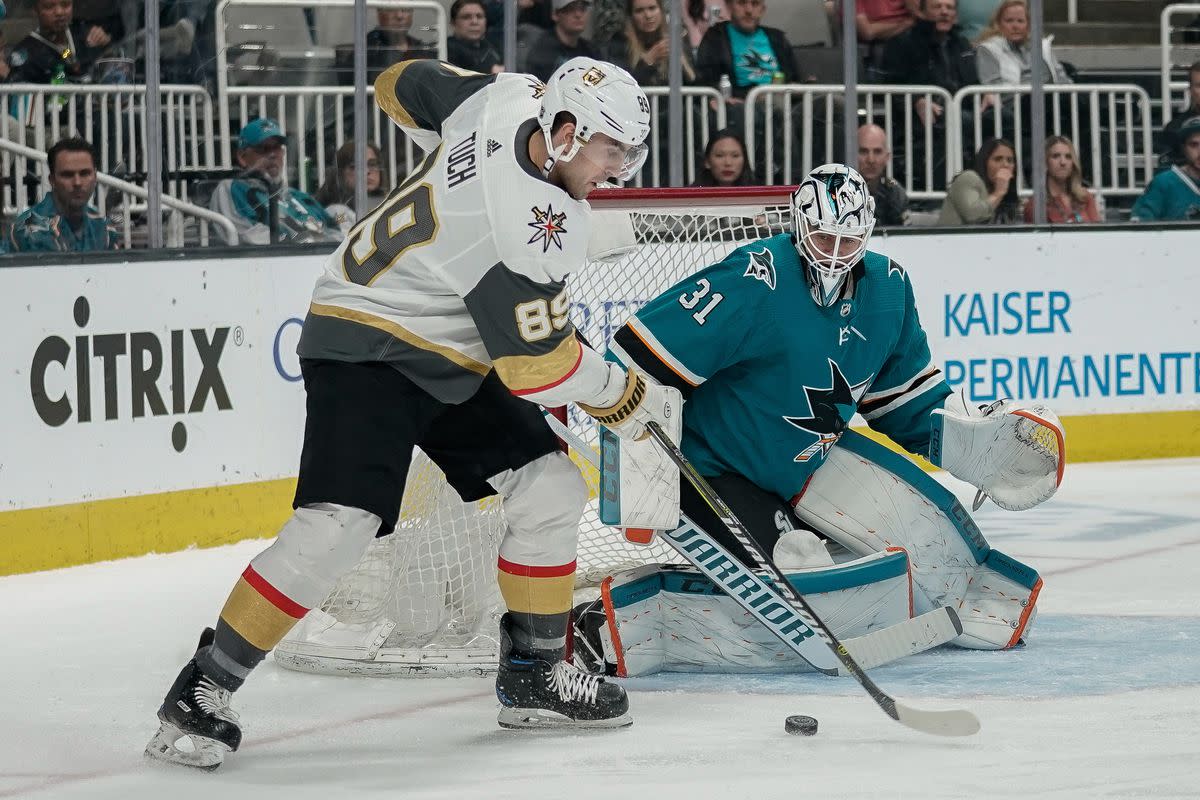 Preview: After winning the Western Conference last year, the Knights arrive poised to make another run to the Stanley Cup Final. After facing some issues in the regular season (a 16 point decrease from last year's mark), Vegas is set to match up with the San Jose Sharks. Vegas strengthened their roster with newcomers Paul Stastny, Max Pacioretty and Mark Stone. San Jose added former Norris Trophy winner Erik Karlsson. The Sharks also feature four skaters who eclipsed the 40 goal mark this season and finished second in the league in scoring as a team. The goaltending matchup is one to keep an eye on, as Marc-Andre Fleury missed time with injuries this year and Martin Jones struggled.
Goaltender Matchup: Martin Jones (36-19-5) GAA: 2.94 SV%: .896 vs. Marc-Andre Fleury (35-21-5) GAA: 2.51 SV%: .913
Leading Scorers: SJS: Brett Burns (83 Points) VGK: Mark Stone (73 Points)
Regular Season Series: 2-2 (San Jose won 1 game in OT)
Predictions:
Comiskey: Golden Knights in 6.
I loved the Knights adding Mark Stone at the deadline. This is going to be a great series, but I believe Vegas's top six is going to be too much for San Jose to handle.
Luce: Golden Knights in 7.
The Golden Knights are an incredibly fast team. With an arguably better roster than the one they had a year ago, they have an excellent chance going into the playoffs. The Sharks have been bad of late as well, going into the playoffs on a cold streak. This series spells disaster for the Sharks.
Marchese: Sharks in 7.
Ever seen a knight try and swim in a full suit of armor? It's not pretty.
Add some Sharks to this water and the Knight is 100% dead. No way the Knights get out of the Shark Tank alive.
Nonnie: Golden Knights in 7.
The Sharks lost nine of their last 12 games to finish out the regular season. I'm no hockey locker room expert, but that stretch surely cannot inspire confidence heading into the second season. The Knights play with so much swagger that I was debating making this series much shorter, but it's more appropriate for them to prevail in true dramatic Vegas fashion with Mark Stone scoring the overtime winner in game seven at the Shark Tank.
Winnipeg Jets vs. St Louis Blues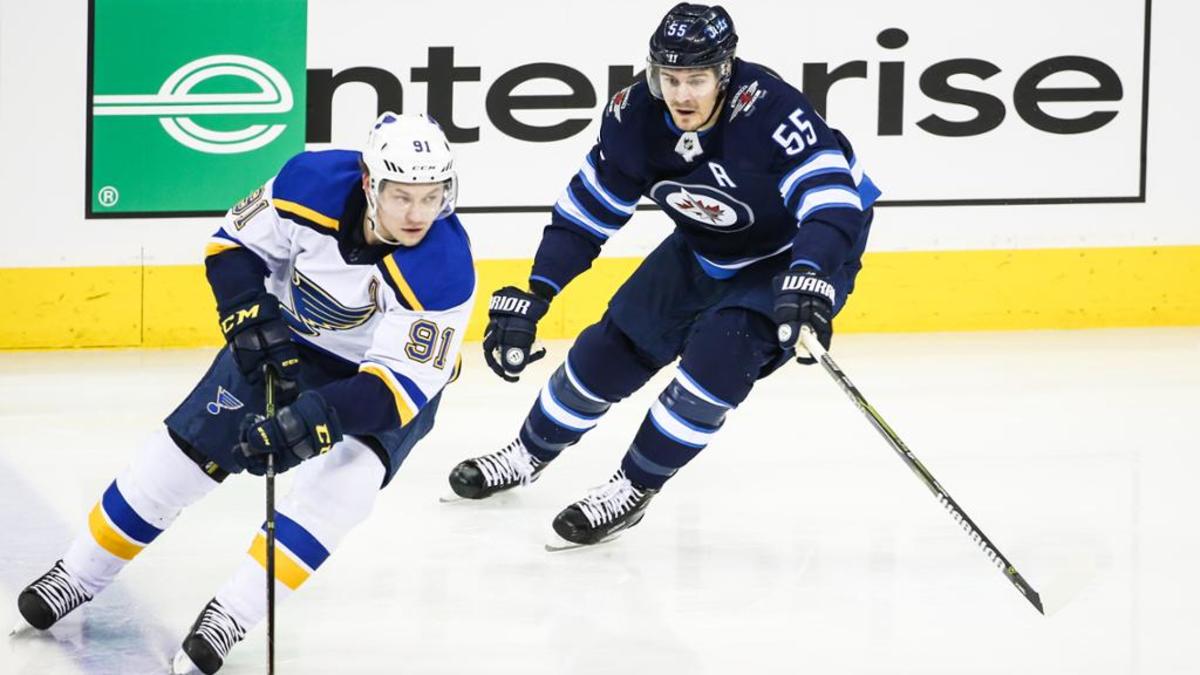 Preview: The Blues were in dead last in the NHL in January. Making the playoffs seemed impossible. St. Louis fired their coach and rattled off 30 wins in their final 45 games. They come into the playoffs as the hottest team in hockey. Rookie goaltender Jordan Binnington came in and gave St. Louis their first true number one goalie in some time. Winnipeg on the other hand, comes in pretty cold. At 14-14-3 since February 1, the Jets have some things to figure out. The Blues feature top-notch scoring in Vladamir Tarasenko, Ryan O'Reilly, and Brayden Schenn. They also hold the league's fifth best defense. Winnipeg will be getting Dustin Byfuglien and Josh Morrisey back on defense. They will be tasked with shutting down St. Louis' red hot offense. The Blues will need to stay out of the box as Winnipeg holds the league's fourth best power play. Between the play on the ice and Winnipeg's white out, this will be a good one.
Goaltender Matchup: Connor Hellebuyck (34-23-3) GAA: 2.90 SV%: .913 vs Jordan Binnington (24-5-1) GAA: 1.89 SV%: .927
Leading Scorers: WPG: Blake Wheeler (91 Points) STL: Ryan O'Reilly (77 Points)
Regular Season Series: 3-1 Winnipeg (WPG won 1 game in OT)
Predictions:
Comiskey: Blues in 6.
This one hurts. I like Winnipeg a lot. I HATE St Louis. But at the end of the day, you have two teams trending in two completely different directions. St. Louis finally has a goalie and that could prove scary.
Luce: Blues in 7.
The Blues have been the best team in hockey during the second half. On the flip side, the Jets have been average going into the playoffs. I would argue the Blues are the toughest team to beat right now in the West.
Marchese: Jets in 6.
The Jets will have to play physical if they want to win this battle. The Blues offense is outstanding and coming in hot, but having a physical force like Big Buff can change the tone of a playoff series quickly with a few big hits. Let's not slouch on the Jets offense either as Blake Wheeler can take over a game as well as anyone.
Nonnie: Jets in 7.
Even though St. Louis has been rolling from January on, the ball stops here. No disrespect to Blues phenom young netminder Jordan Binnington, but the Winnipeg white out will swallow him alive in game seven when the Jets decide to fire anything and everything at the net with big bodies screening out in front. The fairytale ends in round one. Suck it, St. Louis.
Tampa Bay Lightning vs. Columbus Blue Jackets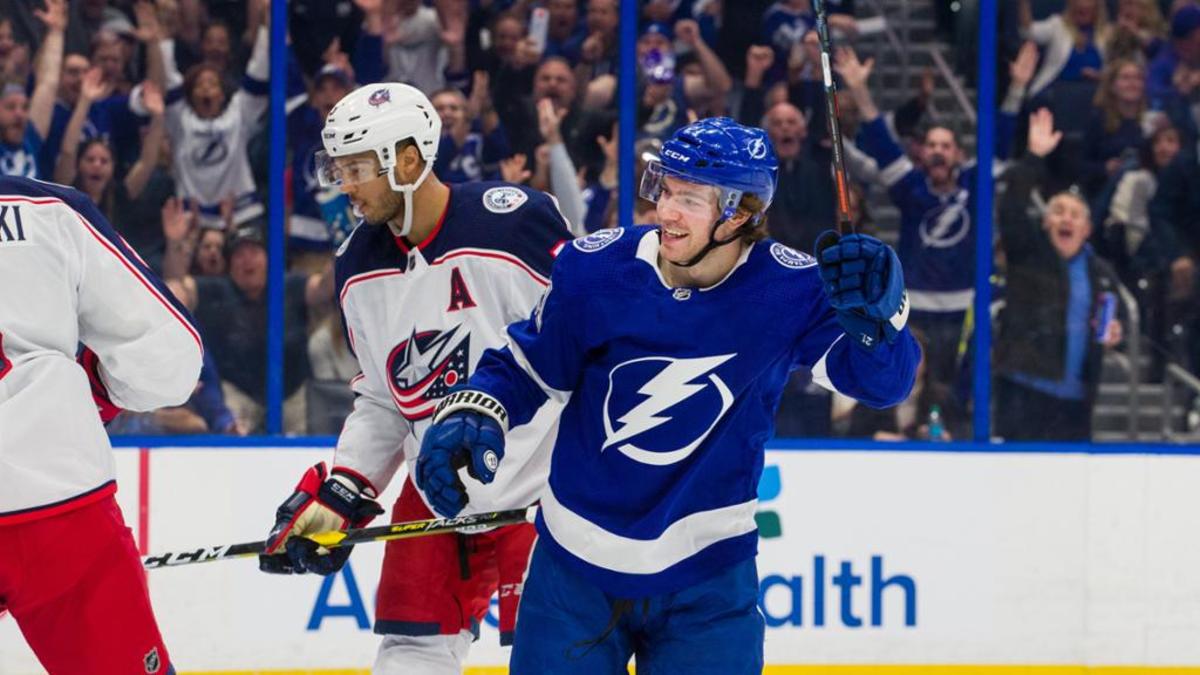 Preview: Tampa Bay put together arguably the greatest regular season in NHL history. They tied the 1995-96 Red Wings with the most wins ever: 62. They can do it all. They scored the most goals in the league. They have the number one power play and the number one penalty kill to go along with it. One of the league's top goalies plays in Tampa as well. Columbus faces the most daunting task of any playoff team. If they are going to pull of one of the biggest upsets in NHL history, the Jackets will need to lean on two-time Vezina winner Sergei Bobrovsky. Columbus can put the puck in the net effectively, and they added Matt Duchene and Ryan Dzingel at the trade deadline to further their offensive efforts. The Jackets also sport the league's second best penalty kill that will look to slow down the juggernaut that is Tampa's power play.
Goaltender Matchup: Andrei Vasilevskiy (39-10-4) GAA: 2.40 SV%: .925 vs Sergei Bobrovsky (37-24-1) GAA: 2.58 SV%: .913
Leading Scorers: TB: Nikita Kucherov (128 Points) CBJ: Artemi Panarin (87 Points)
Regular Season Series: 3-0 Tampa Bay
Predictions:
Comiskey: Lightning in 7.
I actually think this series is going to be a lot closer than anyone is thinking. Yes, this might be the greatest hockey team of all time, but Columbus can play. Their "all in" approach at the deadline will put the Bolts to the test. In the end, the better team wins in seven though.
Luce: Lightning in 5.
The Lightning tied the NHL record for wins in a season with 62. Although someone may figure them out in the playoffs, it won't be the Blue Jackets.
Marchese: Lightning in 4.
You've been… THUNDERSTRUCK.
Nonnie: Lightning in 4.
The term "wagon" has been thrown around a bit too frequently this hockey season, but the Bolts are literally the definition of a wagon. 62-16-4. 128 points. President's Trophy. Columbus snuck into the postseason by just two points and still have lingering tension among top personnel. The sweep may be a bold prediction, but I just see Kucherov, Stammer, and Point having a field day against the Jackets.
Boston Bruins vs. Toronto Maple Leafs
Preview: Here we go again. A rematch of last season's first round series – the Bruins and Maple Leafs will meet again to open the playoffs. Last season, Boston took this series in seven games. Will the Leafs be able to finally get back to the Stanley Cup Final? They will have the toughest road to get there. Boston finished the season tied for the league's second-best record with Calgary. Even if Toronto moves past Boston, they would likely then have to go through Tampa in the second round. The Maple Leafs will bring plenty of offense, as they scored the second most goals in the league thanks to Mitch Marner, John Tavares, Auston Matthews, and Morgan Reilly all eclipsing the 70-point total. On the other hand, Boston allowed the third fewest goals in the league so something has to give.
Something to watch: Boston brings the league's third-best power play into the playoffs and may have plenty of opportunities to cash in on it as Toronto took more penalties than any other team this season. Brad Marchand and David Pastrnak will look to cease opportunities, as both finished top-ten in the league in power play points.
Goaltender Matchup: Tuukka Rask (27-13-5) GAA: 2.48 SV%: .912 vs Frederik Andersen (36-16-7) GAA: 2.77 SV%: .917
Leading Scorers: BOS: Brad Marchand (100 Points) TOR: Mitch Marner (94 Points)
Regular Season Series: 3-1 Boston
Predictions:
Comiskey: Bruins in 6.
Toronto simply got a tough draw here. I would like them against a lot of other teams, but Boston is one of the best teams in the league. Bruins close out the series north of the border and leave Toronto's fans devastated one more time.
Luce: Maple Leafs in 7.
It's revenge time for the Maple Leafs. This is a better overall Leafs team and there is a good chance they can defeat their biggest rival in the first round.
Marchese: Bruins in 5.
The Leafs win game one and are then promptly beaten in four straight. That would be so Toronto.
Nonnie: Bruins in 6.
Boston is an opportunistic team with plenty of skill. The Leafs "just outscore everyone" approach will not hold up against the Bruins. I fully expect Toronto to burn to the ground over the next two weeks.
Washington Capitals vs. Carolina Hurricanes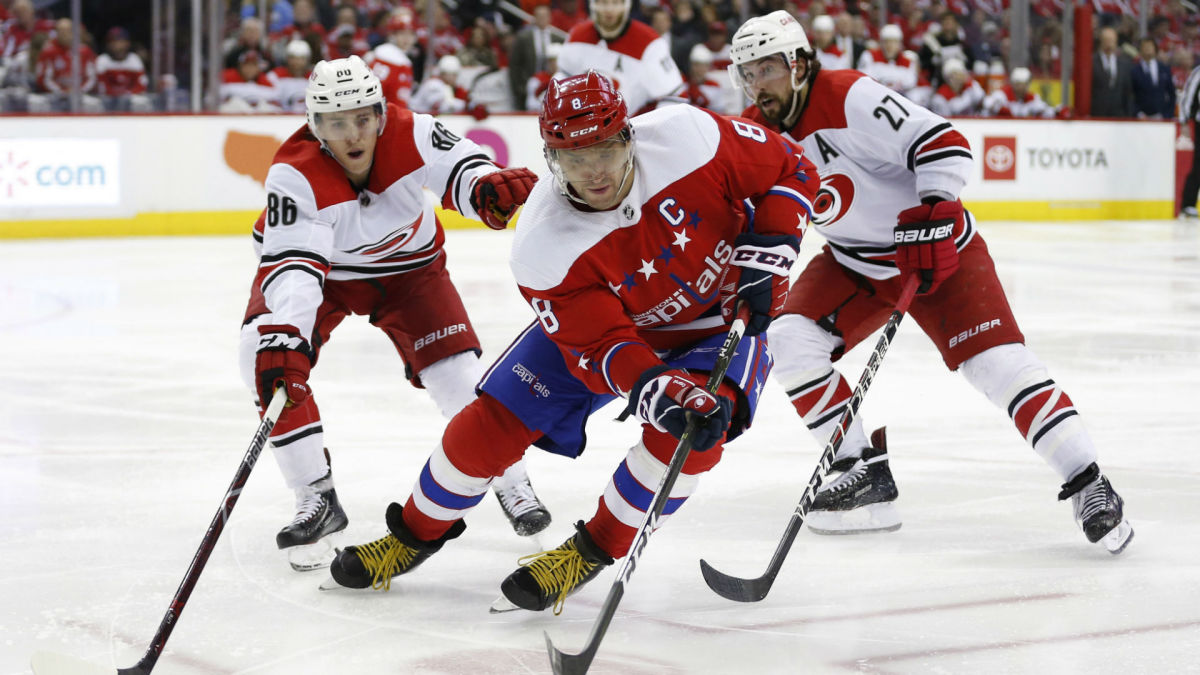 Preview: The Caps were in an odd spot to start the year. They were the defending champions, but also had a new head coach. Despite the challenge, first-year coach Todd Reirden led the team to the Metropolitan Division championship. The Caps feature plenty of firepower as Alex Ovechkin, Niklas Backstrom and Evgeny Kuznetsov led the team to the league's fifth-best offense. They will go to battle with a "Bunch of Jerks" from Carolina. The Hurricanes captured their first playoff birth in ten years. Carolina surprised everyone and amassed 99 points on the year, a 16-point improvement from last year. They will try to slow down Washington's potent offense by keeping pucks off their netminder. Carolina allowed the third-fewest shots on goal this season, and keeping that up will be key to pulling off the upset in this matchup.
Goaltender Matchup: Braden Holtby (32-19-5) GAA: 2.82 SV%: .911 vs Petr Mrazek (23-14-3) GAA: 2.39 SV%: .914
Leading Scorers: WSH: Alex Ovechkin (89 Points) CAR: Sebastian Aho (83 Points)
Regular Season Series: 4-0 Washington (1 win came in a shootout)
Predictions:
Comiskey: Capitals in 5.
It's been a fun ride for Carolina, but they're about to hit a brick wall. This Caps team may be poised to repeat and should make quick work of the jerks.
Luce: Hurricanes in 7.
The Cinderella story of the playoffs are those "Bunch of Jerks" from the Carolinas. The Hurricanes can be the surprise team in this year's Cup run with that same kind of magic that the Golden Knights had last year. This is my biggest round one upset.
Marchese: Hurricanes in 6.
Ovi had his turn. Repeating deep cup runs is harder than it looks. Carolina comes out, has fun, and wins this in six. Imagine the celebrations being planned for series clinchers.. that's what I'm here for. Now if they could only find a way to borrow Gritty from Philly for the Cup run…
Nonnie: Capitals in 5.
Alex Ovechkin finally got his hands on the Stanley Cup last season, and he sure as hell won't let the dream of repeating slip away in the first round. He scored 51 goals in the regular season and I expect to see him light the lamp plenty more in this series. As lovable as the Canes have been because of their team celebrations throughout the season, they'll only be doing the SKOL chant one time this postseason. They might not be aware, but they would need four to advance. Adios, Jerks.
New York Islanders vs. Pittsburgh Penguins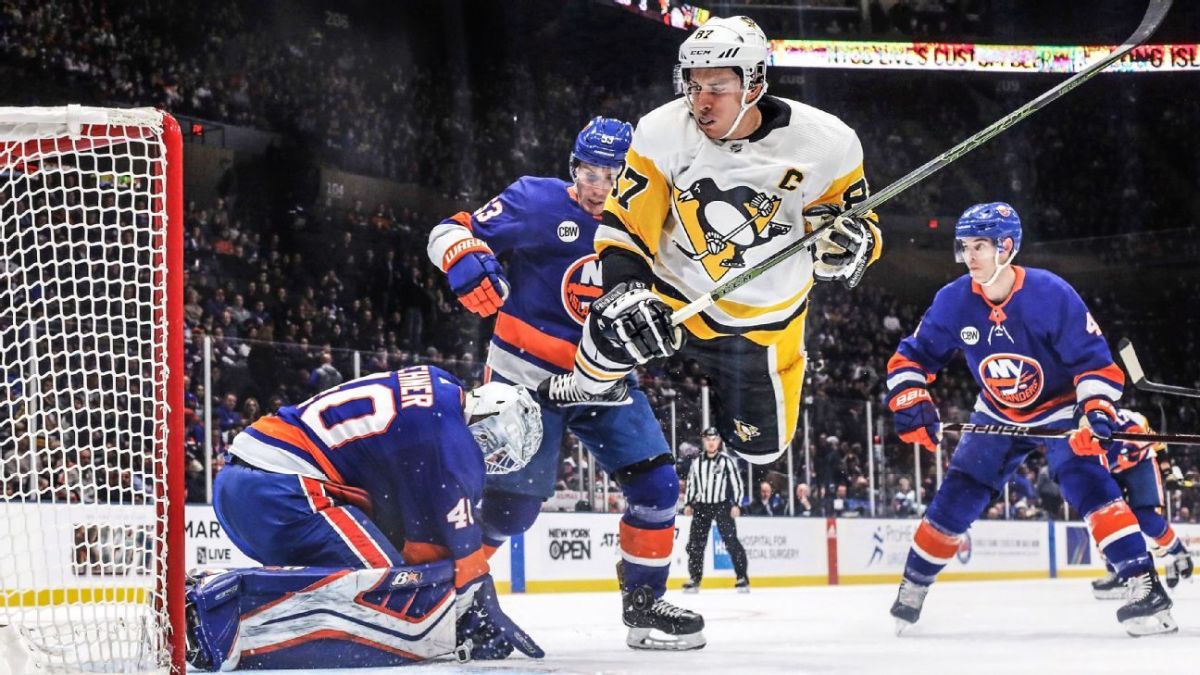 Preview: Here's another team that shocked the hockey world – the New York Islanders. They not only made the playoffs, but secured home-ice advantage for the first time since 1988. Those home games will be played at Nassau Coliseum, their old barn on Long Island. With reigning Stanley Cup-winning coach Barry Trotz behind the bench, the Islanders turned their league-worst defense into the league's best defense, allowing the fewest goals in hockey this season. Led by 21-year-old Matthew Barzal, the Islanders will likely need to score more goals than they did in the regular season and get their bottom-feeding power play going in order to knock off the experienced Pittsburgh Penguins. Pittsburgh ranks 6th in goals per game, so something will have to give in this series. Can Crosby and company make yet another run?
Goaltender Matchup: Robin Lehner (25-13-5) GAA: 2.13 SV%: .930 vs Matt Murray (29-14-6) GAA: 2.69 SV%: .919
Leading Scorers: NYI: Matthew Barzal (62 Points) PIT: Sidney Crosby (100 Points)
Regular Season Series: 2-2 (Both teams won once in the shootout)
Predictions:
Comiskey: Islanders in 7.
The Coliseum will be rocking. The Islanders don't give up anything defensively and will make it extremely difficult on Pittsburgh. A close series will go to the team with home ice here.
Luce: Penguins in 6.
The Islanders were a nice story this year without Tavares, but there's no question the Penguins are a better team. With all their playoff experience, they have the talent to go on a deep run. They will at least prevail in their first round matchup.
Marchese: Islanders in 6.
Watching Crosby go home crying in the first round would be one of the many potential joys I can get out of these playoffs, and it is going to happen. The Islanders defense will render Crosby almost useless in just six game and move on to round two.
Nonnie: Penguins in 6.
Although Connor McDavid may now be the best player in hockey, he will not be participating in postseason play once again this year. That leaves Sidney Crosby as the best player in the league whose team is still alive. Even against the best defensive team in the league, Sid the Kid can generate instant offense. The Islanders having home ice advantage makes this pick difficult, but I still have faith in Pittsburgh's core to dig deep and get it done on home ice come game six.
Stanley Cup Final Predictions:
The Stanley Cup playoffs can be incredibly difficult to predict. The team with the best record has only won the Cup once in the past ten years (Blackhawks – 2013). The Predators reached the Cup Final in 2017 as the lowest seed in the West. Anything can happen. Let's dive into some predictions.
Comiskey: Bruins defeat Blues in 6.
I have a bad feeling St Louis is going to ride their hot streak straight to the Cup Final, but ultimately lose. They finally have a goalie. As for the East, this seems like the year to go with the President's Trophy winner, but I like Boston a lot. They have experience. They have guys who can score playoff goals. They have a battle-tested goalie. Knocking off Tampa will be a tall task, but I think Bettman hands the Cup off to Chara one more time.
Luce: Flames defeat Lightning in 7.
I'm going to stick with my bracket I filled out. Although I like the Blues, I have the Flames winning the Cup over the Lightning. I'd say this goes seven games if this scenario happens. I think the Blues are more likely to represent the West, but the Flames have been so good all year and could be a legit contender.
Marchese: Lightning defeat Sharks in 6.
It's Tampa's turn. The have the offensive and physical tools to get the job done. As for the Sharks, I don't know how they get here, but it will be a fun ride for them.
Nonnie: Lightning defeat Flames in 6.
I'm completely going against my normal creed this year. I usually actively avoid picking a top seed to make it to the Stanley Cup Final, but this year I'm rolling with the top seeds from each conference. I love the Flames depth, and the Lightning are seemingly unstoppable. Although my heart says Calgary, my brain says Tampa Bay.
There you have it. Those are the official 2019 Stanley Cup Playoff predictions for the Four Feathers crew. Be sure to enter our league in the NHL Bracket Challenge for a chance to win some cool Blackhawks-related prizes!