It was announced yesterday that Cubs relief pitcher Brandon Morrow has been indefinitely shut down due to elbow soreness experienced during his rehab.
The organization originally believed that Morrow could return by mid-May to add another experienced arm to the bullpen. The hiccup in Morrow's rehab now sets the reliever back for an indefinite amount of time, creating uncertainty if Morrow returns anytime before All-Star break.
As a fan, it's safe to say that the Morrow injury creates concern for the Cubs bullpen going forward. Pedro Strop has pitched well, as has Steve Cishek, and the rest of the bullpen has been sufficient through the first 17 games of the season. How long will this last? The bullpen depth is bound to be tested at some point, right?
One thought that may creep into the minds of many is the need for another bullpen arm, this time from outside the organization. Xavier Cedeño has yet to pitch for the Cubs and Carl Edwards Jr. is now rehabbing thanks to a self-inflicted injury when he slipped and fell. It's possible a renewed Carl Edwards Jr. or healthy Cedeño could help the bullpen, but another established arm could give the Cubs the security blanket they need.
Enter the idea of signing an elite closer. One who, despite wanting a ton of money, is single handedly the best bullpen arm the Cubs could acquire. He does want a lot of money, but if the Cubs can present the opportunity for a lucrative short-term deal, one has to think he would at least consider it. That closer is Craig Kimbrel.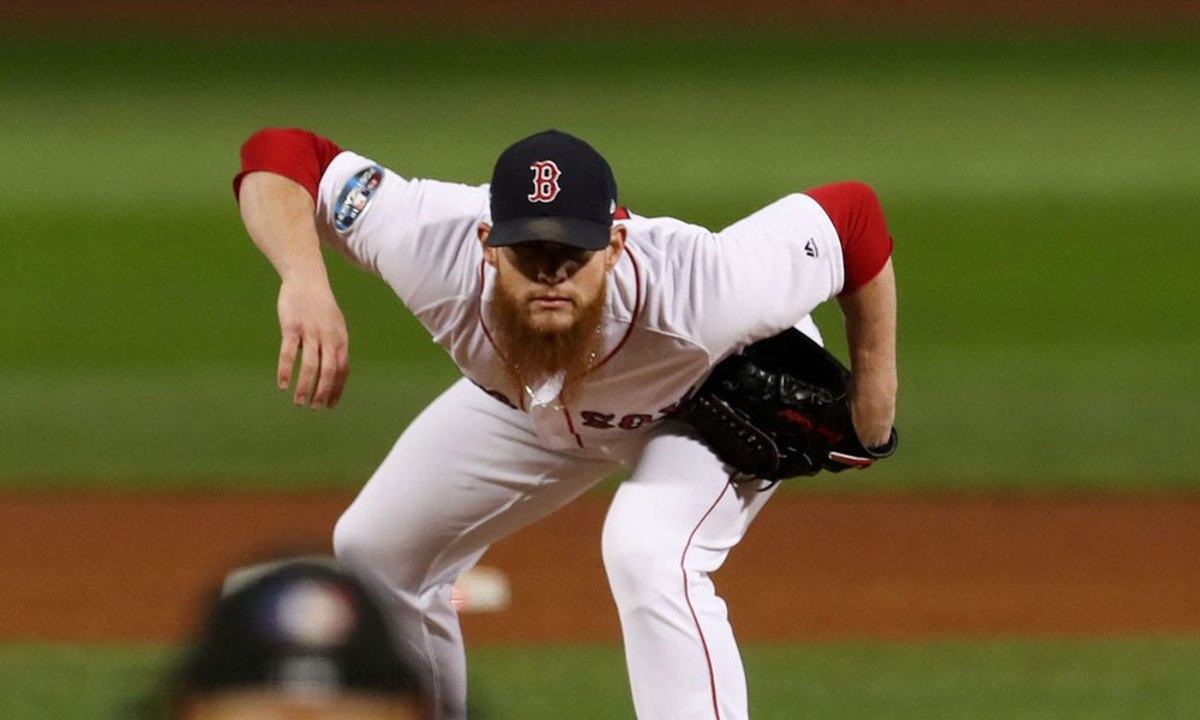 Kimbrel has been one of baseball's best closers for the better part of a decade. The 30-year-old veteran last pitched for the defending World Series champions in Boston last season. Prior to his three seasons in Boston, Kimbrel also pitched one season for the Padres and five seasons for the Braves. Since his second season in the league, Kimbrel has never converted less than 31 saves in a season, an elite number in today's game. There is no doubt a lock down closer would greatly improve the Cubs' chances of taking a run at the division title and possibly the World Series title.
The consequences of a Kimbrel addition include the loss of a high draft pick and international signing money. This could prove why the Cubs have not looked at Kimbrel to this point. Historically, Theo Epstein and the rest of the Cubs upper brass fully utilize the international pool money, acquiring everyday players Gleyber Torres and Eloy Jimenez at one point, before they were dealt to improve the parent club. It's safe to assume the draft pick would not deter the Cubs from giving Kimbrel a short-term lucrative deal, but the loss of international signing pool money may very well be what is causing the front office such hesitation.
In the meantime, Cubs fans should hope Morrow can recover sooner than later and be back pitching at the friendly confines. It was clear last season the level of impact he made on the team before going down with injury. Morrow was on pace for well over 30 saves and there is no doubt that a healthy Morrow adds great value to the Cubs bullpen. The sooner he can return, the better it will be for the Cubs.
Featured Photo: JR DePierro/12up.com
Photo: Ted Berg/USA Today Sports