When I look back on the 2018 Chicago Bears season, the biggest moment that comes to mind is the week seven loss to the Patriots. Now I know what you're thinking, why does a loss come to mind? The Bears managed something no one in the league thought they could do in this game; they kept up with one of the best teams in the league and if it wasn't for two key failures on special teams, they would have won. In this game, the Matt Nagy offense really shined. Mitch Trubisky and Trey Burton connected on several wide open throws. Tarik Cohen was a gold star Swiss army knife in this one as well. Ironically, the Bears best phase in 2018, Vic Fangio's defense, was atrocious in this loss to the Patriots. Why was this game such a success? Why do I look at this loss as a big step forward? Let's dig into the trenches.
The first quarter of this game started about exactly as anyone could have predicted. Sony Michel ran right through the Bears defense, Tom Brady used the short dump pass play to both Michel and James White, and the Patriots wasted no time by scoring four minutes into the game on a Julian Edelman eight-yard touchdown catch, where he dragged Bears defenders into the end zone. After this first score, it was a heavy back-and-forth affair in the game of field position. Several nice defensive stops on both sides caused punts and Trubisky showed his athleticism while running for first downs. Then with 5:35 left in the first quarter came the first deep cut. Trubisky hit a wide-open Trey Burton for a big 20-yard gain. The Bears couldn't punch it in for a touchdown but settled for a field goal on this drive. On the ensuing kickoff, the Bears caught a huge break when Cordarrelle Patterson fumbled and the Bears recovered at about the 24-yard line. On the next drive, Trubisky wildly scrambled from the eight-yard line back to the 30-yard line and then ran it all the way in for a Bears touchdown. This scoring play put the Bears up 10-7.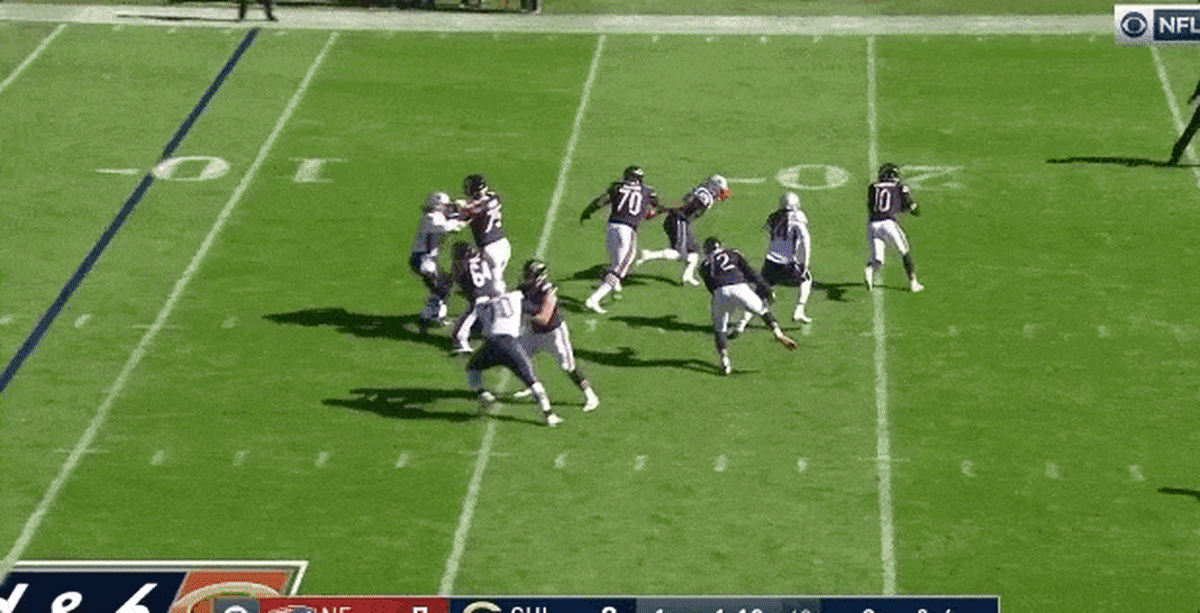 The start of the second quarter yielded another big break for the Bears when Michel fumbled and Bilal Nichols recovered it. Next, on fourth and four, Trubisky hit a wide open Burton again for another big gain of 16 yards. Trubisky did have a very dangerous throw into the end zone shortly after this. He threw into double coverage that should have resulted in an interception. The next play, Jordan Howard punched the pigskin in for a two-yard touchdown. The Bears went up 17-10. On the very next kickoff, Patterson absolutely torched the Bears special teams for a 95-yard touchdown, and we'll stick to blaming the leg strength of he-who-must-not-be-named for not kicking into the end zone. At this point, Bears were up 17-14. After this, the game slowed a bit. On a big fourth and one, the Bears had a chance to make a huge stop. Instead, they let Josh Gordon go up and gain almost 20 yards. Brady then continued to do what he does best. He carved up the Bears defense with short cutting throws and eventually hit White for a five-yard touchdown. New England retook the lead, 21-17. The two teams traded offensive hits and ball security management to end the first half.
The start of the third quarter has Cohen hit in stride for a big 15-yard gain followed up by a huge 35-yard rush by Trubisky. The next throw should have been another horrible interception by Mitch. It was a scary, hold your breath moment that could easily have been a pick six. Mitch then made up for it by hitting Cohen for a quick dump-and-go six-yard touchdown. The Bears retook the lead 24-21. More Tom Brady magic ensued after this and probably the biggest question in this entire game. Why is Khalil Mack dropping back into coverage? The man is a pass rusher, but in the third quarter, he started dropping back into coverage more often than he was rushing Brady. He also didn't look quick enough to be playing towards the secondary. It looked like he was injured and if that was the case, Nagy should have pulled him out of the game. The Patriots got a Stephen Gostkowski field goal to tie the game at 24. With six minutes left in the third quarter, the Patriots blocked a Bears punt and took it to the house for a touchdown. The Bears made a huge error and didn't block Dont'a Hightower, which allowed the Patriots to go up 31-24. Next, Trusbisky yet again hit a wide open Burton for a big gain, but it was all for nothing after he threw a terrible interception just a few plays later.
The fourth quarter began with the same score, 31-24 Patriots. Trubisky continued to hit his favorite targets in Cohen and Burton for big gains and it looked like the Bears were storming back. Trubisky stepped back to throw deep to Anthony Miller, but it was intercepted by Jonathan Jones. I can't really knock Trubisky for this one because it was an incredible one-handed play by Jones. Several plays later, Brady hit Gordon for an embarrassing 43-yard catch and ran all the way to the Bears one-yard line. The Bears defense should have had Gordon wrapped up, but they let him slip and he took off on them. It should never have happened. I'm sure you can guess what happened next. The Patriots scored on a quick shovel pass from Brady to White, which I don't quite understand how no one saw coming. White was in motion and no one on the Bears defense was tracking him. Roquan Smith, at the last second, realized what was happening but had absolutely no chance to stop White from entering the end zone. The Patriots led the Bears 38-24.
We fast forward to 6:30 left in the fourth quarter. Brady hit James Develin for a two-yard gain, but the ball was knocked loose right into the hands of Kyle Fuller and the Bears took over possession of the ball. Trubisky then led a very impressive drive with yet another huge 22-yard gain to Burton. Mitch then hit Kevin White (he's still on the team!) for a first down inside the red zone. On the very next play, Burton capped off his incredible day with a wide open 11-yard touchdown catch. The Bears closed the gap and trailed the Patriots 38-31. The Patriots went back on offense and proceeded to run the ball to kill the clock. The Bears then get the ball back on their own 45-yard line with only one play remaining. The ball was snapped and Trubisky bombed it downfield. It was caught by none other than Kevin White, except he's one yard short. Trubisky just couldn't get the ball into the end zone. He had a lot of pressure on him and there was a hand in his face as well, so I won't knock him too much for that one. Same goes for White; he had a fantastic catch and was completely surrounded by Patriots who group tackled him, not allowing him into the end zone. The Bears lost 38-31, but to me, it was a very encouraging effort. Had they scored to force overtime, who knows what could have happened? The Bears were playing well enough that I feel they would have won that game in overtime. Unfortunately, we'll never know.
Trubisky went 26/50 for 333 yards, two touchdowns, and two interceptions. He also had a whopping 81 rushing yards and one rushing touchdown. He had a stellar day that could have been much worse with his questionable decision-making. However, he showed signs of growth later in the season and hopefully, this specific game is one he looks back on to remember what could have been. The player of the game to me was Burton. He had nine catches for 126 yards and one touchdown. He was the clear difference-maker in this game and really makes you wonder what he could have brought to the table in the Wild Card loss to the Eagles if he would have played.
I think this game was a great example of how to play a team like the Patriots. Granted, this wasn't the defense that held the offensive powerhouse Rams to only three points in the Super Bowl, but it was still lead by Bill Belichick and I'm pretty sure he knows what he's doing. This game was encouraging and the team can learn a lot from this one. They need to take what they did against the Patriots and apply it to their tough schedule in 2019 when they play the Chiefs, Saints, Chargers, Rams, etc. The Bears might have lost this game against the Patriots, but they won the battle against themselves. They grew as a unit and they gained the experience of what it feels like to come so close. Get hungry, Monsters, because it only gets tougher after this.
---
Featured Photo: Sports Illustrated