2010 might have been one of the most exhilarating times of Chicagoan's' lives when it comes to sports. Has there ever been a more fun team than the 2010 Chicago Blackhawks? On and off the ice, nobody did it better. For the 2010 Cup Final there was one enemy that all Hawks fans agreed on, Chris Pronger.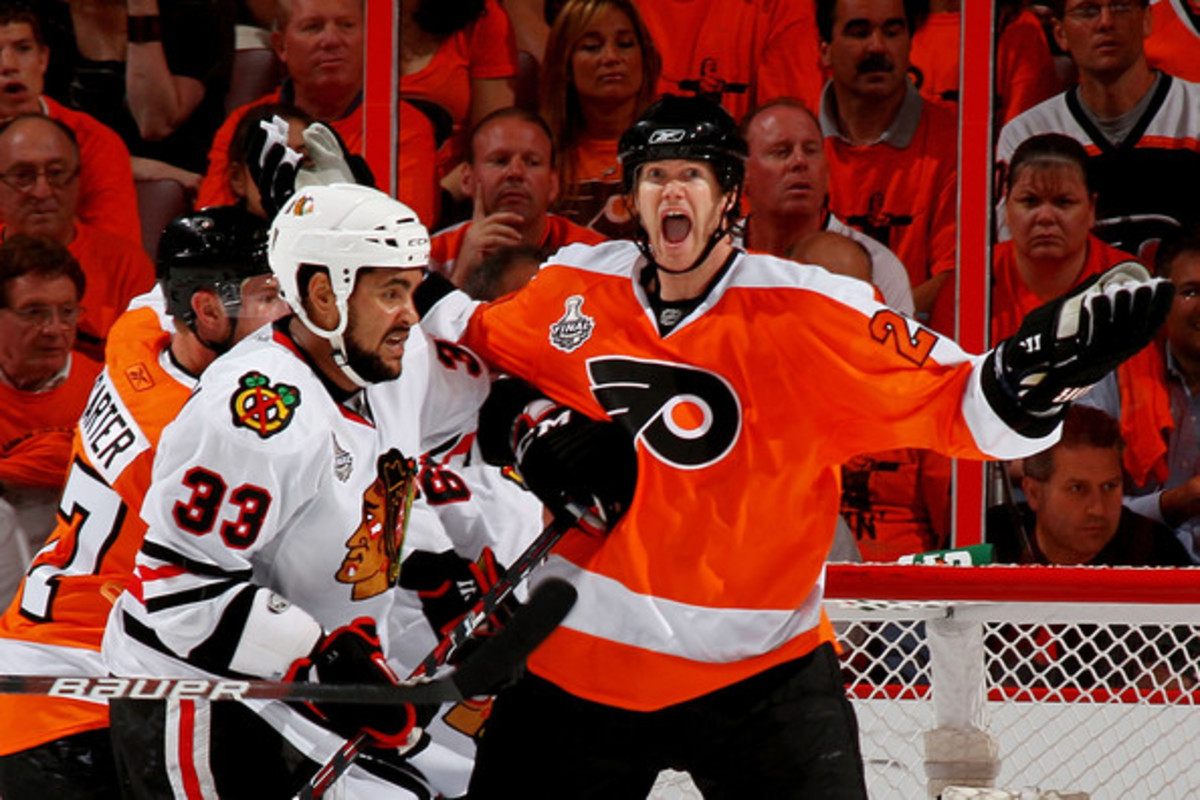 Pronger was the ultimate Broad Street Bully. He was big, he was tough. His mouth did a lot of talking, but his game backed it up. The heartbeat of the Flyers in 2010 rang through Pronger's orange sweater. Through the first three rounds, Pronger pushed and bullied everyone around. It's a shame for him that the Blackhawks had their own bully, big bad Dustin Byfuglien.
This Blackhawks team had all the skill and finesse in the world, but they also had grit. Adam Burish wasn't scared of anything and his mouth ran faster than anything on the ice. Ben Eager could throw knuckles with the best of them. They didn't call Dave Bolland "the rat" for nothing. And to round it all out, Dustin Byfuglien was mixing throwing opponents around the ice with a plethora of big goals.
Right from the puck drop of Game 1 at the United Center, it was clear there was one key battle: Dustin Byfuglien vs Chris Pronger. Two big men who were going to battle for every inch on the ice. Pronger thought he could throw the Blackhawks around. He was wrong. Big Buff decided to play the role of bouncer in Game 5 and he promptly threw Pronger out of the club.
I think if there were a moment in this series that you knew the Hawks were finally going to hoist the Cup, this might have been it. These two had been battling hard for five games. Pronger bounced right back up. He wasn't injured, but his pride was hurting. Everyone tried different angles with the 2010 Hawks to knock them off their game. Pronger tried to get physical and Big Buff knocked him off his feet. Dustin Byfuglien put the world on notice; the Blackhawks couldn't be bullied.
---
Featured Photo: Andre Ringuette/Getty Images