As the Cubs prepare for the Crosstown Classic tomorrow with Cole Hamels slotted to start, let's take a look at how dominant he has been as a Cub and how he got to Chicago in the first place. Since being acquired from Texas, Hamels has accumulated a 2.69 ERA and has been the most dominant pitcher in the rotation. His 2019 WAR of 2.6 and ERA of 2.98 are good for sixth and eighth best in the National League (baseball-reference.com). These numbers are far better than anyone could have imagined given his low price tag. Because Hamels was not highly sought after at the trade deadline last year due to his 2018 struggles in Texas, the Cubs got him very cheap, as evident by reliever Eddie Butler being the only name of significance in the trade. As Barstool Sports would surmise, the Cubs got Hamels for "a bag of balls."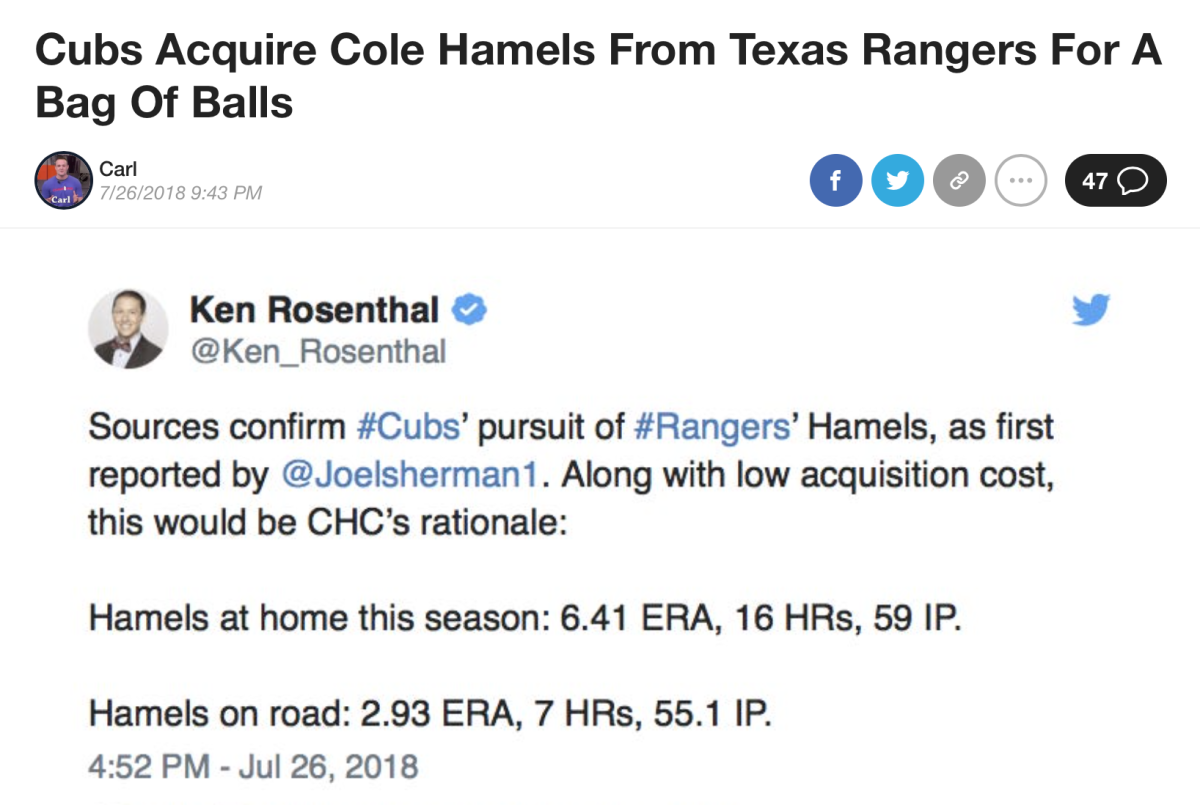 The acquisition of Hamels is another example of Theo Epstein and Jed Hoyer's wizardry in regard to in-season acquisitions, which have been phenomenal during their time leading the Cubs' front office. Given Hamels' low road ERA (shown above) and low acquisition cost, the trade was a no-brainer. In hindsight, the Cubs fleeced the Rangers.
Most Cubs fans were skeptical about acquiring Hamels. He really struggled in Texas and was consistently getting hit, and hit hard. A lot of people thought he was washed up. However, Theo and Jed formulate a list of players that could 'use a change of scenery' every year, and Hamels' name continued to be on that list throughout 2018. This same strategy is how the Cubs acquired Jake Arrieta from the Orioles near the 2013 deadline, and similarly gave up very little. While Arrieta needed to get away from a coaching staff that was trying to completely change his pitching mechanics, Hamels' need for a change was more about home and away production differences. Hamels had a home ERA of 6.41 and a road ERA of 2.93 in 2018. Those are remarkable splits. Theo and Jed understood that a change of scenery was needed and jumped at the opportunity to get him in a Cubs uniform. In addition to that, Texas was really struggling as a team in 2018, and a fringe Hall of Fame player in the back third of his career typically needs something to pitch for to keep him focused and interested. Once that trade to the contending team took place, we have seen vintage Cole Hamels. This shift in production is not surprising, as the exact same uptick in performance has occurred with Justin Verlander after being traded from Detroit to Houston in 2017. While Verlander may be a level above in terms of production, Hamels has been integral to the pitching staff and provides much needed level-headed leadership to the clubhouse.
It's hard to envision where the pitching staff would be right now without Hamels. Although Hendricks has been pitching great this year, he just went to the ten-day injured list for shoulder inflammation. Lester has been getting bombed lately (7.76 ERA in his last seven starts, per baseball-reference.com), and it looks like his days as the Cubs' ace may have come to an end. Quintana continues to be good but not great, and very inconsistent. Darvish just threw a gem against the Dodgers and is starting to look like the pitcher the Cubs paid for, but time will tell if he can continue to command his pitches and be the ace of this rotation. Through all of this uncertainty, the steady constant has been Hamels, who simply goes out every start and gets the job done. No questions asked. He doesn't dazzle hitters with one of baseball's nastiest stuff like he used to possess when he was in Philadelphia during his prime. He doesn't try to paint the corners and lead the league in strikeouts. He simply outlasts hitters with his ability to command his pitches, change speeds, and use all sides of the plate. The guy just knows how to pitch. Some guys have it, others don't. And in his fourteenth season, he has a legit shot at being an NL All-Star if he continues this dominance for his next couple starts. Like Theo said in the offseason, he's been a huge breath of fresh air since his arrival in Chicago, and its no question the Cubs made the right call in picking up his 20 million dollar option for this season.
---
Featured Photo: Chris Sweda/TNS