This hot Friday night matchup in Cincinnati looked good for the Cubs and all their fans that had packed Great American Ballpark. Finally with a day off, I made the drive up from Louisville to take in my first Cubs game of the year.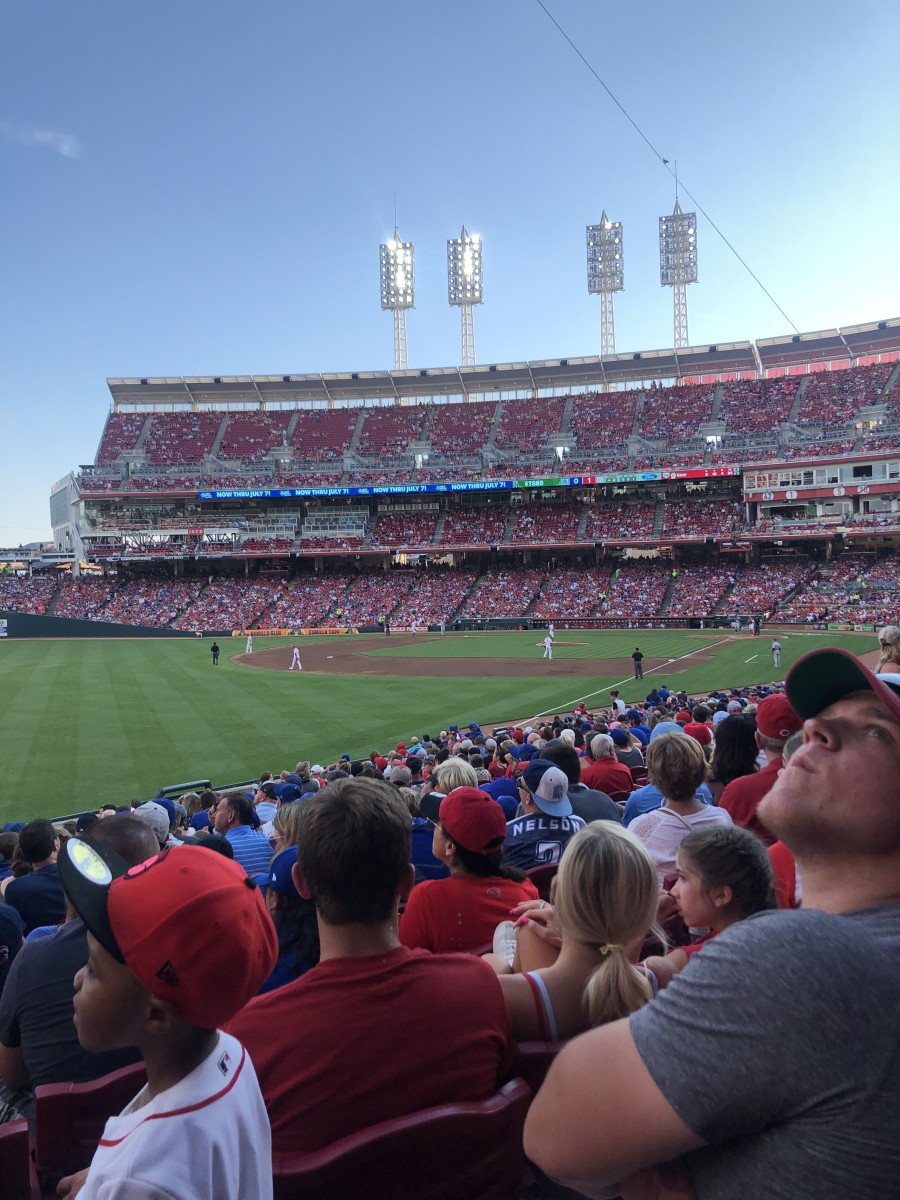 Coming in Hamels had five quality starts in a row, the Reds offense had struggled against the Angels only hitting two solo homers, and Cubs hitters were coming off a game in which they scored nine runs, the game looked promising for Chicago.
The first two innings did not go as planned for the Cubs. After giving up a run in the first, Cole Hamels had to leave the game before starting bottom of the second due to injury forcing Joe Maddon to bring in Mike Montgomery who promptly gave up a home run on his first pitch, landing the Cubs in a 2-0 hole. He continued to struggle with locating his pitches leading to three walks. Monty also gave up two bad stolen bases, even allowing the slow Joey Votto to take second base. He was not giving Willson much of a hope to throw them out, permitting the runners to get huge leads and time him up. His bad day would end after giving up a four spot in the bottom of the fourth. The rest of the bullpen was able to keep the score within reach for the Cubs.
On the other side of the ball, the Cubs offense looked miserable for most of the game, while Sonny Gray looked very sharp for the Reds. The first five Cubs outs were strike-outs and they ended the game with nine total. Before the 7th inning, they were unable to advance any runners into scoring position and only had two hits to show for. In the 7th, they were able to finally breakthrough, collecting three hits and three runs on the strength of Heyward's two-run homerun, his 12th, and a sacrifice fly by Almora that scored Russell after his triple. In the 8th, the Cubs were gifted two runners via a walk and HBP, but they squandered the opportunity ending the inning with two groundouts. The 9th saw Almora single with two outs, but Lorenzen was able to seal the deal with a strikeout of Victor Caratini giving the Reds the 6-3 victory.
The poor pitching performance combined with the lack of offensive production led to an underwhelming loss for the Cubs to start off the series. With Hamels heading to the IL thanks to a left oblique strain and Hendricks already there, the rotation is being stretched pretty thin. This team will need to become more consistent at the plate and limit the injuries if they are to maintain and increase their NL Central lead.
---
Featured Photo: David J. Phillip/AP