Yesterday
All my troubles seemed so far away
Now it looks as though they're here to stay
Oh, I believe in yesterday
And that, ladies and gents, is how I am feeling after yesterday's 18-5 drubbing at the hands of the Buccos. Don't forget the 8-6 loss to the Reds the day before. Or the 6-3 loss the day before that, putting Hamels on the IL.
It might be time for me to admit that we have a problem.  All the warm and fuzzy feelings from 2015 and 2016 are leaving me.  They have been since middle of last year, but I haven't been able to look myself in the mirror and admit that there was a false confidence because we accomplished so much, so quickly.
I look at you all, see the love there that's sleeping
While my guitar gently weeps
I look at the floor and I see it needs sweeping
Still my guitar gently weeps
Speaking of accomplishing so much so quickly, did you know that the Beatles charted seventeen number one hits from 1963 to 1969 and collectively hung it up in 1970?
Why am I making a Cubs – Beatles correlation?  Well, Laura and I are starting to introduce our three-year-old son to the entire Beatles catalog, so I've spent the last couple of days listening to their music and singing the hits.  Usually it's during games with the TV volume turned down, so I've been watching some sub-par baseball as some of the most influential rock and roll ever recorded plays throughout the house.  Wheels started to turn, light bulbs started to shine in my feeble brain and it all started to make sense.
So, lets go down this Long And Winding Road and see what happens.
Well, she looked at me
And I, I could see
That before too long
I'd fall in love with her
She wouldn't dance with another
Ooh, when I saw her standing there
There has been a lot of pain since Theo started the rebuild.  A lot of hot garbage in blue pinstripes and a lot of just bad baseball but it was for a reason.  Theo was pulling a full on Sam Hinkie and 2015 was proof that it was working.  Yes, we knew at that point that we were loaded with young talent but it all seemed too early to it to be materializing into something.  She was standing there.  We were collectively in love, right?
Oh yeah, I'll tell you somethin'
I think you'll understand
When I say that somethin'
I want to hold your hand
2015 didn't end in a World Series but it did plant us firmly in the conversation as one of the best teams in baseball.  We had the gritty veterans to lead the young and hungry talent, and we had a manager that let his players be themselves and have fun playing a game for a living.  We were on the come up and nothing else mattered, right?
Let me take you down
'Cause I'm going to Strawberry Fields
Nothing is real
And nothing to get hung about
Strawberry Fields forever
That was the feeling rolling into 2016. There was nothing to get hung about. We had a stacked roster and it was ready to shoulder the burden of incredibly high expectations. There was no way we were going to Cub it up and lose and, thanks to a timely rain delay, we didn't. The curse was over and no one could ever call us lovable losers again. We were lovable winners with nothing but sunshine and blue skies ahead of us, right?
Close your eyes and I'll kiss you,
Tomorrow I'll miss you;
Remember I'll always be true.
And then while I'm away,
I'll write home every day,
And I'll send all my loving to you.
The only issue is there was something digging inside of me that I couldn't pinpoint.  We had all the talent in the world and there was no way that we weren't going to rip off five straight World Series, right?  No way that we were going to be like the '85 Bears, right?  We let a few guys walk but it didn't matter, we reloaded and were ready to run through 2017, right?
Try to see it my way,
Do I have to keep on talking till I can't go on?
While you see it your way,
Run the risk of knowing that our love may soon be gone.
We can work it out,
We can work it out.
Think of what you're saying.
You can get it wrong and still you think that it's alright.
Think of what I'm saying,
We can work it out and get it straight, or say good night.
We can work it out,
We can work it out.
Life is very short, and there's no time
For fussing and fighting, my friend.
I have always thought that it's a crime,
So I will ask you once again.
Try to see it my way,
Only time will tell if I am right or I am wrong.
While you see it your way
There's a chance that we may fall apart before too long.
These words could not ring any more true. 2019 came in and caused everyone's undies to get in a bunch.
"We suck!"
"Trade Bryant!"
"Fire Joe!"
I might have said these things to myself a few times and felt bad doing so but it sure didn't look pretty at the beginning of the season (I think the stats guys might still be tabulating errors from that early game in Atlanta). But hey, we turned it around. We ripped off a bunch of wins and started to rise up the ranks on ESPN's power rankings. WE. WERE. BACK….right?
Don't let me down, don't let me down
Don't let me down, don't let me down
Nobody ever loved me like she does
Oh, she does, yeah, she does
And if somebody loved me like she do me
Oh, she do me, yes, she does
Don't let me down, don't let me down
Don't let me down, don't let me down
But something wasn't right. There was a feeling that we were nothing but house of cards ready to come down. The slightest lake effect wind could cause this all to topple.
I know that we are barely past the halfway point in the season, and maybe the All Star Break gives us a chance to reset and get back to our world beating ways, but I don't have that blind confidence like last year.
Hey Jude, don't make it bad
Take a sad song and make it better
Remember to let her into your heart
Then you can start to make it better
Last year stung.  Every single second that it felt like we turned it around, something happened.  No need to dig deeper.  Just remember this…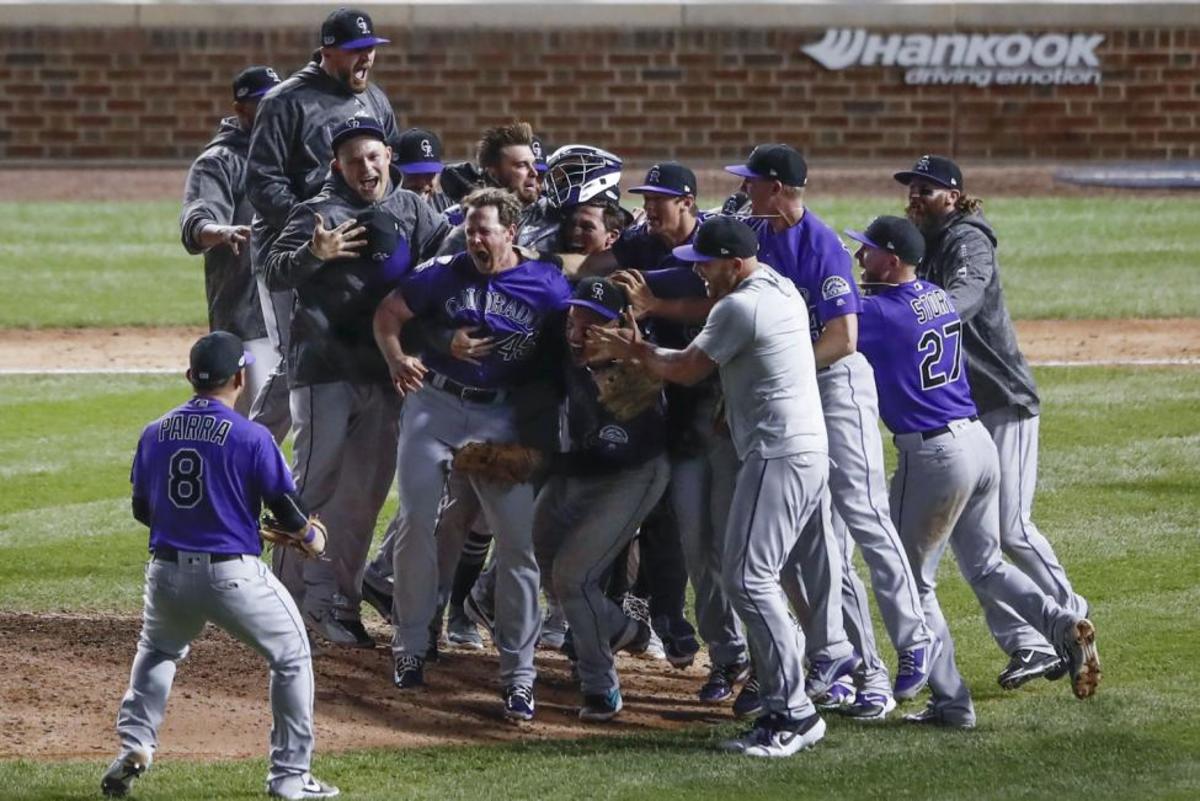 Maybe it's time to start accepting what we are.  We are a talented team playing a sport that is incredibly fickle.  One wrong motion and you've got a starting pitcher on the 10-day IL.  One wrong slide can cause someone's hammy to be messed up for a couple of weeks.  One guy on another team can just be the bain of our existence for all 19 games we play them.
I think it's time to just taking it day-by-day.  No more expectations.  No more looking ahead on the schedule.
When I find myself in times of trouble, Mother Mary comes to me
Speaking words of wisdom, let it be
And in my hour of darkness she is standing right in front of me
Speaking words of wisdom, let it be
Hendricks is on the bump tonight against Musgrove.  Let's get this W and remember that tomorrow is another day.
---
Featured Photo: Windycityrock.net