After six weeks of extremely average play on the diamond, there's been a lot of speculation among the Cubs' fan base pointing out reasons for their struggles. From Joe Maddon needing to be let go, to the Cubs' inability to hit with runners in scoring position (RISP), to the management's inability to deal core pieces, and so on. The reasons continue to pile on. While there may be some truth to each of them, there is a far more pressing issue on hand. A detailed look behind the numbers indicates that the driving reason for the lineup's struggles is its lack of depth.
According to FanGraphs, the Cubs only have eight position players receiving at-bats who are better than the proverbial average MLB hitter. FanGraphs uses the wRC+ metric, which takes the statistic 'Runs Created' and adjusts that number to account for important external factors. The table below shows each position player's wRC+ stat. For reference, 100 is average, and Kris Bryant having a 140 means he is hitting 40% better than the average MLB hitter (which is very good).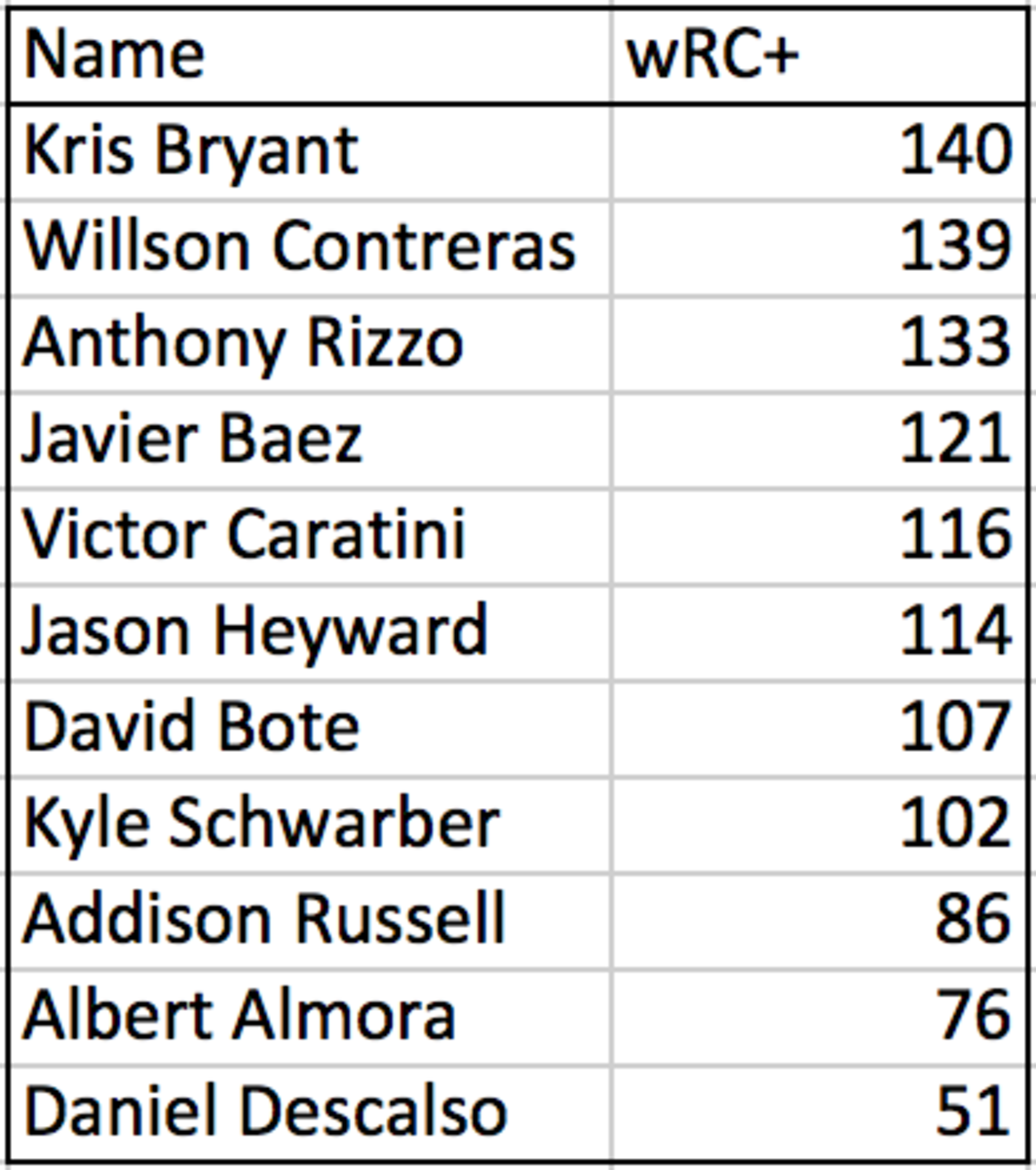 Based on this, the Cubs have seven starters that are hitting above average (excluding Caratini because he is a backup). While this is better than most lineups, the problem is what comes after those seven players. Addison Russell, Albert Almora, and Daniel Descalso are providing little to no value right now at the plate. Russell receives the most scrutiny of the three, which is reasonable given his off field actions. However, he hasn't been nearly as bad as the other two. Given Russell's glove, an 86 wRC+ isn't horrible. Since he's proven to be a decent hitter in past seasons, he is most likely of the three to turn it around as the season progresses. 
On the other hand, Almora and Descalso are virtually automatic outs when they're in the lineup. Given that Joe Maddon practically never plays his best nine together, as he likes to platoon certain positions, those two receive a lot of at-bats. You can practically say the bottom three batters (including the pitcher) are automatic outs when those two are playing. That's one-third of the lineup! It's a massive issue, as it constantly kills innings and puts added pressure on the first six hitters to produce when they're at the plate. This added pressure has absolutely contributed to the team's lack of hitting with RISP. I would take the first six hitters in the Cubs' lineup over practically any team in baseball, but the bottom of the lineup has been a black hole for months. If the Cubs were receiving more value from Russell, Almora, and Descalso, it would solve virtually all of their offensive issues.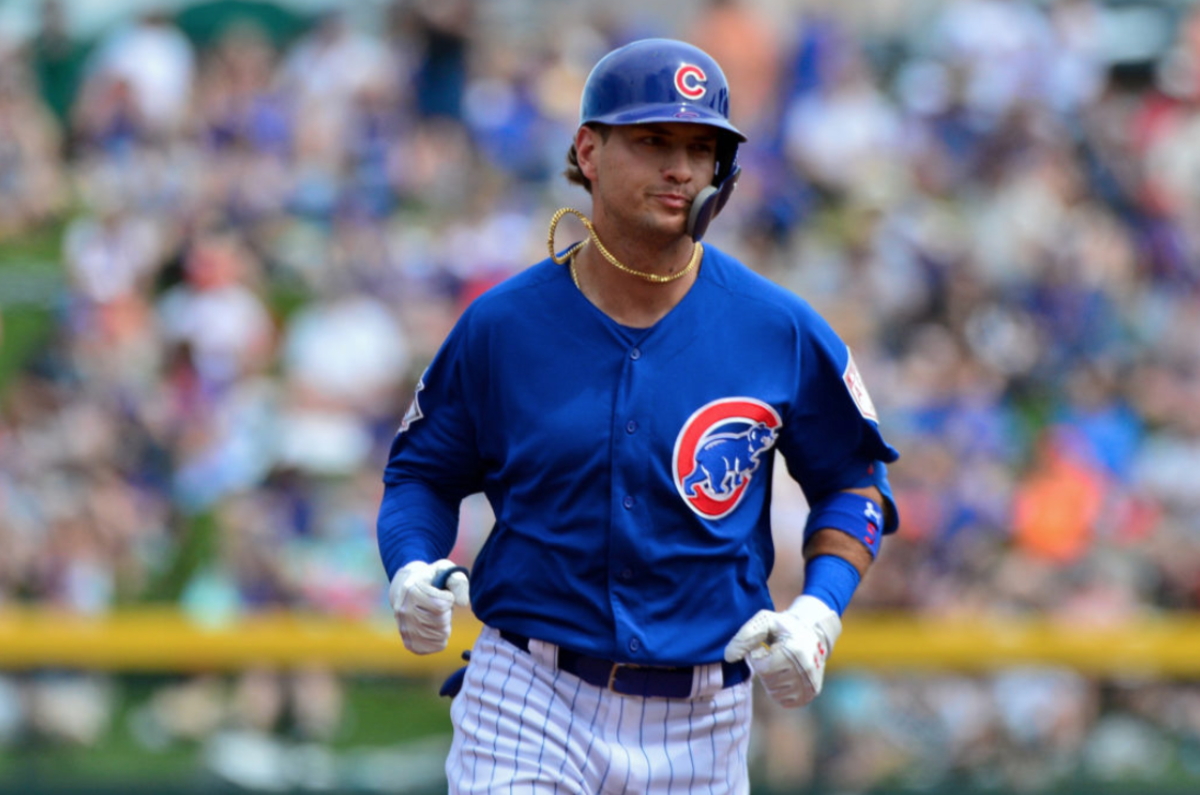 When you compare the Cubs with the top teams in baseball in the same category using FanGraphs, it's clear how much these teams separate themselves with their exceptional position player depth. Below lists the top teams in baseball and the number of position players who have a wRC+ above 100, indicating they are above average hitters (minimum 25 plate appearances).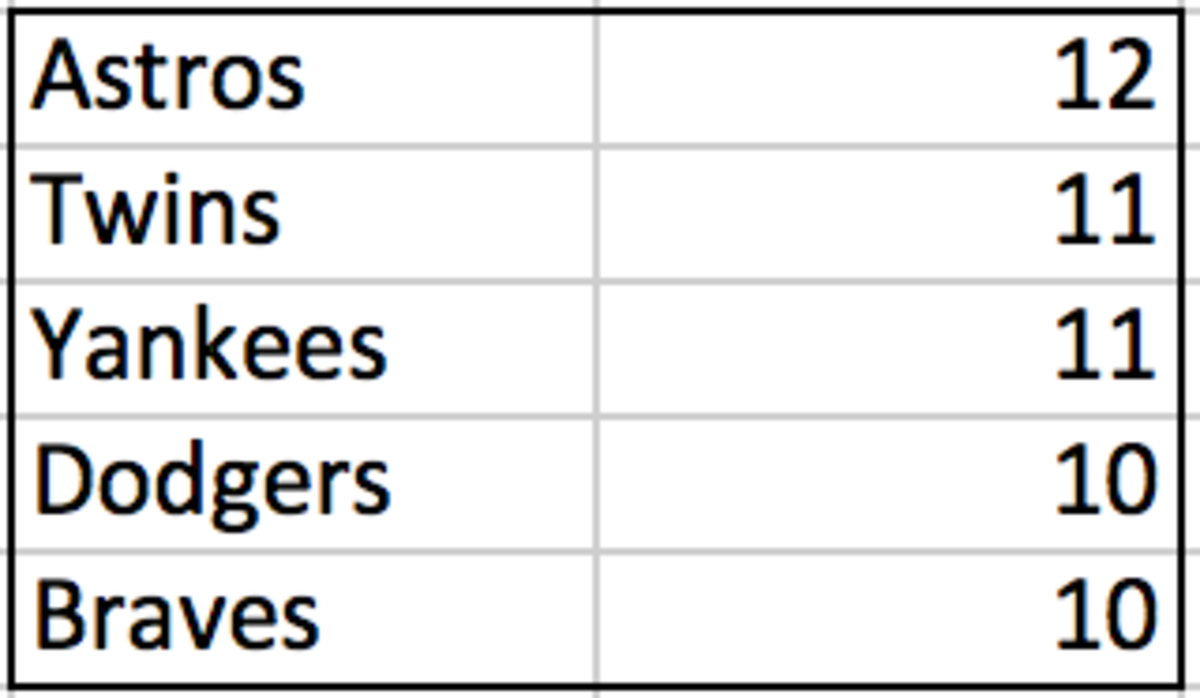 While The Astros have far and away more depth, even the Dodgers and Braves having two more players than the Cubs who are above average hitters makes a substantial difference. This allows a manager to rest starters whenever he pleases and not have too much of a drop-off in production. On the contrary, when the Cubs start Descalso over Bote, production takes a nosedive. Descalso is one of the worst hitters in baseball and he's had 180 plate appearances, only 57 less than Bote. I simply do not understand the logic there.
There's a multitude of reasons why the Cubs lost all their depth they have had over the past seasons. First of all, Addison Russell has not been the same player the last two years. While he's not performing horribly, he was once projected as an MVP caliber player in 2015 and 2016. Next, Ben Zobrist not being in the lineup has hurt more than people realize. He could play all over the diamond, on command, and was without a doubt an above average hitter. While every Cub respects him not being on the team for personal reasons, it could not have come at a worse time given the roster's current issues. Third, what has happened to Ian Happ? At this point last year he had around an .850 OPS in the majors, which is significantly above average and would be fifth highest on the team. Right now, he's a below average Triple-A player. Second base was right there for the taking this year and he has simply not capitalized.
Lastly, the decision to trade Tommy La Stella and sign Daniel Descalso to take his place is an absolute killer. It's not just that La Stella is an All Star, it's that Descalso is practically worthless. Yes, I understand that nobody on the Cubs could have projected La Stella to break out like this, but whose fault is that? I mean, at one point last year he was hitting .300 as a pinch hitter. There's a reason you never see that. It's cause normally when a player performs that well he's moved to the starting lineup. If the Cubs would have given him more opportunities to prove himself, there's a chance he'd be starting at second base and I wouldn't be writing this blog. The thought of La Stella being the every day second basemen, which is the only infield position constantly in flux, is like pouring salt in wounds. While the Cubs used to have one of the deepest ball clubs in baseball the past few years, these four situations occurring in a single season has left the team with the worst depth among any legitimate postseason contender, and its not even close.
Although the Cubs have struggled significantly, let's not pretend that the sky is falling and the season is over. In 2017, the Cubs were 43-45 at the All-Star break and were five games back from the NL Central leader. That team went on to not only win the division by a comfortable six games, but also advanced to the NLCS for the third year in a row. Let's not forget that this Cubs roster had a +56 run differential through the first 37 games of 2019 and looked like a top team in baseball. Recently they have looked brutally average, but the talent is there to compete for the NL pennant. 
---
Featured Photo: https://www.upi.com/News_Photos/view/upi/a4248f16c97345d2d116acb8bd12e56c/Cubs-Albert-Almora-Jr-celebrates-lead-over-Indians-in-10th-inning-of-World-Series-game-7/