After alluding to a call-up on his Instagram story heading into Saturday morning, Luis Robert has indeed been called up to AAA Charlotte after taking part in Sunday's MLB Futures Game with fellow White Sox prospect Nick Madrigal.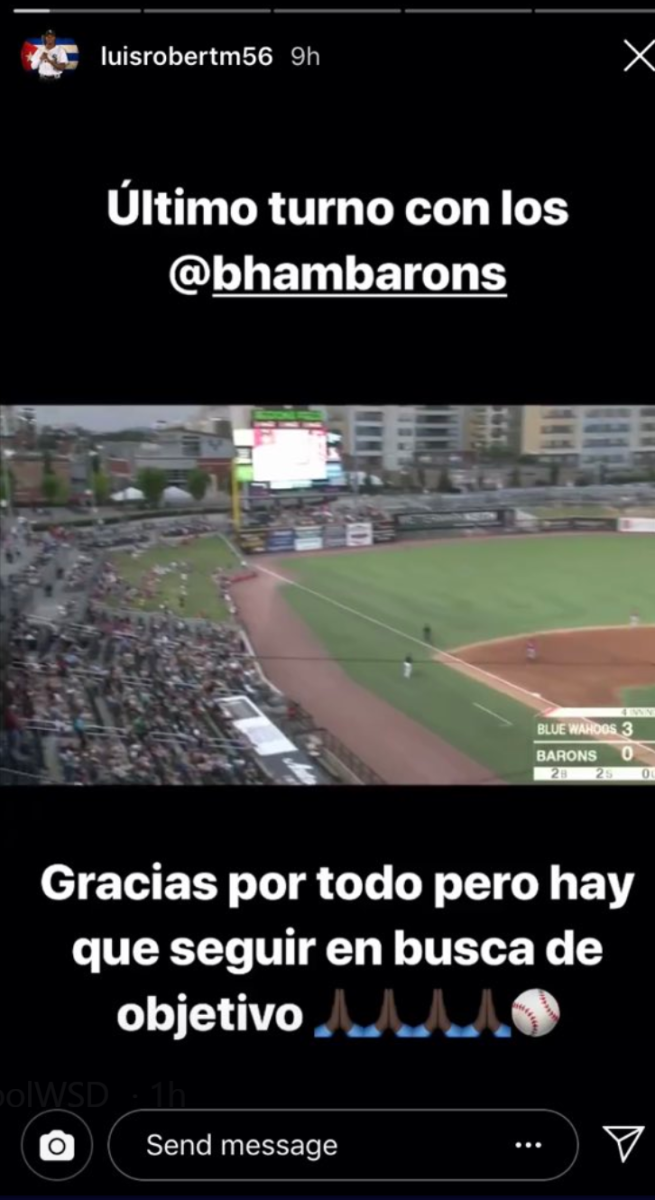 My seven years of Spanish helped me understand the gist of his message, but I ultimately needed the assistance of my crutch in helping me pass those seven years of Spanish, Google Translate, to confirm what Robert was saying.
The message translates to: "Last turn with the Birmingham Barons. Thanks for everything but I have to follow the objective." That objective is clearly reaching the major leagues, and Robert has seemingly reached his final test before earning the call to 35th and Shields.
Robert is certainly deserving of this call-up, as he continues to speed through the White Sox organization. AAA will be his third stop within the organization this season, also having spent time in High-A Winston-Salem and most recently AA Birmingham. He made quick work of High-A pitching in only 19 games this season where he produced a slash line of .453/.512/.920, with eight home runs, 24 RBIs, and eight stolen bases. In 56 games with AA Birmingham, he hit .314/.362/.518 with eight home runs, 29 RBIs, and 21 stolen bases.
These numbers are certainly impressive, but he will certainly have to prove that he is more than ready in order to earn the call to the major leagues. The speed is clearly not an issue as he has racked up 29 stolen bases, and neither is his fielding as he has only committed three errors. As seen from many of his hitting highlights, he doesn't lack power either. What he really needs to prove before making the jump to the major leagues is his ability to be more selective at the plate. This has been the case for him throughout the minor leagues, where he hasn't drawn as many walks as the organization would hope to go along with pretty high strikeout numbers. This wasn't an issue in High-A and AA because he was clearly better than the competition and he could rely on his swing alone. While preparing to face the best pitchers in the world at the MLB level, he will need to learn to not be so swing-happy and develop an approach that will allow him to be successful. Pure talent allows prospects to make the jump within minor league levels, but taking the big leap from AAA to the MLB requires a refined approach.
There is certainly a chance that he proves that he is capable of this and earns the call to the majors by the end of this season. However, the more likely scenario is that he will join the White Sox in May 2020.
Congrats Luis!
---
Featured Photo: Ron Vesely/MLB Photos via Getty Images