As many fans already know, the Cubs acquired veteran catcher Martin Maldonado from the Kansas City Royals last night. On the surface, this trade seems puzzling, as the Cubs already have one of the best backup catchers in baseball in Victor Caratini. Yes, Willson Contreras was just put on the ten-day injured list due to a strain of the arch muscle on his right foot, but Theo Epstein was adamant in his press conference last night that Contreras will not be out for an extended period of time. This leads me to believe that the Cubs went out and traded for a third catcher for reasons other than Contreras' injury. Also, although Mike Montgomery has struggled this season, he has been a reliable left-handed reliever for the past three seasons and trading him for a ten-day backup catcher makes zero sense.
It feels like the Cubs have been grooming Willson Contreras to play more outfield for the last two weeks. Contreras started his first-ever game in right field on July 3rd against the Pirates and promptly gunned the tying run down at home plate in the bottom of the eighth inning with a perfect throw that was clocked at 96.7 mph. This is a quintessential example of how Contreras can utilize his cannon of an arm elsewhere on the diamond.
I realize that Willson misplayed a ball the next inning, which was part of the reason the Cubs blew their lead in the ninth to lose that game. However, Contreras' misplay was not ruled an error, which means it was by no means an easy play even for a good defensive outfielder. People forget that Contreras played a lot of left field prior to 2017 when he became the everyday catcher. It's not like the outfield is a completely new position that he is trying to learn. He will absolutely need a lot of fly balls in practice to get used to the change, but I would be shocked if that hasn't been happening over the past month already.
There are a multitude of reasons why the Cubs should consider Contreras to play more LF and RF. First, Contreras is by no means a great defensive catcher. I understand he has a cannon and teams do not run on him because of it, and his back picks with runners on base is something not many catchers in baseball can replicate. However, there are other valuable defensive skillsets than simply having a strong arm. For example, Contreras is one of the worst framing catchers in MLB. Yes, believe it or not, framing pitches is an actual stat that drives a lot of value when evaluating a catcher's defensive worth. Using the statistic 'Runs Above Average' on StatCorner, Contreras ranks 33rd in MLB in framing. That's worse than some backup catchers, including his teammate Victor Caratini. Basically, Contreras never turns balls into strikes and occasionally turns strikes into balls with his lack of sleight of hand behind the plate. This may be attributed to a lack of focus, as he seems to lose interest behind the plate at times. Nonetheless, it has been an issue for a couple seasons now and is one reason his defensive strengths could be utilized elsewhere.
A far more important reason Contreras should play other positions besides catcher is due to his second-half struggles last year. According to FanGraphs, he led all of baseball with 1,109.2 innings caught last season. That wear and tear caught up with him right as the divisional race heated up in the second half of the season, in which his offensive production took a nosedive. At one point during the last week of the season when wins were paramount, Maddon elected to start Caratini over Contreras. He was struggling that much. I understand Caratini is a good player, but he is simply not the bat that Contreras is when #40 is seeing the ball well. If the Cubs want to win the NL Central and make a deep run in the playoffs this year, Contreras cannot run out of gas like he did last year.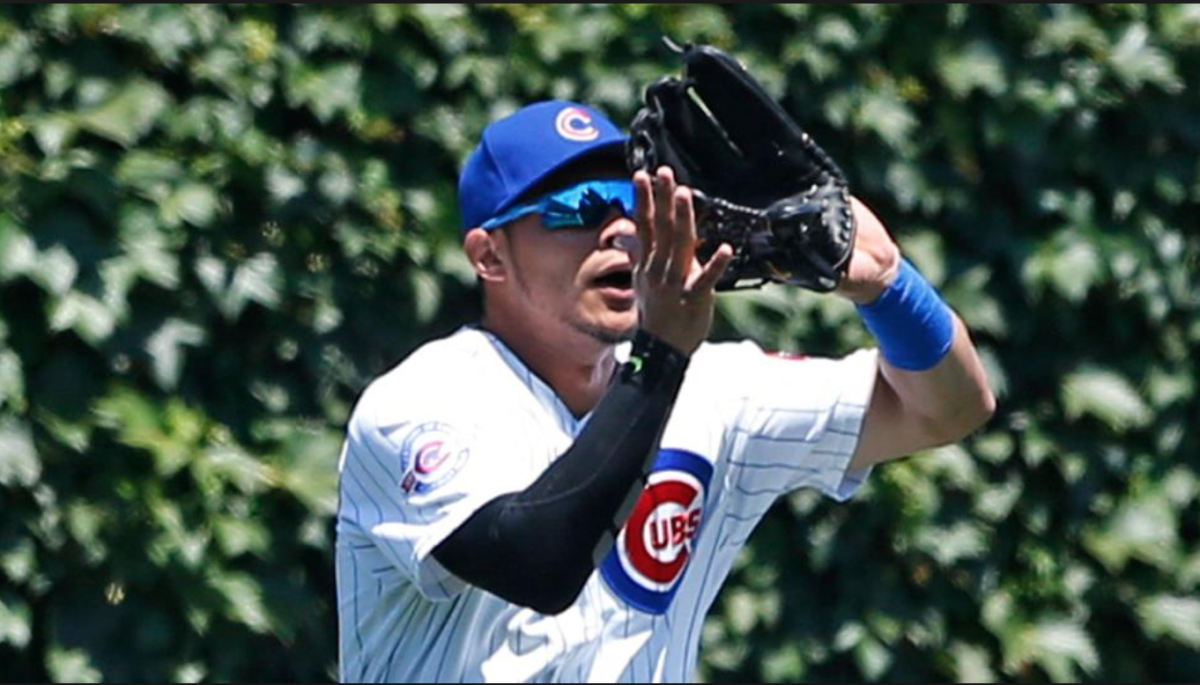 The Cubs are fully aware of Contreras' second-half struggles last year, which is why they are taking his injury very conservatively and placing him on the IL. He has been receiving many more off days recently even before that injury took place, which proves they are trying to conserve his energy. While this is necessary, how much is the lineup losing because of it? It's not like the Cubs have a sizeable divisional lead like the Braves and the Dodgers, who can afford to rest their best players consistently. The Cubs cannot coast through games and need to maximize the lineup's ability on a daily basis. I'm not saying Contreras should be the everyday starter in left or right field, but he should play one of those corner outfield positions around twice a week so he can conserve energy while still being in the lineup. With Jason Heyward's ability to play CF on command and Kyle Schwarber not playing well enough to cement himself as the starting LF every day, this is entirely possible.
Another reason Contreras should play more outfield is the fact that Caratini has been producing at a very high level this season and would receive more plate appearances. Caratini has an OPS of .854, which is fifth-best in the lineup (excluding Robel Garcia, who was just recently called up). According to FanGraphs, Caratini has a wRC+ of 123, which is fourth-highest on the team and better than Javier Baez. This metric is widely renowned as the best stat to evaluate a player's offensive production, so it should not be taken for granted. Keeping all of these stats in mind, Caratini has 111 plate appearances, which is eleventh most on the team. Albert Almora, Daniel Descalso, and Addison Russell all have significantly more at-bats than Caratini and have not displayed even close to the same level of production he has. This needs to change immediately, and I believe the front office recognized this weeks ago and has been trying to make it happen.
The bottom line is that Victor Caratini needs to be in the lineup more. Since he can only play catcher and first base, Contreras playing other positions more often is the only way to make this happen. Willson is the best athlete of any catcher in baseball, and given that he has played outfield in the past, it's a no brainer to at least explore this transition. Having both Caratini and Contreras starting in the field makes the Cubs' lineup lethal and just as good as any other team in baseball.
---
Featured Photo: Getty Images