The Cubs have won seven of their first nine games after the All-Star break, and fans are all smiles as the Cubs look to be the team to beat in the NL Central and are finally playing with a sense of urgency. However, there has been a glaring problem all season that continues to prevent the Cubs from reaching their full potential as a unit: the lack of production in center field. Albert Almora has been statistically one of the worst hitters in all of baseball for the past year, and his struggles should not be sugar-coated. He has been that bad.
To elaborate further, ever since May 27th when Almora had a big game against the Astros, he has a slash line of .204/.234/.295, equating to an OPS of .529 (The MLB average is ~.750). In the two months since, he only has six extra-base hits, five walks, and six RBI's (Source: baseball-reference.com). These numbers are so poor it is almost impossible to defend him still being on the MLB roster, let alone batting leadoff and starting in CF. With a further look into his advanced stats, it's not as if Almora is getting unlucky with these numbers. According to FanGraphs, he has a bottom-tier walk rate at 4.8%, a high groundball rate at 54.6%, and a woefully bad hard-hit percentage at 29.9%. These stats indicate that he has no plate discipline, swings at pitches out of the zone, can't hit the ball hard, and beats the ball into the ground. These are all major red flags, especially in today's MLB where everyone values driving the baseball hard and into the air. At this point, the sample size is big enough to justify skepticism as to his ability to be a starting CF in the big leagues. Realistically, he is the fourth outfielder on a good team and used solely as a defensive replacement late in games.
Not only has Almora's offense been brutal, but it's also what his absence from the lineup does to the rest of the outfield on the defensive side of the ball. According to FanGraphs, Jason Heyward has a Defensive Runs Saved (DRS) of eight in right field, which is fourth-best in all of baseball. However, because of Almora's inability to be an everyday player due to his lackluster offensive capabilities, Heyward has only played 489.1 innings in RF this season, 19th most in MLB. A guy of Heyward's elite RF defensive prowess needs to start in that position every single game to maximize the team's defensive ability. When he is forced to play CF, the defense takes a major hit. Heyward has a DRS of -6 in center field, tied for 63rd overall in MLB.
Words can't explain how much of a downgrade him being there makes the Cubs' defense. Not only do the Cubs become significantly worse in RF when Heyward is subbed for Kris Bryant (-4 DRS), they also get worse in CF when Almora is subbed for Heyward, as explained above. Then when you have Kyle Schwarber (-4 DRS) in Left Field, that is legitimately one of the worst defensive outfields in the league and is one of the reasons the Cubs have the third most defensive errors in the National League this year (Source: baseball-reference.com). The 2019 Cubs are not even close to the elite defensive teams that fans saw from 2016-2018, and Almora's struggles have a lot to do with that.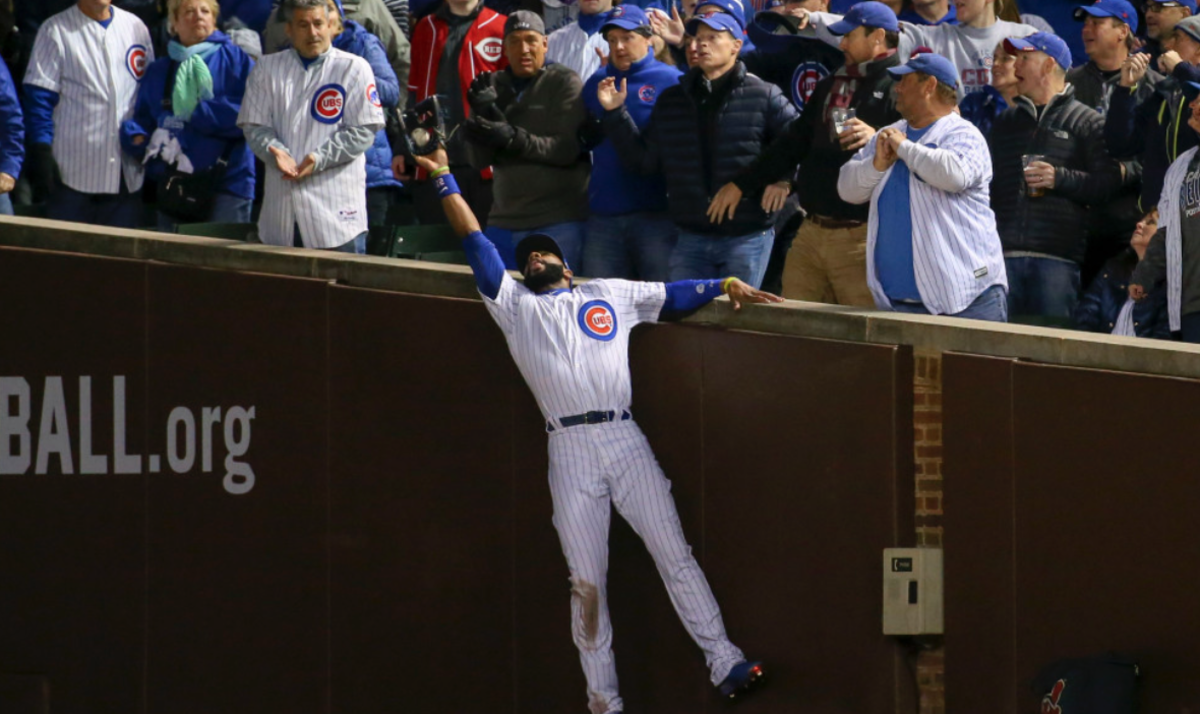 For some reason, the idea that Almora is one of the best defensive center fielders in the game has made its way around the Cubs fanbase. A detailed look behind the numbers proves that notion entirely false. According to FanGraphs, Almora has a DRS of four in CF, which makes him tied for ninth-best in baseball. While this is good, it is by no means great. He makes stellar plays out there due to his exceptional jumps off the bat with his elite quickness, but he lacks the physical speed to be one of the best center fielders in baseball. Quite frankly, most of the diving plays he makes would be caught by Lorenzo Cain, Byron Buxton, and Kevin Kiermaier without them leaving their feet.
Having said this, Almora's defense is not even remotely the problem. If he was close to an average MLB hitter, he would play in CF every single day without hesitation. Consequently, Heyward would be able to play RF every day, and the Cubs would have one of the best defensive CF/RF combinations in MLB. But time and time again Almora has been given opportunities to prove he can be the every day CF, and he continues to fail. Almora is only 25 years old, so it is still too early to say he cannot fix these issues and develop into a starting CF. However, the Cubs are in no position to wait on this development to happen this year. The Cubs want to win the World Series now, and that's hard to do with a black hole in CF. It's about time the Cubs look elsewhere, either internally or externally, to fill the need in CF if the organization wants to reach the team's full potential both offensively and defensively.
---
Featured Photo: AP