Hey there Blackhawks fans, can you say: "Let's Go Hawks! Let's Go Hawks! Let's Go Hawks!" Now, in-between every scream can you hear the drum pound out three hits that echo throughout the United Center? Of course you can, because the legendary Tommy Hawk is at every home game cheering on our mighty Blackhawks.
Announced earlier today on the Blackhawks official Twitter, Tommy Hawk was named the NHL's Mascot of the Year by his fellow mascots.
Congratulations, Tommy Hawk! He has certainly earned this very well-deserved award. Our favorite Blackhawks enthusiast, other than Pat Foley, of course, has definitely won a spot in all our hearts. From his crazy antics in the stands to playing with the children in attendance near the concessions, Tommy Hawk is always a bundle of joy to be around and get pumped for a Blackhawks win. Or so I thought, until the day I got married.
It was November 11th, 2016. My wife and I had just gotten married outside the Adler Planetarium with a small group of our immediate family and closest friends. We are gigantic Blackhawks fans and our theme was, you guessed it, Blackhawks. We all wore our favorite jerseys or shirts instead of traditional wedding attire and we even had custom jerseys made for our special day.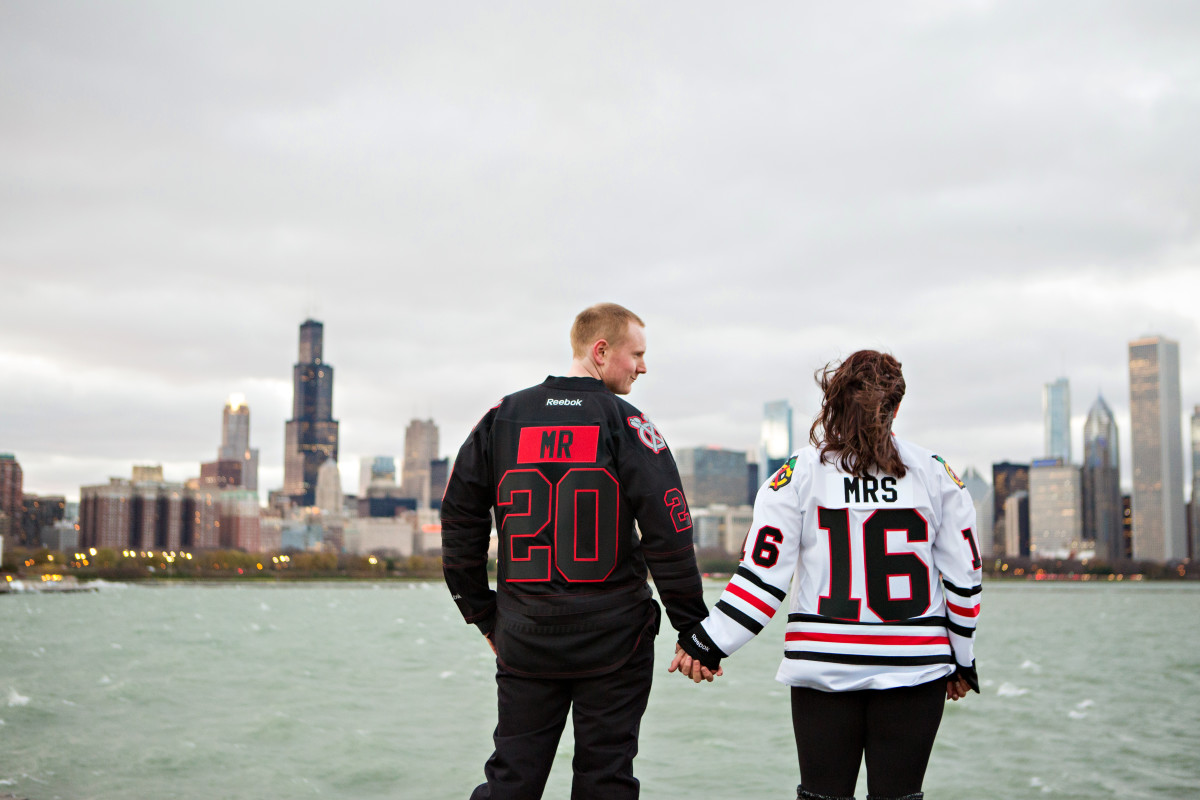 After a wonderful dinner at The Rosebud on Taylor Street, my new bride and I made our way over to the United Center with four of our attendees to watch our beloved Hawks take on the Washington Capitals. It was great fun and a great game too. Jay Beagle notched two goals in the first period, and Brian Campbell also lit the lamp. The Hawks trailed 2-1 after the first period, but Marian Hossa tied the game at two in the third period to extend our wonderful wedding-day game into overtime. Unfortunately, the Blackhawks lost this game when Marcus Johansson scored just over two minutes into the extra frame. It wasn't the result we'd hoped for, but we had a great time during the game nonetheless.
During the second intermission, my wife and I took a walk alone through the concession stands to get some isolated us-time. She looked so beautiful in her black and red-themed veil, her hair was done especially gorgeous, and we were sporting our matching "Mr. and Mrs. 2016" Blackhawks jerseys. We were just about to round the corner to the bar when we met the one and only Tommy Hawk himself.
Tommy Hawk instantly ran up to my wife, noticing the veil on her head. He pointed at it and looked to the both of us with as questioning of a look as possible on a mascot head whose facial features are predetermined. He then spun her around to look at the jersey and then grabbed me by the shoulder to look at mine as well, praising the jerseys as he went along. He gave us both big hugs and then we asked to get a picture with him. Of course, he obliged. We had a stranger take our photo and right as she was about to snap it, Tommy Hawk pushed me out of the way and tried to take off with my new bride! We all had a huge laugh and he gave us more hugs.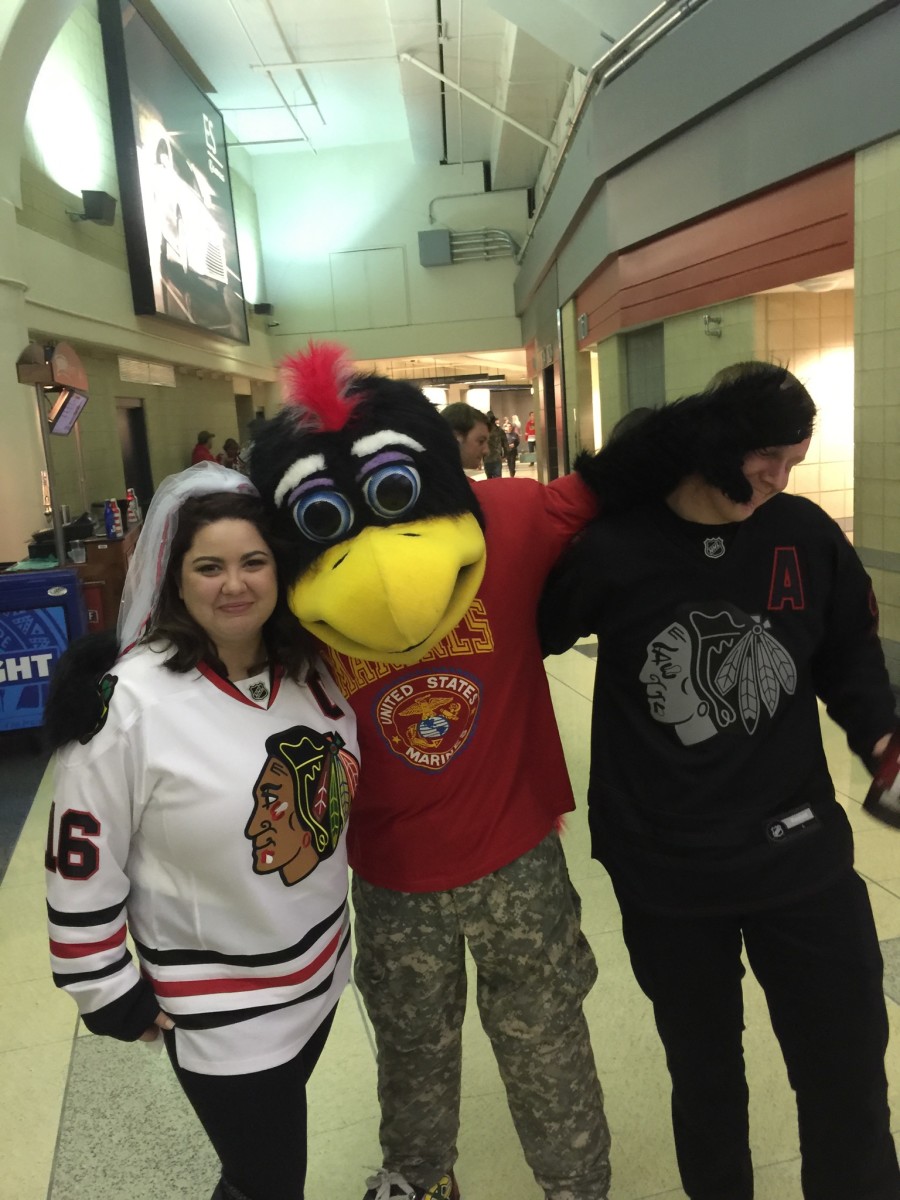 As previously mentioned, Tommy Hawk is a bundle of joy to be around.. that is until he tries to steal your brand new wife! Of course, it was all in good fun and we enjoyed every second we got to spend with Tommy Hawk. We told everyone what had happened and they all got great laughs out of it as well.
Tommy Hawk is never one to disappoint us fans. He so rightfully deserves the honor of being named Mascot of the Year. I hope my story encourages you to share your interactions with Tommy Hawk as well. Have you ever met him? If so, let us know in the comments!
---
Featured Photo: Patrick Green/CSM/Shutterstock