Alright, so maybe your team is not who you thought they were after week one. You may have been bitten by the injury bug, the shenanigans bug *cough AB,* or your players are just not off to a good start. There is no need to panic as we have you covered with some players you could add to revamp your roster and load up for your week two matchup. Owning the waiver wire early in the season with smart adds could make the difference in your fantasy season.
Quarterback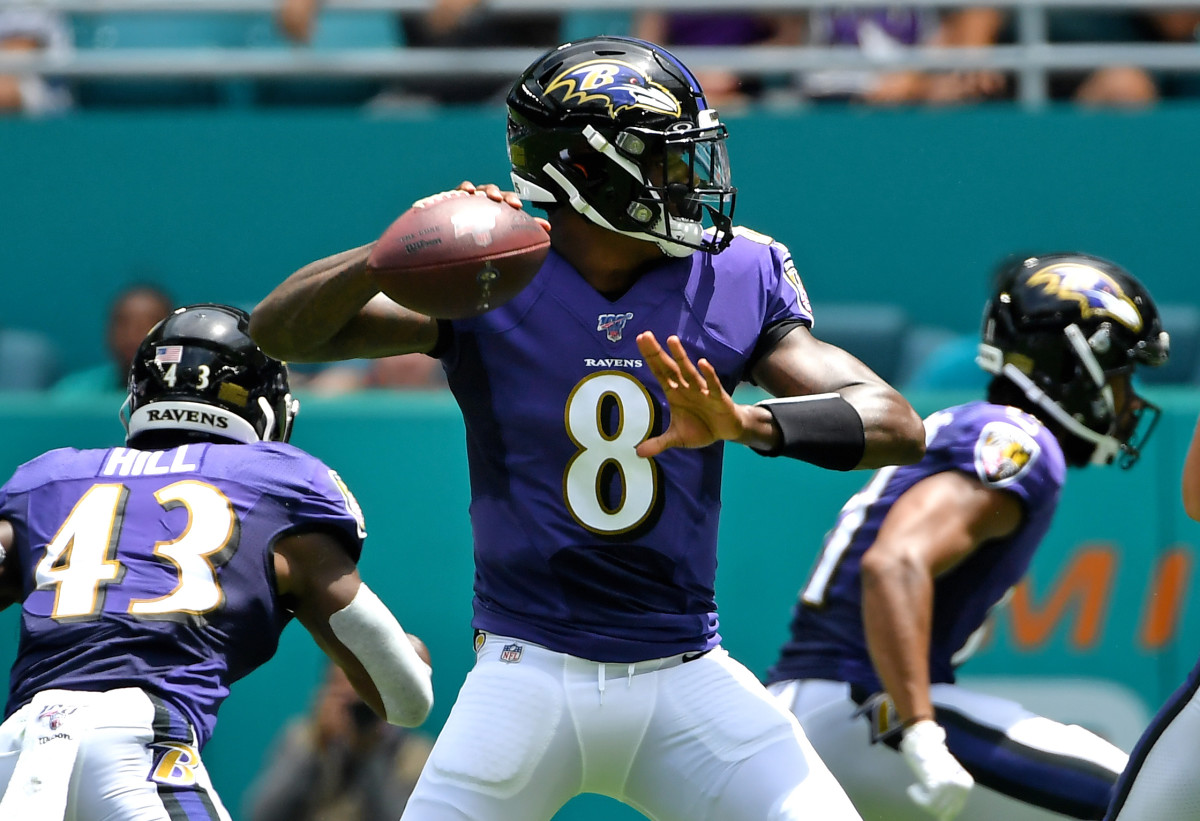 Lamar Jackson, Baltimore
Lamar Jackson is rostered in 80% of the ESPN leagues. His week one performance (17-20 for 324 yards and five passing touchdowns) was nothing short of immaculate. Yes, it was against a team that is going to struggle to stop anyone, but Jackson's arm was on full display. He showed accuracy and touch in addition to his usual arm strength. Granted, it is easier to display these arm traits when receivers are running wide open. Lamar Jackson also has another weapon that he did not use in this game — his legs. Between his running ability and this new arm talent, Jackson might be one of the safest and most consistent QBs in your league.
Before you get too excited, be aware that this is a small sample size (20 passes) against a team that might be the worst team the NFL has to offer this year. Also, consider the fact that everything was clicking on offense and the run game was super effective. If teams do a better job stopping the run, then it will put more pressure on Jackson.
Case Keenum, Washington
Keenum is rostered in 1.2% of ESPN leagues. In what may be an aberration, his performance definitely made him worthy of an add for at least a wait-and-see roster spot. That is what a 380 yard, three-touchdown performance against a good team will do for you. Keenum was forced to throw a lot with virtually no run game to speak of and still completed 30 of his 44 passes. Thus, showing that if called upon, Keenum is ready to throw the ball however many times a game and still display accuracy. Any quarterback that is accurate and trusts his offensive line (he was only sacked once) can be a dangerous fantasy football weapon, especially one that might have to throw a lot. It was only one game and it is Case Keenum, so maybe tempering expectations would be a good idea, but adding Keenum to your bench could prove to be a sneaky good move.
Wide Receiver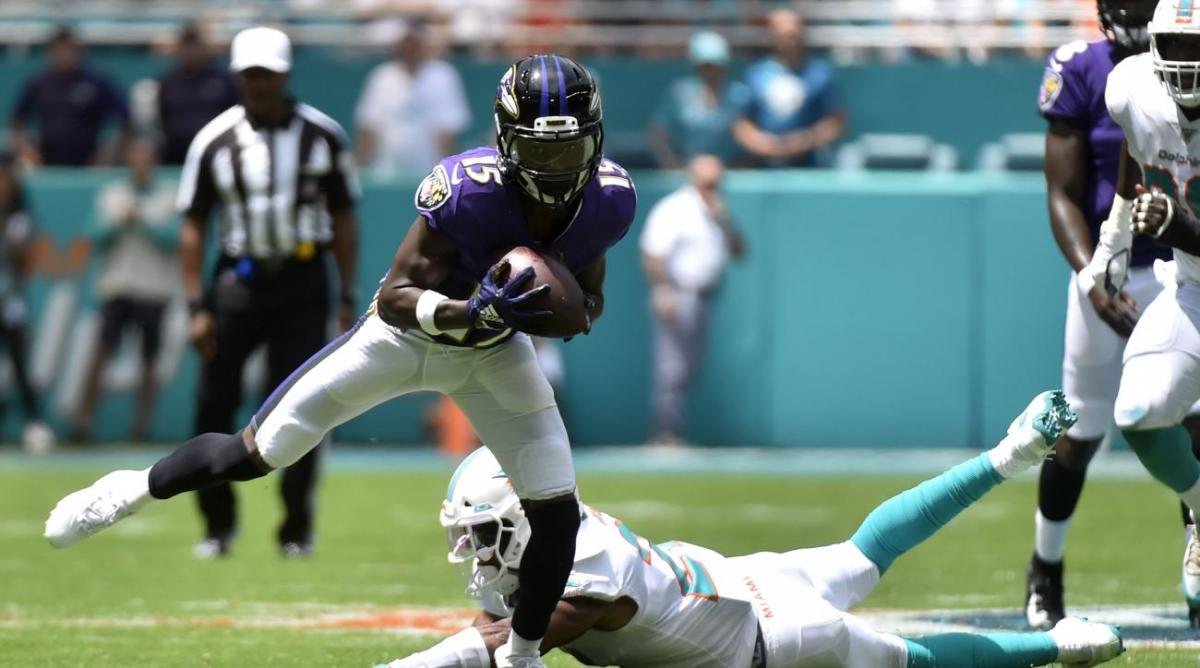 Marquise "Hollywood" Brown, Baltimore
Marquise Brown is rostered in 28% of ESPN leagues. What a debut for the rookie. Hollywood looked explosive when catching an 83-yard touchdown. He went on to score another touchdown in the game and did his best Tyrek Hill impersonation. Brown was only targeted five times, but catching four passes for 147 yards receiving. Expect some rookie inconsistencies going forward, but overall he showed enough big-play ability to earn a roster spot in most leagues.
John Brown, Buffalo
Brown is rostered in 35% of ESPN leagues. Whether you trust Josh Allen throwing the football or not, seven receptions on ten targets and 123 yards is hard to ignore. If Brown develops a rapport with Allen and becomes the go-to receiver on the team, the Buffalo wideout could be a sneaky good add. Beware of the Bills offense though; they hardly have a history of consistency.
Terry McLaurin, Washington
McLaurin is rostered in 7.3% of ESPN leagues. Last year, the Redskins were a quietly quality team that surprised people. Terry McLaurin surprised people on Sunday by catching five passes for 125 yards and one touchdown. No longer second fiddle to Paris Campbell on Ohio State, the talented McLaurin can be a breakout player this season as long as his targets (seven in week one) stay consistent.
Danny Amendola, Detroit
Danny Amendola is rostered in 3.4% of ESPN leagues. With 13 targets, he was clearly Matthew Stafford's Mr. Dependable. Amendola caught seven passes for 104 yards and a touchdown. Touchdowns may not come consistently for Amendola, but targets and receptions should as long as he is healthy enough to play. In PPR leagues, Amendola could be a poor man's Julian Edleman. He might not have as much value in non-PPR leagues, but he could still be a solid contributor.
Ted Ginn Jr., New Orleans
The Saints wideout is rostered in 15% of ESPN leagues. Catching all seven of his targets for 101 yards in week one, Ginn looked like someone who can contribute, at least on a part-time basis, to a fantasy team. With all the weapons that the Saints have, Ginn might be difficult to rely on each week. However, given the volume of passes that the Saints throw, he could account for enough production to be worth a roster space and a spot start.
*Some players were left off the list due to various factors, such as targets (DJ Chark Jr.), repeatability (John Ross III), or rostering in too many leagues (Michael Gallup, Tyrell Willams). If those players are available in your league, they could be worth an add.
Running Back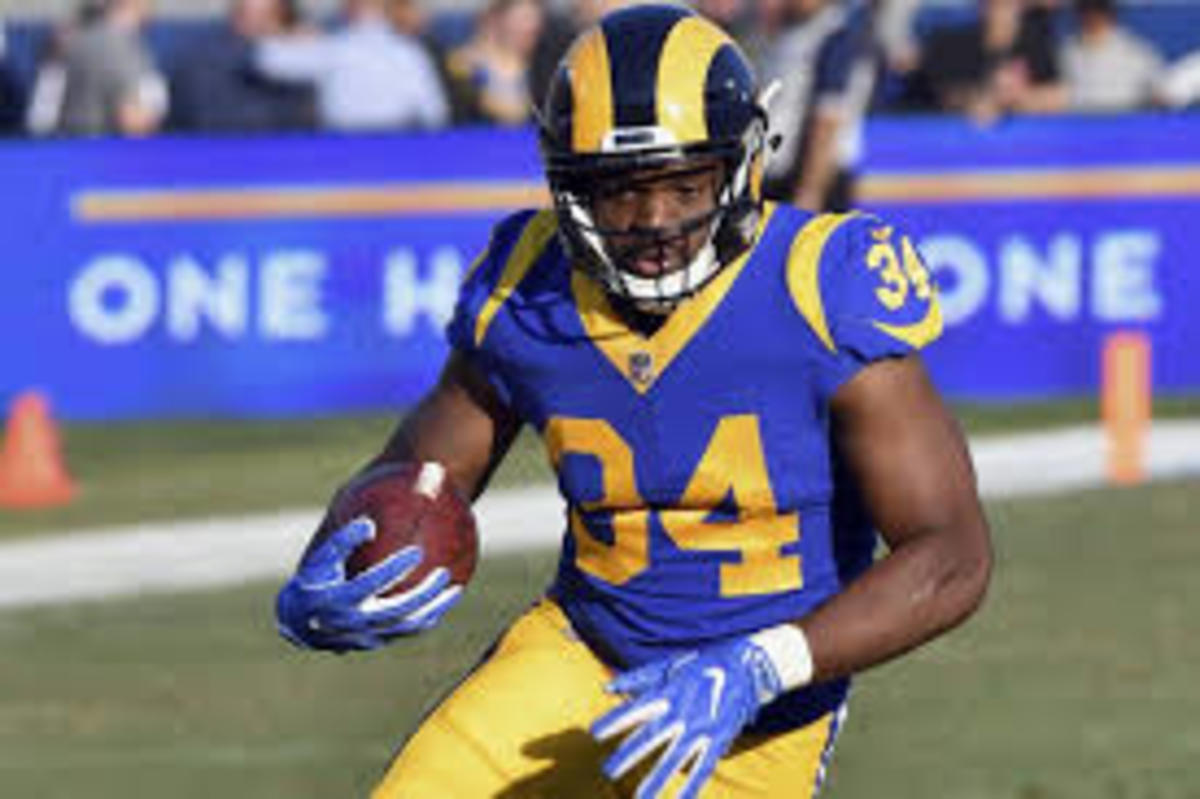 Giovani Bernard, Cincinnati
If you are a fellow Joe Mixon owner, then hopefully you strategically restored Bernard as the handcuff. However, for those of us that did not, Bernard is only restored in 32.3% of leagues. Although initial reports on Joe Mixon's rolled ankle are positive, there is no guarantee he will play Sunday against the 49ers. When Mixon went down last year due to injury, Gio Bernard posted RB2 numbers. I expect that to be the case this week given not only the opportunity but also Bernard's great pass-catching ability. If you see him in your league, roster him!
Malcolm Brown, Los Angeles Rams
Although Brown posted 19 touches to Todd Gurley's 51, he capitalized on each one of those by delivering 53 yards on 11 carries, all while taking two scores. The game against the Panthers was relatively close, and it's clear after game one that McVay and company will keep a pitch count on Gurley for the time being. Many thought Darrel Henderson would be the beneficiary of Gurley's limitations, but the entire staff was very pleased with and touted Brown in the offseason. If you are a Todd Gurley owner, Brown is one of the most important must-pick up handcuffs of the year, and he is currently rostered in only 6.5% of leagues. If Gurley were to miss any time, Brown jumps to borderline top RB2 rankings.
Chris Thompson, Washington
Thompson is rostered in 18.9% of leagues. It's easy to overlook him considering a crowded Redskins backfield also includes Derrius Guice and the legendary Adrian Peterson. Although Thompson did not post huge rushing numbers, he led the team with seven receptions for 68 yards, giving him a rather nice PPR fantasy game. Expect this usage to increase given Guice's knee injury. There is no timetable for his return, and after tearing his ACL last year, you can rest assured they will not rush him. Expect the Redskins to play from behind much of this year. If this is the case, Thompson will see his fair share of targets.
Carlos Hyde, Houston
Hyde had a quiet game in a strong battle with the Saints. He posted ten carries for 83 yards, good for 8.3 yards per carry. My concern with Hyde is volume because Duke Johnson Jr. is also on the team. Johnson Jr. had nine carries for 53 yards but followed that up with four receptions for 33 yards. It's clear the Texans will be using Johnson Jr. heavily in the passing game, but if Hyde can establish himself as the lead rusher on this team, he can have great upside value. If you have an extra roster spot due to injury or etc., don't be afraid to take a late-round flyer on him as he is rostered in only 39.4% of leagues.
Tight End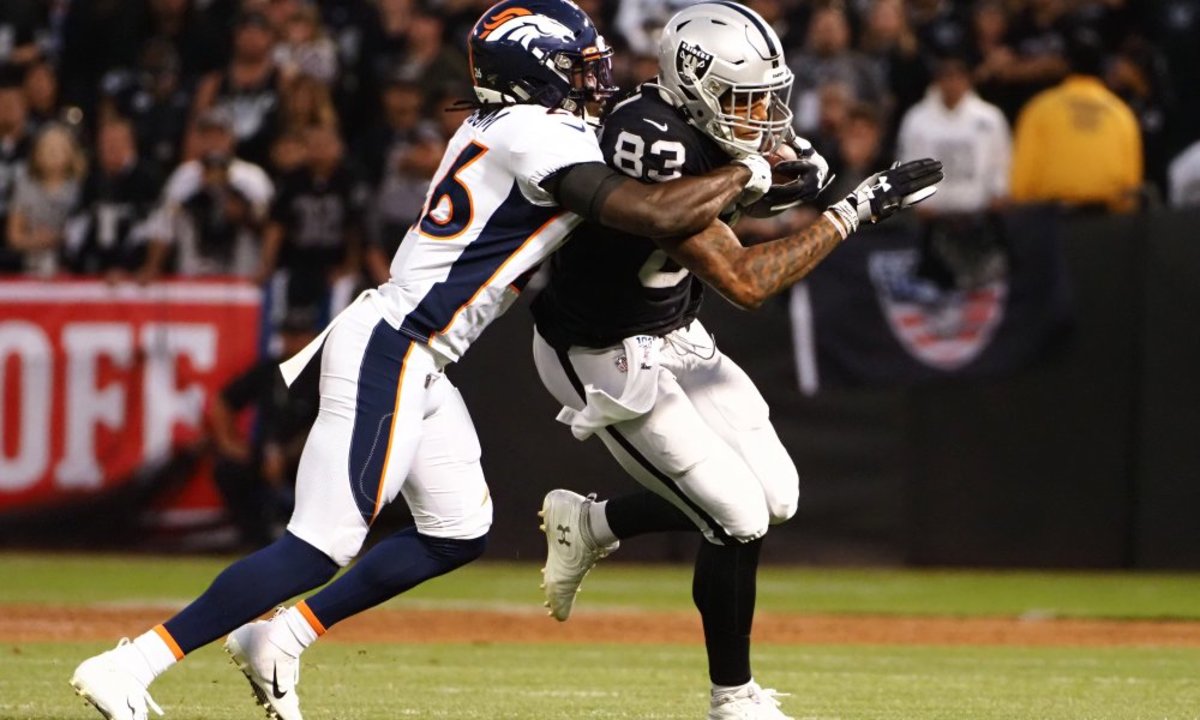 T.J. Hockenson, Detriot
T.J. Hockenson had himself a game in week one by catching six passes on nine targets for 124 yards and a touchdown. He broke the rookie tight end record for most yards in an NFL debut. Whatever you do, you need to make sure that he is at the top of your priority list. Quality fantasy tight ends are scarce, and his performance is going to draw a lot of eyes. Although it was the Lions' first game, it seems they will be using their tight ends much more frequently than in years past.
Mark Andrews, Baltimore
The Baltimore Ravens have consistently been heavy users of tight ends over the last couple of years. In fact, in the last three years, they have been at least top-seven in tight end targets. With that being said, the problem for Ravens tight ends has never been the quantity of the workload, but rather who will be getting it as the team is notorious for using multiple TE's. Though almost everyone on the Ravens had a career game, it seems Mark Andrews is favored to be the lead tight end for this stacked Baltimore group. He is currently rostered in 51% of leagues, so go pick him up if you can. Remain cautious though; he does have former first round pick Hayden Hurst trailing behind him.
Darren Waller, Oakland
On the brighter side of Oakland Raiders pass catchers, there is Darren Waller, who had a great season debut by catching seven of eight targets for 70 yards in an unexpected Raiders win. There is no doubting how much Gruden will like to use Waller throughout the season — the tight end played 55 out of 55 total snaps. The more snaps played, the more pass catching and playmaking opportunities Waller has. He is currently rostered in 26.8% of leagues, and he is a must-grab due to his upside and enormous opportunity.
---
Featured Photo: Darryl Webb/AP