Upgrading the point-guard position has been a focal point of the Bulls' offseason. They signed Tomas Satoransky, re-signed Ryan Arcidiacono and Shaquille Harrison, and with the seventh pick they took the 6'4" guard out of North Carolina, Coby White. While possessing an exciting offensive game, the ceiling of Coby White still remains uncertain, but we believe he has the tools to be the second coming of former All-Star, Gilbert Arenas. Here is why.
A season ago, the Chicago Bulls had many setbacks. It started with the injuries, headlined by Lauri Markkanen, followed by the coaching change, then the player mutiny. These were just some of the factors that contributed to the Bulls ending the 2018-19 season with a disappointing 22-60 record. When Fred Hoiberg was fired in December, Jim Boylen instantly implemented an offensive system which resulted in the Bulls playing at a very slow pace. This scheme resulted in the Bulls ranking 20th in pace and 26th in transition points among the NBA. We saw explosive guards like Zach LaVine walking the ball up on most possessions instead of getting out on the fast break — which is vital for a team with as much speed and athleticism as the Bulls. This is where Coby White comes into the picture.
White is not only an explosive scorer, but he also has a deep shooting range, excellent speed, and quickness handling the ball, as well as the ability to push the ball up the court in only a matter of seconds. These are just some of the traits Coby holds that had him drafted so high in the 2019 NBA Draft. After Coby was taken seventh by the Bulls, executive vice-president John Paxson said at the draft press conference "Jim [Boylen] wants to play faster. He has a philosophy [that] the multiple-ball handler system is something that lends itself to playing faster because you can grab the ball off the board and guys can push it themselves. I know that Jim wants to implement during training camp". This lets us know that once Coby White gets a feel for the league, he will be a focal point of this Bulls offense, as he excels in transition.
Many have different opinions on Coby White's ceiling. It is fairly obvious his game is very similar to a prime Gilbert Arenas. White has the size and quickness to match Arenas and both possess a fantastic mid-range game. While these comparisons may excite Bulls fans, we should also be aware that both of these players coming into the NBA had very raw potential, and scouts and other personnel had numerous doubts about the two. This was due to not knowing what position they would play and guard, and uncertainty about how their slim bodies would hold up against other NBA professionals night in and night out. Even the physical makeup of White and Arenas are very similar. Coby White is around 6'4", weighing in at 185lbs, and Gilbert Arenas was 6'3" and 191lbs.
One thing that strikes me about the situation of both of these players was the environment they were in to begin their careers. Gilbert Arenas was drafted in 2001 by the Golden State Warriors, who were coming off a 20-62 record. Coby White was drafted in 2019 by the Chicago Bulls, who are coming off a similar 22-60 record. Both teams were looking for a point guard that could not only play fast but also be able to coexist with a group of young stars. The Warriors main two players at the time included Jason Richardson and Antawn Jamieson. Richardson made the All-Rookie first team, and Jamieson was a two-time All-Star. The Bulls main two players as of now are Zach LaVine and Lauri Markkanen, and they have even higher expectations set on them. In his rookie campaign, Gilbert played around 24 minutes per game. On the Bulls Talk Podcast, K.C. Johnson has said that Coby White is expected to play between 20-24 minutes per game to begin his rookie season. Arenas was used as a combo guard during a majority of his rookie campaign and played a lot off the ball while the Warriors played through franchise centerpiece Jason Richardson. At this stage, to nobody's surprise, Coby White is also expected to be used as a combo guard that can push the pace and knock down jump shots. And, hell, let's not forget both players wore the number zero.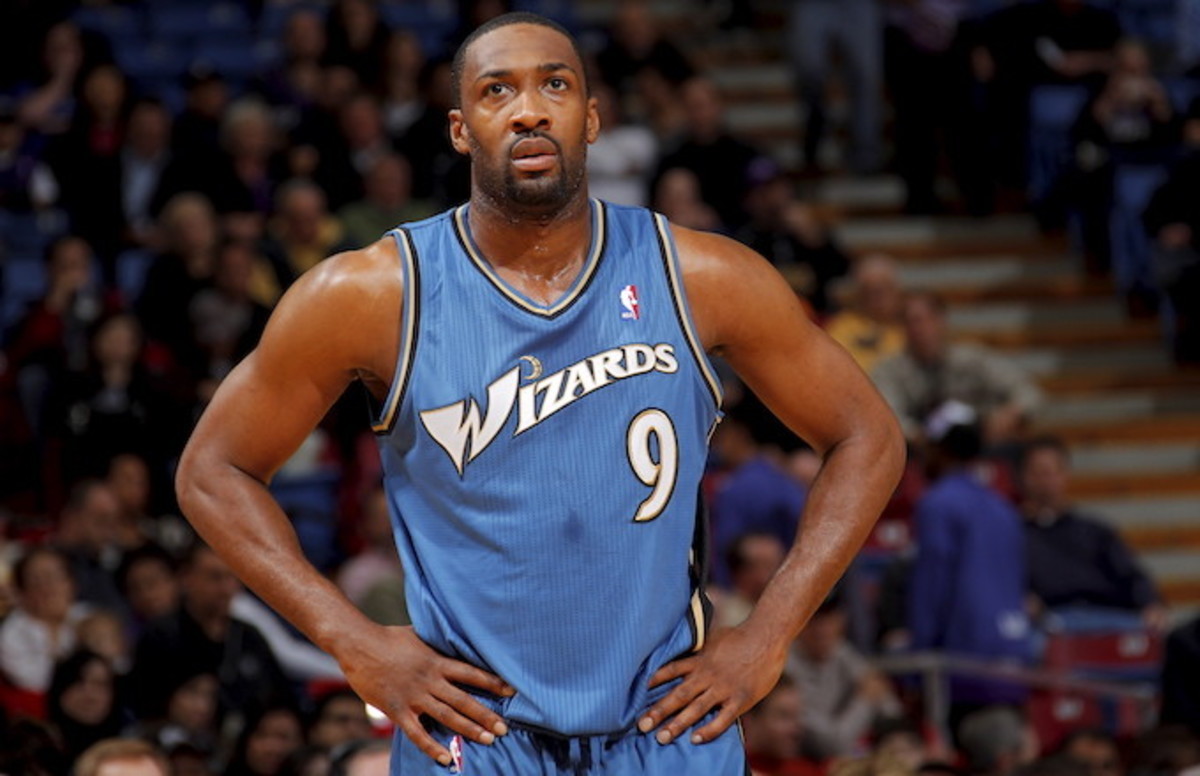 Even though Coby White is set to be a long-term project, his main goals for his rookie year should be to take it slow and let the game come to him, especially if he is getting minutes as a point guard. Jim Boylen talked to him at Summer League about scanning the floor and "taking a picture in your head" before making a decision. And sure, the Bulls will be giving Coby time to learn how to run an offense and become an NBA point guard. Sure, Coby White is a raw prospect out of North Carolina. But playing and training alongside the likes of Tomas Satoransky and Kris Dunn will definitely help him learn the craft of what it takes to be a fundamentally sound point guard. And who knows, Gilbert Arenas turned into a star in the NBA due to his pure offensive skill which took years to develop, maybe White can follow the same trend.
Let me know your thoughts on this article and what your ceiling on Coby White is at @joshjbullshoops on Twitter, or email me at joshjbullshoops@gmail.com.
---
Featured Photo: Getty Images