Zion Williamson made his debut at the United Center tonight, and it was pretty fantastic. Zion ended the game with 29 points on 12 for 13 shooting in the Pelicans 127-125 win over the Bulls. Despite the loss after being up by 23 points, the Bulls rotation players were outstanding, and we will break down what we saw from the players who logged court time.
Whenever there is an ESPN camera around, it's fair to say Zach LaVine does his thing. He dominated tonight on all areas of the floor, scoring 28 points on 10 for 16 shooting — including some pretty nice dunks. Something that stood out about LaVine tonight during his 24 minutes of play was his awareness on the defensive end. Zach pushed the pace of the game very well tonight, resulting in a 45-point second quarter as a team. He was aware, especially while on the perimeter, and he even had a steal resulting in a fast-break dunk on the other end. Ultimately, it was a great game for Zach and he proved once again that he can make the All-Star team this season.
Lauri began the game scorching hot from three, as he so often does. One came right over Zion Williamson, which was, as Stacey King often says, "Rockford deep." Markkanen was very engaged on the defensive end tonight and did a great job at keeping Zion Williamson out of the game in the first quarter. Lauri said at Media Day that he wanted to become a two-way player, and he definitely showed signs that he can eventually meet that goal. He even drew a charge on Brandon Ingram in the first quarter! We need to see Lauri, like Zach, be more aggressive on the offensive end and get more shots up in the half-court set. Lauri ended the game with 12 points, four rebounds, and four assists in about 23 minutes.
Otto Porter Jr.:
As I stated in my last player recap, expect Otto Porter to shoot lights out against the Pelicans. He did that — and more. Otto was great on both ends of the court tonight, posting 16 points, seven rebounds, and eight assists. He did an exceptional job pushing the pace for the Bulls, who are obviously playing very fast. He did an even better job at setting other players up, which resulted in a career-high in assists. Notably, the two-man game between Otto Porter and Zach LaVine is improving every game. Those two have it clicking.
After Kris Dunn started the preseason opener against the Milwaukee Bucks on Monday, it was time for Tomas Satoransky to impress coach Jim Boylen after being given the start at point guard tonight. Tomas looked great on both ends.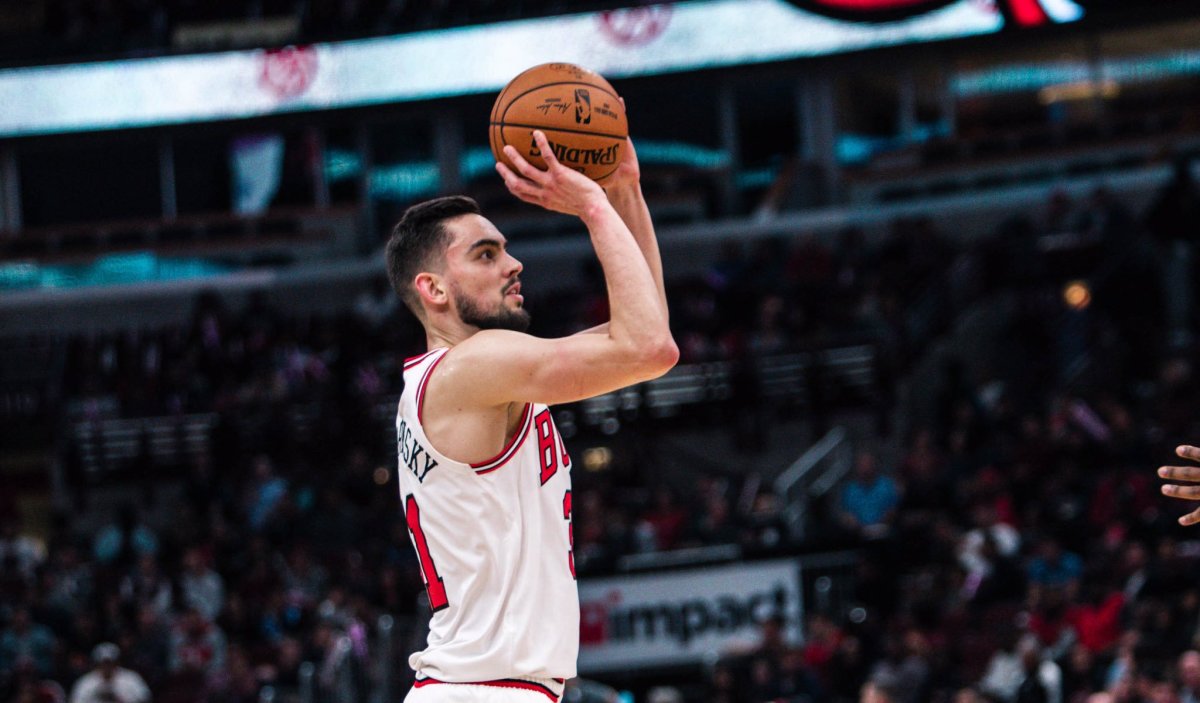 He was clearly the most solid starter on the floor along with Otto Porter, and he played well either on or off the ball. Satoransky ended the game with 11 points, five rebounds, and eight assists in 20 minutes. Only time will tell if 'Sato' earns the job as this team's starting point guard going forward.
With Wendell Carter still day-to-day with a bruised tailbone, Cristiano Felicio was given the start once again. He didn't contribute much throughout the game aside from wasting the shot clock on the final possession with the Bulls down two. With three centers, excluding Cris, who can play well, I personally would be surprised to see him accumulate any minutes in the rotation. He finished with just one point and four rebounds tonight.
Jim Boylen had some high praise for Luke Kornet prior to his Bulls debut tonight, and the young forward certainly did not disappoint. Kornet provided valid floor spacing for the Bulls, who shot 37 threes as a team, and he ended the game with nine points, two rebounds, and four assists. He even threw a slick dime to Lauri Markkanen for an open dunk. I am already a big fan of Luke, so I'm looking forward to seeing who wins the backup center minutes between him and Daniel Gafford.
Kris Dunn:
Delegated a bench role, Kris Dunn was very quiet tonight. He couldn't get involved in the game while playing with the second unit and struggled to knock down shots. Even though Kris appeared stagnant on the offensive end, he was a leader on the defensive end. It was evident the team looked better on defense when both he and Thaddeus Young were on the floor, and it resulted in a lot of transition points for the Bulls. Dunn had two points, five rebounds, five assists, and four turnovers tonight.
Thaddeus Young:
Being a team leader is what Thaddeus Young does, and he does it pretty damn well. He brought the energy off the bench for the Bulls and was a key contributor in the 45-point second-quarter run. It is fair to say he will be a big part of this team if they are going to not only win games but ultimately make the playoffs. He had an explosive dunk right over Derrick Favors as well as a three-ball, which came off a nice dish by Otto Porter. Young finished with 11 points and six rebounds in 23 minutes.
In the 19-year-old's second NBA game, Coby White looked great, especially when playing with the starters. His awareness on both ends was solid and, while coming into the draft labeled an average defender, it is fair to say he has great defensive upside and may even be one of the team's best guard perimeter defenders.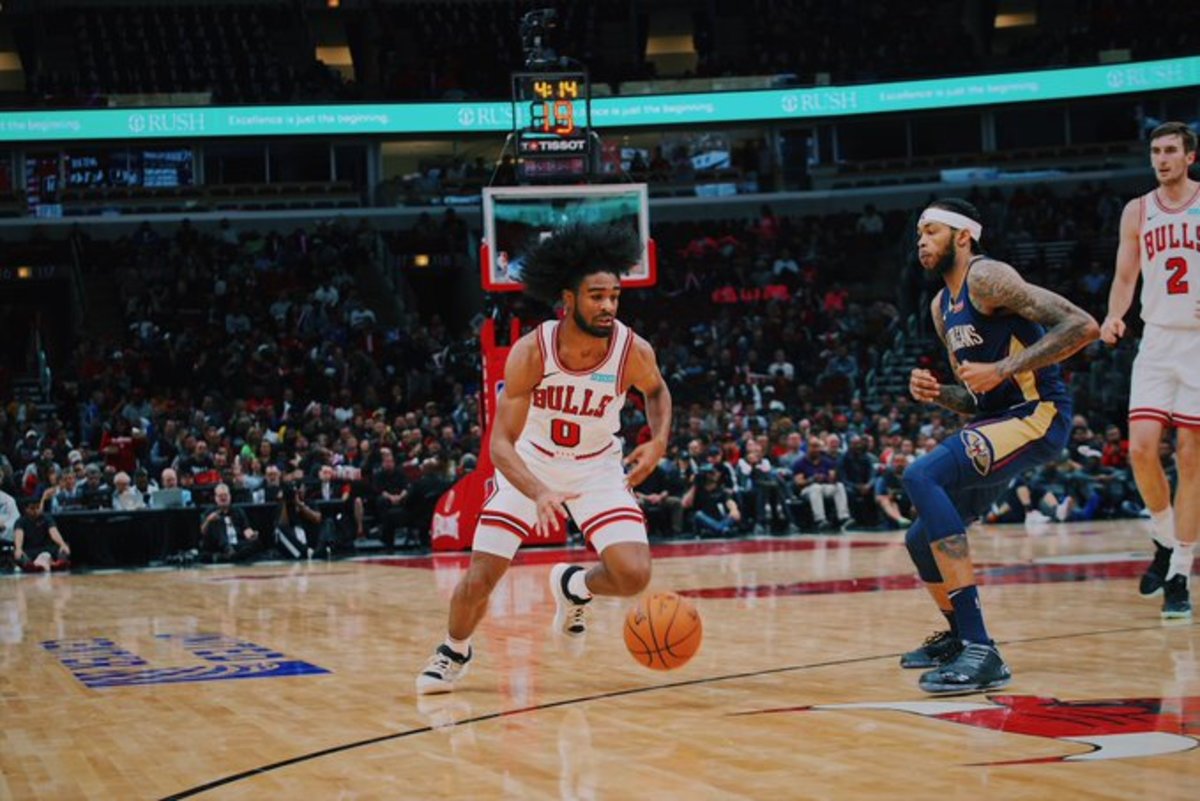 Whether or not Coby starts this season for the Bulls, I am excited to watch his development as it looks like, again, the Bulls got two steals in the draft with him and Gafford. White finished tonight's game with 13 points, three assists, and three rebounds.
Although Denzel played an average game, we will cut him some slack due to this being his second game on a basketball court in over 12 months. Proving he is a valuable floor spacer, even after that injury, Denzel did provide some solid moments tonight, making two threes and getting his teammates involved. However, he needs to improve on the defensive end in order to make this rotation. We often saw him getting blown by off the dribble, resulting in either two or three points for the Pelicans. Tonight, Denzel had ten points, four rebounds, and three assists.
Daniel Gafford:
After having an exceptional game against the Bucks on Monday, Daniel Gafford took on a smaller role with the return of Luke Kornet to the lineup. Despite only playing 12 minutes, Gafford played well fundamentally and did all the little things well that will eventually result in the Bulls playing winning basketball. He finished with eight points, three rebounds, and a block. He even threw down another vicious alley-oop fed to him by Denzel Valentine. Keep an eye out on who wins the backup center minutes in the coming days.
Despite being very reliable for a point guard, it seems that Ryan Arcidiacono will find limited minutes with this Bulls rotation. He was given just seven minutes by Coach Boylen in the dying stages of the game, resulting in just four points on two shot attempts. With all the guard depth on the roster, it will be interesting to see how Arch fits into it, especially after signing a three-year, $9 million contract over the summer.
Adam Mokaka:
Once again, Mokaka entered the game midway through the fourth quarter and played very limited minutes. He went zero for three and missed an open three in the clutch that would have put the Bulls ahead in the final minute. It will be hard for him to find minutes, especially with Chandler Hutchison and Shaquille Harrison expected to return soon.
Justin Simon:
We barely saw anything from Justin Simon, who checked in with just three minutes left in the game. He is another player who will likely spend the majority of this upcoming season in the G League working on his craft. Nevertheless, it's great to see another undrafted player make his way up through the ranks.
The Bulls played very fast, and we saw an exciting game resulting in a lot of threes and some powerful dunks. This is just a glimpse of what these Bulls are going to do throughout the regular season, and it cannot come soon enough! Let me know what your thoughts were on the Bulls game against the Pelicans on Twitter @joshjbullshoops, or email me at joshjbullshoops@gmail.com.
---
Featured Photo: ChicagoBulls/Twitter