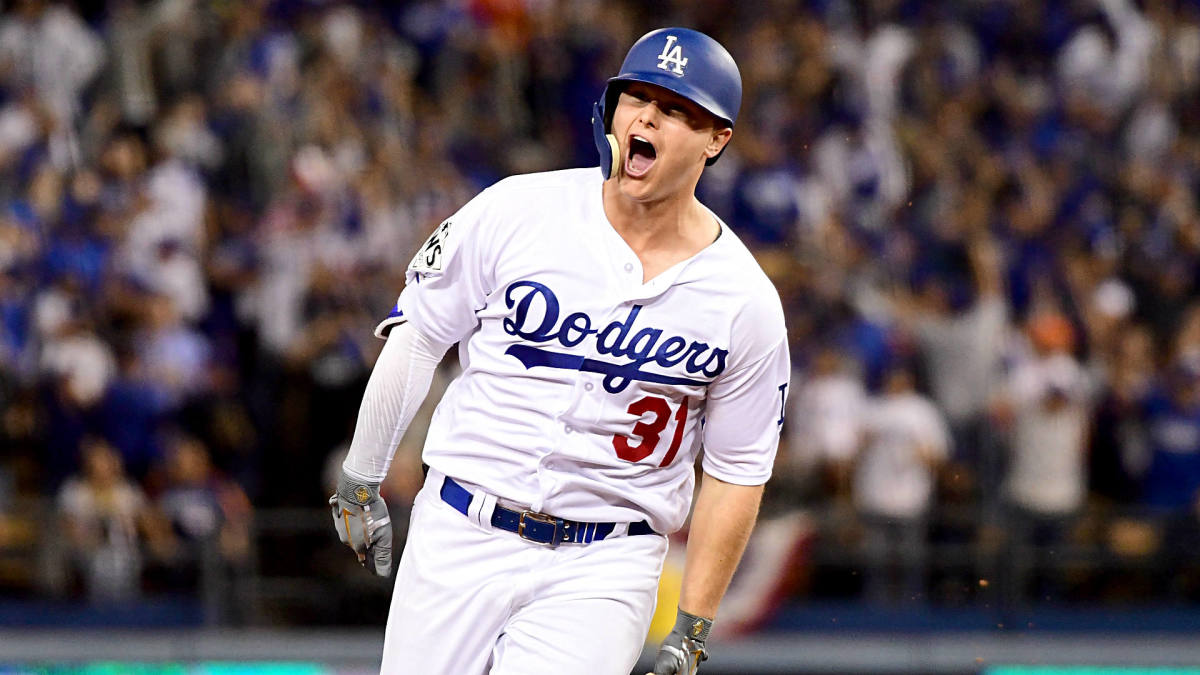 The White Sox screwed up last offseason, no doubt about it. Missing out on once-in-a-lifetime talents like Bryce Harper and Manny Machado stung. Even with those failures, I wholeheartedly believed then, and now that the White Sox can spend the money outside of those two and produce a playoff contender for years to come. To prove so, I'll address each area of potential roster construction.
Arbitration
In arbitration, I'm keeping Alex Colome, James McCann, Leury Garcia, and Evan Marshall.
I'm resigning Abreu at $15 million a year for three years to keep him in a White Sox uniform for the foreseeable future. He certainly deserves it.
Trade
Chicago White Sox send SP Jonathan Stiever, OF Blake Rutherford, RP Ian Hamilton, and SP Jimmy Lambert to the Los Angeles Dodgers for OF Joc Pederson.
This trade accomplishes what the White Sox desperately need — a right fielder. Pederson can play all three outfield positions and play them well while providing power from the left side of the plate. The White Sox give up a promising starting pitching prospect, a once top outfield prospect, a reliever with upside, and another decent starting pitching prospect.
Free Agents
Yasmani Grandal – 5 years/$90M
J.D. Martinez – 3 years/$72M
Wade Miley – 2 years/$8M
Brock Holt – 3 years/$12M
Jarrod Dyson – 1 Year/$3M
Pedro Strop – 2 years/$8M
This free agent list addresses depth, pitching, and most importantly hitting. Grandal and Martinez are two of the best at their positions and will provide much-needed production from the catcher and designated hitter spots.
Lineup
Luis Robert ($600K) – CF
Yoan Moncada ($600K) – 3B
J.D. Martinez ($24M) – DH
Jose Abreu ($15M) – 1B
Joc Pederson ($8.5M) – RF
Eloy Jimenez ($2.3M) – LF
Tim Anderson ($4M) – SS
Yasmani Grandal ($18M) – C
Leury Garcia ($4M) – 2B
So the lineup portrayed here includes Luis Robert, as he should be up within the first few weeks of the season even if the White Sox play the service time game. My guess is that Ryan Cordell would fill in for that period of time and be sent down once Robert is called up. Additionally, once Madrigal comes up, he takes his spot at second while Leury Garcia moves to the bench, with Danny Mendick being sent down.
Bench
James McCann ($4.9M) – C
Zack Collins ($600K) – C/1B
Brock Holt ($4M) – UTL
Jarrod Dyson ($3M) – OF
Danny Mendick ($600K) – IF
I decided to keep three catchers with the movement of the 25-man rosters increasing to 26. Collins will get some opportunities behind the plate but ultimately will get his plate appearances as a first baseman and designated hitter. Brock Holt will be able to be the ultimate Swiss Army knife for the White Sox, and Jarrod Dyson will be able to come off the bench to use his speed as a weapon after swiping 30 bases last season.
Starting Pitching
Lucas Giolito ($600K) – SP1
Michael Kopech ($600K) – SP2
Dylan Cease ($600K) – SP3
Wade Miley ($4M) – SP4
Reynaldo Lopez ($600K) – SP5
IL: Carlos Rodon ($4.5M)
This rotation would be the case only if Kopech is ready opening day. If he is not, I can see the Sox re-signing Ivan Nova, who would take Kopech's spot until the young right-hander returns to the show. Once Carlos Rodon comes back midway through the year, he may bump Reynaldo Lopez out of the starting rotation. Wade Miley had a career year last year in Houston, and the White Sox would take a gamble hoping he can come in and provide above-average production for them.
Bullpen
Alex Colome ($10.3M) – CL
Aaron Bummer ($600K) – SU
Evan Marshall ($1.3M) – SU
Pedro Strop ($4M) – RHP
Kelvin Herrera ($8.5M) – RHP
Jimmy Cordero ($600K) – RHP
Jace Fry ($600K) – LHP
The bullpen did really well last year and deserves a chance to prove itself again with some of the best pieces coming back. The addition of Strop provides the White Sox a chance to see if they can bring a former star back to his dominant self.
Conclusion
This construction puts the White Sox payroll at around $127 million next year. That would be 18th in 2019, which seems like a fair middle ground for the fans and Jerry Reinsdorf. The White Sox would potentially roll out one of the scariest lineups in the AL. The pitching is young, which would certainly spark some doubt, but there is no question that the potential is there. The one thing I made sure to address was the outfield depth. With Luis Robert, Eloy Jimenez, Joc Pederson, Leury Garcia, Jarrod Dyson, and even Brock Holt, the White Sox would have their best outfield depth in a long, long time. The power, speed, and patience from this lineup is the type of fun we deserve on the South Side.
---
Featured Photo: Getty Images