It couldn't have come at a worse time. After struggling much of the non-conference schedule, Rex Pflueger and the Irish finally seemed to be figuring it out with a 12-point lead against Purdue with seven minutes left, a team who eventually came one bucket away from reaching the final four. But in typical fashion these past two seasons, a season-ending injury effectively ended any tournament hopes for the Irish. Pflueger came to a jump stop to field a rebound, his left knee buckled inward, then he hit the ground holding his knee grimacing in pain. Season over. Right when the Irish found their initiator of the offense in Pflueger, who had a ten to one assist-to-turnover ratio in 30 minutes of play during that game, he was lost for the season. The Irish offense never looked the same after that Saturday in December, and it was due to Pflueger's absence from running Mike Brey's prototypical motion offense.
Without Rex's presence both from basketball and leadership standpoints, the Irish turned in the worst season Mike Brey has had in his illustrious 19-year tenure in South Bend. The Irish finished 3-15 in the ACC, good for last place. Fast forward ten months and Pflueger is cleared for all basketball activities, per his own words below:
Mike Brey said in his press conference a month ago at ACC Media day that this clearing means Rex is full-go to participate in five-on-five drills. Rex is known for his exceptional work ethic and he has been waiting for this day for months, so Brey and co. do not plan on holding him back. However, Brey did admit that he may be on a minutes restriction in November. When the Irish go to Chapel Hill to take on North Carolina in their season opener nine days from now, I would be shocked to see Rex in the starting lineup. However, his sheer presence on the floor, even for only 20 minutes a game, is crucial for this Irish team. Rex has played and excelled in big moments back when ND was contending for ACC titles in 2016 and 2017, which is proven by his game-winning tip-in to beat Stephen F. Austin in the second round of the NCAA Tournament in 2016 that helped the Irish appear in back-to-back Elite Eights. He makes game-winning plays that may or may not show up on the stat sheet. Sound decision making down the stretch of close games is something ND really struggled with last season with their young backcourt. Rex will help in that regard and fill the leadership void this team possessed last season. John Mooney was a stud last season and deserves first-team all ACC recognition this year, but he is a soft-spoken individual (hopefully that changes this season). And with captain T.J. Gibbs regressing last season, there was no one for the young guys to look to. Rex will be that guy this year.
Although Pflueger has struggled shooting the ball at times in his tenure at Notre Dame, there's a lot that he can provide to this team other than simply leadership. As stated earlier, he was starting to excel at running the offense last year right before his injury. Sophomore Prentiss Hubb is expected to be the lead guard this season, but look for Rex to be the second primary ball-handler in this offense. This allows senior guard T.J. Gibbs to play off-ball and focus on being a spot-up shooter rather than attacking the lane, which he struggled doing last season. Hopefully this allows Gibbs to get back to his sophomore self.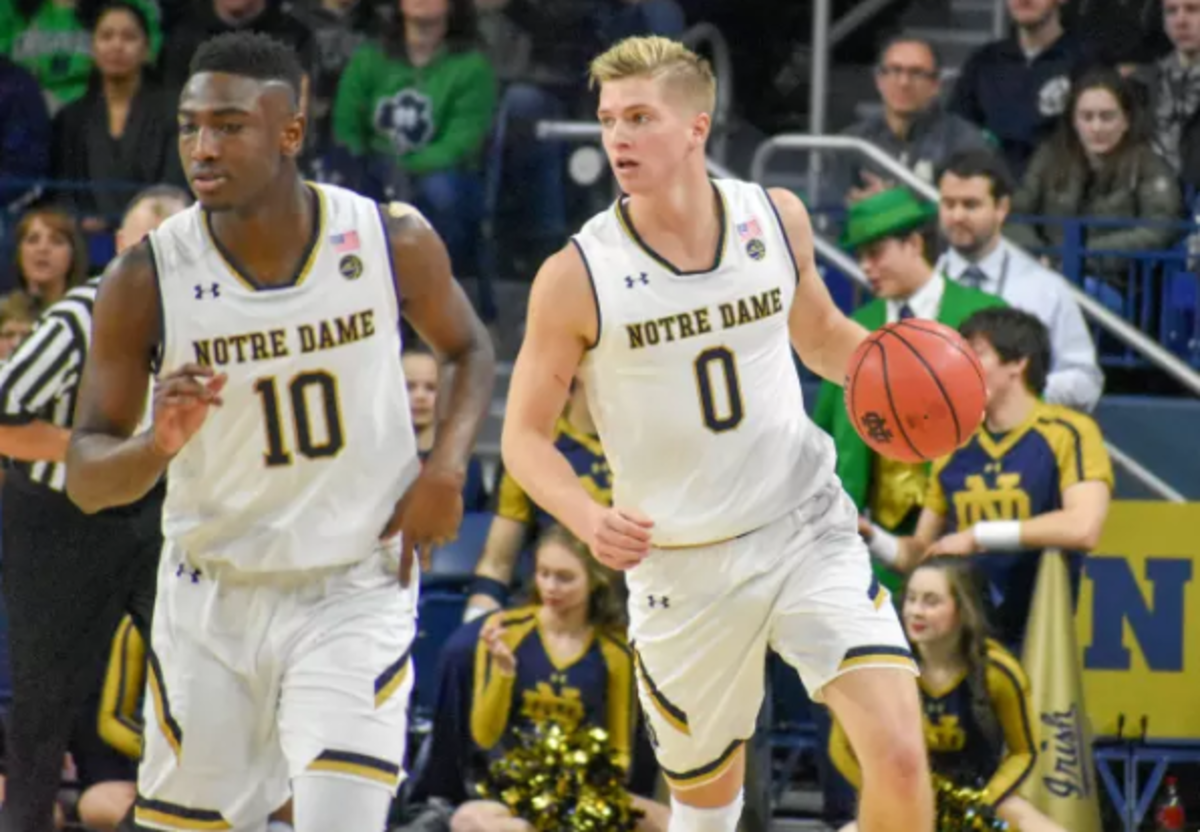 Having another guy in Rex who can drive the lane also frees up shooters on the perimeter. ND has players that can shoot the ball, such as Nate Laszewski, Dane Goodwin and T.J. Gibbs, but they could not showcase it last year because their half-court offense featured nobody who could attack the lane and make the defense collapse, which creates separation for perimeter shooters. A more seasoned Hubb and the addition of Rex may completely solve this weakness as long as Rex didn't lose too much of his explosiveness and playmaking ability due to the ACL injury. If this domino effect comes to fruition due to Pflueger's comeback, the Irish can return to having one of the better offenses in the ACC and should be able to get back to the tournament. However, that's a lot of 'ifs.' Even with Rex's comeback, this team has many question marks that won't be answered until well into the season. Stay tuned.
---
Featured Photo: WNDU