As the Irish gear up for their season opener tonight in Chapel Hill against the Tar Heels, a lot is on the line for the Notre Dame basketball program. The cloud of the worst season in the Mike Brey era last year still hangs over the program, and the Irish desperately need to regain the momentum it once had from 2015-2017. That starts with getting back to the NCAA tournament, which the program has missed the last two seasons. A lot of the past two year's struggles were due to some ridiculously bad luck with season-ending injuries, but the college basketball world really doesn't care about that. The team wasn't competitive last year, and that must change this season. Here's a look at my in-depth breakdown of the roster and how I envision the rotation shaking out.
Starting Lineup
Prentiss Hubb – Sophomore: If there's one player's development that will dictate how the Irish's season plays out, its Hubb's. The reason why ND struggled so much last season is because they did not have a lead guard that was capable of running the offense. Think about all the stud lead guards that have headlined Irish teams in the past: Chris Thomas, Tory Jackson, Ben Hansbrough, Jerian Grant, Demetrius Jackson, and Matt Farrell. Mike Brey always has one guy that has the ball in his hands every possession that runs the show and can make the right decisions down the stretch of games. Last year, nobody on the roster could do that, which was proven by the uncharacteristically putrid offense and losing nine games by six or fewer points. How many of those games would have resulted in wins with better decision-making down the stretch by ND's guards? TJ Gibbs was supposed to step in at lead guard but lacks the physical tools that Farrell and all those other names above had. It's up to Hubb to run Brey's prototypical motion offense and make the right decisions in close games. He needs to attack the lane at will so the defense collapses, which will free up shooters on the perimeter. He has the explosiveness and handles to do exactly that but needs better body control to finish in the paint. He also needs to improve his shot selection and decision-making. If he doesn't improve in those areas, the Irish will struggle again this season. No pressure, kid.
Temple Gibbs – Senior: After a massively disappointing junior campaign, which saw his PPG drop 1.9 points, three-point percentage drop 8.5%, two-point percentage drop 3.9%, and free throw percentage drop 8.1%, Gibbs looks to get back to his stellar sophomore self. A lot of this drop-off in production was due to Matt Farrell's departure, which caused Gibbs to take over lead guard responsibilities. This did not work out because he lacks the playmaking ability and explosiveness of Farrell and struggles when it comes to getting into the lane and finishing. With sophomore Prentiss Hubb expected to be the lead guard and Rex's return, Gibbs needs to stick to playing off the ball like he did his sophomore year. If he focuses more on shooting and less on driving the lane, his shooting percentages will increase and the Irish will be much better off this year.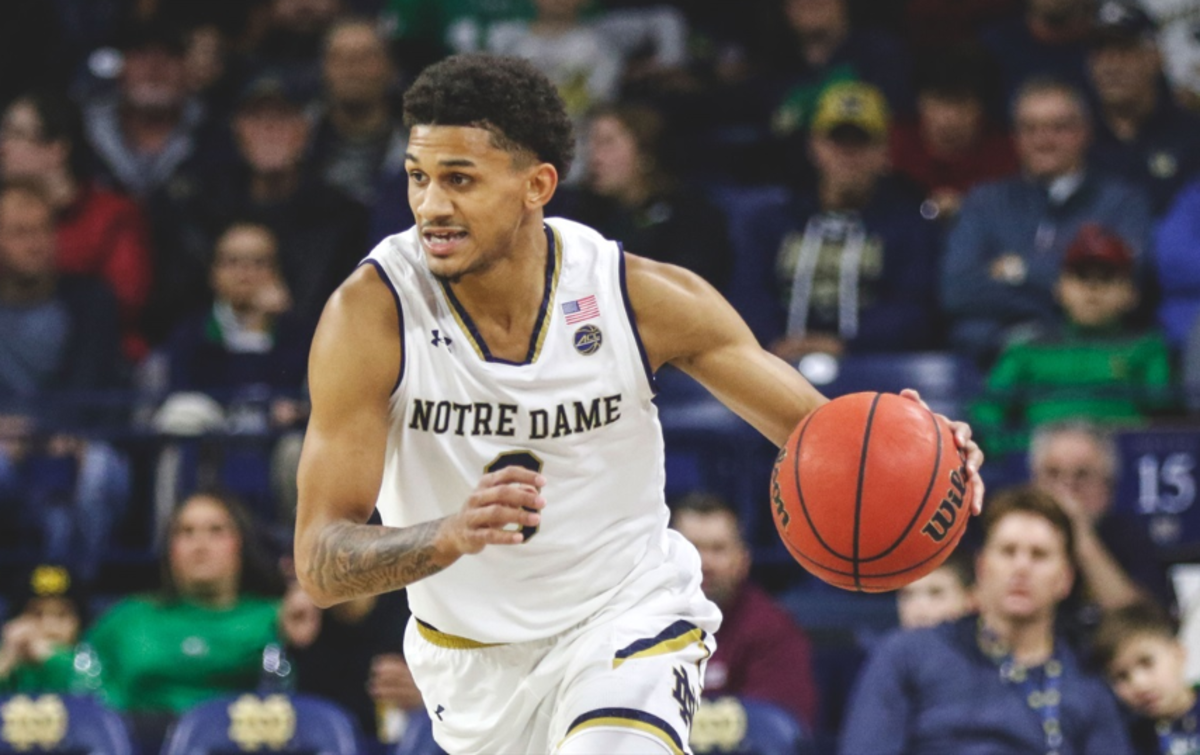 Rex Pflueger – Graduate Student: I wrote an article last week detailing what Rex's return means for this Irish team, so there's no need to get too detailed here. He provides a big boost in terms of leadership, playmaking ability alongside Hubb, and defense. He will not be much of a scorer outside of the occasional open three, but make no mistake, the Irish will be better with Rex in the rotation.
Juwan Durham – Redshirt Junior: As he has started in ND's first two exhibition games alongside Mooney, I expect the Mooney/Durham tandem to round out the starting front line as the season progresses. The big red flag when it comes to Durham is health, as two ACL tears and multiple bumps and bruises last season derailed his development. Having said that, he is probably the most gifted athlete on the roster standing at 6' 11" with a freakishly long wingspan, which allowed him to finish second in the ACC in blocks per game last season at 2.3. He also had a ridiculous 6.1 blocks per 40 minutes of play, which is by far the best in the ACC and proves that he is one of the most dominant post defenders in the country. But it's not even the blocks; Durham alters countless numbers of shots down low and single-handedly pushes the opposition's offense outside of the paint. He provides a defensive presence in the paint that this program seldom has. Having said that, he only averaged 3.9 RPG last season, a number that needs to drastically increase. Durham can step out and hit the open jump shot if need be, as he has a surprisingly smooth stroke, but his role with this team will mostly be anchoring the middle defensively and helping on the glass. If Durham stays healthy, the Irish will have one of the best frontlines in the ACC.
John Mooney – Senior: I wrote an article earlier this week describing Mooney's importance to this team, as he is as dominant of a player as anyone in the ACC. With so many question marks surrounding this Irish roster, Mooney is the one known commodity. He's a walking double and a potential ACC Player of the Year-caliber player.
The Reserves
I don't expect the Irish rotation to run further than eight guys. Sophomores Dane Goodwin and Nate Laszewski will be the sixth and seventh men, as indicated by the first two exhibitions. Both have the ability to be great shooters, which is a staple of past Brey teams, but they were slow to adapt to the quickness and athleticism of ACC play last season. They struggled to create separation and could not get off clean looks. Hopefully, an offseason of strength training improves that. The eight-spot will be a battle between redshirt junior Nikola Djogo and redshirt freshman Robby Carmody. Djogo is the ultimate wildcard, as he is one of the most gifted athletes on the team and clearly possesses the smoothest looking jump shot, but he has yet to put it all together in game situations. Djogo has all the physical tools to be an effective combo guard in Brey's system. If he puts it all together, he could even find himself in the starting lineup. That's how gifted he is. However, time is running out for him to prove to Brey what he can do. It's now or never. Carmody, on the other hand, is more of a low-ceiling, high-floor type of guy. He plays relentless defense, does all the little things right, and can occasionally get to the rim and finish. However, he is not a good shooter. I'm sure both Djogo and Carmody will receive minutes in non-conference play, but once January rolls around, one will ride the bench.
The most important aspect of this Irish team this season is the improvement of guard play. In the Mike Brey era, ND has always had top guards in the ACC, and they need to get back to that this year if the Irish want to get back to the tournament. Better decision making would cut those six-point losses last year by at least half. The Irish may still shoot the ball at a lower clip this year than the teams in 2015-2017 did, but this team has the potential to be the best defensive unit of the Brey era. The roster features more length and athleticism than what Brey typically has. Even after a last-place finish in the ACC and a roster full of unknowns, you should not count out Mike Brey and his innate ability to maximize the talent of his roster, which he has always done in the past.
Record wise, I believe last year was more of an anomaly due to injuries and youth. Mike Brey teams are never noncompetitive. However, it's still very difficult to try and predict how this season unfolds due to the amount of question marks on the roster. If I were to guess, I would say ND finishes sixth in the ACC with a 12-8 or 11-9 record and gets back to the NCAA Tournament (the ACC is moving to a 20 conference game schedule this season). However, I could see anywhere from a fourth-place to 12th place finish. With so many unknowns, it's hard to rule anything out. The only thing we do know is that John Mooney is a stud. But what if Dane Goodwin, Nate Laszewski, and Prentiss Hubb all improve significantly in their second collegiate season, Juwan Durham is finally healthy for a full season, Nik Djogo reaches his untapped potential, and TJ Gibbs gets back to his sophomore self? That's a lot of 'ifs', but if it all happens, ND will be pretty damn good.
---
Featured Photo: UND.com