High hopes were quickly erased as the Chicago Bulls began their 2019-20 season. Sitting at a dismal 3-7 record after ten games, they are not in the position many expected, especially with a schedule headlined by lottery-bound teams. In order for the Bulls to make some noise out East, third-year forward Lauri Markkanen has to take the next step to elevate his game. So far, Markkanen is experiencing career lows in almost every major category and has looked passive on both ends of the floor.
The stage is set for Lauri Markkanen to take the next step as an NBA pro. The roster is shaped around him to succeed and the fans have very high expectations for the Finnish product to take his game to the next level.
In his first two seasons in the league, Markkanen has shown he can be a star on any given night. We all know he can shoot the three at a solid clip, but what makes his game so exciting is that he can also take players off the dribble using his impressive athleticism and work the post on smaller defenders when given the chance.
Unfortunately, Lauri's stellar play in his first two seasons in the league hasn't carried over to the young 2019-20 season. He is experiencing career lows in almost every category over the first ten games and has looked tired and disengaged throughout stretches while on the floor, which is the biggest concern for this Bulls team in the early stages of this season.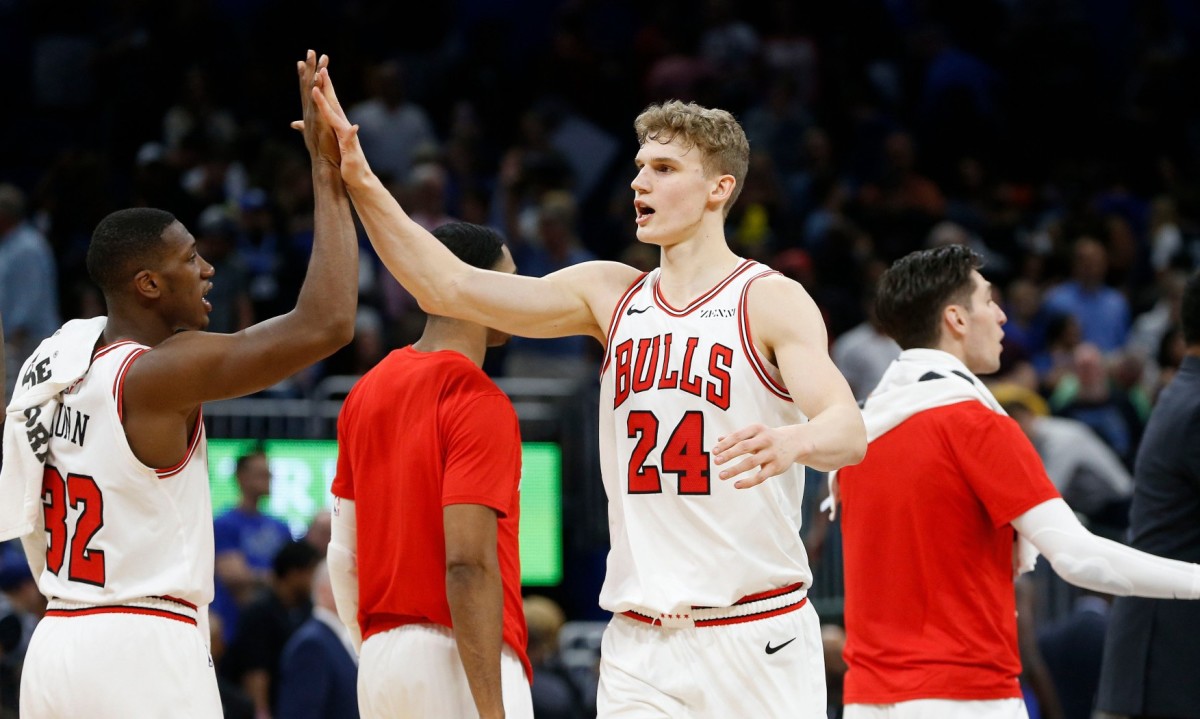 While it can be very easy to put the blame for Markkanen's lack of performance on Jim Boylen and the coaching staff, the players also need to take some of the responsibility for their play. Prior to this season, Lauri has been a career 36.2% three-point shooter, but after these first ten games, he is at a lackluster 27.7% and has connected on just 17 out of 61 attempts.
This is a major concern for Chicago Bulls personnel. To go with these very low numbers, Markkanen is also shooting 25% on- "wide-open threes," which is a bit baffling considering he is at just under 43% on his career. We can easily just take into account that it has only been ten games and this is a very small sample size, but it's not just Lauri Markkanen's three-point shooting that has drawn attention from many people.
Coach Boylen has said on numerous occasions that he wants Lauri to become the team's best defensive rebounder. He believes letting Lauri bring the ball up the court off a rebound helps fuel him and can help involve him more in the offense, which ultimately results in him having a better game.
The argument to that statement is true to some extent. Lauri generally has better nights when pulling down 12-plus rebounds. This was evident in the first game of the season when he pulled down a season-high 17 rebounds and also tied a career-high in scoring with 35 points. During Markkanen's February stretch last season, he also averaged 12.5 rebounds along with 26 points and seemed to be playing the best basketball of his young career.
From just watching Markkanen play, you can tell he tends to be more aggressive and involves himself in the offense more when pulling down defensive rebounds. The problem is that Lauri has only pulled down double-digit rebounds on two occasions this season, with those performances coming in the first two games against Charlotte and Memphis. The reason for not crashing the glass is unknown, but statistics back up the statement that Lauri Markkanen is a much better player when he has a great night on the glass.
While we have touched on Markkanen's three-point shooting and his rebounding, the biggest concern is how passive he has looked in the half-court set. With the exception of his season debut, he often lurks around the perimeter and sticks to shooting catch-and-shoot threes throughout stretches of games rather than attacking inside and taking his man off the dribble, where we know he is at his best.
A prime example of this came in the season opener against Charlotte. Markkanen had 35 points with only three of those coming from behind the arc. He found a variety of ways to beat smaller defenders off the dribble with his quick first step as a seven-footer and managed to swiftly finish at the rim while avoiding contact on multiple occasions. Since that game, he is averaging just 12.7 points on 35.1% from the field.
He knows he needs to be aggressive. He knows he is at his best when he is aggressive. Even his teammates acknowledge that too. Wendell Carter Jr. stated after the Bulls' blowout loss to the Houston Rockets that "He just has to take his shots. I tell him every time we're in the game, 'Take your shots. Don't worry about it being in the offense. Don't worry about making sure you do everything perfect. Take your shots. When you take your shots, miss or make, you get your swagger going.'"
When Markkanen is passive, it doesn't just affect his offense. He also becomes lethargic on defense. The shots may not be dropping, but the last thing Bulls fans want to see is Lauri's confidence drop. We have seen him benched for savvy veteran Thaddeus Young during late-game situations on numerous occasions already this season. Wake up call or not, Bulls personnel must hope that Lauri receives the message and realizes he has to step up his game in order for the team to be successful.
While the Bulls are still trying to find their way on the court with a new offensive system implemented, we can only hope it is just a matter of time until Lauri Markkanen begins to rise to the task of leading this team to the playoffs — a goal mentioned by almost every player at the team's Media Day. There have been some promising signs from the team, including a dominant blowout win over Atlanta. But with a sluggish 3-7 record, the Bulls, headlined by Markkanen, have a lot of work to do in order to take this ship to the next level.
Let me know your thoughts on Lauri Markkanen's slow start to the season and what he can do to help this Bulls team reach its goals of winning games and making the playoffs on Twitter @joshjbullshoops, or email me at joshjbullshoops@gmail.com.
---
Featured Photo: NBA.com