Leading up to the 2019 season, there was a bit of a buzz surrounding the Illinois football program. After three years of rebuilding under Lovie Smith, things were supposed to start turning around. Transfers such as Luke Ford, Josh Imatorbhebhe, Oluwole Betiku Jr., Brandon Peters, and Milo Eifler were expected to make big impacts. Exciting incoming freshmen Marquez Beason and Isaiah Williams had the potential to provide an immediate jolt on their respective sides of the ball.
Before even playing a game, the Illini began to take some major lumps. Standout junior defensive lineman and team leader Bobby Roundtree suffered a severe spinal injury in a swimming accident. The NCAA didn't grant a hardship waiver to tight end Luke Ford, who transferred to the program from Georgia to be closer to home because of family circumstances, forcing him to sit out the 2019 season. Highly-touted freshman defensive back Marquez Beason suffered a season-ending knee injury in training camp. It became clear that Isaiah Williams would need time to observe from the sideline and develop his game further to be an effective college quarterback.
Despite all those setbacks, the show had to go on. Brandon Peters, a graduate transfer from Michigan, was named the starting quarterback, and the stage was set for Illinois football in 2019. A weak Akron team came to Champaign to open the season and the Illini took care of business by a score of 42-3. Peters threw for three touchdowns and added another on the ground in his Illinois debut. Outside of a first-quarter field goal, the Illini defense shut down the Zips and limited them to just 192 yards of total offense. Though Illini nation took this one with a grain of salt, it was nice to see them put away a MAC team early after letting Kent State hang around in the 2018 season opener.
Illinois then traveled to UConn to take on the Huskies in week two. After trailing 10-0 at the end of the first quarter, the offense came alive and put 24 points on the board in the second quarter. An early UConn touchdown in the second half made it a one-possession game, but Peters responded with a 13-yard touchdown pass to Josh Imatorbhebhe and the defense only allowed a field goal the rest of the way en route to a 31-23 victory. It wasn't the prettiest of outings, but an early-season road win had the Illini at 2-0.
Illinois returned home to host Eastern Michigan the following week, and that's where adversity crept back in. A Lovie Smith team is supposed to pride itself on opportunistic defense, right? That wasn't the case against the Eagles. Illinois allowed EMU to gain chunks of yards at will, finishing the day with 480 yards of total offense allowed. After being down 31-17 early in the fourth quarter, the Illini did make a comeback to tie the game with 1:44 remaining. However, they let the Eagles drive 68 yards right back down the field to set up the game-winning field goal. A 34-31 home loss to a MAC opponent isn't exactly a momentum-builder heading into Big Ten play.
Speaking of Big Ten play, Illinois hosted Nebraska under the lights the following week in their first conference matchup of the season. That opportunistic Lovie Smith defense did show up at times in this contest. The team that has a 4-1 turnover advantage should usually win the game, right? Not in this case. When the Illini weren't taking the ball away, they were letting Nebraska methodically march into the end zone to the tune of 674 total yards over 37:04 time of possession. This game should have been much uglier than the final score indicated, but the Illini still had a chance. Hell, they led after every quarter except the one that matters most. Call it a hard-fought effort or a moral victory for hanging close until the very end, but a 42-38 loss still dropped the Illini to .500.
After a bye week, Illinois traveled to Minnesota for their first in-conference road test. Let's just say that this one hurt, both physically and mentally. Brandon Peters exited the game after taking a hit to the head on a keeper run early in the second quarter. Redshirt freshman Matt Robinson was called upon to fill in, and the Illinois offense couldn't find the back of the end zone all afternoon. If not for a Dele Harding pick-six and a Milo Eifler scoop-and-score, the Illini would not have even sniffed double digits. Minnesota was certainly still underrated at the time, but the Illini seemingly mailing in the game after Peters' injury did not sit well with the fanbase. The Gophers were able to start their homecoming party early as they cruised to a 40-17 victory and handed Illinois their third straight loss.
With morale already on the decline, the Illini returned home the following week to host #16 Michigan. To make matters worse, starting quarterback Brandon Peters didn't have a chance at a "revenge game" against his former team due to the injury he sustained the week before. The Wolverines found the back of the end zone four times in the first half, making this one look like a complete rout. However, Matt Robinson connected with Josh Imatorbhebhe for a 23-yard touchdown with 55 seconds remaining in the first half. Normally, too much stock wouldn't be put into such a tiny glimmer of hope. But in this case, it marked the first seven of 25 unanswered points by Illinois. A valiant effort came up short when Michigan regained control in the fourth quarter and added two touchdowns to seal a 42-25 win. While it was nice to see some resiliency from the Illini, moral victories just don't cut it in year four of a rebuild.
It seemed as if another season was slipping away with #6 Wisconsin coming to Champaign the following week. Little did we know a homecoming miracle was in the works. Brandon Peters returned to action and Lovie Ball came into play at the perfect time in this game. The Illini hung with the Badgers in the first half and only trailed 13-7 heading into the locker room. Wisconsin extended their lead with a touchdown early in the third quarter, but Illinois got the home-run play they needed when Reggie Corbin broke a 43-yard touchdown run with 48 seconds remaining in the third frame. Wisconsin tacked on a field goal to open the scoring in the fourth quarter, but Peters found Imatorbhebhe for a clutch 29-yard touchdown to put the Illini within two points with 5:53 remaining on the clock.
What occurred next helped define this year's Illini team and, more importantly, served as a turning point for the entire program. Wisconsin got the ball back and began a drive that they expected to seal the game with. Instead, Lovie Ball happened. Tony Adams picked off Jack Coan at the Wisconsin 48-yard line with 2:32 remaining in the game. Hard-fought runs by senior running backs Reggie Corbin and Dre Brown moved the Illini down to Wisconsin's 21-yard line with four seconds left on the clock. Junior kicker James McCourt then lined up for the biggest kick of his career, and he had ice in his veins.
A program that was in dire need of a "statement win" finally got it. Wisconsin came in as 30.5-point favorites. The Fighting Illini didn't care. They took that mid-game resurgence against Michigan the previous week and built on it. They knew it wasn't going to be easy by any stretch of the imagination, but they did what they had to do — keep it close, utilize their playmakers, create turnovers, and remain calm under pressure. The dramatic 24-23 victory put the Illini back within a game of .500, but it meant a hell of a lot more than that in the grand scheme of things. Illini nation was revitalized.
With all the momentum in the world behind them, Illinois rolled into West Lafayette on a rainy afternoon and stuck it to Purdue the next weekend. Weather conditions may have played into the favor of the Illini, but that's Big Ten football for you. An early field goal from McCourt, a pick-six by Tony Adams, and touchdown rushes by Peters and Corbin provided all the scoring Illinois would need and more as they got back to .500 with a 24-6 victory.
When the Illini returned home the following week, a matchup with Rutgers had "trap game" written all over it. In the first half, that certainly was the case. Dre Brown's ten-yard touchdown run and James McCourt's field goal gave Illinois a ten-point lead after one quarter, but they let a previously stagnant Rutgers offense find a groove in the second quarter, which resulted in a 10-10 tie going into the locker room. Luckily, the Illini got it together in the second half. Lovie Ball resulted in two defensive touchdowns and the offense tacked on two of their own to make the final score 38-10, putting Illinois within one win of bowl eligibility.
What happened in East Lansing the next weekend was best described by Illini radio color analyst Martin O'Donnell — "a microcosm of this season." Things started off horrendously. The Illini were without their Butkus Award semifinalist linebacker and leader of the defense, Jake Hansen. Oluwole Betiku Jr. remained sidelined with an ankle injury he sustained during the Wisconsin game. To make matters worse, linebacker Milo Eifler was ejected from the game early in the first quarter for throwing a punch at a Michigan State offensive lineman well after the Spartans had scored their first touchdown. A shorthanded Illini defense looked to be outmatched, as the Spartans beat them with both the pass and the run to the tune of 28 first-half points. The Illini deficit could have gotten even uglier, but Lovie Ball struck twice in the second quarter to slow down the green and white's scoring attack. An interception by Stanley Green in the endzone prevented a Michigan State touchdown and then a Sydney Brown tip-drill pick gave Illinois the ball back with a chance to generate some sort of momentum heading into the locker room. That scenario came to fruition when Brandon Peters connected with top receiver Josh Imatorbhebhe on a 46-yard touchdown pass as time expired in the second quarter.
The only points in the third quarter belonged to Michigan State by way of a field goal. Things were looking bleak for the Illini. They were down 31-10 and had a .4% win probability heading into the fourth quarter.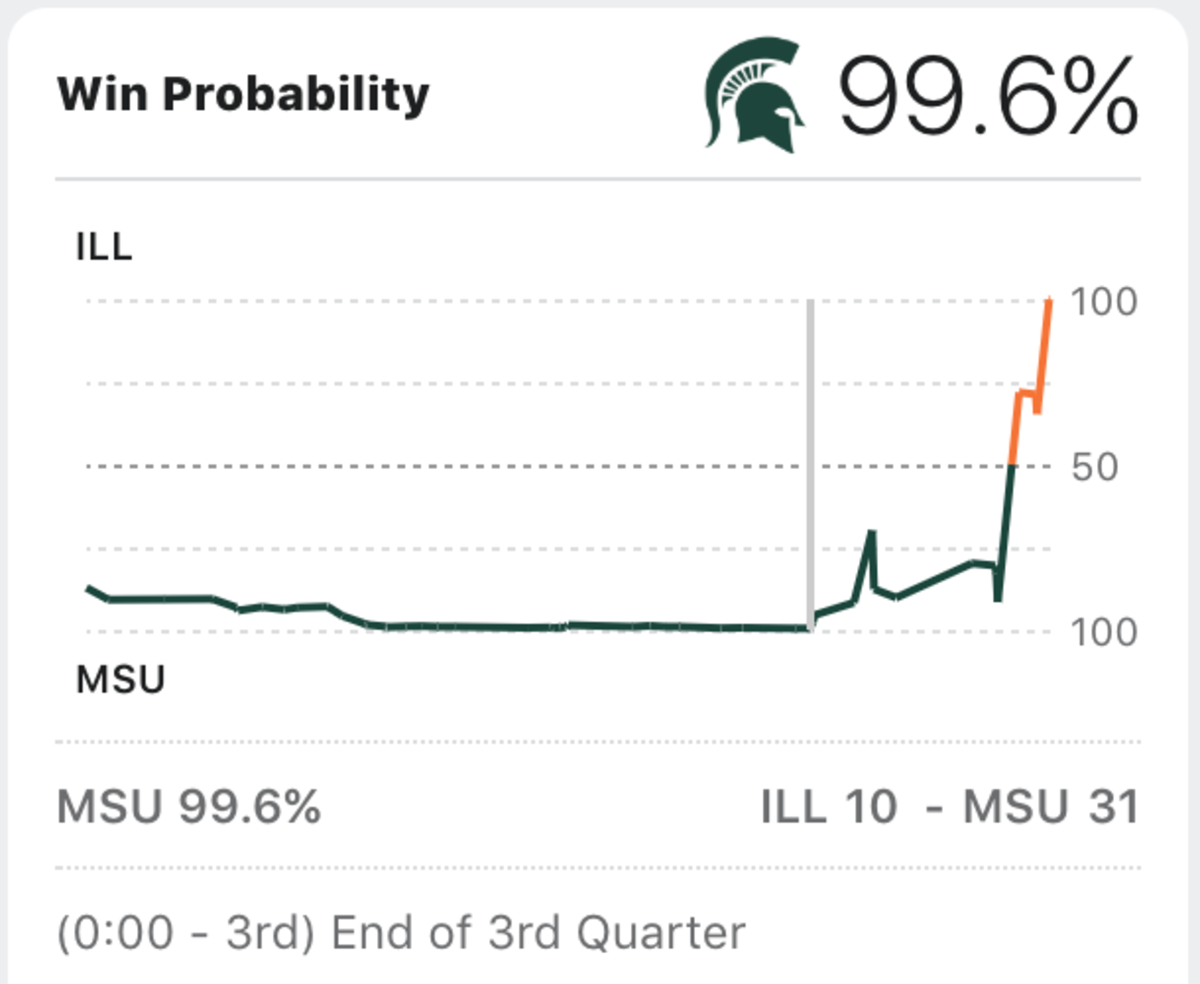 They could have easily mailed it in. But that's not what this year's FIGHTING Illini team is about. Instead, they began a ferocious comeback. Josh Imatorbhebhe got things going with an 83-yard catch-and-run to the house to open the final frame. Reggie Corbin punched in a six-yard score. Sydney Brown recorded his second interception of the afternoon, but this time he returned it 76 yards for a defensive touchdown. Opportunistic Lovie Ball, baby. Unfortunately, James McCourt decided this game needed even more drama when he missed the extra point that would have tied the game at 31. The only fourth-quarter blemish on the Illini defense was a small one when Michigan State was able to tack on a 46-yard field goal to make it 34-30 with 3:17 remaining on the clock. Illinois needed Brandon Peters to orchestrate a game-winning drive. First-down catches by Caleb Reams and Donny Navarro got the Illini into Michigan State territory. Then things stalled. Two incomplete passes and a sack put Illinois back in their own territory facing a fourth-and-17 situation. Do you think Peters would call upon anyone other than Josh Imatorbhebhe for a big play in crunch time?
Of course not. The USC transfer hauled in a mammoth 37-yard catch to keep Illinois alive. A six-yard run followed by a 12-yard catch from Dre Brown got the Illini down to the one-yard line. Just punch it in, right? Easier said than done. The Spartans' defensive front shoved Illinois back three yards on first down and then stuffed a Brandon Peters keeper attempt on second down. Peters looked for big-play Bhebhe on third down, but the pass was broken up. He then targeted Caleb Reams on fourth down. The pass was incomplete, but there was a flag on the play! Pass interference, Michigan State. If a cat has nine lives, an Illini has at least double that. Now at the two-yard line with a fresh set of downs and 45 seconds left on the clock, Illinois tried to punch it in with Dre Brown. The Spartans were up to the task once again and knocked him back three yards. With the clock now ticking down below 20 seconds, the Illini set up a roll-out play for Peters. He remained calm, reviewed his options, and then delivered.
What a moment. Illinois had stunned East Lansing and all of the college football world. All they needed to do was make a tackle on the ensuing kickoff to complete the largest comeback in school history and become bowl eligible for the first time since 2014. They did just that.
Instead of getting sentimental in the follow-up analysis, it's best to let those words from Martin O'Donnell sink in because he phrased it perfectly:
"This team deserves it, this program deserves it…Things don't start out well; people are counting you out. And then they just played an unbelievable football game here in the second half to come all the way back."
After four straight losses, it looked like this season would be the same old story for Illinois football. A second-half resurgence has now flipped the script. Down but never out — a microcosm of the season, indeed. Pop some champagne in Champaign because the Fighting Illini are going bowling!
---