Back-to-back winning weeks is what we like to call a wagon. 5-2 last week. 12-5 over the last two weeks. I've become so famous that my fans are filming me while I chant about football schools.
Is it pretentious to use a personal tweet about me becoming famous in the article? I hope not. I'm just a regular guy who happens to be on a gambling heater. You could even say I'm "Feeling This." Go ahead and queue that one up, Alexa.
That's right folks. Welcome to the Black Parade. Wait, that was the My Chemical Romance article. Welcome to the Blink-182 article!
A few things to note:
I attach the line to the away team unless it's an over-under. That doesn't mean I'm picking them.
Similar to the first band-related article, $1 to the first five people who can tell me how many Blink-182 songs are referenced throughout this article. Spoiler, it's more than one. If you haven't noticed them yet, you're probably gonna have to stay up all night to figure it out. Maybe even after midnight (free song reference).
For those keeping track at home, I'm 22-19 on the year: 10-8 in the NFL, and 11-11 in college, 1-0 football (of the European variety).
Unlike each and every week, I'm locked in today. I see no outcome in which we go under .500 this week. That's a "Chunky Kev" promise.
---
NFL Picks
Los Angeles Chargers @ Kansas City Chiefs Over/Under 52.5
What do I always preach to you week in and week out? Points are better than no points. That is my anthem. Both teams are in the top half of the league in offensive DVOA; Kansas City is #2 and San Diego (LA, sorry) is #10. Mahomes hasn't missed a beat in 2019. In his first game back from injury last week, he threw for 446 yards and three touchdowns while completing 76% of his passes. I honestly believe you could put a kaleidoscope over his visor and he'd still be one of the best quarterbacks in the NFL (definitely better than Mitch). Moving to the other side of the ball, both teams are bottom half in Defensive DVOA; KC #17 and LA #26. The Chiefs defense has given up 35, 23, and 31 in its last three games and these teams scored 66 and 57 last year. This is home for the Chiefs. Dammit. That's wrong. This is technically being played down in Mexico. That honestly makes me love the over even more for some reason. Just wait for Tyreek Hill to pull out a bag of M+M's for his seventh touchdown celebration of the day. Points are better than no points, my anthem part two.
Pick: Over 52.5
Chicago Bears Pick of the Week:
Mitchell Trubisky is an easy target for all of the Bears' struggles. After last week, it's clearly not his fault for where this team is at. Mitch threw for three TDs and had no turnovers. It's no Jay Cutler (I miss you, Jay), but it'll get the job done. This team is built to win in dominating fashion if Mitch can do that. Jeff Driskel almost brought them back down two TDs in the fourth quarter. Khalil Mack is currently singing "I'm Lost Without You" to Akiem Hicks. But then again, the Rams look horrible too.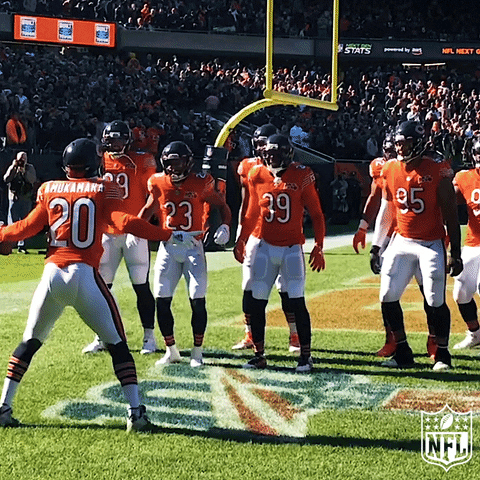 Pick: Bears +6.5
NFL Teaser of the Week (2-0 on the year)
A teaser is a bet that allows you to combine two different games while adjusting the line of each in your favor. This is typically by six points. For example, Chicago -6.5 would move to Chicago -0.5, while Chicago +6.5 would move to Chicago +12.5. A few things to note with a teaser:
Both teams must cover for your bet to be successful.
You should try to tease across football numbers (3,4,6,7,10) if possible.
Lamar Jackson has been getting a ton of MVP talk this week, which is all deserved. However, Deshaun Watson is also having an MVP-type season.
Watson: 9 games | 70.2 pct | 2,432 pass yds | 8.1 YPA | 18 pass TD | 5 INT | 279 rush yds | 5 rush TD | 2 fumbles lost
Jackson: 8 games | 64.3 pct | 1,813 pass yds | 7.6 YPA | 12 pass TD | 5 INT | 637 rush yds | 5 rush TD | 0 fumbles lost
Add in the Texans coming off a bye week with plenty of time to prepare for this Baltimore offense. Add in the second part of the teaser — the Minnesota Vikings. Weird gambling trend: Mike Zimmer is 19-3-1 against the spread in non-divisional regular-season home games. I don't necessarily love them at -10.5, but tease this to under a touchdown and it's pure gold.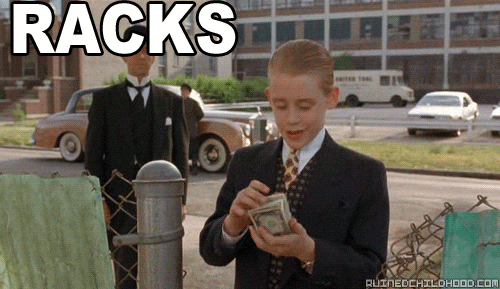 Pick: Texans +10 and Vikings -4.5
---
College Picks
Oklahoma -10 @ Baylor
Baylor is zero love from the playoff committee right now. They're 9-0 in the Big 12 and still not even in the top-ten. They watched Minnesota soar up the rankings after a dominating home win; now it's their turn. An undefeated team at home this late in the season getting ten points is wild. Baylor knows what it takes to keep a game close. They have three grind-it-out wins against Iowa State (game-winning FG with 20 seconds left), TCU (overtime), and Texas Tech (double overtime). They are never out of a game and ten points at home is juicy. Both teams come in looking good through the air (Oklahoma is #1 and Baylor is #17 in passing efficiency). Defense is where Baylor really makes a name for themselves. They sit number ten in defensive passing efficiency while Oklahoma is #75. My favorite weird stat about this game is that both teams commit around seven penalties a game. Baylor, however, is averaging 60 penalty yards per game while Oklahoma is second-to-last in the nation at 79 yards per game. Going on the road to play in Baylor's biggest home game since 2016 will only continue this trend for Oklahoma. Maybe I can go to Baylor this weekend and storm two fields in a row. What's my age again?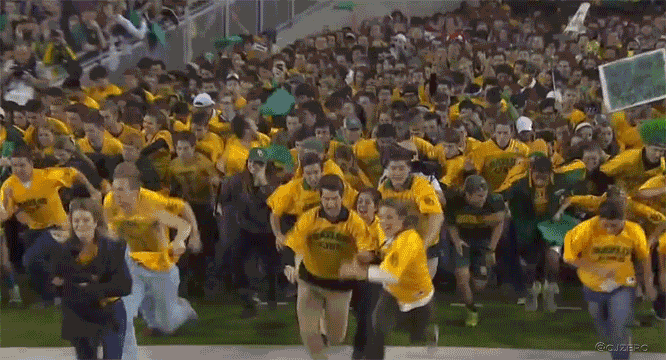 Pick: Baylor +10
Alabama -17.5 @ Mississippi State
Alabama. Give me one good reason to bet against this team off a loss. You can't. Pray for Mississippi State fans this week. For their sake, I hope they don't leave the parking lot. This program may never recover. Mississippi State is average at passing (70th in passing efficiency) and is average at converting on third down (40%). Nick Saban knows his path to the playoff means dominating the remaining three games. This defense will be out for blood and it's fairly obvious that violence is the only answer. They will do all the small things right this week, and I can't imagine Mississippi State scores more than ten points in this game. There are few things in college football scarier than a pissed-off Nick Saban.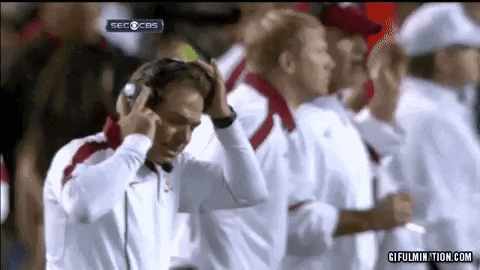 Pick: Alabama -17.5
The Blindly Follow Me Because You're a Degenerate Pick:
Ohio State is favored by 53 points vs. Rutgers. That is laughable. This is another instance in which Vegas is simply forcing my hand. Play the party song boys.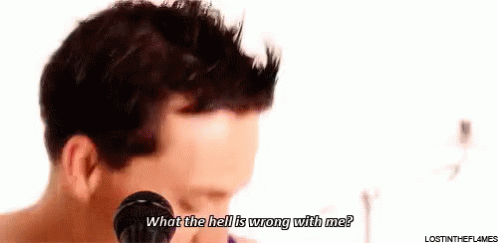 Pick: Ohio State -52.5
Good Luck!
---
Featured Photo: Getty Images