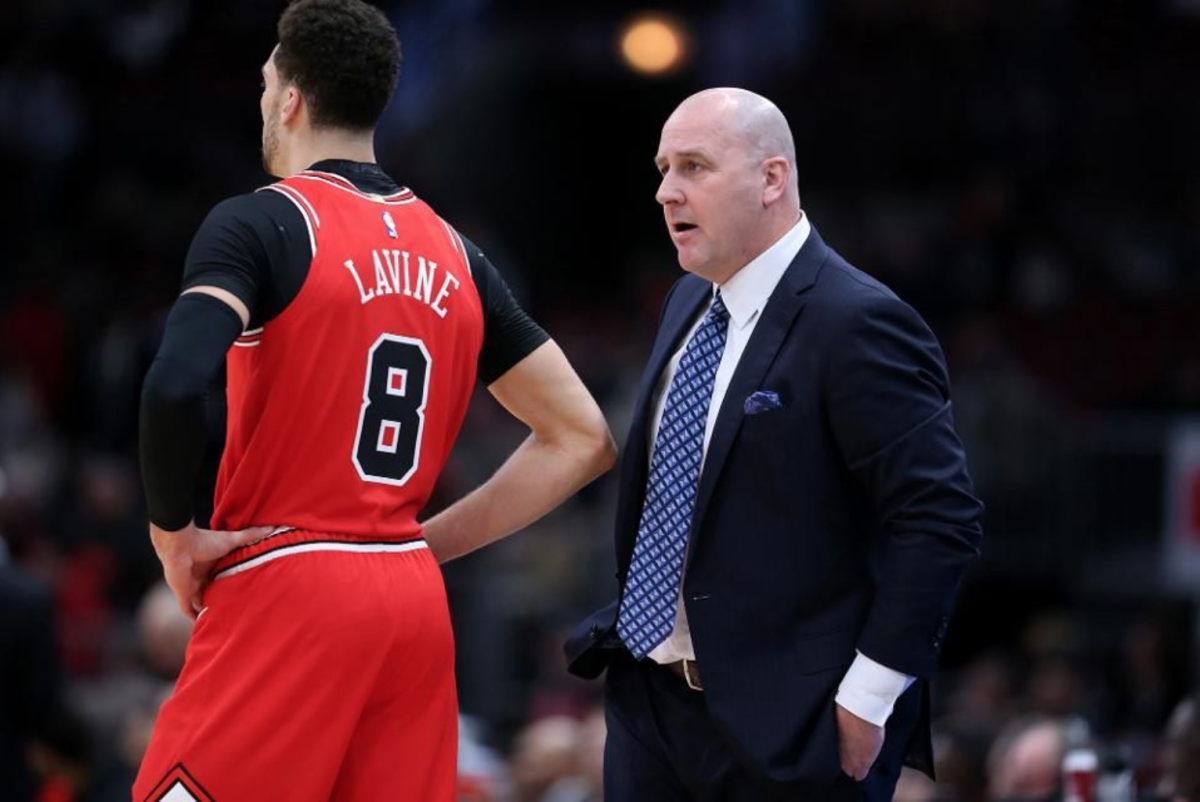 The Chicago Bulls were doomed from the tip on Friday night, and Zach LaVine made sure we all knew it when he chucked up an airball from distance on the opening possession, just 14 seconds into the contest.
The Miami Heat would blaze the Bulls for 15 unanswered points from there to take a commanding 34-16 lead at the end of the first quarter. The Bulls' abysmal offense was held off of the scoreboard until the 6:56 mark in the opening quarter when Lauri Markkanen scored his first points of the game.
But the real story wasn't the embarrassing all-around display by the Bulls for the majority of the game. It also wasn't the "but the Bulls almost came back," narrative spurred by a high-energy effort from their usual DNP's in garbage time.
The real story is that the Chicago Bulls are, in fact, a broken team… and it's only November 23rd.
What started as a fun-looking group in the most premature stages of the schedule has devolved into a team with no identity, no star player on the roster, and an alpha–by his own mind, at least–in Zach LaVine, clearly fed up with his incompetent head coach.
Forget the Bulls' 5-11 record. You can even disregard the fact that the team has lost games to the New York Knicks and Cleveland Cavaliers, a pair of teams with a combined 8-22 record.
Zach LaVine made it clear last night that Jim Boylen has lost the locker room.
Fresh off of an extension in the offseason after proving absolutely nothing during his partial run in the top spot last season, Boylen is being questioned by his supposed star player at his locker during the postgame media scrum.
Once again, well played GarPax.
At 5-11, and losers of seven of their last ten contests, the Bulls are on a crash course with the NBA's cellar once again. This comes after the front office claimed that this team and this coach were going to take Chicago into the next phase of their rebuild and contend for a playoff berth.
After only three and a half minutes, Boylen yanked Zach LaVine from the game for what he called "three egregious defensive lapses." LaVine, sitting at his locker after the game, disagreed with the estimation by Boylen and went as far as saying that he intentionally opted not to show on a play, citing his personal scouting report of Jimmy Butler's tendencies.
So, LaVine disregarded Boylen's defensive game plan and essentially questioned the soundness of it after the game. LaVine didn't just disregard Boylen's defensive instructions, he pulled up for a contested three after four dribbles, even after Boylen made sharing the ball on every possession a point of emphasis before the game. LaVine then turned the ball over two possessions later after stepping out of bounds on a drive from the left corner.
After the game, Boylen declined to go into greater detail on the "egregious" mistakes in the opening minutes. Instead, he stated that he thought LaVine needed some rest.
"I thought he needed a break," Boylen said. "I thought he needed to come (out) and think about it. I felt there was some defensive mistakes that didn't need to be made. I thought he needed to come over and think about it for a minute. I've done that a couple of times this year, as you know."
Quite frankly, LaVine should have been pulled from the game if the Bulls had a competent backup plan for such situations. Instead, already playing shorthanded, Boylen inserted Ryan Arcidiacono in LaVine's place.
Don't get me wrong, I like Arch, but not in this type of role. Not in place of your most talented scorer.
LaVine however, did not hold the same opinion as Boylen regarding his performance.
"Zach LaVine got 13 points scored on him, I guess," LaVine said. "Or was it the starting five? I don't remember. I thought I was trying to do my job out there. I've got to take it (in) stride. I can't do anything about that. I've just got to control what I can control. I can't control my minutes."
LaVine noted that he felt singled out by Boylen for what he thought was a greater team issue: "I mean, if you're going to just pull me, yeah, for sure," he said. "But that's not my decision."
So, for those of you keeping score at home — Zach LaVine was bad on both sides of the ball, Jim Boylen decided Arch could do it better and pulled Zach, the Bulls got killed by the Heat, and now we have a player and coach publicly at odds.
To add to the dysfunction, a Q & A with Vinnie Goodwill for Yahoo Sports! revealed some even more troubling insight into where the relationship sits between LaVine and Boylen.
When Goodwill asked LaVine if Boylen trusted him, LaVine had this to say: "I feel I earned that trust, but I guess he feels differently. Other players around the league — and everybody's situation isn't the same — I feel other players around the league have that trust. I guess we haven't got there."
When Goodwill flipped the script on the trust dynamic between the two, here's how LaVine responded: "I'm trying my best, I'll say that. I'm playing my minutes and trying to do the best I can do. It's tough, especially when you're in a rut. If he doesn't trust me, it's hard to trust someone who doesn't trust you."
When Goodwill closed the Q & A by asking LaVine if he thought that Boylen can take criticism, LaVine left that up to Boylen to prove or for us to interpret: "I hope so. It's a man's league. We all gotta take responsibility for our mistakes. I know I do. Can't talk for other people."
The Goodwill one-on-one with LaVine proved that an alternative situation needs to be explored sooner rather than later.
This situation can end in one of three ways.
1. The Bulls grow tired of LaVine's selfish style of play and trade him.
2. The Bulls grow tired of Boylen's inability to control his players and the locker room, and they fire him.
3. The Bulls do the most Bulls thing possible by doing nothing at all — pretend that all is fine as they sip their coffee at a table surrounded by flames, all while pissing away another season and delaying the inevitable action of picking between Boylen and LaVine.
Since the Bulls are still paying Fred Hoiberg and love "Bootcamp Boylen's" grit and personality, I highly doubt that Boylen gets the in-season axe.
Unfortunately, I also doubt that GarPax can identify the unfixable relationship between the two and trade LaVine, which leaves us with the latter of those scenarios.
Wonderful, we'll be watching the Bulls land the seventh pick in the draft and stay in basketball purgatory once again.
If you ask me, both Boylen and LaVine need to go. Boylen runs one of the most inept offenses in basketball, he has lost the respect of the locker room (don't you think for one second that LaVine is the only one that feels the way he does), and he has watched his team meltdown in the clutch time after time.
LaVine, despite his premium scoring abilities, refuses to play any type of basketball outside of him isolating and creating his own shots. He is horrendous–dare I say, even egregious–on the defensive side of the ball. He can score in bunches, but he takes his teammates out of the game more often than he pours in performances that can carry them to victory, and that can't continue to happen if the Bulls are serious about turning the corner.
While the end-game is awful cloudy at this point, one thing is clear — this situation, and more specifically, this coach-player pairing between Boylen and LaVine is toxic, and will be the demise of yet another season.
---
Featured Photo: Chris Sweda/Getty Images