After trading Derrick Rose to the New York Knicks on June 22, 2016, general manager Gar Forman told the media that he wanted his team to get "younger and more athletic." Finally, a breath of fresh air. The Bulls did, in fact, need to get younger and more athletic at that time. Gar Forman and his partner in crime, John Paxson, were finally awake at the wheel for once.
Fast forward not one full month later, and the power duo that runs the Chicago Bulls signed 35-year-old Dwyane Wade. He was not younger. He certainly wasn't more athletic at that point either. They paired him with 30-year-old Rajon Rondo. Nailed it.
Truth be told, I think Gar-Pax was trolling Bulls fans. They traded away Chicago's most-loved Bull since Michael Jordan and spun it as a rebuild. Then, a few weeks later, they proved themselves as liars. Fans were rightfully enraged. Wade is a Hall-of-Famer. He grew up in Chicago. However, at 35 years old, that simply isn't an intelligent signing. Oh, and they gave him a huge salary to top it all off.
A GoFundMe was sprung to raise a "Fire Gar-Pax" billboard in Chicago. I have only donated to one GoFundMe in my life. It was this one. Ten dollars straight from my then financially suffering bank account to let those two clowns really know how Chicago felt about them.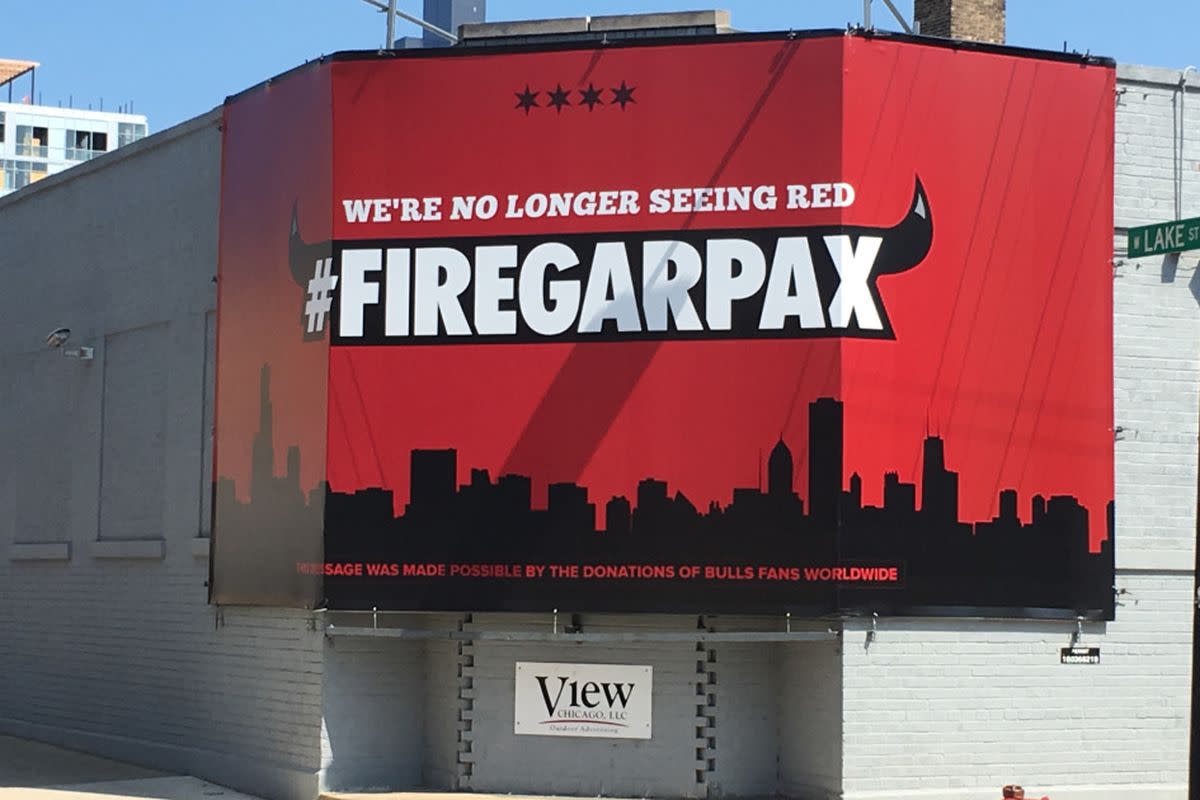 Perhaps the billboard wasn't enough for then 19-year-old me. That hashtag you see so beautifully posted above was quite popular on Twitter in 2016. Hell, it still is as 2020 approaches. My Twitter used the hashtag a few times. Apparently for the Bulls, it was a few times too many.
Press conference live-streamed on the Bulls official twitter, I provided the hashtag in the comments. Score update, I was your guy in the replies. "Bulls in the community," I'm still reminding the team that the circus ring leaders needed to go. Call it what you will, the Bulls were are a joke and I will continue to let everyone know.
Until one day, I could no longer do so. I remember it being a weekday evening. I got a Bleacher Report notification that Bulls-Pistons had just tipped off. I thought it was weird that the Bulls hadn't posted the starting lineups on Twitter. Social media dude take a nap with Gar-Pax? I hit the old search button for the Chicago Bulls and LOL what in the hell had just happened?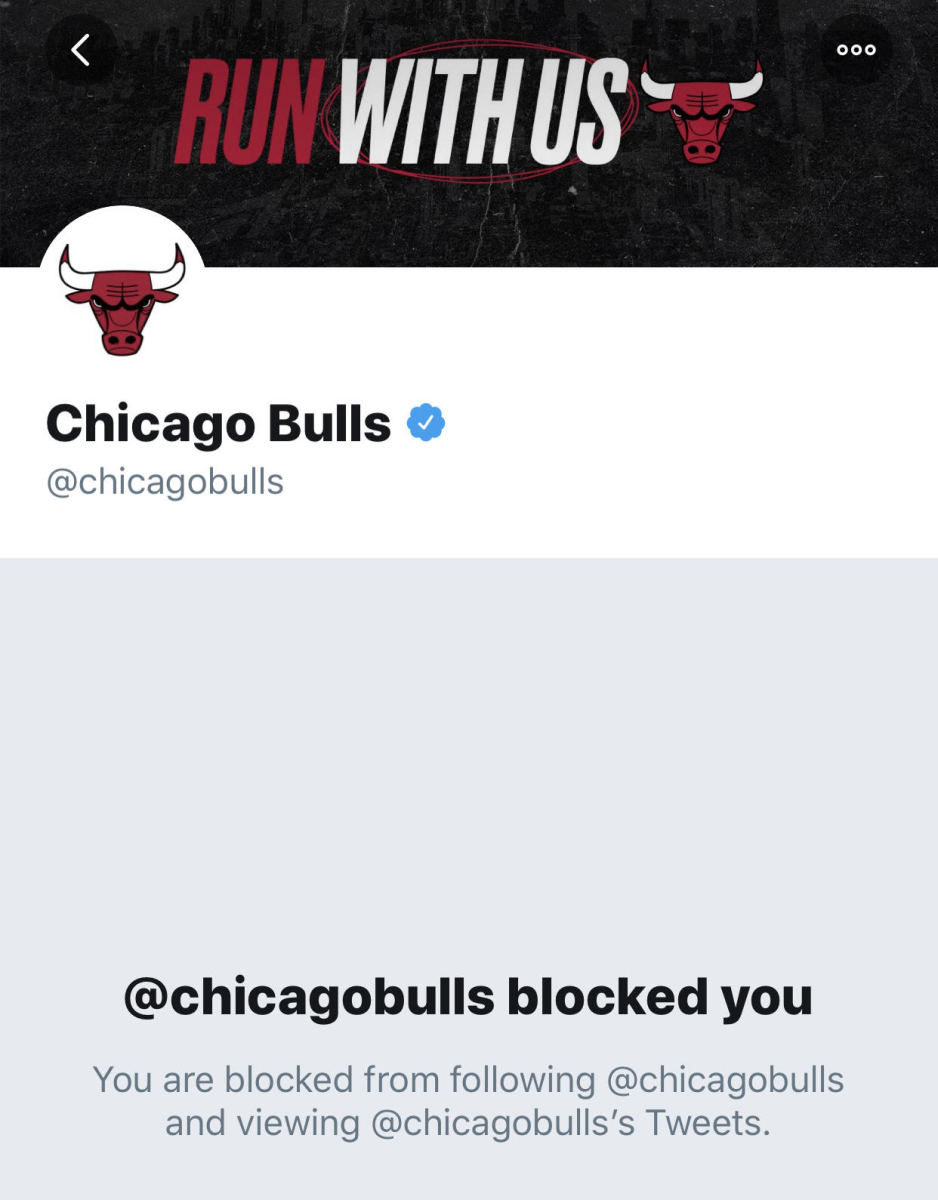 Some people are blocked by athletes on Twitter. Others pushed celebrities too far and now can't interact with them. Me, well, I am blocked by one of Chicago's "professional" sports organizations. I laughed it off. It makes for a great story. But after some thought, I realized how ridiculous it really was.
This team wasn't going to allow fans to voice their displeasure. They were not about to continue to be the laughing stock of Twitter. If you have something negative to say about the esteemed Chicago Bulls, have fun in timeout, loser.
At one point in time, the Bulls were my number one team. Typing that now makes me laugh. I am no longer a Bulls fan. I can often buy into that theory of "if you aren't a fan of them now, then you never were." That has merit to it, but the Chicago Bulls are a special circumstance.
This organization doesn't care about their fans. They do not give a (insert your preferred expletive here) about winning. They care about one thing, and that is putting asses in red United Center seats. Guess what, despite all the anger that was voiced by Bulls fans, the Chicago Bulls still, every single year, lead the league in attendance. It's rarely even close.
Dwyane Wade did not make the Bulls better. In fact, all he did was help create a toxic situation on Madison Street. However, he did put butts in seats. He sold a ton of Bulls number three jerseys. The sheep love the local kid who's a future Hall-of-Famer. They don't care that Wade had already checked out, didn't play defense, and was generally just washed-up. They cared about how cool it was that Dwyane Wade was a Bull.
Great job, Gar-Pax. You got older and less athletic. That was the goal, right? Hell, it's difficult to remember what you said in a press conference three weeks prior. At the end of the day, Jerry Reinsdorf's wallet was a little fatter, so who cares if the franchise was set back five years from a contention standpoint?
If you're a Bulls fan, that front office laughs at you. They are well aware that the fans are disgusted with them. They don't care. Why on Earth would they? Gar Forman and John Paxson have jobs for life. As long as the Reinsdorf family owns the Bulls, they aren't going anywhere.
John Paxson has run the Bulls for nearly 17 years now. SEVENTEEN. They have won ONE game beyond the third round of the playoffs. John Paxson has hired five head coaches. No front office member in the history of sports has that long of a leash. Paxson does and he hasn't even won anything or gotten close to it.
You can blame the Rose injuries and say that they would have won a championship with the star point guard. You'd be wrong in saying so. Gar and Pax never put any talent around him when he was healthy. When it came to playoff time, LeBron James was going to guard Rose, shut him down, and the Bulls had nobody else to turn to in order to create offense. They were never ever beating LeBron James in a seven-game series.
This organization is a joke. They are a joke on the court and off the court. Hell, I found out the hard way that they are even a joke on social media. Fans don't need a voice. Why would fans be displeased with Gar-Pax after all the success those two have had running the organization? Don't tell the Bulls you're mad, they'll take your voice away real quick.
This was 2016. I am still blocked by the Bulls on Twitter today. It's better that way. I don't watch the games anymore. I don't care if they win or not. Hell, when I see they're on an extended losing streak I typically let out a laugh. It is hilarious.
The calendar is about to flip to 2020 and nothing has changed. The Bulls finally got "younger and more athletic," but they are still the joke of the NBA. Zach LaVine called out his head coach last night. Fans are enraged with head coach Jim Boylen. Somehow, the brain trust comprised of Gar Forman and John Paxson is avoiding the heat.
Blame the head coach. The head coach is always the problem. Tom Thibodeau was too tough on the players. Nobody respected Fred Hoiberg. Jim Boylen is trying to coach the 2019-20 Chicago Bulls in 1980. Bulls fans continue to blame the coach, but don't blame the guy who has hired the last five coaches nearly enough.
At the end of the day, getting blocked by the Chicago Bulls was a good thing. It was just what I needed to inspire me to terminate our abusive relationship. Never again will I allow myself to endure such pain for a team that doesn't care about its fans. I'd tell the Bulls to "be better," but they'd find a way to block me from doing so.