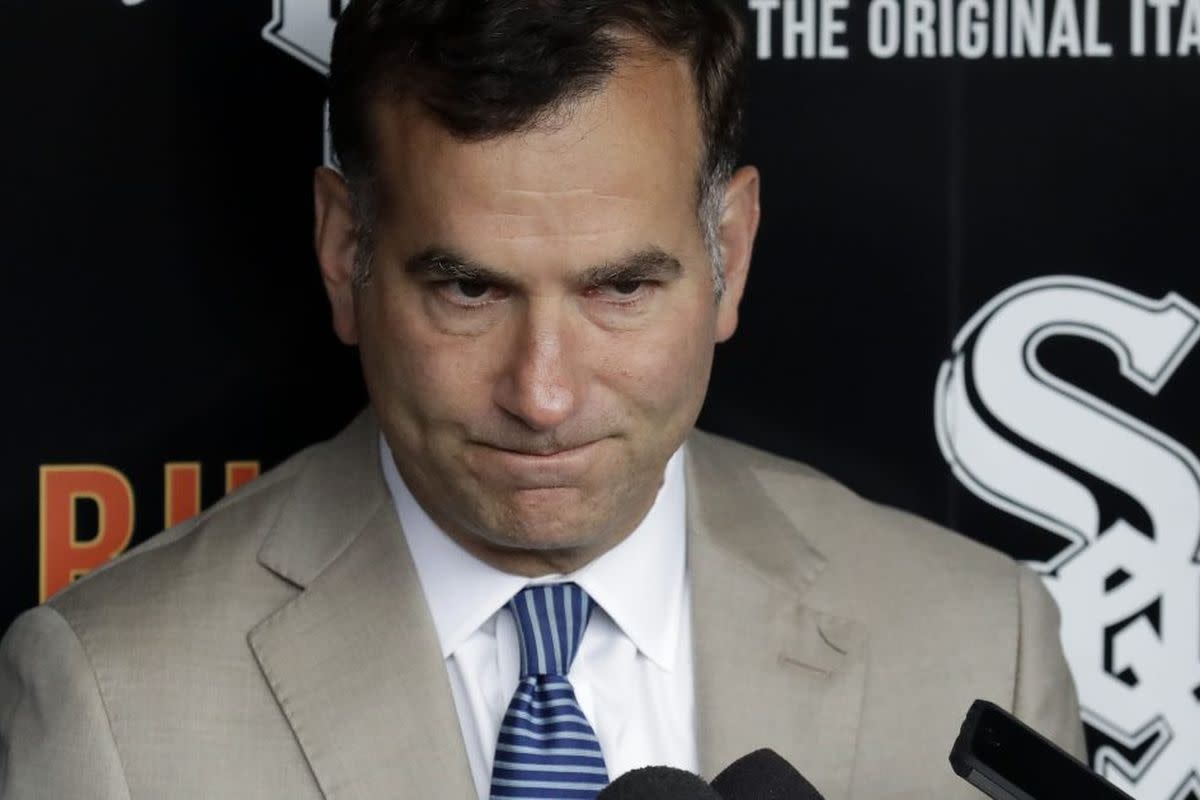 In a whirlwind of events on Wednesday, the Chicago White Sox lost out on both Zack Wheeler and Cole Hamels. Wheeler signed a five-year, $118 million deal with the Philadelphia Phillies and Hamels signed a one-year, $18 million deal with the Atlanta Braves.
It burns. It really freaking burns that Wheeler — a no-brainer acquisition — spurned the White Sox to sign with Philly for less money than the White Sox offered him.
The one time the White Sox don't sign or trade for a major free-agent target's family member(s), the player actually signed with a team because of the wishes and desires of their family member!
Frustration and jokes aside, I'm married, so I get that Wheeler heavily considered his fiancee's desire to stay on the east coast near her family, but that doesn't make it hurt less from a roster construction standpoint.
It does, however, tell me that the White Sox were genuinely serious about landing Wheeler and continuing their push to become contenders in the very near future, which gives me hope that they will still make the moves necessary to make that a realization.
Wheeler took $118 million from Philly while the offer from the White Sox was above the $120 million threshold, per Bob Nightengale of USA Today Sports.
Despite those two variables, the Sox still missed their target, so they do not get a reprieve because "they tried." If the White Sox are ever going to be taken seriously, they cannot continue to get outbid in the open market. That's just a fact.
Now onto the burning question: where do the White Sox start in their continued search to make the leap to the next level of the rebuild? That question is much more mucky with Wheeler in Philadelphia than it would have been with him heading up a young, promising rotation in Chicago. Nonetheless, let's dive into a potential path to contention in 2020 and beyond.
Starting Pitching
With Wheeler and Hamels off the board, the attention must immediately turn to the remaining options available on the open market.
According to Andy Martino of SNY, the White Sox and Twins are the suitors "heaviest involved" in the Madison Bumgarner talks as of Wednesday afternoon. Bumgarner, along with Hyun-Jin Ryu, become the two obvious choices for a "front-end" type of free-agent pitching acquisition, so it's nice to hear that the Sox are back to work and making a push for one of those two guys.
I've said it before, and I'll say it again, Madison Bumgarner scares the crap out of me as a long-term, big-money signing.
The soon-to-be 31-year old southpaw has logged 1,846 innings in his career to this point, and if he stays healthy, he'll eclipse the 2,000 inning mark in 2020. According to Spotrac, Bumgarner's current market value — largely due to the inflation of Wheeler's market — is in the ballpark of five-years, $105 million (or an AAV of $21.1 million).
This is a lot of money to invest in a high-mileage pitcher.
Add in the fact that since 2016 — Bumgarner's last full season prior to 2019 — his ERA is up over a full point (3.90 from 2.74), his xFIP is up nearly the same margin (4.31 from 3.54), his fly ball rate is troubling in the park he'd make half his starts in, and his hard-hit rate is up a whopping 12.2 percent (43.8% from 31.6%). Madison Bumgarner, at his current market value, is an absolute disaster waiting to happen.
That's going to be a hard pass from me, and it should be from the White Sox front office as well.
Hyun-Jin Ryu's numbers don't scream regression like Bumgarner's do, but a four-year, $110 million deal (current market value according to Spotrac) would be an equally giant risk for Chicago. Some have tossed the idea of a shorter deal around, but the current perceived AAV of $27.6 million at five years would certainly rise, and I don't see any discount deals on the horizon for the Sox from any Boras client, which unfortunately is the case with Ryu.
Dallas Keuchel, who will turn 32 before Spring Training, posted a 2 WAR season (according to Baseball-Reference) for the Braves in 2019 after sitting out the start of the 2019 season due to his reluctance to undervalue himself.
Spotrac has the former Astros' hurler at $103 million over five years or an AAV of $20.7 million.
No thanks.
The big three left on the starting pitching board are all going to be a "no" for me, which means we're going to have to get a little more creative than a singular splash this winter.
Alex Wood is 28, and a back injury essentially washed away his 2019 campaign in Cincinnati, but his years in Los Angeles saw him post a 3.40 ERA over the course of 839 innings of work. Over that time, Wood holds an 8.2 K/9 compared to a 2.6 BB/9. He was a Cy Young Award finalist in 2017 when he posted a 2.72 ERA over the course of 27 games to comprise his career-best campaign.
At $77 million over four years, or an AAV of $19.3 million, the left-handed Alex Wood is a much better investment for the White Sox at this point in the game.
With Wood, the White Sox could add another starting pitching piece and have more money to play with around the diamond than they would have if they signed Wheeler or any of the three aforementioned "front-line" guys.
The Sox can also take a look at the likes of Homer Bailey, Tanner Roark, and Gio Gonzalez in the way of 1-2 year deals to provide depth to the back end of the rotation.
Right Field
In the midst of the pitching frenzy that was taking place on Wednesday, Jon Morosi reported that the markets for Marcell Ozuna and Nicholas Castellanos were heating up. He named the White Sox and Texas Rangers as two teams with interest in the top free-agent outfielders on the market today.
This is a crucial spot that the White Sox need to get right, and unlike the current starting pitching direction, this one is much easier.
I was super hot on Marcell Ozuna at the start of the offseason, and I still love the idea of him landing in Chicago. I also like Castellanos coming to the South Side of town, so either option is viable in my opinion.
Spotrac has the 29-year old Ozuna pegged at five years, $97 million ($19 million AAV), which would become the White Sox's (new) largest free-agent deal in club history.
Despite having two less than overwhelming years in St. Louis, I believe that Ozuna could still remain a 25 HR/ 85 RBI bat in Chicago, which would make his deal justified and add to what looks to be a potent Sox lineup with the additions of Yasmani Grandal, Luis Robert, and continued growth of the likes of Eloy Jimenez, Yoan Moncada, and Tim Anderson.
Castellanos, 27, could cost the White Sox less than Ozuna — big emphasis on could, as he's a Boras client — but he's less of a threat both offensively and defensively than Ozuna in my opinion. Castellanos' career numbers at Guaranteed Rate Field are surprisingly underwhelming for a guy who has played so many games there, but he would be more than serviceable at the right price.
The third option that would work in right field would be a potential trade for Joc Pederson, a move that we know the White Sox have interest in. Pederson is making $8 million in 2020 and set to become a free agent next winter, so a deal with Los Angeles would need to hinge on a contract extension getting done unless the price was rock-bottom due to the Dodgers looking to simply offload his 2020 salary in the pursuit of a big-ticket item like Anthony Rendon or Gerrit Cole.
Outside of those three options in right field (and lord help us if no player included in that trio pan out), the open market offers a handful of semi-worthy names for consideration:
Beyond that, the Sox might as well pocket or otherwise invest their cash at a later date. It wouldn't be considered a victory as far as the offseason is concerned, but Adam Engel and Leury Garcia can provide more 2020 bang-for-buck than the other outfielders on the market.
Bullpen
The bullpen is such a volatile area that it's really hard to predict the market for it. Couple that with the fact that the Sox currently employ Alex Colome, Aaron Bummer, Kelvin Herrera (if he doesn't end up in jail), and a handful of other could-be bullpen items in the system, and I don't expect to see many — if any — big-name relievers inking deals with the Sox.
Blake Treinen, who had a tough 2019 in Oakland that led to him being non-tendered by the comparably frugal A's, would be worth a 1-2 year deal. I wouldn't count on it though.
Other Depth
I mentioned on Wednesday morning that Travis Shaw would be worth a look at the right price for the White Sox. With Yolmer Sanchez's departure, Shaw could provide the Sox with a left-handed power bat that could play second base until Nick Madrigal's impending arrival. After that, Shaw could spend time at second, third, first and DH to spell the regulars.
Shaw, 29, and posted excellent 2017 and 2018 campaigns in Milwaukee before struggling in 2019. A 1-2 year deal with an AAV in the $5-8 million range could prove to be a steal for the White Sox if the left-handed slugger can have a bounce-back campaign.
Down, but not out (yet)
Sure, the Zack Wheeler miss was a big blow to the White Sox's overall plan this winter, but there are enough ways to get creative. Rick Hahn and co. can still pick themselves up off of the mat and continue to build a team that can be competitive in 2020.
No excuses, just get back to work and get it done. You made a promise to the fanbase, and it's one that won't be forgotten anytime soon.
---
Featured Photo: Nam Y. Huh/Associated Press