As fan voting for On Tap Sports Net's All-2010s teams approaches, we're reminded how truly blessed we were over the greater part of the past decade of Blackhawks hockey. Just take a look at the potential Bulls and White Sox All-2010s teams.. yeah, we had it good.
The Four Feathers Podcast crew (Tony Marchese, Ron Luce, Patrick Comiskey, and I) conversed over these selections and there was only one spot that was truly up for debate. Reminder: we are only constructing two lines and two defensive pairs in addition to one goalie and one coach for this exercise. Without further ado, here are our selections for the Blackhawks All-2010s team. Make your voice heard by voting for your selections when fan voting begins via Twitter on Friday.
Patrick Sharp was an integral part of all three Stanley Cup-winning Blackhawks teams over the past decade. The "core" often encompasses Jonathan Toews, Patrick Kane, Duncan Keith, Brent Seabrook, Corey Crawford, and Marian Hossa, but Sharpie needs to be included in that group as well when assessing this past decade. From 2009-10 through 2014-15, Sharp netted 148 goals and dished 199 assists over 408 games in a Blackhawks sweater. In addition to the on-ice production, he served as an alternate captain and provided valuable leadership for a young team. He returned to Chicago for a farewell tour in 2017-18, posting ten goals and 11 assists to cap off a storied career.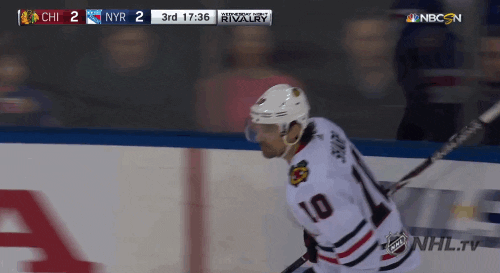 Center (1) – Jonathan Toews
No surprise here. Three Stanley Cups, one Conn Smythe Trophy, one Selke Award, an All-Star selection, and one Mark Messier Leadership Award — the Captain is without a doubt the top Blackhawks center of the 2010s.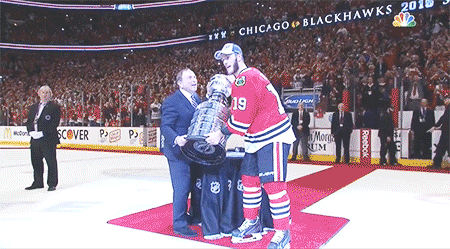 Right Wing (1) – Patrick Kane
Once again, no surprise here. It's been Showtime in Chicago ever since Patrick Kane came onto the scene. You thought the Toews 2010s accolade list was impressive? Here's Kaner's: three Stanley Cups, one Conn Smythe Trophy, one Hart Memorial Trophy, one Art Ross Trophy, one Ted Lindsay Award, and four All-Star appearances. He also scored the game-winning goal that brought the Stanley Cup back to Chicago for the first time in 47 years. On top of all that, Patrick Kane is the top point producer in the entire NHL for the decade. SHOWTIME indeed.
Though he only played two seasons in Chicago, the Breadman was electrifying. He posted 61 goals and 90 assists over 162 games with the Hawks, won the Calder Trophy in 2015-16, and appeared in the 2016-17 All-Star game. When he lined up opposite Patrick Kane, opponents knew they'd have their hands full trying to defend one of the most dangerous lines in hockey. While trading him was an incredibly tough pill to swallow, the sheer production in his brief Blackhawks tenure makes him our selection for the second left-winger on our All-Decade team.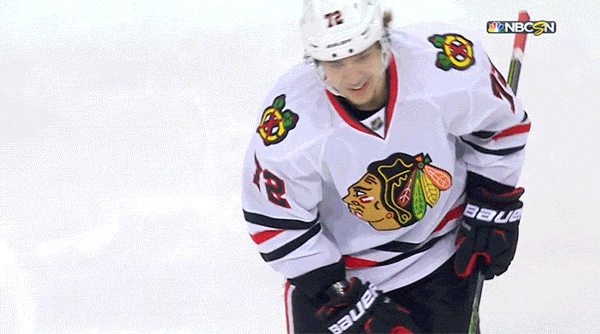 Though there were a few centers that helped carry the load during brief stints in Chicago (Brad Richards, Antoine Vermette, Michal Handzus), Dave Bolland was a rock in the middle for two Stanley Cup-winning teams. From 2009-10 to 2012-13, "The Rat" netted 47 goals and 57 assists over 211 games for the Blackhawks. He helped kill countless penalties, got under the skin of opponents, and provided that "edge" every team needs in the playoffs. And of course, how could anyone forget Bolland's yard-sale goal to cap off the back end of the famous "17 seconds" that brought the Stanley Cup back to Chicago in 2013?
Right Wing (2) – Marian Hossa
It would be blasphemous to leave the Demigod off this list. Marian Hossa meant so much to the Blackhawks in the 2010s. He was the major free-agent splash the Hawks needed to climb to that "next level." When he arrived in Chicago for the 2009-10 season, he brought veteran leadership, elite defensive abilities, a wicked shot, exceptional puck protection skills, and an all-around excellent hockey sense. From 2009-10 through 2016-17, Hossa recorded 186 goals and 229 assists in 534 games for the Blackhawks. After being a Stanley Cup runner-up in both 2008 and 2009, Hossa finally got to hoist the best trophy in all of sports with the Hawks in 2010. He would go on to win two more Stanley Cups and likely got snubbed out of multiple Selke Trophies due to his position being wing instead of center. From his work ethic to his warm personality, Marian Hossa is the definition of class. Unfortunately, a skin condition forced Big Hoss to prematurely hang the skates up after the 2016-17 campaign. The crew here at Four Feathers anxiously awaits a proper send-off for #81 when his contract finally runs out, but until then, he has a well-deserved spot on our Blackhawks All-Decade team.
Defenseman (1) – Duncan Keith
There's an argument to be made for Duncan Keith being the best NHL defenseman of the decade, so he gets the unanimous nod as the top blue-liner on our Blackhawks All-2010s team. Keith's accolades include three Stanley Cups, one Conn Smythe Trophy, two Norris trophies, and three All-Star appearances. Plain and simple: the Blackhawks would not have attained hockey glory without Duncan Keith's contributions.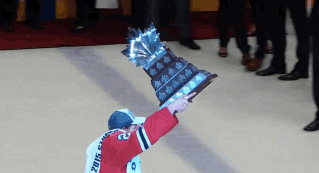 Defenseman (2) – Brent Seabrook
Brent Seabrook has been the rock of the Blackhawks defense over the past decade. Today's news that he will miss the remainder of the season and require multiple surgeries is beyond disheartening. No official announcement has been made, but there's a chance that we may have seen the last of Brent Seabrook in a Blackhawks uniform. In light of that news, it's time to put to rest the "bad contract" and "rapid decline" talk and appreciate all that #7 has given to the Blackhawks organization.
Seabrook has played a whopping 1,114 games while donning an Indianhead sweater, second only to Stan Mikita in franchise history. In the 800 games he's played this decade, Seabrook has tallied 77 goals and 273 assists. Though his 2010s accolade list may not be as flashy as players previously mentioned, Seabs has played roughly 17,702 hard minutes on the Hawks blue line. His leadership qualities have been paramount in the Blackhawks bringing home three Stanley Cups this decade. Who remembers Seabs going over to the box and talking Toews, who had taken three consecutive penalties, off the ledge during a crucial juncture in the 2013 playoffs at Detroit? The Four Feathers crew sure as hell remembers. What about his clutch goals throughout those same playoffs? He sealed the series in overtime of game seven against the Red Wings and capped off a barn-burner with an overtime goal in game four of the 2013 Stanley Cup Final. Those are just a few of the countless moments both on and off the ice that make Brent Seabrook a lock on our All-Decade Blackhawks team.
If Brent Seabrook played hard minutes, Niklas Hjalmarsson logged grueling minutes for the Blackhawks. From 2009-10 through 2016-17, Hammer blocked 1,155 shots. He was the definition of a shot-blocking machine for the Hawks. His stay-at-home, sound defensive game made him one of Joel Quenneville's favorite players. While Keith and Seabrook receive most of the recognition, Niklas Hjalmarsson may have been the most reliable Blackhawks defenseman of the past decade. He finished his time in Chicago with 22 goals, 117 assists, and three Stanley Cups before being traded to Arizona.
Remember that one spot that was up for debate? We've arrived at it. The other player in the conversation for this spot will be addressed in the honorable mention, but right now we're here to talk about Johnny Oduya. After coming over from the Jets during the 2011-12 season, Oduya played a crucial role on the blue line for two Blackhawks Stanley Cup teams. Like Hjalmarsson, Oduya played a defensive game that Coach Q loved. Hammer and Oduya would team up to form a Swedish shutdown pair, which was incredibly valuable in 2015 when the Hawks won the Cup with essentially four defensemen. For his contributions during crucial moments such as the one shown below, Johnny Oduya rounds out the blue line on our Blackhawks All-Decade team.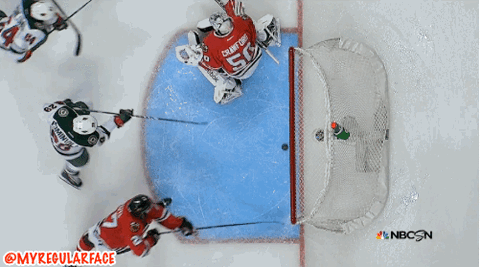 Goalie – Corey Crawford
While the previous roster spot can be debated, our selection for the man between the pipes is a no-brainer. What can we say about Crow over the past decade? Well, just two Stanley Cups, two Jennings Trophies, a 450-249-51 record, a .917 save percentage, and a 2.45 goals-against average. Not too shabby. He has been the number one guy ever since taking over for Antti Niemi following the 2009-10 season. His volume and quality of play speak for itself, making him the goalie of our Blackhawks All-2010s team.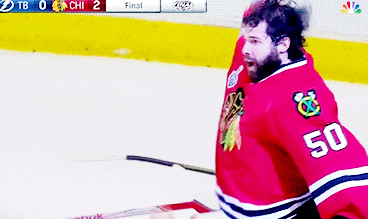 Head Coach – Joel Quenneville
In another edition of a no-brainer selection, the top Blackhawks coach of the decade (and of all-time) is Joel Quenneville. The mustached man behind the bench knew how to win. In the 2010s, Coach Q brought three Stanley Cups to Chicago and logged a 407-227-85 record, accumulating 899 points. His unjust replacement, Jeremy Colliton, sits at 45-45-15 (105 points). Winning is cool and tough; mediocrity is lame and weak.
QQQQQQQQQQQ!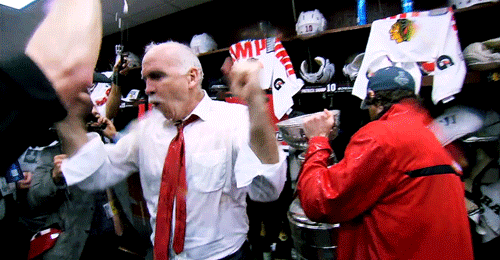 Going back to our most contested selection at fourth defenseman, Brian Campbell deserves an honorable mention. Playing a majority of the decade with the Florida Panthers puts him a notch below Johnny Oduya, but his contributions to the Blackhawks organization should not be overlooked. Before the 2008 season, Campbell signed with the Blackhawks despite having more lucrative offers on the table from other teams vying for the free agent's services. Soupy suffered a broken clavicle and a broken rib during the 2009-10 regular season but returned for the playoffs to help lead the Blackhawks to a Stanley Cup title. Never forget who recorded the lone assist on the game-winning goal in that Cup clincher…
Like Patrick Sharp would do a year later, Brian Campbell returned to the Blackhawks to cap off his career in the 2016-17 season. He recorded 24 goals and 110 assists in 295 games for the Hawks, but his contributions to the organization don't end on the ice, however. Campbell joined the Blackhawks front office after the 2016-17 season to assist in the business operations department and has since assumed a role as a player development coach. He worked closely with Blackhawks top defensive prospect Adam Boqvist last season, so Campbell's impact on the organization will be felt for years to come.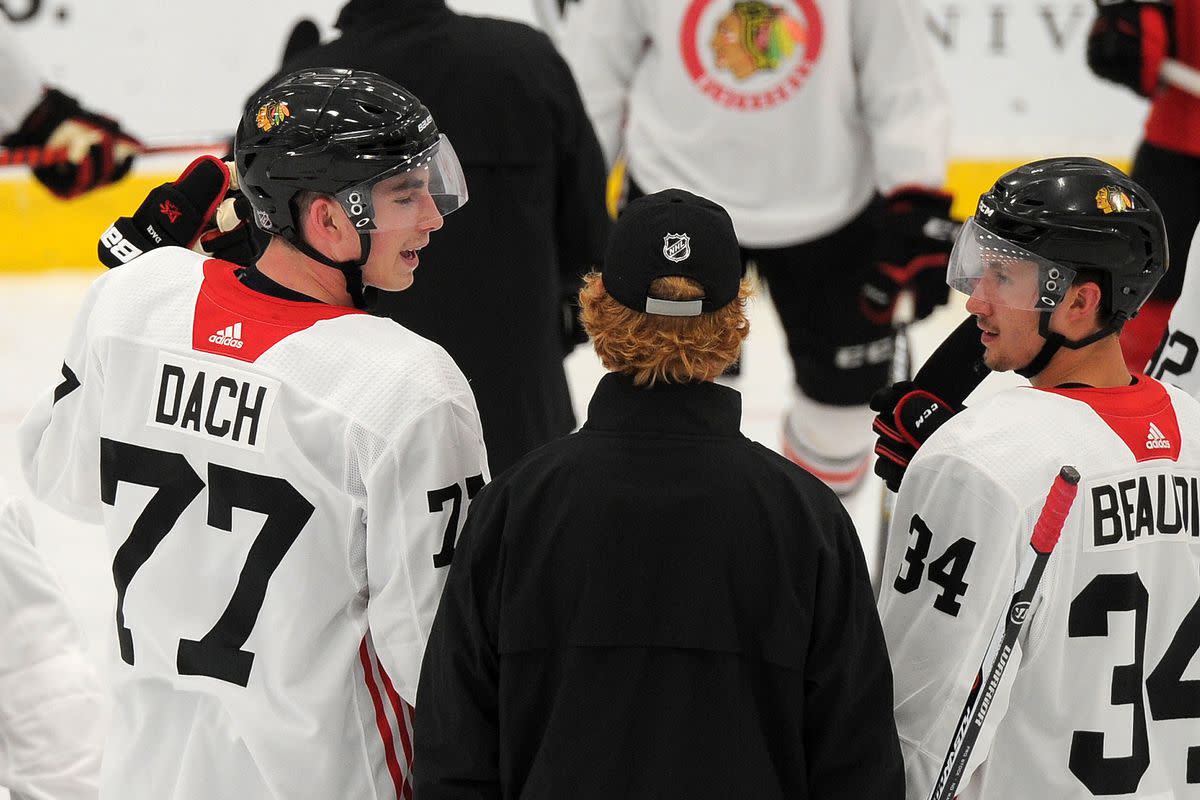 That does it for the Four Feathers crew's selections for the Blackhawks All-2010s team. Stay tuned to the On Tap Sports Net Twitter account so you can chime in during the fan vote, which will begin on Friday.
---