As my buddy NWI Steve pointed out the other day, the White Sox trading for Ian Kennedy makes too much sense. I agree. I'm not going to delve down that path, as he has already done so. Instead, I am going to focus on upside relief options. Although signs would indicate that a corresponding trade to clear some space for Edwin Encarnacion on the 40-man roster is on the horizon, let's see what they already have. As of now, the Sox have the following relievers on their (full) 26-man roster:
More than likely, Michael Kopech will be in the rotation at some point, but it's questionable whether or not that will be on March 26th. Signs could point to "yes" after Luis Robert and the White Sox reached an extension yesterday. But in the meantime, who else is out there?
Remember him? He posted a 3.86 ERA for the 2018 White Sox and was dealt to the Phillies later that season for Felix Paulino. Avilán had the injury bug in 2018 for the Mets. It seemed like the entire Mets bullpen forgot how to pitch or got hurt in some form or fashion. However, Avilán sported a .292 wOBA for the Mets in his limited innings during the second half of the season. That's more on par with the reliever he was before. This move makes sense. Having Grandal behind the dish gives the Sox another look, I'm sure, as Avilán has already thrown to him while they were on the Dodgers together.
In 2010, the White Sox traded Hudson and David Holmberg for Edwin Jackson. Ahhh, Kenny, it was your time to shine. Hudson went on to put up one helluva 2019 postseason run with the Nationals. He posted a 3.97 FIP and a 2.47 ERA. Although I believe this could be an overpay in the Sox direction due to his recent success, maybe he caught a groove for a short-term deal.
Again, here is another Grandal connection from 2018. Cingrani tore his labrum in June, so he's coming off a very significant surgical procedure. That's the great thing about these low-risk, high-reward bullpen moves. You're not throwing $50 million on Cingrani to man the back of the 'pen. Give him a one-year deal, and Cingrani might just thank Grandal and the White Sox for getting him paid in 2021.
Here's a name that makes a boatload of sense and has been floated for over a year. McHugh had a 4.43 FIP over 74.2 innings pitched for the trash can-banging Astros last season. Unfortunately, those numbers don't tell the whole story. The Astros shut him down due to injury concerns in September. In 2017 and 2018 respectively, McHugh had a 3.82 FIP and 2.72 FIP. Those are far better numbers and probably more in line with what you would expect from a guy of his caliber. According to Statcast, McHugh ranks in the 92nd percentile in hard-hit percentage and in the 88th percentile in curve spin. Here's his chart: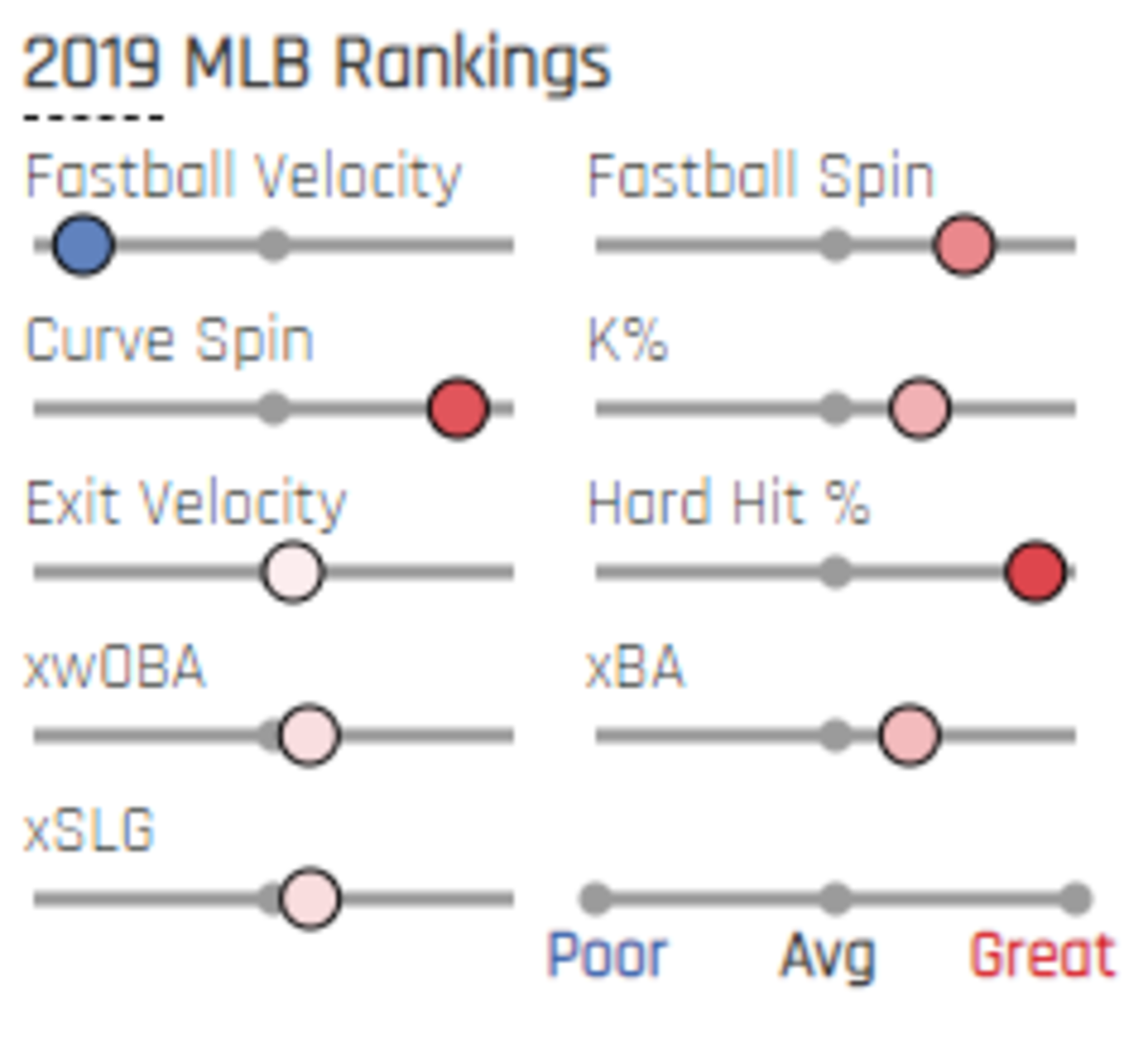 Oh, and he's from Naperville. Or as people from Naperville would like to call it, "Chicago."
This is probably the option I like the least. I hate to use age as a barometer of a player, but he's 39 and hasn't shown much success as of late. That said, he has been linked to the Sox on multiple occasions this offseason, so I have to include him. Neshek looked decent in 2018, so his awkward throwing motion could keep him in the rumor mill. Just look out for him. This seems like a move the Sox will want to make so Coop can…ya know… "fix 'im."
Sox fans may cringe at this one. Strop is one of the only Cubs I like: mainly because he pisses off grumpy old Cubs fans with a tilted hat. You be you, Pedro. Strop had a 4.53 FIP and still ranked in the 72nd percentile for fastball velocity. I don't think he's completely tapped out. Why not take a flyer on him? His stretch form 2011-2018 was pretty solid. Recency bias tends to control the media narrative around a player, especially in a large market.
These options would all give a high upside look at the bullpen. I know Will Harris is on the Nationals now, guys. Don't panic. All of these players have shown success at times. Yes, there are injury/age concerns, but that tends to be the case with many pitchers, especially relievers.
---