On Tap Sports Net is looking at Chicago teams throughout the years to determine our all-time dynamic duo. Check out all of the nominees here.
Being the second baseball team in the Second City, the Chicago White Sox are often overlooked. Us White Sox fans have pretty much just accepted the fact that that's the way it goes. However, there is no overlooking some of the miraculous events that have taken place in somewhat recent White Sox history. A World Series Championship? Sure. A perfect game and a no-hitter? Of course. And all of the heart-wrenching goodbyes? Certainly. All of the aforementioned occurrences happened while one of the most electrifying Chicago sports duos, Mark Buehrle and Paul Konerko, was leading the charge.
The pair were leaders on and off the field. Konerko served as team captain from 2006 until his retirement in 2014, and Buehrle consistently threw gems while being the life of the clubhouse at any given time.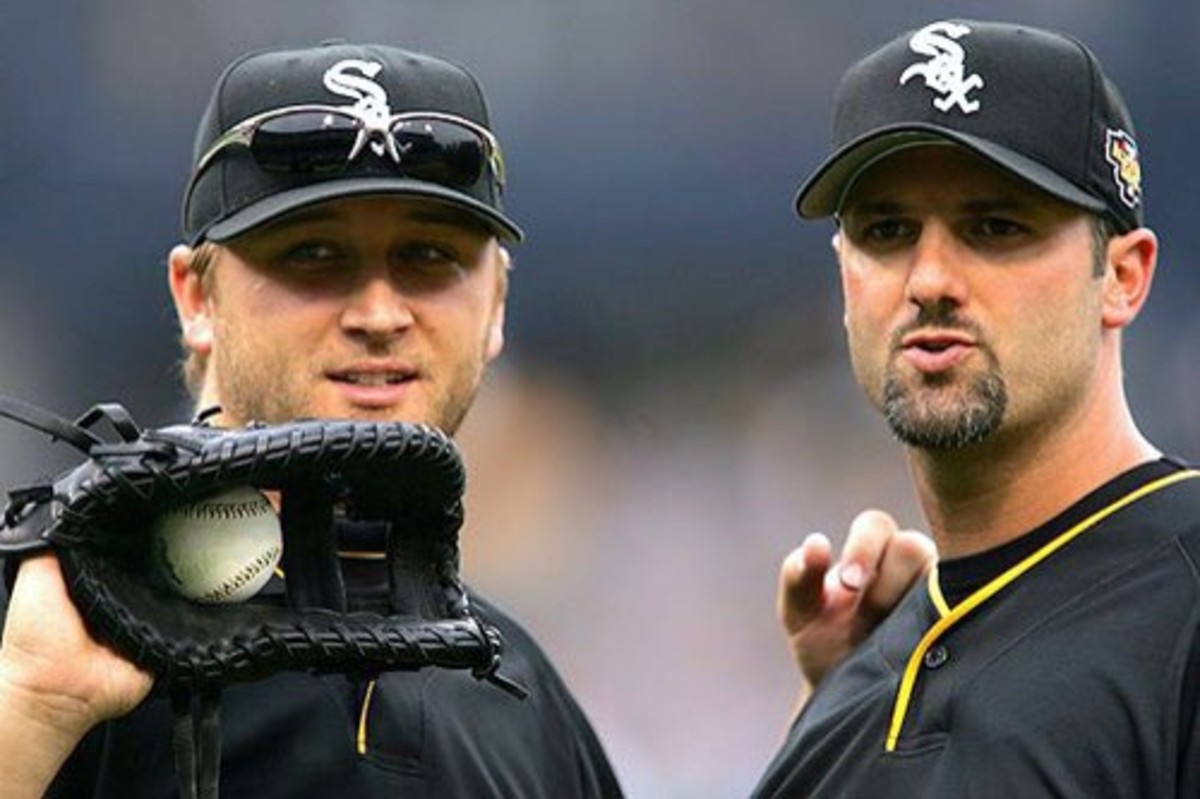 In 2005, the Chicago White Sox achieved baseball glory. Between grand slams and complete games, there was a bit of sugar and spice from the well-known postseason heroes such as Jermaine Dye and Joe Crede as well as quiet knights like Geoff Blum or Carl Everett. Konerko ranks near the top of the White Sox board in home runs, doubles, hits, and more categories, while Buehrle sits above most in strikeouts, wins, batters faced and more.
In my opinion, the most memorable play involving the duo has to be 'the flip' without a doubt. It's 70 degrees on Opening Day and 39,000 people are packed into U.S. Cellular Field. Buehrle gets a comebacker that deflects off of his foot, chases it down, and flips it between his legs to Paul Konerko stretching out with a bare hand. Tumbling over, he gets the ball back and tosses it to a lucky fan. There was nothing like it. It's not something you can practice or rehearse.
Buehrle and Konerko are now both happily retired with their jerseys retired at 35th and Shields. There's even a statue on the concourse for Paulie. White Sox fans have been craving for a new duo to run the South Side. Whether it be Timmy and Abreu or Eloy and Moncada, the future is now and the fans are ready.
Check out the other nominees:
Patrick Kane/Jonathan Toews
Anthony Rizzo/Kris Bryant
---