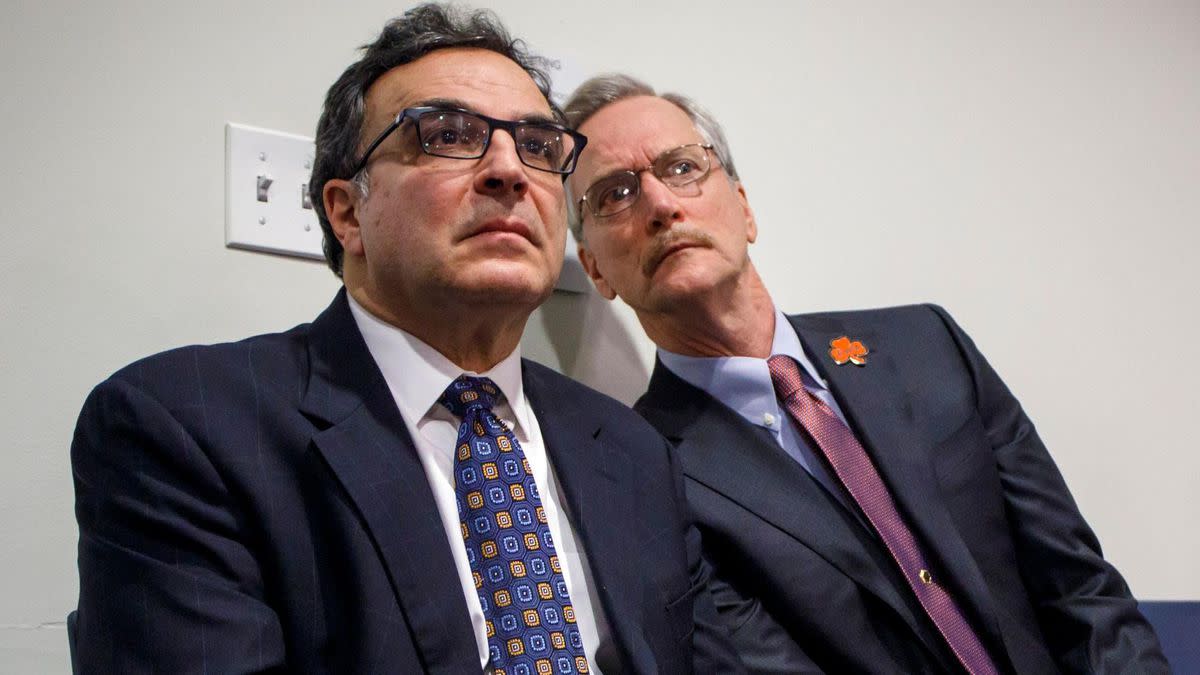 Every single time Bears President and CEO Ted Phillips opens his mouth, you can hear millions of Bears fans collectively cringe. Phillips has worn out his welcome in his stay with the charter franchise for over a decade. The McCaskey's probably should have fired him long ago. He only does further damage when he makes public statements, and his letter on Friday is just additional evidence of such.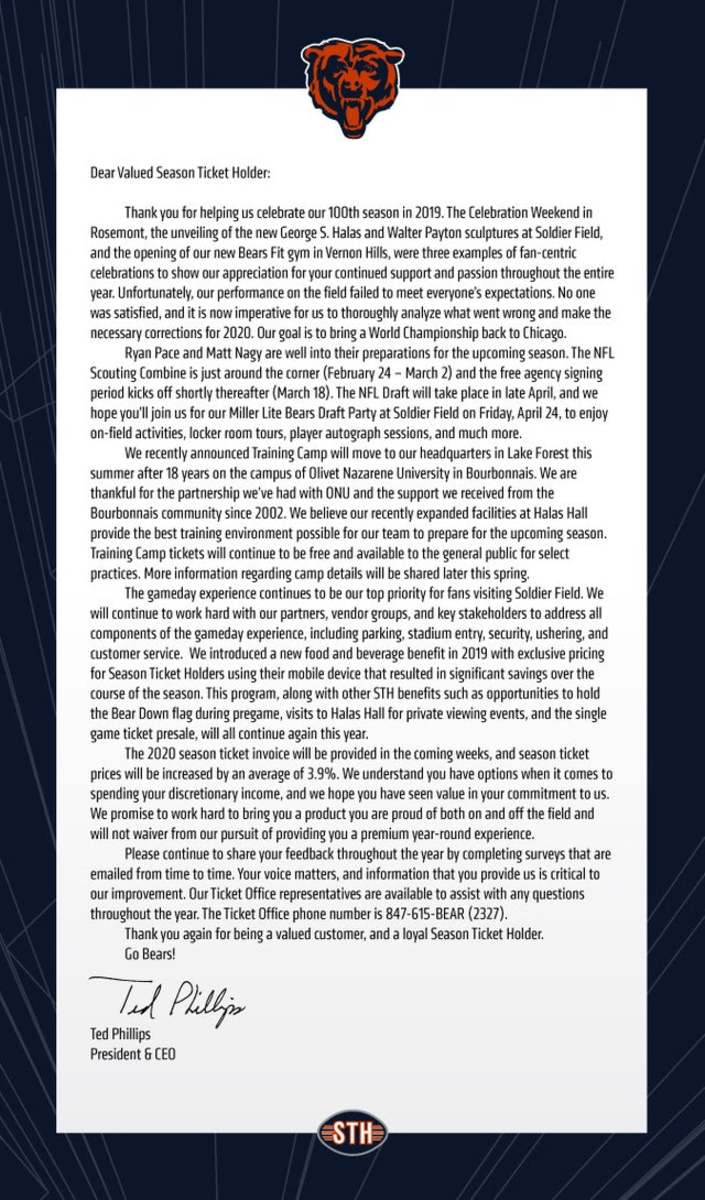 To recap: "Unfortunately, our performance on the field failed to meet everyone's expectations. No one was satisfied, and it is now imperative for us to thoroughly analyze what went wrong and make necessary corrections for 2020."
Ted Phillips is telling you that last season was unacceptable. The Bears completely fell on their face by taking a season with Super Bowl aspirations and going 8-8. Phillips will tell you that's unacceptable, but his actions don't even come close to matching his words.
First of all, not a single member of the Bears front office or coaching staff has taken responsibility for last season's failure. General manager Ryan Pace and head coach Matt Nagy cowardly fired members of the coaching staff moments after their end-of-season press conference so they wouldn't have to answer to the firings. Deflect all the blame away, boys!
Secondly, and most importantly, in the process of "apologizing" to Bears fans, Phillips quickly stabs them in the back. "The average increase of season tickets will be 3.9% with non-club seats increasing by an average of 4.3 percent."
Wait, what? 'Last season was bad, but we're still going to charge you more and more to show up on Sundays' is what Phillips is saying in that letter. It's a slap in the face to Bears fans. Do they think we're stupid?
A fair share of teams routinely raises ticket prices. Those raises typically come after success, though. The Chicago Blackhawks raised ticket prices every season from 2010-2018. However, there were nine straight playoff appearances and three championships involved in that stretch.
However, after missing the playoffs in two straight seasons, the Blackhawks froze their ticket prices. You know why? Because the Blackhawks deemed missing the playoffs two straight seasons as "unacceptable."
For the Bears, however, that is far from unacceptable. In fact, it is simply the norm. They have one brief playoff appearance in 2018, in which they get bounced in the first round, and all of the sudden they're untouchable.
In the last 30 seasons, the Bears have won FIVE playoff games. "We hope you have seen value in your commitment to us," Phillips said. Well, Teddy, no we have not. We have seen zero value. The product on the field is sub-par. Soldier Field is sub-par as well, and yet it is one of the most expensive places in the National Football League to take in a game.
Ted Phillips's pet project in his time with the Bears was rebuilding Soldier Field. In the process, because the Bears weren't willing to pay for their own stadium, they get no money from non-gameday revenues. That all goes to the City of Chicago, because well, they paid for the stadium.
New Soldier Field also lost 5,000 seats and is the third-smallest stadium in the NFL for one of the league's biggest and most loyal fanbases. Good call, Ted. Oh, and it is easily the worst stadium in the city. Yes, even far worse than the one that was built in 1914. Fans across the league are getting state-of-the-art stadiums. Not Bears fans.
The only awesome thing we get with Bears games is tailgating. You know, the activity where you make all the fun yourself? You bring your own food, your own beer, your own grill, and your own friends. You can realistically do that without the Bears. Yet, the Bears will still charge you around $60 to park your car at Soldier Field and do that. Thanks, Ted!
The Bears' President and CEO simply does not get it. He doesn't understand that fans don't care what he has to say. He doesn't get that all we want is a winning product on the field. He is tone-deaf and one of the Bears' biggest problems. If you're waiting for him to get it, pull up a chair, the wait is going to be forever.
This is nothing new however, as the Bears have been operating like this for decades. Fans will always show up, as the Bears have the second-most-expensive resale ticket on the market. Phillips and company know that fans aren't going anywhere because Chicago is a football town. His tone-deaf letter is just yet another of its kind. Expect there to be more, as the McCaskey family continues to allow Ted Phillips to embarrass Bears fans annually.
---