Any avid Cubs fan noticed last season's positional sinkhole that was centerfield. According to FanGraphs, the Cubs had a positional Wins Above Replacement (WAR) in CF of +1.2, which ranked 21st in baseball. While this doesn't scream catastrophe on the surface, it was the lowest WAR of any position for the club and was a driving reason why the Cubs' outfield play in totality was so underwhelming. Between Albert Almora's massively disappointing season and Jason Heyward having to play out of position once Nicholas Castellanos was acquired, this lack of production was no surprise. But will the gaping hole in centerfield carry into this upcoming season?
Because the front office has not acquired any corner outfielders this offseason that warrant an everyday starting nod, it is presumed that Jason Heyward will be fixated as the every-day right fielder. Heyward playing out of position (CF instead of RF) caused the outfield's defensive ability to take a nosedive, as I elaborated on two weeks ago. The data shows that Heyward is not the permanent answer in centerfield, and the front office knows it. Although there were some rumors mid-last season that top prospect Nico Hoerner would potentially explore a change of position from second base to centerfield due to his elite speed, his need on the Major League roster in the middle infield as injuries piled on the second half of the season quieted those rumors down. That leaves centerfield to two players: Albert Almora or Ian Happ. Think it's a hard decision? Well, let me convince you otherwise.
First off, the inability of Albert Almora to develop into the type of player he was once touted to be has been well documented. After being the sixth overall pick in the 2012 MLB draft, he immediately penciled himself as the Cubs' second-best prospect behind Javier Baez and a top-25 prospect in all of baseball. To put it candidly, he was drafted to eventually become the franchise's everyday centerfielder. And while most believe there's still time for him to develop his game and become that, there's a concerning trend in his numbers that suggests otherwise.

See the trend? Not only has he been unable to improve his ability to hit or hit for power (shown by wRC+ and OPS), he's also walking less and striking out more. He's regressed in virtually every single relevant offensive statistic over the last three years, which is right in the middle of what is supposed to be his peak development. This means one thing: Major League Baseball has figured him out. Developing into an everyday starting positional player like Anthony Rizzo, Kris Bryant, Javier Baez, and Willson Conteras have isn't about how you perform immediately when you're called up. It's about how you adjust once MLB figures out your weaknesses. Baseball adjusted to Almora's initial strengths he displayed in 2017, and Almora did not adjust back. As more data becomes available, it makes it easier for pitchers and organizations to exploit weaknesses in a player's offensive abilities and approach. The trend in Almora's numbers since his debut is a perfect example of how analytics can be used to pinpoint a player's flaws and use it to essentially run him out of the league.
While Almora's offensive struggles are widely renowned throughout the fanbase, there's still a select group of people who argue that he's an elite defensive outfielder. Data proves this narrative false. In 2017, he accumulated -1 Defensive Runs Saved (DRS) and in 2018, when this narrative started, his DRS was +9. However, after -5 DRS in 2019, which year feels like the anomaly? The fact of the matter is that he is one of the slowest centerfielders in all of baseball, which is proven by him never having a positive BsR thus far in his MLB career (his highest is -0.7). How often do you see a club's centerfielder graded as a negative on the basepaths? It almost never happens, which is a testament to his sheer lack of straight-away speed. Some of the diving plays he makes would be caught easily in stride by Lorenzo Cain, Victor Robles, or Manuel Margot, all of whom are true elite defensive centerfielders in baseball.
With Almora's offensive production steadily regressing and his defensive ability no longer being a value-add, why would the organization continue to place blind hope that he turns it around? He has proven nothing to warrant a belief that he can be an effective MLB player.
On the contrary, Ian Happ has displayed he can be a difference-maker. While the perception surrounding his name has been that of disappointment ever since he started last season in the minors, there's no reason for this to be the case if you look at the direction his game is trending. The same stats that prove Almora is regressing show a polar opposite trend for Ian Happ.

While the walk percentage decreasing is not ideal, his strikeout percentage improving 11% in one season, which has been by far his biggest weakness as he's ascended through the Cubs' farm system over the years, is phenomenal. It's asinine how a guy who finished with the same wRC+ as All-Star catcher Willson Contreras can have such a negative connotation among the fanbase. It makes no sense. He's 25 years old, has barely over 1,000 career big league plate appearances under his belt, and just turned in an OPS a fraction away from .900. Oh, and he can also play six, yes six, positions on command. If you take his 1.5 WAR in 58 games played this past season and extrapolate that into a full season's worth of games (with eight off-days), that rounds out to a 4.0 WAR. That's the same WAR as Anthony Rizzo and would be tied for third-best on the team and 36th in all of baseball. I'm not sure if the fanbase is allergic to facts or if it's the media's lack of coverage around his production, but Ian Happ is absolutely an integral piece to the organization's future.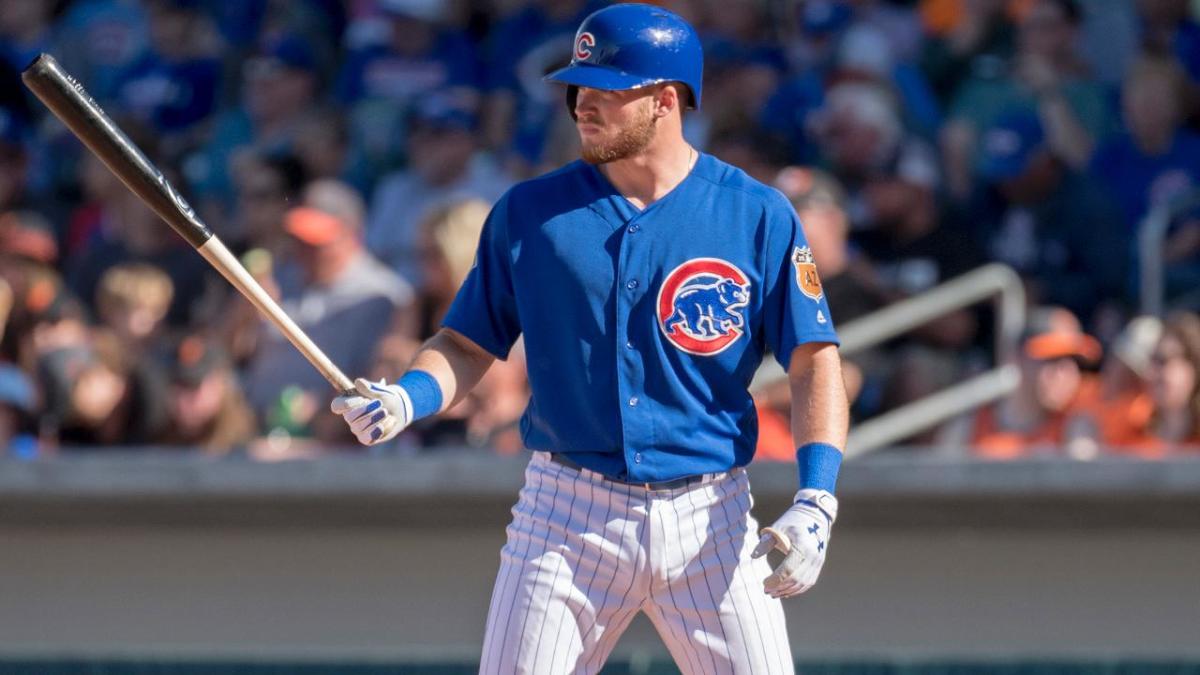 While Happ can play six positions, he's simply too productive at the plate to be a platoon guy or utility man. He needs to be a part of the everyday starting lineup. And given that the organization does not have another player capable of starting in centerfield, the logical conclusion is to have him man the middle of the outfield and make it his primary position.
Yes, there is warranted skepticism regarding his ability to be an everyday centerfielder, as he racked up -7 DRS in 403.2 innings at the position in 2018 (FanGraphs). However, he was also +4 DRS in 411 total innings played in 2017 and 2019. Given that these are even sample sizes, I'm not sure which one is more indicative of what type of defensive centerfielder he is. But that's beside the point.
The Cubs have no other option, so why not give him the exact same opportunity Albert Almora was given last season? Start Happ in centerfield every day for the first third of the season and see what type of production he turns in. If it doesn't work out defensively, have him be a utility man like Ben Zobrist used to be. But riding with Almora after a colossal disappointment in 2019 is not moving on from the past two seasons' disappointment, which was a stated goal at the onset of the offseason. Instead, it's taking a massive step backward and repeating the past.
With the upside Happ has shown both offensively and defensively, it's entirely possible he has as high of a ceiling as any player on the Cubs' roster. Hell, in 2017 nobody expected Javier Baez to pop and finish second in 2018 MVP voting and become one of the better players in the National League. I'm not saying Ian Happ is going to do that, but it's about time the organization provides Happ the same opportunity every other player of the Cubs' core has been given.
---