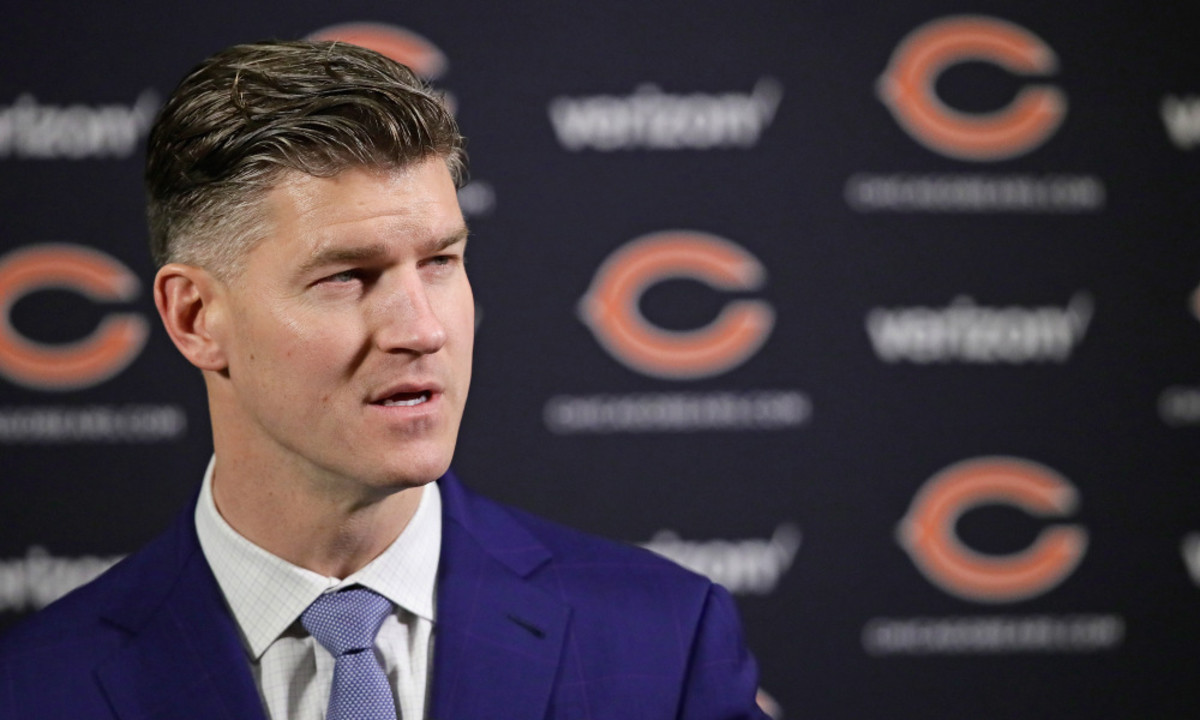 With the 2019-20 NFL season soon concluding with the Super Bowl on Sunday, the offseason is right around the corner. With that in mind, it's time to start taking a look at possible additions the Chicago Bears can make this offseason, starting with potential free-agent targets.
The Bears currently have about $15 million in cap space (via Spotrac). The contract details of the recent Tre Roberson signing have not yet been revealed, but it's safe to assume they didn't have to break the bank on the former CFL athlete. At a minimum, the Bears should have $12 million before the salary cap increases and potential cuts are made.
The Bears' positional needs, scheme fit, and affordability were all factors in making this Big Board of free agents. In 2019, the Bears had less money to spend and less draft capital. Signings such as Cordarelle Patterson, Ha-Ha Clinton-Dix, and Buster Skrine were all solid additions. Patterson elevated the special teams unit in every way. Clinton-Dix is a better player than Adrian Amos, but Amos's abilities allowed Eddie Jackson to play centerfield, where he should be. Buster Skrine also filled in admirably, but the overall issue with the 2019 offseason was that the Bears didn't get any true game-changers. These Big Boards will feature UFA's that can be game-changers for the Bears in 2020.
Offense
The Bears need to find ways to improve the offense in 2020. Their production would indicate they have no talent on the offensive side of the ball, but that isn't the case. They have a solid core of playmakers, but there are still a few glaring issues.
Quarterbacks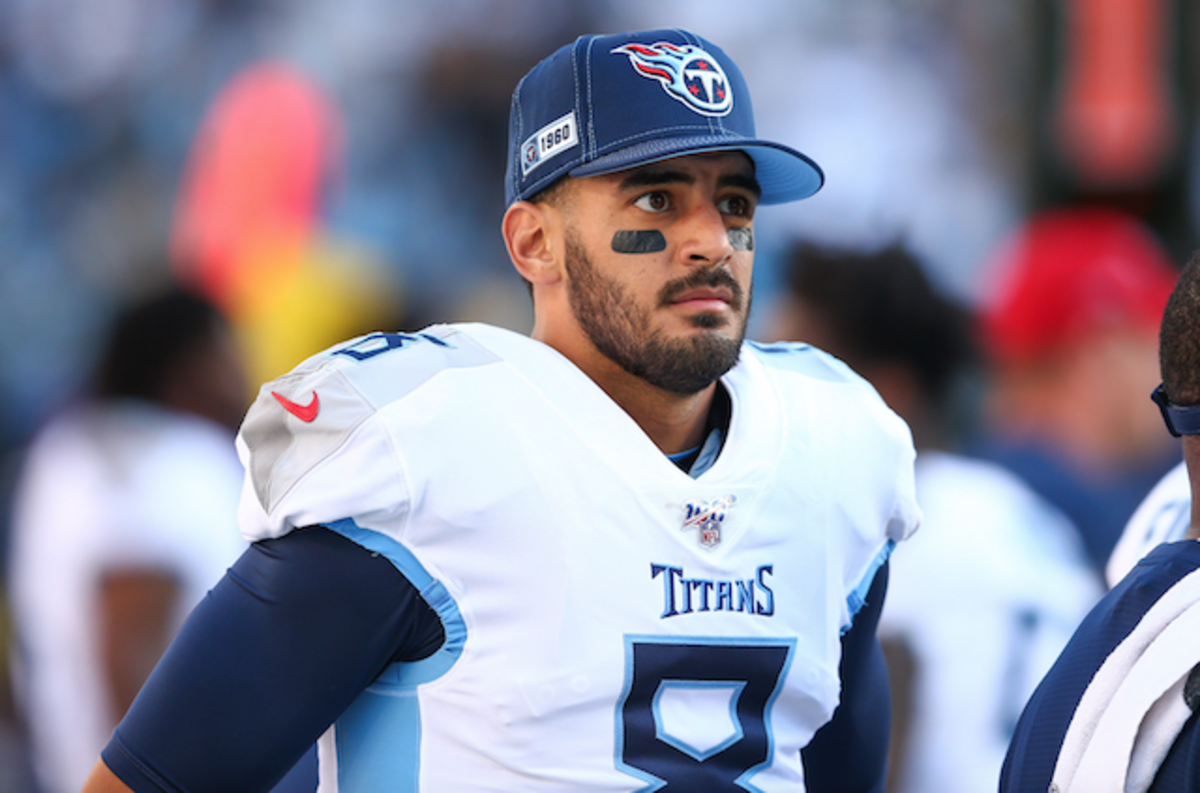 Let's start with the big elephant in the room. Obviously, most of the fanbase has gotten out their pitchforks trying to run Mitchell Trubisky out of town. The one thing we do know is that Ryan Pace verbally committed to Mitchell Trubisky starting in 2020. While there is a ton of speculation as to whether or not Pace is telling the truth, let's assume he isn't.
Analyzing things from a financial perspective, the Bears would be able to afford Tom Brady if they wanted to, but is that an option? Examining the situation logically, the Bears would have to cut players and not re-sign others in order to afford him, which would leave them with holes everywhere. It's highly unlikely the Bears will sign any quarterback that demands a Brinks truck backing into their garage. Even players like Ryan Tannehill have a market value of over $30 million.
A realistic expectation is for the Bears to sign a player like Case Keenum or Marcus Mariota. Both quarterbacks have starting experience, come at a fraction of the cost, and would serve as upgrades over Chase Daniel. There are other trade scenarios that would give the Bears options at quarterback, but it's safe to predict that they are riding with Trubisky another year. They cannot go into the season with all of their eggs in one basket as they did in 2019, hence why they need to find a backup with starting experience.
Tight Ends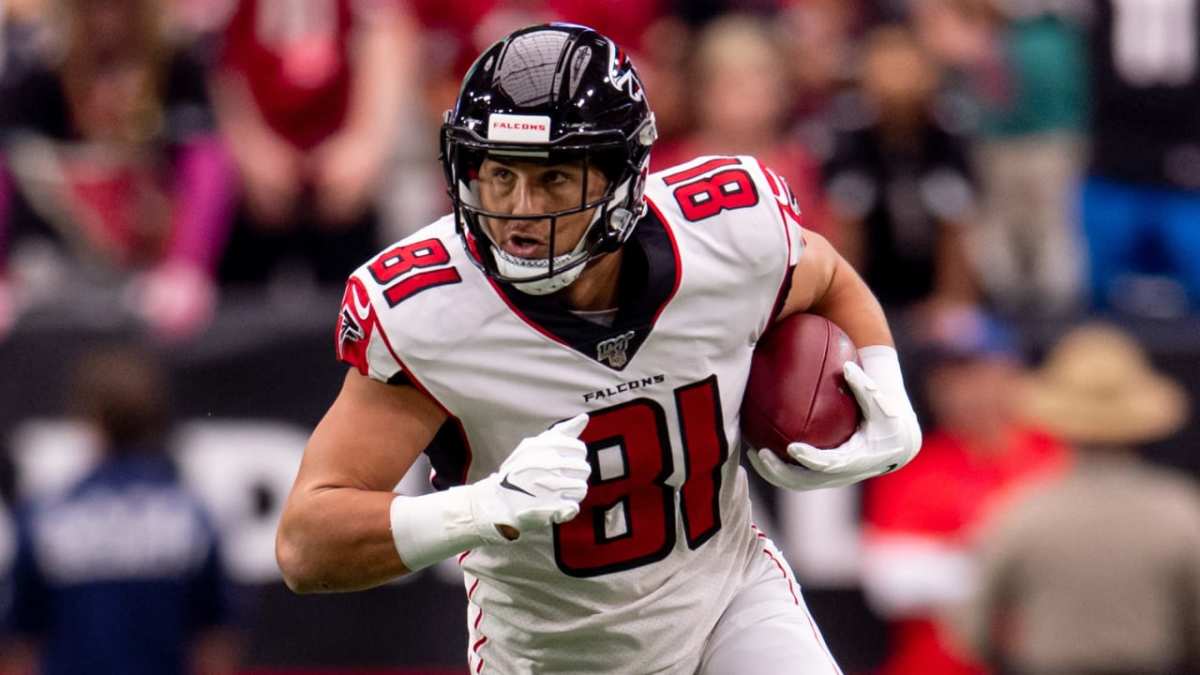 There is no way to sugarcoat it — the Bears need help in the tight end department. They need to address the position in the draft and in free agency. This one is tough to predict. The headliners of the class will be pricy, and the Bears have already dedicated a good portion of the salary cap to their tight ends. No matter how much Ryan Pace wants to say he leaves emotions out the decision-making process, he is still human.
While it seems Hunter Henry and Eric Ebron are immediate upgrades at the position, their injury history is a cause for concern. How would Chicago react if Pace broke the bank on another tight end that isn't on the field? I would assume the Bears make a 'splash' on a different position.
If they don't, Austin Hooper is the guy to target. He is a perfect fit, he's young, and he's productive. Hooper is the type of game-changer the Bears would need at 'U' tight end. Pace will also have the most information on Hooper because of his NFC South ties.
In speculation, the Bears likely won't sign any high-profile players to be that pass-catching tight end. They expect Trey Burton to be back fully healthy and there are young players like Jesper Horsted and Dax Raymond currently on the roster.
There should also be a few pass-catching tight ends available for the Bears in the second round. It sounds crazy, but the Bears have a bigger hole at the 'Y' tight end position. This is where it seems the Bears will invest in free agency. Veterans like Charles Clay, Darren Fells, or Benjamin Watson would all be cost-effective options for the Bears this offseason. Richard Rodgers (PHI) and Blake Bell (KC) are also cost-effective options that have familiarity with Nagy's system included on this board.
Guards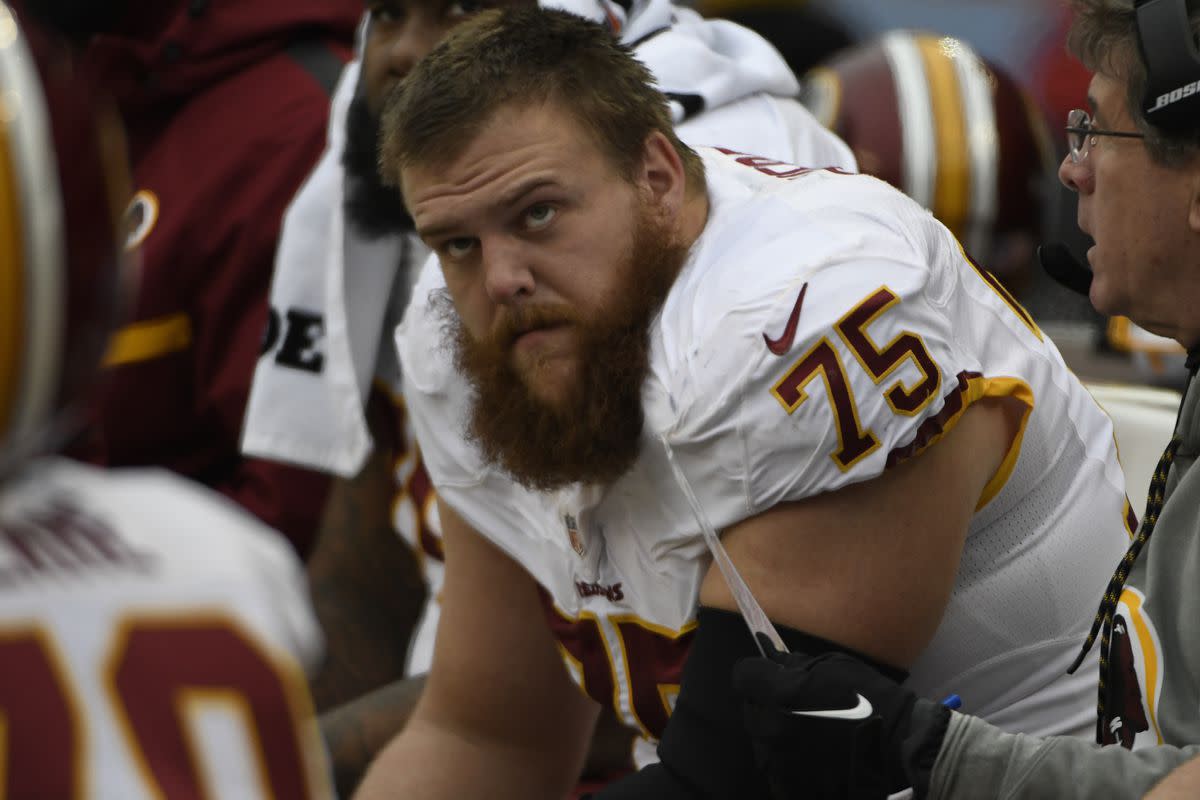 If the Bears make a splash on offense, this is where it needs to be. The Bears need a proven force to come in and play right guard in 2020. Many fans are calling for new offensive tackles, but after breaking down film on the offensive line, it's clear right guard is the biggest hole on the line.
Usually, a player like Brandon Scherff would have been re-signed by now, but it's the Redskins and no one really knows what they are doing in D.C. If Scherff hits free agency, he will be rewarded handsomely. He will set the guard market, and his market value is around $12.4 million. Scherff is an affordable, game-changing option for the Bears in free agency. Inserting him into the starting lineup will guarantee the Bears have an improved running game in 2020.
Ereck Flowers, B.J. Finney, and Andrus Peat will all receive raises heading into 2020, but they will be more affordable options for the Bears. All three would be an upgrade over Rashaad Coward, but none will be as much of an upgrade as Scherff. Looking at all of the 2020 Big Boards and mock drafts, it seems like there won't be any interior lineman falling to the second round that will significantly improve the line. That is why it's imperative the Bears spend a good chunk of change on this area of need.
Defense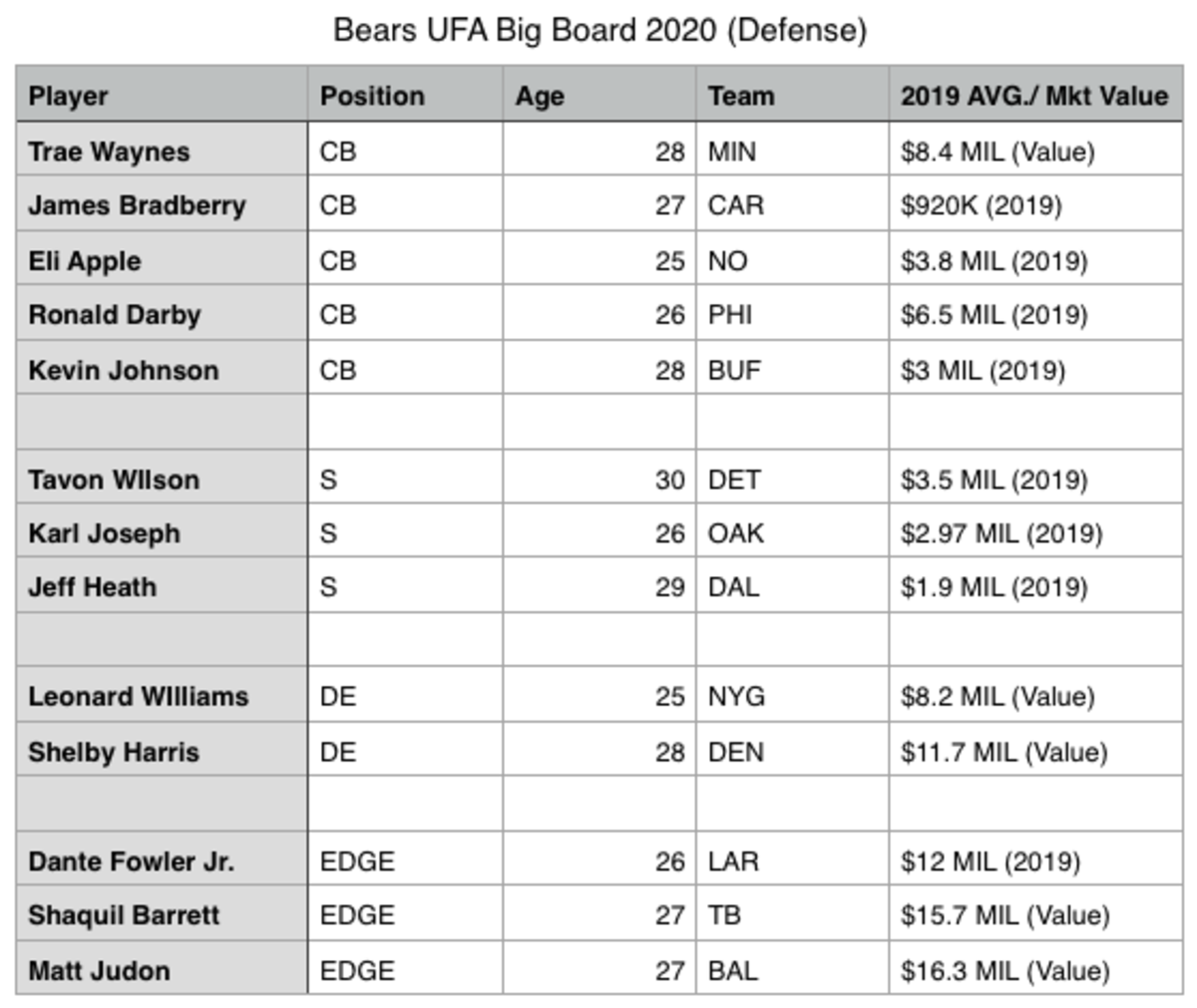 The Bears have their defensive core intact. While the defensive needs aren't as pressing, they will be losing some solid players to free agency. The most glaring issue is that Nick Kwiatkoski, Danny Trevathan, and Kevin Pierre-Louis all have contracts set to expire this offseason. UFA inside linebackers were not included on the Big Board because the Bears would be foolish to not re-sign one of the three mentioned previously.
Cornerback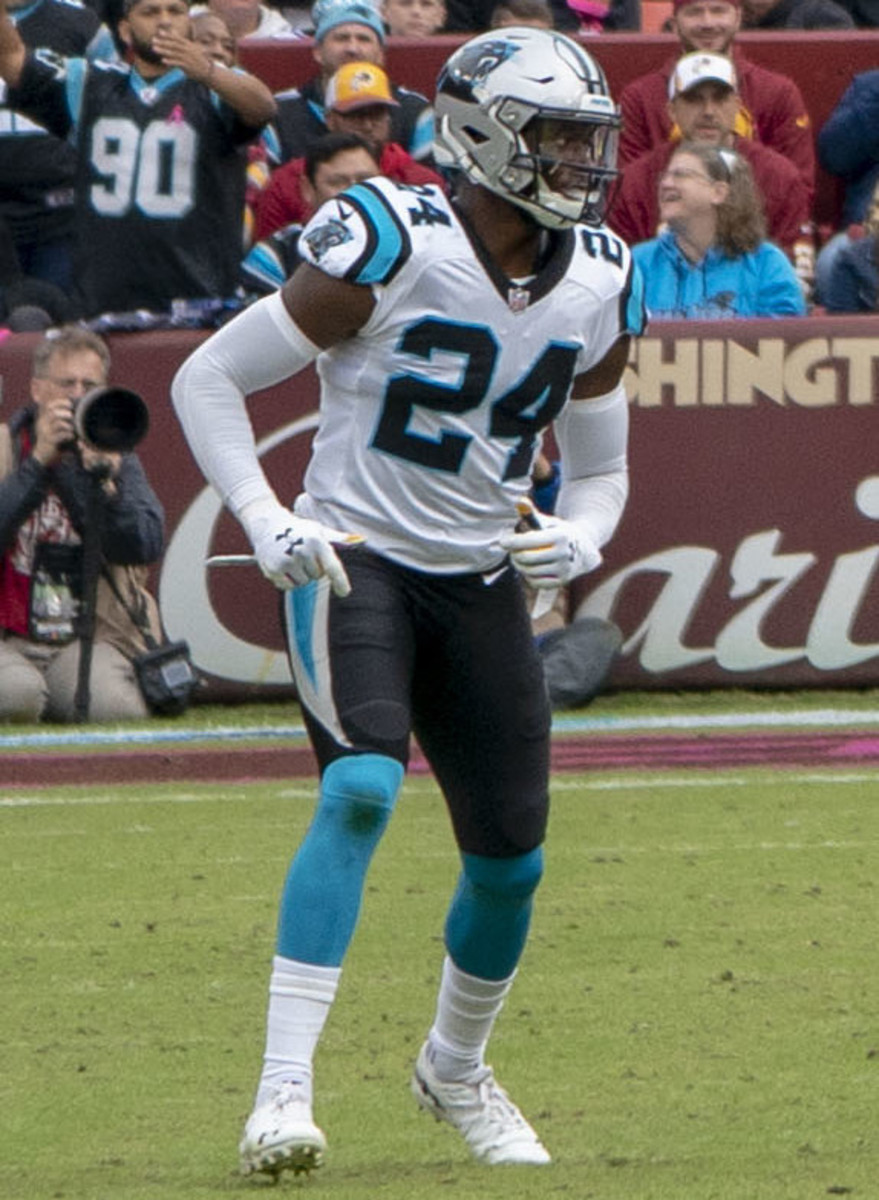 Just looking at the cornerback Big Board in general, no one really screams 'game-changer.' All the game-changing UFA corners are primarily slot defenders. These names are more here to showcase what a number two corner costs.
Prince Amukamara is slotted to make $10 million with only $1 million of dead cap if cut. There is a possibility to get a younger, slightly better player than Prince in free agency, but is it worth it? How much money would the Bears end up losing or spending, and how much will each player improve the roster?
The one player worth highlighting is James Bradberry (CAR). Bradberry has been a solid corner over the past few seasons for the Panthers. He would be a great addition to the defensive backfield, but it's hard to know what his price tag is. He is coming out of his rookie contract and has outperformed it. It has been reported that Bradberry is going to get as much as he can in free agency. If the Bears can get him at a reasonable price, there's no doubt they should pursue him. They just can't afford to give him Kyle Fuller money.
The Bears also have Kevin Toliver and newly acquired Tre Roberson as young options to compete for a starting role. A few starting-caliber corners are also projected to be available for the Bears in the second round. If the Bears want to cut Amukamara, they'll have options. If they go with a young player, they can use the extra cap in other areas.
Safeties and 3-4 Defensive Ends
There is a possibility the Bears will resign Clinton-Dix, but as previously alluded to, he doesn't compliment Eddie Jackson the way Adrian Amos did. Here's a fantasy to play out for this section: it would be intriguing to see the Bears sign a box safety, allowing Jackson to roam around and make game-changing plays. While none of these players have produced as much as Amos, they will all get less money and resemble a similar style of play. Both Leonard Williams and Shelby Harris would be game-changers. Both are looking to stay with their respective teams, but they also won't take any team-friendly deals. It's unlikely the Bears allocate a large portion of their cap to a position of strength, but stacking the defensive line with one of these players would certainly be a game-changer.
Edge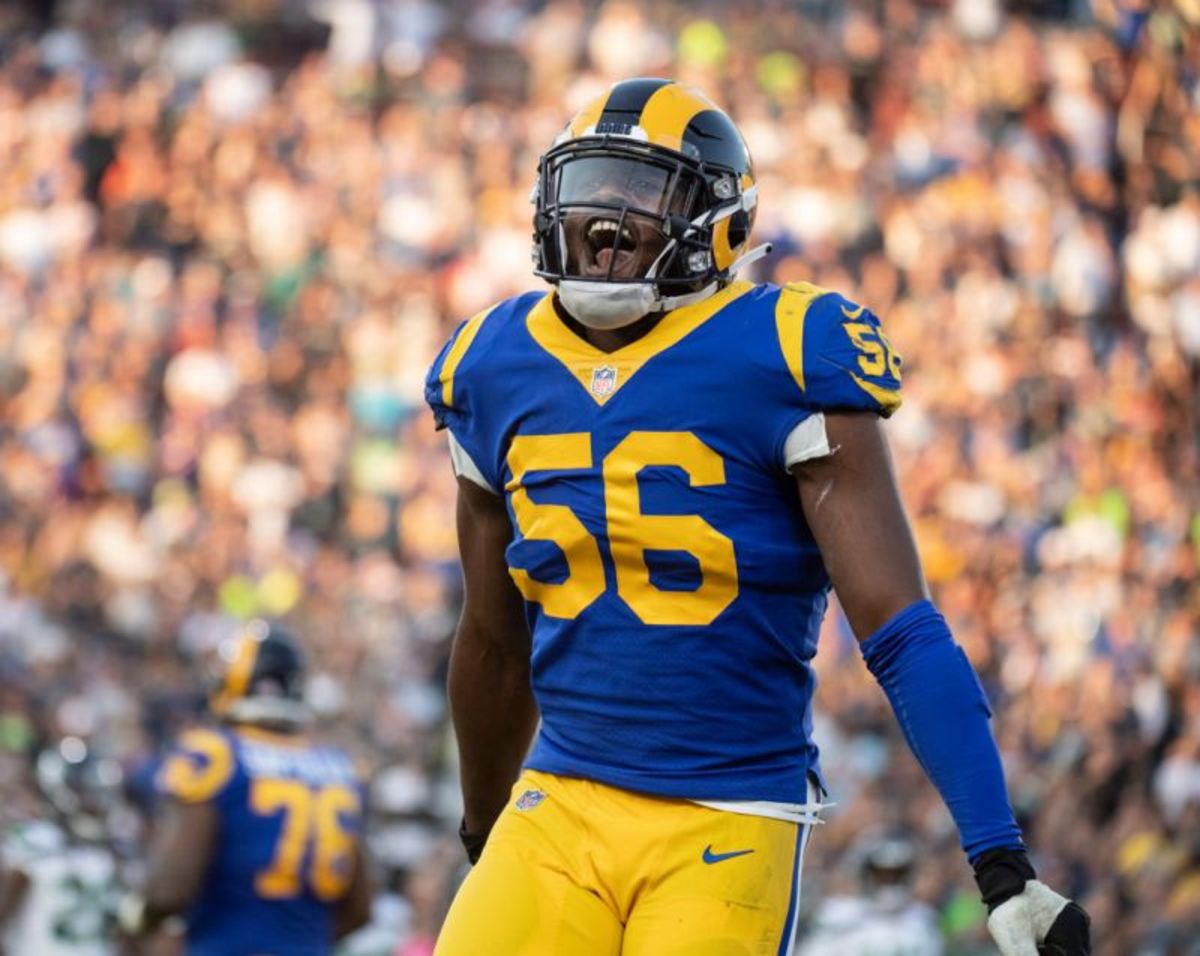 Here is a quote from Ian Boyd on Leonard Floyd in college:
"Then the Dawgs deployed 3-4 outside linebackers like Jordan Jenkins and Leonard Floyd on the edge in hybrid DE/LB positions that might include the responsibilities of a defensive end one snap and the role of an outside linebacker the next."
He is being used similarly with the Bears. Some of the limited sack production complaints are warranted, but Floyd's versatility is undervalued by most. His skill set is better suited to play outside linebacker in a 4-3 defense. Say the Bears wanted to go in a different direction and pair Kahlil Mack with a more productive pass rusher, there are a few great options out there. If the Bears were to trade or cut Floyd, they would save over $13 million in cap space. This would allow them to spend $15 to $17 million on the position comfortably.
Jadeveon Clowney will bust open the Brinks truck with a crowbar, so it's highly unlikely the Bears will have him on their radar. Instead, look at the three players above. The 2019 sack leader, Shaquil Barrett, could possibly hit the open market, but both sides are working toward having him remain in Tampa Bay. Year after year, the Baltimore Ravens churn out edge rushers that get paid in free agency, but it looks like the Ravens don't want to let Matthew Judon go. Who knows what will happen, but he would be the most ideal edge rusher on the Big Board. Dante Fowler Jr. is the most likely of the three to actually hit the open market. Although Fowler hasn't lived up to his draft status, he did break last year with 11.5 sacks.
There are countless scenarios and options Ryan Pace will have to evaluate in free agency. The Bears also need to extend Allen Robinson. There are no reports of it yet, but that has to happen. Chicago will riot if he doesn't get extended. The Bears have an opportunity to make some noise this offseason. They will have enough cap room to make a splash, but the question is where will they spend the money? The Bears need to get a game-changer, that's for sure.
---