The legal tampering period for NFL Free Agency is just around the corner. March 18 will mark the start of Ryan Pace's 6th year as the Chicago Bears General Manager. Bears fan's are pretty split on Pace, some believe he's a quality GM, others believe he should be on the hot seat. Pace may have signed Cody Parky to a 4-year $15 million dollar deal with $9 million guaranteed, but that isn't the only signing he's made worth examining. This article will grade every major UFA signing Ryan Pace has made in his first five seasons.
To kick this thing off, take a look at the cap spending chart and graph I put together for you. The numbers below indicate the full contracts signed (in millions), and won't reflect the structure of any of the contracts.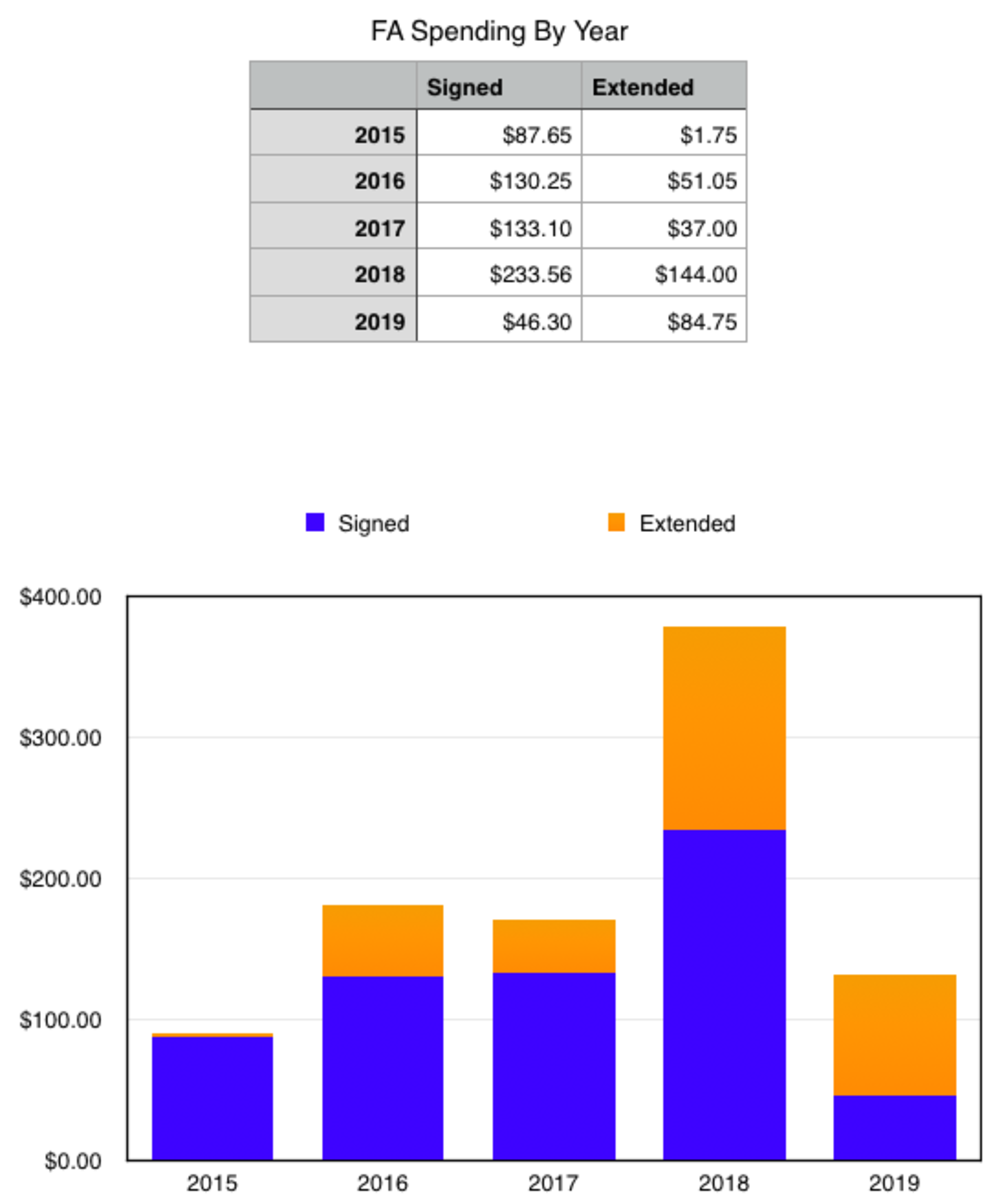 Looking at the financials from a macro perspective, you will notice 2018 as the stand out year. Obviously the Bears traded for Kahlil Mack and extended him which is why the orange portion of the graph takes a significant jump. When you look at it overall, you can tell Pace really did rebuild the roster in his image. It also indicates he did have a "5-year plan," for the rebuild, which aligns with the reports indicating he said so in his interview for the job. From 2015-2017 most of the top contracts from the previous regime were taken off the books. In 2015, the Bears were strapped, which is why you see very little activity and they spent pennies re-signing players, mainly because Pace needed to evaluate the roster before he handed out money. 2016 and 2017 have nearly identical numbers. Pace was able to clear money off the books and bring in different players, while still gaining cap space in the process. This is what led to his ultimate splash year in 2018. He had his quarterback and invested heavily around him.
Even before the Mack trade, the Bears were investing the most in Pace's career in 2018. Then you add the trade in, and it's like the Bears had two off-seasons in one, giving out around $280 million dollars worth of contracts. This ultimately led to the Bears being in the situation they were in last year. Even though the Bears had little cap room, 2019 was a significant year for the Bears. It was the first time they spent more money on in house players than outside free agents. The Bears will have a minimum of $36 million dollars heading into free agency in 2020. They have roughly $26 million in cap space today, and that doesn't include the cap increase for 2020. Now, we'll break down the signings by year.
2015 – Grade: D
Parnell McPhee: Five years, $40 million, $16 million guaranteed – Cut in 2018, $1 million in dead cap
McPhee was Pace's first free agent splash. The thought process made sense, Baltimore churns out edge rushers like a factory and the 3rd edge player on the depth chart usually gets paid. We saw this work out for the Packers and Za'Darius Smith this last season. Unfortunately, McPhee didn't find the same success with Chicago. McPhee had 14 sacks in 17 starts for the Bears, but that was over the course of three years. I won't ding Pace for McPhee's health, but it was a huge factor during his time in Chicago. Even when McPhee was healthy, he was never a dominant force, but he was also averaging $7.75 million per year. Essentially, Pace got what he paid for here. This is a tough one to give a grade on but with hype and everything else included, you have to give Pace a D on this one.
Antrelle Rolle: Three years $11 million, $5 million guaranteed – Cut 2016, $0 dead cap
Rolle injured his knee in practice and only played seven games for the Chicago Bears. "The surfaces in the Chicago facilities are the worst I've ever been around, I'm just gonna be honest with you," Rolle told the New York Post. "I slipped on the surface, I wasn't even running — I was just kind of shuffling and slipped." Obviously Rolle echoed something many players have said about Halas Hall in the past. Since then, the Bears have invested over $100 million in their facilities and Halas Hall is state of the art. Aside from his injury, Rolle was past his prime and wasn't producing. He had zero interceptions (INT) and one pass defensed (PD) in his time with the Bears. It's hard to give Pace an F for this one considering it was a modest contract and they weren't tied to it for long, but the lack of production can't be considered average. Lets just call it a D.
Eddie Royal: Three years $15 million, $10 million guaranteed – Cut 2017, $0 dead cap
I was a big fan of the Eddie Royal signing when it happened. He was coming off his second best season as a pro and was entering his 8th year. He was fairly durable throughout his career and averaged 14 games a season until he signed with the Bears. In his two years with the Bears he played 18 games and caught 70 passes for 607 yards and 3 TD's. Only averaging 4 receptions for 34 yards a game isn't what you're looking for from your slot receiver. The Bears were hoping he would stay healthy and produce at a higher level. The $10 million guaranteed kept him on the roster for a year too long and for that, Pace receives an F for Royal.
Tracy Porter: One year $870K, $0 Guaranteed – Re-signed 2016, three years $12 million $4.5 million guaranteed – Cut in 2017, $1.97 million dead cap
As you can see, Porter was brought in by the Bears on a minimum contract in 2015 and he performed fairly well. In his two years with the Bears, he had 3 INTs and 21 PDs. When it comes to his production vs. his salary cap hit, this is by far the best signing in 2015. The only problem was the re-investment in 2016. Maybe they thought Porter had a lot left in the tank, or maybe Fuller's lack of progress forced them to make the signing. Even though they picked up a little dead cap in 2017 for Porter, he still played well for 16 games in 2016. You just wish they only gave him that one year of guaranteed money. If the Bears only signed that 2015 contract, it would be an A signing, but with all the factors it pushes it down to a B-.
2015 free agency wasn't a good look for Ryan Pace. He had his back to the wall financially and did what he could, but overall the results weren't there. Don't forget that Pace signed Ray McDonald to a one-year deal that was voided after his involvement in a domestic dispute in the off-season. It was a low risk low reward off-season. All but one player signed in 2015 were aging veterans that played their last snaps in the NFL as a Bear. The average of all the grades gives Ryan Pace a D for his 2015 UFA signings.
2016 – Grade: C+/B-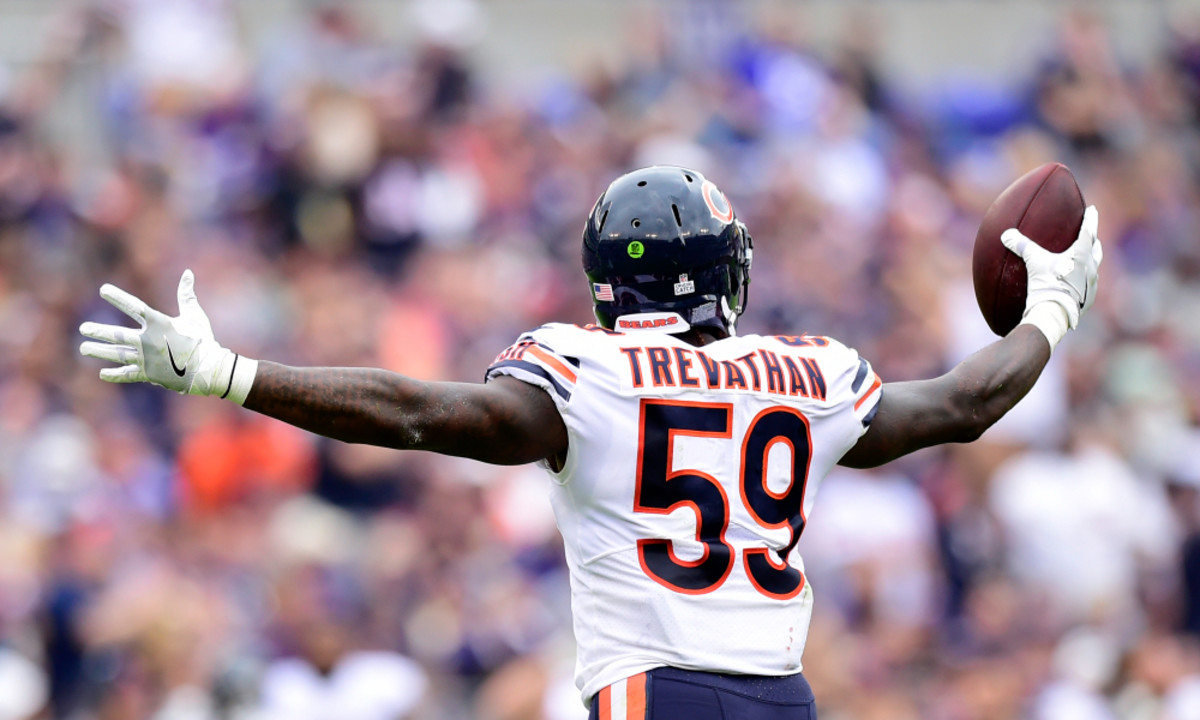 Danny Trevathan: Four years, $28 million, $12 million guaranteed – UFA 2020
You can't say enough good things about Danny Trevathan. He came to the Bears after winning a Super Bowl with the Broncos the season before. Health has been his biggest issue throughout the years, but there was a noticeable difference when he was on the field. Unlike the signings from 2015, the Bears signed Trevethan as he was entering his prime. He was the heart beat of the defense and signal caller for four years. If Trevathen were heathy for all four seasons, he would be an A+ signing, and even after factoring in health I'd still give it a solid B.
Josh Sitton: Three years $21.75 million, $10 million guaranteed – Cut 2018, $600K dead cap
The Packers saw Sitton as expendable in 2016 and the Bears promptly offered him a contract after he was released. In Sitton's two years with the Bears, he played 26 games and started 25 of them. Was he the same player he was with the Packers? No. However, he was still a solid, fairly inexpensive option for the Bears. He missed six games, but didn't hinder the cap after being cut so this signing earns a C. It's as average as it gets.
Jarrell Freeman: Three years $12 million, $6 million guarnteed – Retired 2018, $500K dead cap
After Freeman served his four-game suspension for PED's in 2016, he had an outstanding season. He racked up 110 tackles and 7 TFL in 12 games. Then, in 2017, Freeman had a terrible concussion and missed 15 games. He was put on IR and eventually retired. It was an unfortunate situation considering he was only in the league for 6 seasons. Grading the Freeman signing is tough. You can't give Pace a B for Freeman's production in 2016, but you also can't give him an F for an unforeseeable head injury. It's only fair to take an average and say that he was a C- minus signing.
Bobby Massie: Three years $18 million, $6.5 million guaranteed – Extended 2019 – Four years, $31 million, $14.5 million guaranteed
No one will complain about Massie's first contract. The Bears were getting an average right tackle on a team friendly contract and it was set to expire before Massie turned 30 years old. The issue comes with his second contract. I know Massie was fine, but he isn't a game changer. The Bears wanted to keep their starters in tact entering the 2019 season. The logic makes sense they were a solid unit in 2018, but as we know it all fell apart. While I don't think Massie is the glaring issue on the offensive line, having two immovable contracts for two underwhelming offensive tackles hurts the Bears moving forward. There isn't an out in Massie's contract until 2021 and it still carries a dead cap hit of $2.6 million. This makes it hard to give the Massie signings anything higher than a D+.
Akiem Hicks: Two years, $10 million, $5 million guaranteed – Extended 2017 – Four years, $48 million, $30 million guaranteed
Let's be real here, this defense runs through Akeim Hicks. Bears fans love having a real life Bear rip apart double teams and get after the quarterback. The Bears run defense saw a significant drop-off after Hicks left with his elbow injury against the Raiders. Hicks worked to get back for that Green Bay game, and saw him fight through pain on the field. There's no need for stats, I saved the best for last. Akiem Hicks was an A+ signing.
2017 – Grade: F
Mike Glennon: Three years, $45 million, $18.5 million guaranteed – Cut 2018 – $4.5 million dead cap
Mike Glennon was supposed to be a stop-gap, diversion signing for the Bears in 2017. Ryan Pace didn't want to go into the draft with a glaring need at starting QB and many speculated that this was a strategic move. It was supposed to lead teams into believing he didn't need to draft a quarterback with the 3rd overall pick. Long story short, he still traded up to the 2nd overall spot for Trubisky, and Trubisky was clearly the best quarterback on the roster. Glennon started only four games for the Bears and couldn't cleanly take a snap. He didn't fill the need as a stop-gap quarterback and Pace didn't gain any leverage in the draft for signing him. This is an easy F. Don't forget the Bears also signed Mark Sanchez for $1.75 million.
Prince Amukamara: One year, $7 million fully guaranteed – Re-signed 2018 – Three years, $27 million, $18 million guaranteed – Cut 2020, $1 million dead cap
Overall, Amukamara played well while he was with the Bears, and was deserving of his second contract with the Bears. 2018 was his best year with the Bears by far. He had 3 INTs, one for a TD, 2 FFs and 12 PDs. His production exceeded his contract value. Seeing him play press was a nice compliment to Fuller playing off the ball. In 2019, he did see a drop off in production, but it's not all on him. The whole defense took a step back. Coaching changes, lack of a pass rush, and injuries all played a factor on Amukamara's performance. The Bears almost had to cut him this year. In 2018, they underpaid for Amukamara, and in 2019, they had to slightly overpay for his production. The Bears need the extra cap space and unfortunately for him, they had to make the move. Amukamara had a solid stay in Chicago and they cut ties when it was necessary. This signing deserves a B.
Quentin Demps: Three years, $13.5 million, $4.5 million guaranteed – Cut 2018, $1.5 million dead cap
Demps was a 32-year-old DB coming off of a six interception season. His price tag was going to be high, and the Bears prioritized him. Even though he didn't break the bank, it was still a risk. He played a total of three games for the Chicago Bears and never played another snap in the NFL. You can't even give this a D-, it's a solid F.
Dion Sims: Three years, $18 million, $6 million guaranteed – Cut in 2019, $333K dead cap
Dion Sims was expected to come in as run blocking tight end and factor in as a pass catcher. He was only active for 22 games in two years and had a grand total of 189 yards and 1 TD during his stay with the Bears. He was an obvious cut candidate in 2019. The Bears had no money and they weren't forking over $6 million to Sims. The only positive is that the Bears were able to release him with a fractional dead cap hit. It's good to know it's over, and its easy to give this signing an F.
2017 wasn't a good year for Bears free agents. 2017 was the worst year for Pace in free agency, and the year earned an F overall. You can also add Marcus Cooper and Markus Wheaton to the mix, but both players didn't hold the Bears hostage with their contracts. Wheaton did get himself $6 million guaranteed but he was cut for no dead money in 2018, and Cooper re-structured his deal. I felt both weren't significant enough signings to dedicate a paragraph to.
2018 – Grade: C-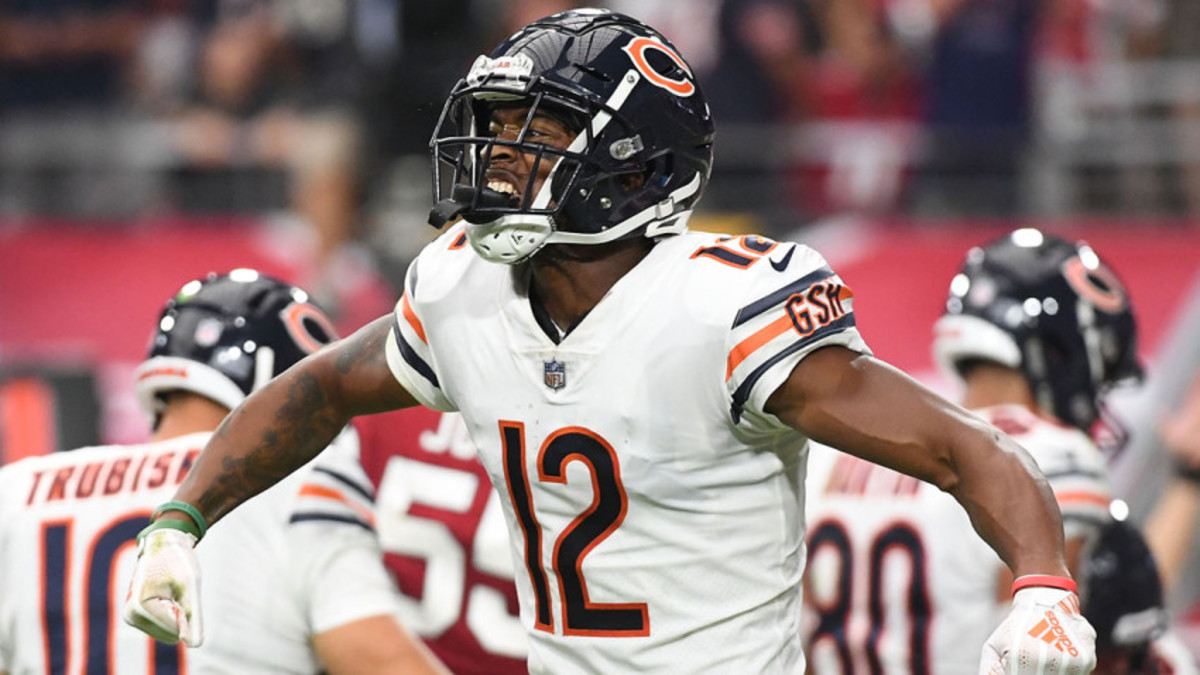 Allen Robinson: Three years, $42 million, $18 million guaranteed
Allen Robinson has been the bright spot in the Bears offense since joining the team. He is a well polished veteran that you can depend on being a professional every day. When the Bears originally signed Robinson, people were concerned if he would recover from his torn ACL and return to a Pro Bowl level. Robinson hasn't been voted to the Pro Bowl as a Bear, but many believed he was robbed in 2019. There is no doubt he was the MVP of the Chicago Bears in 2019. Robinson has earned an extension, and if the Bears decide not to do it, he is in line for one more payday. He will be a free agent for the second time in 2021 and he'll only be 27. This free agent signing was a solid A.
Trey Burton: Four years, $32 million, $18 million guaranteed
The most recent recollections of Burton are injury ridden and negative. I understand, he's receiving a top ten TE salary, and had a mysterious injury that kept him out of a playoff game and lingered through the 2019 season. If we're being honest, the offense also looked a lot more competent when he was healthy in 2018. Burton wasn't a highlight reel player, but was a top 14 tight end in 2018. The jury is still out on Burton, and reports say the Bears are expecting Burton to be their top tight end in 2020. For now we'll take the average of one decent season and one injury ridden one and give it a C-.
Taylor Gabriel: Four years, $26 million, $14 million guaranteed – Cut 2020, $2 million dead cap
Inserting speed on the offense has been a top priority since Matt Nagy was hired. Taylor Gabriel was brought in to be that vertical threat/slot receiver. Running a sub 4.4 40-yard dash doesn't make you a football player. In Gabriel's short time here, he showed he's more than a burner. He was a complete receiver that ran a full route tree for the Bears. A lot of people felt the Bears over paid for Gabriel, but he produced and was paid as a number two receiver. He had 67 catches for 688 Yards and 2 TDs in 2018 and was on pace to have a better season in 2019. If concussions weren't a factor with Gabriel, the Bears wouldn't have cut him this year. On the low end, the Taylor Gabriel signing would get a C+.
Cody Parkey: Four years, $16 million, $9 million guaranteed – Cut 2019, $5.1 million dead cap
How do you give a kicker entering his 5th season, going to his 4th team, $9 million guaranteed? "Double Doink." F.
Chase Daniel: Two years, $10 million, $7 million guaranteed
Chase Daniel was supposed to be a player-coach that could step in and win a game or two if you needed him to. He wasn't ever going to be the guy, and he wasn't ever going to be the guy to have a Nick Foles-type run. If that's the thinking, why wouldn't you just make him the 3rd guy on the depth chart and pay him a more reasonable wage? Daniel was seen as one of the better back ups on the market, but that doesn't justify his contract. This has to be an F.
Understand that the final grade only reflects the free-agent signings. The Mack trade may go down as one of the best trades ever made in franchise history. Like every free agent class, 2018 was hit or miss. They still earn a passing grade because they did net positive results where most of the money was allocated. Allen Robinson's production carries more weight than Parkey's 'Double-Doink.'
2019 – Grade: B
Cordarrelle Patterson: Two years, $10 million, $5 million guaranteed
Patterson's impact on the Chicago Bears goes far beyond the stat sheet. He is the type of player that any coach would appreciate. He plays special teams, multiple positions on offense, and was willing to take snaps at tight end if the Bears wanted him to. Patterson took the Bears' kick return game from 32nd in 2018 to 1st in 2019. He was also a top ranked coverage player on special teams in 2019. Some say $5 million would be too much for a special teams star, but he is much more than that. Chicago understand's how important a kick returner is, and Patterson is where he belongs. This is an easy A.
Ha-Ha Clinton-Dix: One year, $3 million, $500K guaranteed
Clinton-Dix was a steal and, if anyone says otherwise, don't listen to them. Dix was 3rd on the team in tackles with 78 and tied for 2nd in interceptions with two. The only downside with Ha-Ha was that his skill set forced Eddie Jackson to play in the box more than he should have. That's not Dix's fault. Overall it was an A signing for value and production.
Buster Skrine: Three years, $16.5 million, $8.5 million guaranteed
Buster Skrine is a scrappy nickel corner. He played all 16 games and recorded 48 tackles 2 FFs, and 5 PDs. He was exposed once or twice for a big play but overall, he had a solid 2019 outing for the Bears. Is he a top tier corner? No. However, he is still playing well for a 30-year-old corner. He still has some guaranteed money on the books, but if he mirrors his 2019 season, the Bears will be in good shape. This is a solid B signing.
Mike Davis: One year, $6 million, $3 million guaranteed – Cut 2020, $1 million dead cap
Well, RUN DMC didn't last very long. The Bears didn't sign him to be a long term solution, but you would've thought $3 million guaranteed would get you a little more than 13 carries for 27 yards. When you break it down, Mike Davis got paid $230,769 per carry and $111,111 per yard as a Chicago Bear. Good for Mike Davis, bad for the Bears, F.
The Bears had their most effective free agent signings in 2019. It seems like Pace did his best work when he had the least to work with. When you factor in the amount of money spent, and the production they got from it, the 2019 class deserves a solid B.
History shows that most teams will overpay in free agency and not get their money's worth. Any team that is routinely successful builds through the draft. Free agency is meant to fill holes and compliment your team. Misses are always more apparent than hits, and Pace has his fair share of both. Even the best GM's are batting around .500 in free agency, and Pace is right in that range. When you look at his entire body of work, most of his misses didn't have a rippling effect. There are only a few contracts that the Bears are absolutely stuck with. Most of Pace's bad signings only lasted a year and he was able to get out of the contract with little dead cap. Parkey and Glennon are the only players Pace signed and released with a large dead cap hit. This year, Pace has a little more breathing room than last year, and Bears fans have to hope he can make another round of utility signings and hit on one splash player this off-season. Right now, his signings have graded out to a C-. A good off-season in 2020 could bring him up to a C+/B- range, and a terrible one could have him filing. We will all find out soon enough.
---