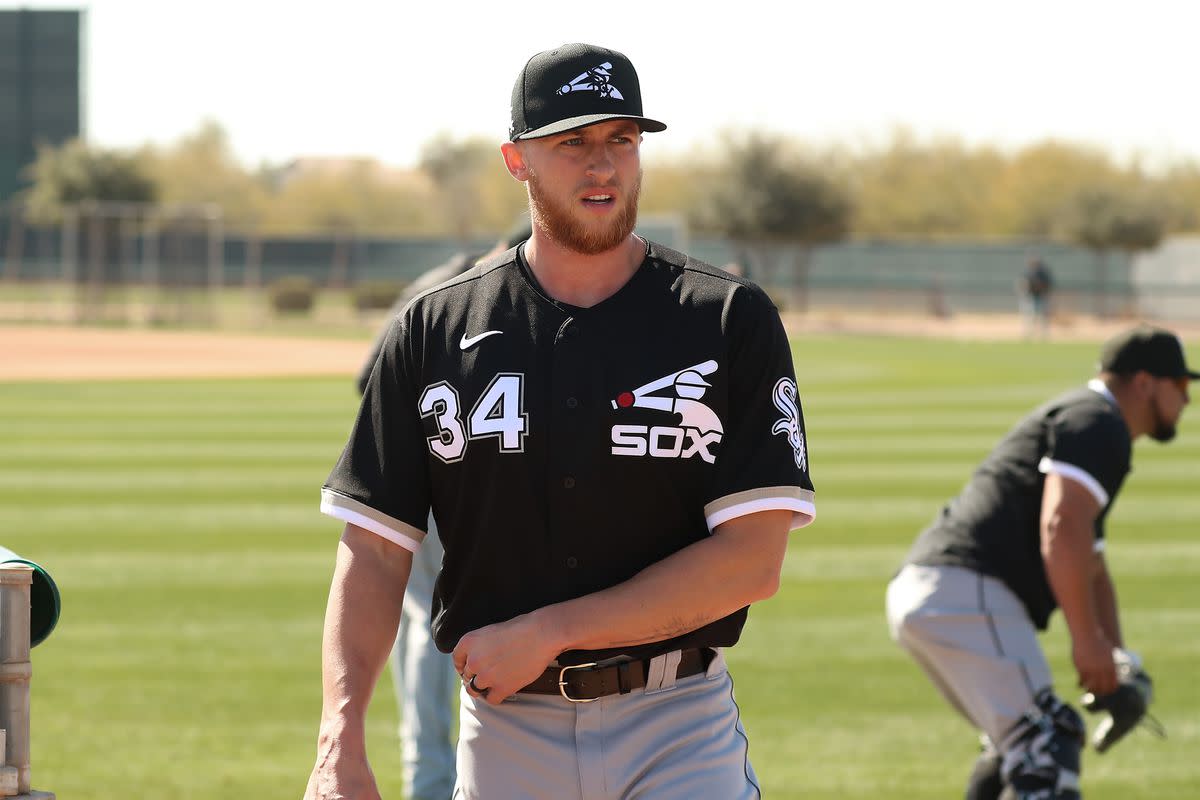 It didn't last very long, but Michael Kopech's return to a major-league mound was everything we could have asked for, and then some.
The 23-year-old right-hander lit up the radar gun at Camelback Ranch on Tuesday afternoon, crossing the century mark on six of his 11 pitches to the top three hitters in the Texas Rangers' lineup.
Here's what his 11 pitches looked like;
FB: 100 MPH
FB: 101 MPH
FB: 100 MPH
FB: 101 MPH
CB: 82 MPH
FB: 101 MPH
FB: 98 MPH
CB: 81 MPH
SL: 90 MPH
SL: 89 MPH
FB: 101 MPH
For those without a calculator handy, Kopech averaged 100.2 MPH on his seven fastballs, on Tuesday.
Just think about that for a second.
A 23-year-old, post Tommy John surgery and making his first major-league start since September of 2018, sat 100-plus on his fastball.
As I said at the top, the outing didn't last long, but it didn't take very long for Kopech to remind the White Sox fanbase why they packed Guaranteed Rate Field on a rain-soaked and meaningless late-season evening back in 2018.
A pair of ground ball outs to the right side to open the frame, and then a called-third-strike on Rangers' first-baseman Greg Bird was all she wrote for Kopech on the afternoon, as he left the Sox dugout with fellow starter Lucas Giolito promptly after the first inning flipped to the home half.
After the game, Kopech was happy with his first outing of the spring, having this to say to reporters, "The first step, obviously. It feels nice to be able to compete again. Eighteen months out, I feel like I haven't really had a chance to compete the way I like to and the way I know I can, and having that ability today, even in a short stint, it's relieving."
Kopech admitted that he might have been, "a little geeked," during today's outing, and said that after feeling a bit out of control on his first two pitches — a pair of 100-plus miles per hour fastballs — he took a breath and settled-in nicely.
"I feel like I'm a part of the team again, for the most part I never felt like I was not a part of it, but when you're not competing a lot of times you feel more like a fan. Getting the high fives, the greeting at the step of the dugout…it's a good feeling."

White Sox RHP, Michael Kopech on feeling like he's apart of the team again after making his first start in 18 months.
One thing he did mention to reporters after the outing, was that he didn't get the chance to use his changeup today, but assumes he'll get that into his next outing, where he'll likely go more than just one inning.
Kopech also pointed out that while he enjoyed lighting up the gun today, he's looking to be more of a pitcher, than a thrower going forward.
"I don't want to take anything away from what I did today. I'm proud of it. I'm excited but moving forward I'm not going to try to be a power pitcher, I'm going to try to be a pitcher."
Kopech threw a compliment Yasmani Grandal's way as well, stating that throwing to the newly-acquired backstop was like, "butter."
We'll likely find out in the coming days how Kopech feels, and how the White Sox see the rest of the spring going for him before we know when his next spring start will be, but I'd imagine that we'll see him a couple more times before the club breaks camp.
---