NFL mock drafts are increasing in popularity every year. To be clear, I'm not talking about fantasy football. After the emergence of a few websites, fans have been taking their team's spot in the simulator and selecting their favorite college prospects. Many have seen this and tried it out by this point, but I've noticed a trend — a lot of fans are trading down with the 43rd or 50th overall picks to recoup more draft capital. While I personally like the strategy, it may be a bit of a reach.
Ryan Pace's MO has been trading up and then attempting to trade down and recoup more picks. He did this in 2017 when he traded up one spot to get Mitchell Trubisky and everyone thought he got housed. I'll explain while he didn't by using Pro Football Reference's Draft Pick Trade Value Chart.
The Bears traded their third overall pick (2200 value), 67th pick (255 value), 2018 70th overall (240 value), and 111th pick (72 value) in exchange for the 49ers' second overall pick (2,600 value). The Bears traded 2,767 draft value points for 2,600, which nets a loss of 167 of trade value, or about an 85th overall pick.
As I stated before, the Bears also traded down in the 2017 draft, which helped them recoup a lot of draft value. They traded the 36th overall pick (540 value) to the Cardinals for their 45th overall (450 value), 119th overall (56 value), 197th overall (13 value), and their 2018 115th overall (64 value). This means that the Bears traded 540 points worth of draft value for 583 points worth of draft value, netting them an extra 43 in value, or the 143rd overall pick.
When combining all the trades the Bears made in the 2017 draft, it's like they swapped the 85th overall pick for the 143rd overall, which isn't bad at all, especially for an attempt to land a franchise quarterback. At the end of the day, no one would make a stink about the 2017 trades if the Bears selected the right players. Unfortunately, they took the worst of the three top-20 quarterbacks, and in my opinion the worst pick in the Ryan Pace tenure, Adam Shaheen.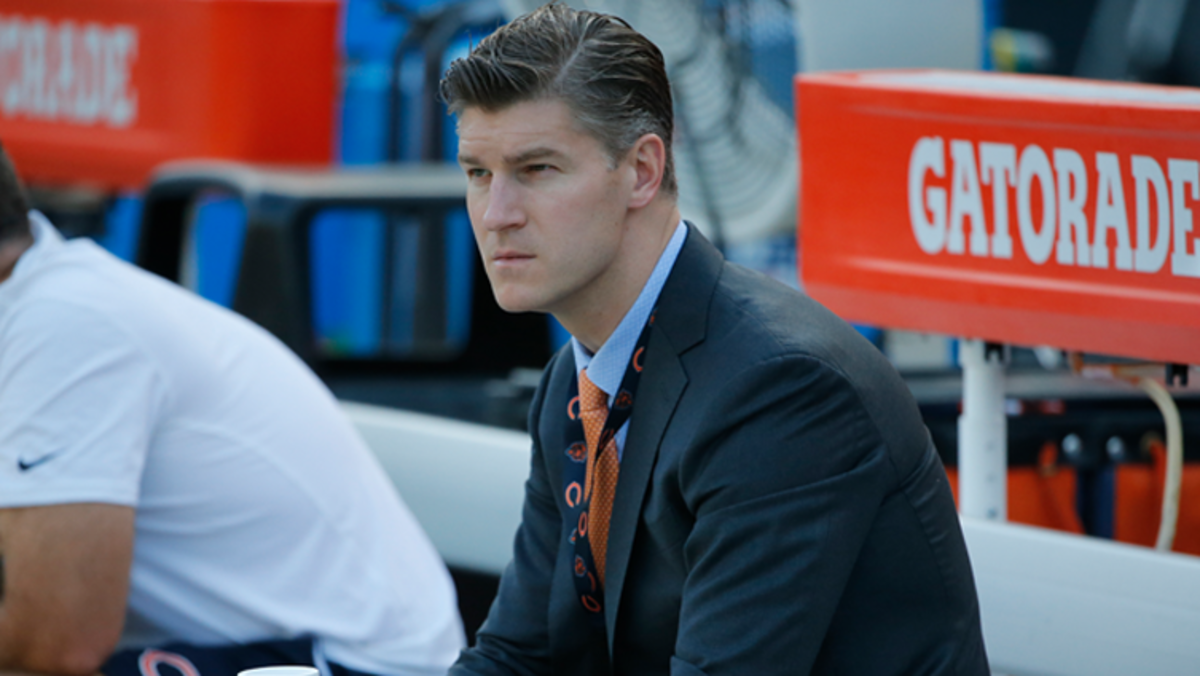 Now that I've explained the value of draft picks, it's time to explore what trade-ups the Bears can possibly make in 2020. I would love to see a trade down, but it's pretty unlikely. Three of Ryan Pace's five first selections have been trade-ups, and Pace stayed put for the other two. They traded up for Leonard Floyd, Mitchell Trubisky, and David Montgomery and stayed in place for Kevin White and Roquan Smith. David Montgomery was a third-round pick, but the Bears didn't have a first or second-round pick, and they traded up from 87th to 73rd to get him.
There are three spots the Bears are likely to trade into — the Patriots' 23rd overall (760 value), the Seahawks' 27th overall (680 value), or the Ravens' 28th overall (660 value). All three of these teams routinely trade down in the draft and don't have a pressing need for a first-round pick. The Bears 43rd overall pick has a draft value of 470 and their 50th overall has a 400 draft value. The Bears will have to overpay in terms of draft value to move into the first round, but it's completely possible. They can pair up their 43rd overall pick with next year's third-round pick and a late-round pick this year to acquire a first-round pick. The Bears have shown interest in Houston's OT Joshua Jones, who was most recently projected to go to the Packers 30th overall. While I don't love the idea of trading up and losing future draft capital, stealing an OT from the Packers would be a win.
---