As far as we know, the 2020 NBA Draft will still go ahead in under two months' time. With no pre-draft workouts expected and obviously no March Madness, projecting prospects just got a whole lot harder for teams.
However, there is still a lot of talent in this draft. And while the majority of these players hold a vast amount of untapped potential, others possess some positive traits that will translate over to the NBA nicely.
Unlike last year's draft which was headlined by Zion Williamson, there is no clear frontrunner for the number one overall pick. Could teams pick the flashy floor general in LaMelo Ball at one? Or could the talented big man Onyeka Okongwu get his chance under the spotlight?
We may even see more teams go the route of best fit, rather than the usual best player available. So many options, yet so little time for NBA teams to prepare for this draft due to the disruption being COVID-19.
The Chicago Bulls sit right inside the top ten, and many are speculating whether this is the year for the Bulls to return to glory by getting a top-two pick. It seems fitting, right? The hiring of Arturas Karnisovas, followed by the firing of Gar Forman, followed by the Michael Jordan documentary. Optimism is high in Chicago, can the 2020 NBA Draft keep those optimism levels high?
In order to get a reliable draft order, we used Tankathon.com, and surprisingly enough, the Chicago Bulls were given the first pick.
Let's kick this thing off.
1. Chicago Bulls
LaMelo Ball (Illawarra, Point Guard)
One thing to know about LaMelo Ball is that he is not afraid of the spotlight whatsoever. The 19-year-old ticks a lot of boxes as an NBA prospect and is one of the very few players that possess an elite strength heading into the league. That being his passing, which is second-worldly.
Ball's passing and playmaking for a youngster is incredible and he will be able to run an NBA offense from day one. I'm not saying LaMelo is pretty good as a passer here also, I'm saying he's one of the best to enter the league in a long time. He sees angles that other prospects (not even other players in the NBA) see, and he has the confidence to believe that every pass he makes is going to result in a bucket.
On top of his extraordinary passing ability, LaMelo is dynamite in transition. He led the NBL in points per 100 possessions in transition last season and excelled at making the right play with the ball in his hand.
As a scorer, Ball's jump shot needs work, however, he does have the range to eventually become an NBA shooter despite being just 25% from three on 6.7 attempts per game with Illawarra. His finishing at the rim numbers are well above league positional average at 56%, and he has shown consistently that he can avoid contact and finish at the rim with an array of gather step layups, as well as countless types of flashy reverse layups.
Defensively, Ball also has a lot of work to do. Even though he will often give consistent effort on the defensive end, LaMelo finds himself in no man's land far too often. The good news is that the potential on that end is there, and if coached right he can become a very good defender in the pros, just like his brother Lonzo.
Did I mention LaMelo is also 6-foot-7 with a 6-11 wingspan, and possibly still growing? His frame for a point guard is outstanding, and when you combine that with lightning-quick speed and an incredibly tight handle, you've got a player with extremely high upside.
In terms of team fit, LaMelo Ball is exactly what the Chicago Bulls need. Ball averaged 17.0 points, 7.6 rebounds, and 6.8 assists to go with 1.6 steals in the NBL, and is the exact prospect that fits the criteria of what the Bulls are trying to do.
He can take pressure off of Zach LaVine with his ability to create plays and break down a defense, while also having the positional size to play one through three in certain lineups. Did someone ask for somebody to get Lauri Markkanen the ball? LaMelo Ball will do just that.
2. Atlanta Hawks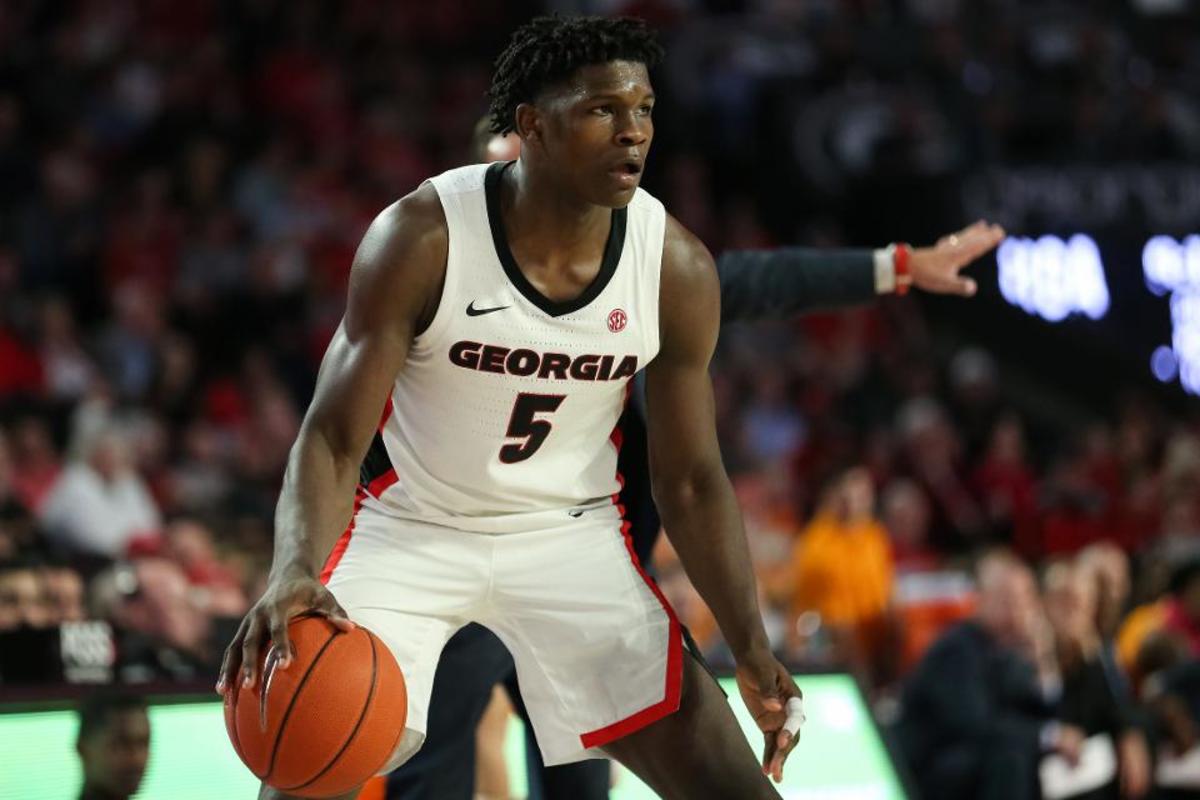 One player who is almost guaranteed as a top-three pick and whose name has been floating around as the best prospect in this year's draft is Georgia Bulldogs' guard Anthony Edwards. The freshman from Atlanta is one of the most lethal scorers in this class and has true potential to be an NBA superstar.
Starting with some of Edwards' strengths, he is a great finisher at the rim. Despite the numbers which will improve once he hits the pro level, Edwards was around 54% on everything around the rim (excluding post-ups) in the half-court set. He isn't afraid of contact and possesses great upper-body strength resulting in defenders consistently bouncing off of him when he drives to the hoop.
As a scorer, Edwards is as gifted as they come. He has a quick first step, and when going off the dribble he can consistently transition from complex dribbles, spins, and hesitations into pull-ups, step-backs, and other elusive side steps which often finds him wide open.
One note about Edwards which needs improving on is his shot selection. Georgia gave him free rein at times, and Edwards often found himself taking extremely difficult early-shot clock jumpers. With NBA spacing, Edwards' efficiency will drastically increase, and he will have a lot more opportunities to get better looks at the rim.
As a defender, Edwards has the frame to disrupt passing lanes, the strength to hold his defender from getting to the rim, and the agility to stay in front of his man while guarding out on the perimeter. At 6-foot-5 with a 6-9 wingspan as a two guard, he will easily be able to guard most ones, twos, and threes in the league with his super-versatile archetype.
Anthony Edwards finished his freshman year at Georgia with numbers of 19.1 points, 5.2 rebounds, and 2.8 assists with an eFG% of 47.3. Given the comparisons to Donovan Mitchell and Victor Oladipo, there is a lot to like when it comes to a ceiling.
With the second pick, the Atlanta Hawks select Anthony Edwards. Star guard Trae Young has been looking for another scorer that can create his own shot in the half-court set to take a little bit of pressure off of him for the last two seasons, and Edwards offers exactly that.
He can be reliable as a secondary playmaker, and his defensive skills will be extra necessary when playing alongside Trae who is not a good NBA defender. Edwards will have more opportunities in Atlanta to play in pick-and-roll situations with high flyers who like to play above the rim in John Collins and newly-acquired center Clint Capela.
3. Detroit Pistons
Killian Hayes (Ratiopharm Ulm, Point Guard)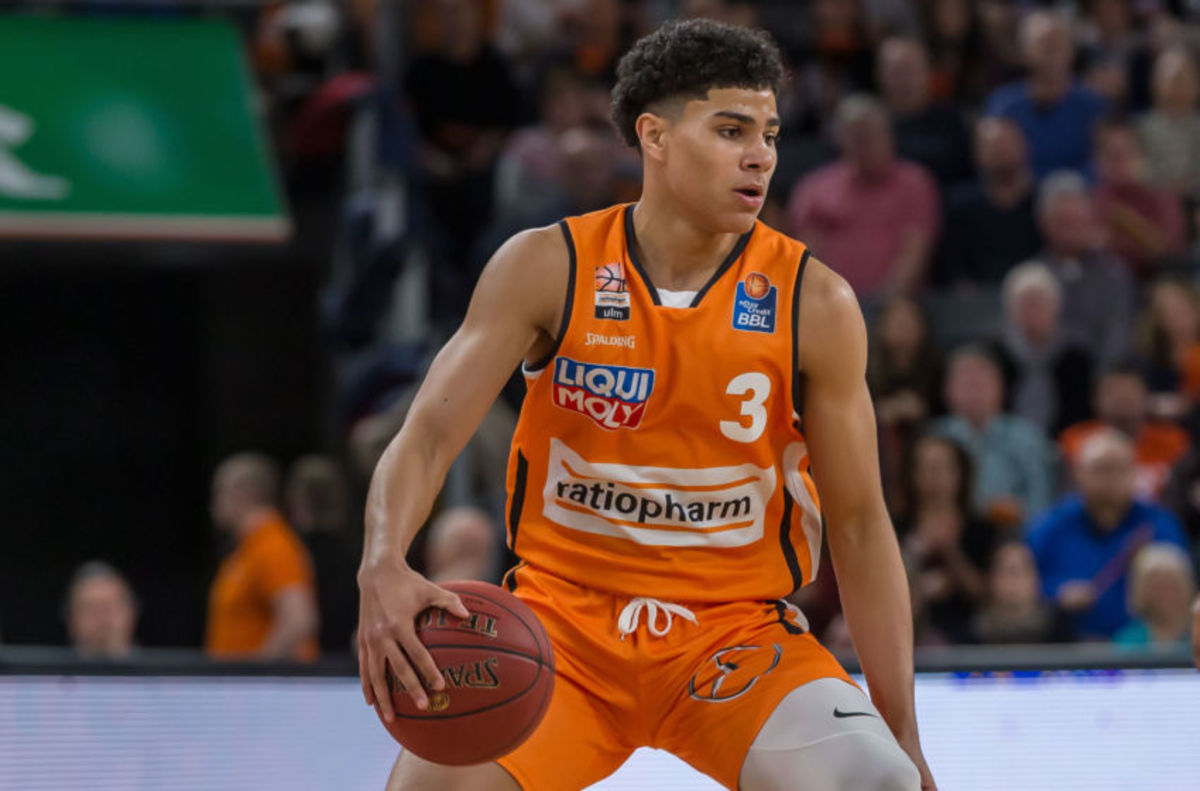 A crafty point guard with gifted court vision and the defensive awareness which will translate comfortably over to the pros. Meet 18-year-old Killian Hayes, one of the youngest players in this year's draft.
Despite being raw in some of the more technical areas, Hayes has made some dynamic progress in his game this year while playing in Germany. He is a gifted playmaker already, who, like LaMelo, will be able to run an NBA offense from day one. Hayes has very high basketball IQ and the ability to sling passes off the dribble and hit cutters and open shooters swiftly with either hand due to elite precision and timing. He averaged 5.4 assists this season and is comfortable playing both on and off the ball.
Hayes' frame is another plus to his draft stock. He is 6-foot-5 with a 6-8 wingspan, meaning he can comfortably outmuscle smaller guards at the pro level. That added strength Hayes possesses makes him more confident when getting to the rim. He has shown the ability to finish through contact and he has superb touch at finishing floaters and runners, some as deep as the free-throw line extended.
As a shooter, Hayes isn't just there yet. His numbers from the catch-and-shoot are concerning, however, there are reasons to buy the shot due to the rapid improvements he made from last season to this season. One would think Hayes continues to grow in that area. He was around 35% on the year and is projected to sit at around 36% from three once he hits the NBA level. Aside from three-point shooting, Hayes is solid as a three-level scorer on low volume.
As a defender, Killian Hayes has solid technique when in a stance and has shown versatility with his ability to guard both guard positions. He shouldn't be a liability when switched onto wings in pick-and-roll situations. Hayes being very active off the ball shows he could develop into a disruptive defensive helper. He can get into passing lanes, and he proved that this season by averaging 2.1 steals per 36 minutes.
With the Detroit Pistons set to pick third, Killian Hayes is the obvious choice as they look to reshape their franchise and kickstart a rebuild. Detroit traded away Andre Drummond at this year's deadline and will most likely look to shop Blake Griffin over the summer.
They are committed to building around another French native in Sekou Doumbouya. Adding another top pick that can create plays on the ball will certainly help their cause of getting the most out of Doumbouya. Hayes has the potential to be a star point guard in the NBA and has drawn comparisons by many to All-Star guard D'Angelo Russell.
4. Golden State Warriors
One of the best athletes in this year's draft is big man Onyeka Okongwu. He is a great straight-line athlete with quick reflexes and hands who will be a force not to be messed with once he adds more strength at the pro level.
While not only being a talented athlete, Okongwu is a big-time energy player who will never take a play off and is up for the challenge of defending anybody. He will never back down from an opponent.
On the defensive side of the floor, Okongwu boasts an 88.5 defensive rating. He averaged 8.6 rebounds in 30.6 minutes per game, making him an extremely high-level rebounder. He was also in the top 1% in the nation in put-backs off of offensive rebounds this season, where he was good for 68.3% on 60 attempts. With that contagious energy of his, Okongwu will have no problem providing consistent production as a rebounder once he hits the pro level.
He can protect the rim with the best of them as well. Onyeka averaged 2.7 blocks per game and has shown time and time again that he can switch out onto wings and some guards on the perimeter and hold his own comfortably.
Okongwu excels as a pick-and-roll defender. He is extremely mobile and versatile at 6-foot-9 and is able to drop, switch, and hedge consistently. He will be very comfortable in a variety of defensive schemes from day one, and he possesses all of the right skills to become a future All-Defensive player in the NBA given he continues to develop.
On the other end of the floor, Okongwu is great around the basket. He was around 67% on the year, and with big hands, he rarely will drop passes. He has a quick leaping ability to go with an impressive vertical and can score with either hand thanks to an elite soft touch at the rim.
Okongwu is great as a back-to-the-basket player and does an excellent job at sealing off defenders. He displayed a vast range of advanced post moves, and one scout called him Hakeem Olajuwon-like with his use of spins, drop steps, and fakes.
Outside of the paint, Okongwu is an improving shooter who projects to eventually be able to knock down threes at an NBA level. He shot 42.9% on jump shots at USC this season on 35 attempts, and with correct spacing and improved mechanics, there is no reason Okongwu can't be at least a semi-reliable shooter from the mid-range.
One huge strength that goes unrecognized for Onyeka Okongwu is his small forward-type handles. He can easily bring the ball up and start the fast break after a rebound, and with a very quick crossover and first-step for a big man, he draws Bam Adebayo type comparisons. The point big is starting to become a common trend.
While some may view being drafted by the Golden State Warriors a negative for Okongwu due to limited opportunities playing with superstars in Stephen Curry and Klay Thompson, we view it as a plus. He will excel in the pick-and-roll with elite floor spacing, and being in a starting lineup full of versatile players, Okongwu will find himself having a lot of open lanes and a lot more room to operate with.
5. New York Knicks
Obi Toppin (Dayton, Power Forward)
The Dayton (high) Flyer is one of the most explosive players in this year's draft. His incredible athleticism combined with his ability to run the floor while being able to jump with explosive power makes Toppin a very exciting prospect.
Starting on the offensive end, Obi Toppin's elite vertical and solid frame makes him extremely reliable around the rim. Toppin was an impressive 76.7% at the rim in the half-court for Dayton this year, and his soft touch to go with smart shot awareness will translate nicely over to the pros. He has an improving post game and has shown flashes of a consistent drop step inside. His size at 6-foot-9 with a 7-1 wingspan makes him a major threat in the pick-and-roll, where he finished those plays at a 69% clip when used as a roller.
Toppin has exceeded his expectations as a shooter in his second year in college. The 22-year-old was 39.2% on 74 attempts off the catch, and his shooting is to be admired with a sweet stroke and quick release. One thing to note about Toppin as a shooter is that he's not trigger-happy like a lot of these other shooting bigs. It's fairly obvious Obi hasn't fallen in love with the three-point shot like a lot of other modern-day bigs. This is what makes his game so well-rounded.
A lot of next-generation big men heading into the league are confident handling the ball, and Toppin has next-level confidence with the ball in his hand. He is a nimble ball-handler who can attack from either in transition or from the perimeter and has an array of crossovers and size-up combinations that help him breeze by his defender.
Not only can Toppin score off the dribble, but he's also drastically improved at finding open teammates. He can swing quick passes across the perimeter, throw accurate high-low passes, and make quick decisions out of the short roll. There is no reason Toppin won't become a consistent passer out of the post in the short-term future.
When talking defense, many people share concerns about how Toppin will hold up due to his high center of gravity, which limits his ability when defending low-post. Despite likeable defensive potential, forwards who play a lot of back-to-the-basket like Zion Williamson, John Collins, and LaMarcus Aldridge will have field days when going up against Toppin around the rim.
As well as interior defense, Toppin must work on closing out on defenders. He often jogs out to defenders for a late closeout, and sometimes he just ignores attempting to contest a shot. His effort levels on defense have been questioned in the past, and while it shouldn't be much of a concern for teams, it is definitely something to keep an eye on.
All in all, Toppin is a gifted talent with unbelievable athleticism to go with a really strong offensive game. Boasting a 'showtime' mentality, he fits well on the Knicks. New York is looking for that young player who can put on a show, and Toppin ticks that box. His offensive game complements big man Mitchell Robinson, and his ability to score while playing both on and off the ball makes a strong pairing with R.J. Barrett. Bring on the fun at the Garden!
6. Cleveland Cavaliers
Deni Avdija (Maccabi Tel Aviv, Small Forward)
One of the best playmaking wings in this class, 19-year-old Deni Avdija will bring a unique skillset to the league with his ability to pass, guard multiple positions, and score at all three levels.
An insanely versatile player, Avdija will be able to comfortably play any position from shooting guard to power forward. Standing 6-foot-9 with a 6-10.5 wingspan, Avdija has the speed and agility for someone of his size to be a solid team defender when placed in the right system. Any stiffness Deni reveals in his defensive stances while guarding on the ball, he makes up for with decent lateral speed to go with improving footwork.
He rotates well on defense and will often find himself in the right position. Avdija has shown the ability to make timely reads ahead of plays and can regularly get steals, specifically in passing lanes, and the occasional block when positioned correctly. From watching his tape for Maccabi, Avdija is steady while closing out on an opponent and consistently times his jumps well enough to get a strong contest out on the perimeter.
Deni is an extremely intelligent basketball player who possesses good intangibles. He has shown consistent flashes of high-level screen navigation off the ball, and despite not being the quickest wing, he can fight around screens and won't have too many problems guarding shooters like Duncan Robinson and J.J. Redick once he learns his role inside an NBA structured defense.
In terms of improvement as a defender, Avdija must get stronger in his upper body. Right now he doesn't have the strength to bang with bigger forwards who play a back-to-the-basket style of play, so he will heavily benefit from adding more strength to his core. Aside from that, he's limited as a rim protector due to his worrisome +1.5 wingspan. He isn't the most physical player, but Avdija averaged 7.4 rebounds per 36 minutes for Maccabi while demonstrating good feel as a rebounder.
When talking the other end of the floor, playmaking is one of Deni Avdija's biggest strengths. Even though he only averaged 3.1 assists per 36 minutes, you must look deeper into Avdija's game tape in order to get a good sense of him as a playmaker/facilitator. For his age and position, Avdija is an absurd passer who has proven to excel as a pick-and-roll ball-handler.
He makes solid whip passes and can fling passes cross-court while attentively finding cutters and open shooters. Off a rebound, he possesses Kevin Love-esque transition passes from a rebound and always keeps his head up, which generally results in his passes being pin-point accurate.
Avdija has a plus-level handle and is comfortable dribbling with either hand. He's flashed a fluid ability in stringing together multi-move sequences and can consistently break down a defense when guarded by somebody of similar size. After getting by his man, Avdija is a strong finisher at the rim who makes great use of the pump fake and often finds himself drawing fouls and getting to the line.
After drawing those fouls, a key concern with Avdija is his struggles as a free-throw shooter. Despite showing really solid form, he shot 56% from the line in over 350 attempts since 2017, which is something NBA scouts must express concern about when looking at the 19-year-old. As a shooter, however, Avdija should remain comfortable from beyond the arc at the NBA level. He possesses consistent mechanics to go with a quick release and will be more than comfortable spotting up in the short corner in an off-the-ball role.
When evaluating a prospect like Deni Avdija, it's fair to say the 'bust rates' are high. The numbers back up that poor free-throw shooters never become consistent shooters at the NBA level, and that is one thing to seriously consider when evaluating Avdija as a shooter. As for looking for a silver lining, he shot 33.6% on 119 attempts and was 39.2% on deemed 'wide open' looks, which are encouraging numbers.
Looking at a suitor for Avdija, the Cleveland Cavaliers make a lot of sense. They are looking for a wing that can be used as a secondary playmaker who can play both on and off the ball. Adding a player like Avdija will give more operating space for the young nifty guards in Colin Sexton and Darius Garland. This will also give them more of an opportunity to play off the ball, rather than expecting them to set up teammates all night, which neither Sexton or Garland are extremely comfortable with yet.
Cleveland have missed that playmaking punch since LeBron James left, and whilst Deni Avdija is no LeBron, he fits the mould of what they are trying to do. Play a transition style of game, while having multiple ball-handlers in certain lineups.
7. Minnesota Timberwolves
Isaac Okoro (Auburn, Small Forward)
If you put together a list of players from this class that could be elite defenders in this league, Isaac Okoro's name will be at the top of that list almost every time. His court awareness to go with a strong blend of lateral quickness, exceptional strength, and incredibly quick reactions make Okoro one of the more exciting players to keep an eye on.
On top of these strengths, Okoro is very versatile as an on-ball defender with the upper-body strength to handle bigger players to go with a great base and nimble feet. He shows great technique when guarding opponents in isolation and excels at getting through screens by going through screeners' shoulders.
While his wingspan of 6-foot-8 may limit him as a shot blocker against bigger opponents, Okoro can still get out in passing lanes and protect the rim against same sized players for the most part. He averaged 1.1 steals and 1.1 blocks per 36 minutes in 28 games with Auburn and showed in that sample that he can rotate well in and around either the perimeter or in the paint on a consistent basis.
Besides his shooting, where he was a dismal 28.6% from three and 67.4% from the free-throw line, Okoro is capable offensively as a playmaker. He displayed a strong handle and a quick first step with the ball in his hand for Auburn this season. He is a smart decision-maker most of the time and is comfortable passing out to open shooters. He must polish up finding the open cutters in order to be a fully effective passer at the NBA level.
Okoro's strong suit offensively is at the rim. He is a great finisher in either transition or in the half-court who welcomes contact, and with his added upper-body strength, he has shown that he can draw fouls consistently. As soon as Okoro adds a more consistent jump shot, his offensive role will expand and he may be used more in a shot-creator type role.
Isaac Okoro's hustle levels and effort levels are off the charts, especially on the defensive end, and one team badly looking for wing defense is the Minnesota Timberwolves, who were one of the worst defensive teams in the league this season.
He adds a different style of play that complements stars in D'Angelo Russell and Karl-Anthony Towns, and Okoro will have a lot of room to operate at the rim with floor-spacing bigs like Towns and Naz Reid opening up the paint almost every possession. Minnesota traded Covington at last year's deadline, and will be looking to add more defense and length at the two/three to help make up for a Russell and Malik Beasley backcourt, who are mediocre on that end to say the least.
8. Charlotte Hornets
Blessed with size, speed, and strength, James Wiseman flashes massive two-way potential. He is a marvelous athlete who has shades of David Robinson to his game. With more game reps and a larger role on an NBA team, Wiseman could become an extremely intimidating player.
Standing 7-foot-1 tall with a 7-6 wingspan, Wiseman's frame is no joke. To go with these elite measurements, he can explode vertically when he has space to launch. The five-star high school recruit is a gifted shot blocker. He averaged 3.0 blocks per game for Memphis and his presence on its own can intimidate defenders.
As a defender, all in all, Wiseman is improving in terms of court awareness but needs to continue to put in work when guarding the pick-and-roll. His footwork is worrisome and his slow feet and delayed recovery time will hold him back guarding quicker fives. He is caught biting at pump fakes too often, and that's something that will get him in foul trouble at the pro level if he doesn't mature in that area.
Rebounding the ball is a massive strength for Wiseman. He averaged 18.6 per 40 minutes and has always been gifted in that department since entering high school. With a high motor and long arms, Wiseman will immediately make his presence felt as a rebounder at the pro level.
Offensively, Wiseman is great around the rim (77.4%) and excels in pick-and-roll situations as the roller. He has great hands and has a knack for collecting poor passes, whether that be above his head or at his feet. As a shooter, Wiseman has improved his shot selection from his high school days (where he thought he was prime Dirk Nowitzki) but still lacks consistency from the outside. However, with strong form and sweet touch, there is no reason not to believe he can become a threat from distance as he gains more experience.
A high-character person who will put in the work both on and off the court, Wiseman is a great choice for any team that believes he can be a star in this league. Even though he only played a few games in college, James Wiseman is oozing with potential. If the Charlotte Hornets are looking for a big man who can be effective from day one to add to their improving young core, then Wiseman is their guy.
9. Phoenix Suns
An impressive floor general with eyes in the back of his head, guard Tyrese Haliburton has two-way star upside and can be a true building block on a contending team. An anonymous NBA scout told USA Today that teams love his basketball IQ and his floor demeanor. They loved his engagement with teammates, and they obviously loved his skill level.
With one of the more impressive bodies for a point guard in this class, Haliburton boasts a seven-foot vertical while standing at six-foot-five. Not necessarily known as a great individual defender, Haliburton excels as a team defender who is notably strong at talking and directing, calling rotations, and getting his teammates in the right positions.
He is everything an NBA coach would want out of a rookie. Haliburton is a player who takes pride in his work ethic while doing all of the little things right like making smart passes, timely defensive rotations, and making quick decisions in order to keep plays alive.
Speaking offensively, Haliburton is a creative playmaker who, like his other point guard draftees, makes quick decisions with ball in hand and orchestrates an offense nicely. He can swing passes with either hand and makes things look easy in pick-and-roll situations.
Despite the somewhat unusual form, Haliburton was a great shooter in college who projects to be an even better shooter in the NBA. He boasts a 61.1% effective field goal, a 63.2% true shooting, and he shot 41.9% from three on six attempts per game. His lack of athleticism hurts his chances of being a consistent high-level shot creator, however, being a consistent shooter off the catch is the least of Haliburton's concerns.
When getting to the rim, Haliburton has a soft touch in the paint with great body control and even better craft. The next step for him is to welcome contact when at the hoop, which will result in more free-throw attempts. Haliburton often avoids contact on a consistent basis, meaning he'll settle on less than ideal shots like contested floaters or tough layups.
As a prospect, Tyrese Haliburton's draft range could realistically be anything from the top four to late in the lottery. However, in this mock, the only team that could be looking for a point guard is the Phoenix Suns. His defense and shooting ability complements All-Star Devin Booker nicely, and Haliburton will offer a different play style compared to a more traditional point guard like Ricky Rubio. If the Suns are looking for someone with high upside that can still come in from day one and provide consistent production on the floor, then Haliburton makes the most sense for them.
10. Washington Wizards
Devin Vassell (Florida State, Small Forward)
Right up there with the best defenders in this year's class sits Devin Vassell, a 6-foot-7 shooting guard who will have a massive impact on an NBA defense from the moment he steps foot in the league.
Vassell is already recognized as an elite team defender with a tremendous motor. Drawing Khris Middleton and Robert Covington comparisons, Vassell can be a hound in the passing lanes, where he averaged 1.8 steals per 36 minutes this season for Florida State. He is a terrific communicator who predicts plays that are set to unfold on him. Vassell makes great reads and will relay messages accordingly.
His hustle, effort, and determination are unmatched. He is the type of player who will never give up on plays and always make sure his presence is felt on the floor. He will close out hard on one play and put on the afterburners to sprint back in transition on the other.
The 19-year-old puts his 6-10.5 wingspan to great use by being an elite shot blocker for a wing, where he averaged 1.2 blocks per 36 minutes and excelled in chasing down shots while getting strong contests on opponents' looks at the rim.
With his defensive abilities, Vassell will have no problem guarding and rebounding against almost every position aside from bigger centers in the league. However, where his value kicks in the most is his ability to play on the other side of the floor.
Devin Vassell shot 41.5% from three this season on 4.5 attempts. He has a sweet stroke with a great arc, and his wrist involvement is exceptional. Over the last two years, Vassell has improved as a ball-handler, however, he'll never be a primary facilitator despite great passing ability for a wing due to lack of burst and inability to beat defenders off the dribble.
The Washington Wizards already have an exciting backcourt of John Wall and Bradley Beal, but they are still missing that two-way presence at the three. They traded away Otto Porter to Chicago last year, and did the same with Kelly Oubre Jr. Both of whom are quality wings that can contribute on all levels to winning. If Washington want to get back in the playoff hunt, they must be willing to add more players who can play on either side of the ball. Devin Vassell ticks that box.
11. San Antonio Spurs
Tyrese Maxey (Kentucky, Shooting Guard)
A talented shot-maker who can take defenders off the bounce and finish at the rim in a majority of ways, Tyrese Maxey has the potential to be a real star in this league — even though some of the numbers may suggest otherwise.
Despite being only 52.5% at the rim (excluding post-ups and put-backs), Maxey projects to be a much better finisher at the rim due to his great touch and ability to finish in a variety of ways. From the eye test alone, Maxey has proven he can score from a lot of different angles thanks to his ability to absorb contact from bigger defenders. He excels in transition as a finisher and has an array of moves in his arsenal to finish plays.
Outside of the restricted area is where the numbers need work for Maxey. He shot 29.2% from three this year on 3.6 attempts per game, and even though he has a relatively respectable shooting form, he has to improve his arc by raising his release point in order to become more consistent.
Same goes with the mid-range game too, Maxey's change of pace is impressive and he can consistently beat defenders off the dribble in pick-and-roll situations, but he lacks that in-between game that negates him from being a more well-rounded scorer.
One thing to note with the 6-foot-2 guard Maxey is that he was a very good free-throw shooter at Kentucky, finishing at 83.3% on the season. Even with the three-point numbers not being ideal, there are reasons to buy the shot due to a soft touch, and for the most part, good mechanics. Once he's playing in a welcomed role to go with better spacing, there is a good shot Maxey shines as a more efficient three-level scorer.
Maxey made strides as a facilitator this season, averaging around 2.9 assists this season, and became more consistent at making the simple pass. The next step for his development as a playmaker is to see the floor better and hit cutters and open shooters while on the move.
Defensively, Tyrese Maxey is excellent off the ball. He stays engaged and disciplined, rotates well, and plays physically without getting in foul trouble. As a pick-and-roll defender, Maxey is smart and can use his length well to disrupt a play. He is a hound on-ball as well and will be comfortable guarding any point or shooting guards in the league.
If he can put it all together at the NBA level, the sky is the limit. His defense is already great and with the right systematic approaches in play, look for Maxey to become an explosive scorer in spurts who gets to the foul line a lot. The next step to his game is being able to expand into an outside shooter in the long run. Playing with star wing DeMar DeRozan, and rising young guns like Lonnie Walker in San Antonio will take a lot more pressure off of Tyrese Maxey to play in a big role from day one.
12. Sacramento Kings
Aaron Nesmith (Vanderbilt, Shooting Guard)
With a sweet stroke to go with consistent defensive production, Aaron Nesmith is a player that teams may regret not selecting when looking back on this draft.
Easily the best shooter in this draft, Nesmith shot an incredible 52.2% from three on 8.2 attempts per game for Vanderbilt. His jump-shot mechanics are elite and he's a player you can run off a variety of screens that will do a great job at reading what the defense gives him in order to get the best shot possible. He's more than comfortable off the catch, shooting 55% on jumpers, and is equally as confident off the dribble.
Aside from his lethal shooting, Nesmith does not offer too much else offensively despite averaging 23 points per game. He isn't the greatest creator but has improved in that area since arriving at Vanderbilt. At very minimum, Nesmith can make simple drop-offs, kick-outs, and swings. He also struggled to finish at the rim when going against bigger defenders. He will often avoid contact, and considering he is not the most athletic player on the floor, Nesmith often finds his shot getting blocked or heavily contested.
Defensively, Aaron Nesmith is very good on the ball. He has impressive court awareness on this end for a 20-year-old, and with improved athleticism and feel for the game he could become far more versatile. Off the ball, he's also solid in either help or on the perimeter. Boasting a 6-foot-11 wingspan, 6-6 Nesmith averaged 1.4 steals and 1.0 blocks as a sophomore for Vanderbilt.
Overall, Nesmith doesn't project to be a star in this league, but at very worst he's a steady two-way role player that can comfortably guard positions one through four on one end while providing Kyle Korver-type shooting on the other.
Aaron Nesmith is exactly what a team like the Sacramento Kings need. A player who will provide steady offense and defense from day one, and be willing and able to mesh with the young core. Nesmith will comfortably be able to play the two and the three with his 6-foot-11 wingspan, and his versatility will be important as he looks to path a career out in the league.
13. New Orleans Pelicans
Florida State boasted an impressive 16-4 record this season, which was good for first in the ACC, and a huge reason for that was the delightful play of freshman forward Patrick Williams.
Standing at 6-foot-8 with a 6-11 wingspan, Williams' versatility in a switch-heavy defensive scheme at Florida State was impressive. Being able to hold his own against both forwards and centers this year, Williams is an incredibly steady defensive player who has a strong reputation as a great team defender.
Williams averaged 1.7 blocks and 1.6 steals per 36 minutes this season and has a knack for getting out in passing lanes (maybe he gambles a little too much at times), protecting the rim at a high level, and defending the pick-and-roll consistently. He's a great athlete with an impressive vertical who makes gritty plays while putting in multiple efforts to get stops and collect rebounds.
A trend that new-age big men seem to have is the ability to score on all three levels, and Patrick Williams comfortably ticks those boxes. He was 68% at the rim this year for Florida State, and he can use either hand to finish in a variety of ways. As a scorer, he was 32% from three this year and is confident either as a spot-up shooter or off a one-dribble pull-up.
As far as team fit goes, Patrick Williams' fit with Zion Williamson on the Pelicans is A+. With his versatility on both ends and the roll and pop ability on offense plus rim protection and perimeter-play ability on defense, both of these guys can comfortably feed off each other.
With New Orleans looking to be in the playoff hunt right away, taking a more 'NBA ready' player like Williams who won't demand a big role makes a lot more sense than taking a longer-term project with more flaws to his game who may be years from being able to give consistent production.
14. Portland Trail Blazers
Entering college, Jaden McDaniels was one of the most hyped-up prospects, however, he underwhelmed many as a freshman due to lack of effort and inability to stay healthy and get on the floor. Despite these things, he is still extremely appealing thanks to his athletic frame, defensive ability, and shooting stroke.
One thing to note about McDaniels is that he is a phenomenal defender. From swatting shots from the weak-side to reading passing lanes moments before the play occurs, McDaniels' defensive IQ is through the roof.
He can block shots, get strong shot contests when guarding his man, close out with perfect timing, and switch well against quicker guards. McDaniels was blessed with a massive growth spurt over the last two years and the rangy small forward is listed as 6-foot-10 with a seven-foot wingspan. The crazy thing about that? He is still growing. The Jonathan Isaac ceiling comparisons make a lot of sense.
Offensively, McDaniels has great handles for a big guy. He is no stranger to running an offense (he was a solid playmaker in high school) and is capable of making the right pass. He has impressive shot mechanics and plenty of tools in his arsenal to get good shots off, despite only being 33.9% from three this season. Taking threes off the dribble may not be something allocated to McDaniels' role when he enters the league, but over time it could be something we see more of.
When driving to his right, he is strong at finishing at the rim, however, he has a lot of progress to make before being recognized as a consistent finisher. It's not necessarily his positioning, but more the lack of upper-body strength which he will need to add over the course of his career. He has potential to be a five-plus a game free-throw shooter.
The Portland Trail Blazers are looking for more defensive players to add to the roster in order to get them back into the playoff hunt. Damian Lillard and CJ McCollum don't have the reputation around the league as being good defenders, and McDaniels will be able to take pressure off them by guarding the opposition's best wings or two-guards. He'll be a spark off the bench to begin his NBA career, and despite not living up to expectations in college, McDaniels has a very high, untapped ceiling.
That concludes On Tap Sports Net's NBA 2020 Lottery Mock Draft. Thanks to all for reading and stay safe! Let me know your thoughts and opinions by reaching out to me on Twitter @JoshJBullsHoops.
---