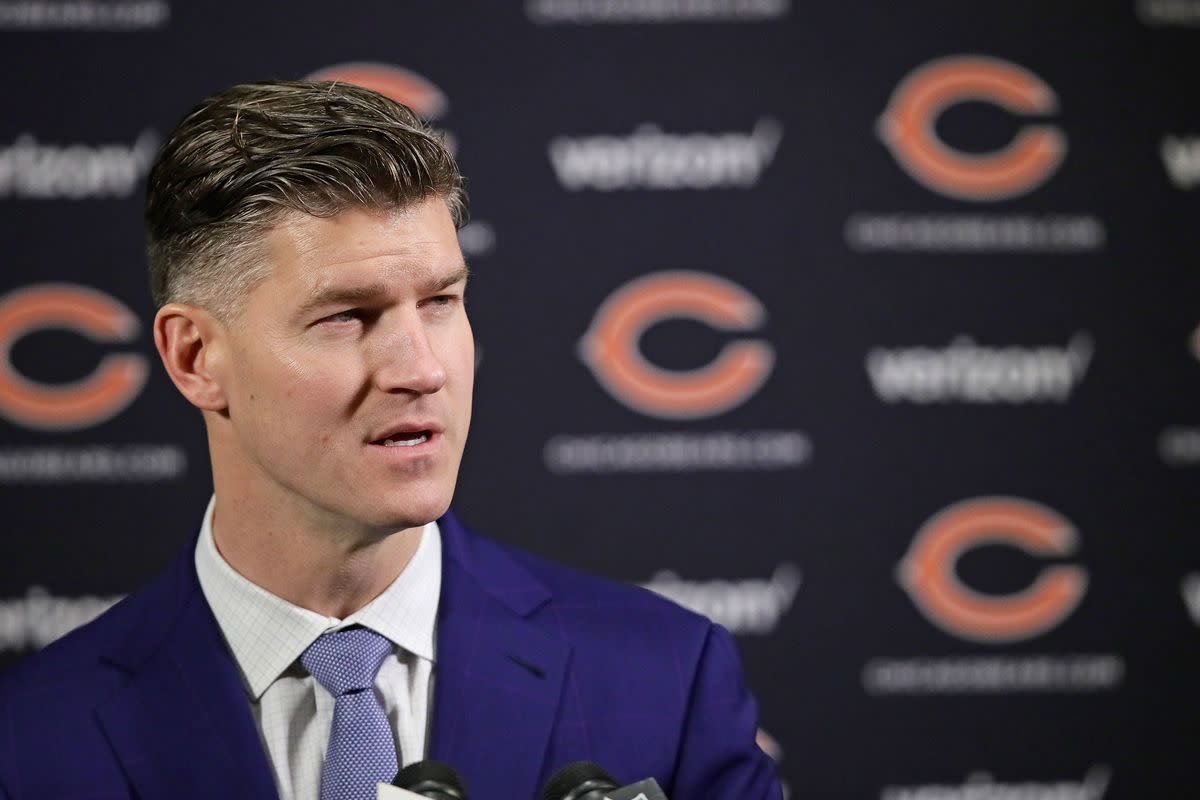 Sports Illustrated updated its power rankings after the completion of the NFL Draft, and the Bears were given no respect. They are ranked 23rd according to SI, just before the Denver Broncos and after the Las Vegas Raiders.
It's hard to argue that the Bears deserve a high ranking after a disappointing 2019 season, but ranking them 23rd after the draft is a bit outlandish. The Bears were ranked in the top ten of most power rankings heading into last season and their roster has improved from last year.
First and foremost, the Bears have added competition to their quarterback room in Nick Foles. While this doesn't solve the Bears lingering quarterback issues, it does improve the room overall. They have also replaced Taylor Gabriel with another explosive option in Darnell Mooney. Gabriel was a solid player, but he had trouble staying on the field. Mooney offers more upside moving forward.
The Bears have also shuffled their tight ends by bringing in Jimmy Graham and Cole Kmet, the highest-rated tight end draft prospect this year. The Chicago Bears' tight ends likely won't be atop of the league in terms of production, but they should be far better than their 31st ranked unit in 2019.
I'll be the first to admit that the Bears didn't do enough to acknowledge their offensive line. Ryan Pace has emphasized how much of a difference new offensive line coach Juan Castillo should make. It's clear he doesn't believe personnel is the issue. Pace didn't invest much of the salary cap in free agency and only used a pair of seventh-round draft picks on offensive linemen. It's a hard strategy to be optimistic about, but the offensive line did perform well in 2018 and was looked at as one of the stronger units heading into 2019. The pass protection took a dip in 2019, but they've had trouble running the ball since Matt Nagy's arrival. The Bears average 3.9 YPC since 2018.
On paper, the Bears' offense doesn't look marginally better but the defense took a huge step forward. This is where issues arise with the ranking. The Chicago defense was half a pass rusher away from being unfair, and they got more than that in Robert Quinn. Every player that left the Bears defense was on Ryan Pace's terms. He cut Leonard Floyd and replaced him with Robert Quinn. Pace chose to re-sign Danny Trevathan over Nick Kwiatkoski. Their contracts are nearly identical. The Bears cut Prince Amukamara and replaced him with the 50th overall draft pick in Jaylon Johnson, who had no business falling that far. The Bears could have signed Ha Ha Clinton-Dix to the one-year, $4.5 million dollar contract the Cowboys did, but they chose not to. Whatever safety plays beside Eddie Jackson will be fine, considering Jackson will be back in centerfield. Only one safety position is projected to take a dip while the unit has improved at edge rusher and corner. Chuck Pagano installed his defense last season and the players' familiarity with it should also drive an increase in production.
The Bears' defense alone should push them up the power rankings. Running against their front seven is going to be a nightmare. Their pass rush should be amongst the top units in the league, and they have two All-Pro's floating around on the back end. The Bears are projected to be bottom-feeders in 2020 according to Sports Illustrated. Their 2019 output led to this, and the Bears need to take it as a sign of disrespect. There are no more excuses. If the Bears don't start winning right now, they'll have to start making drastic front office changes. There is too much talent on the roster for another rebuild.
---