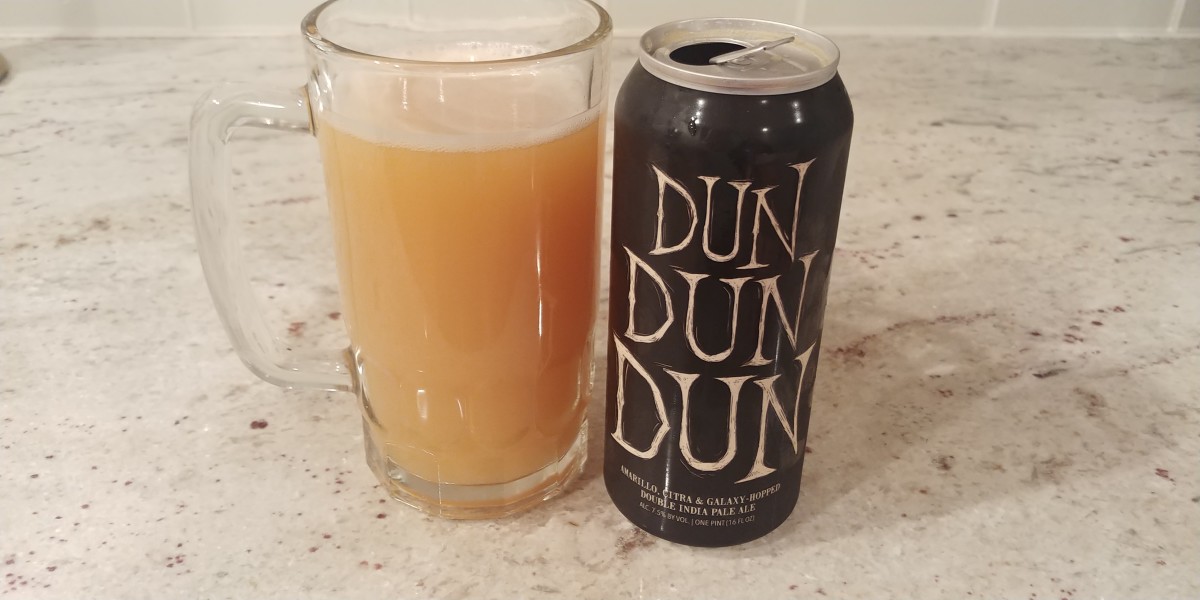 Yes, I am assuming I am supposed to say it the way it looks and I would be disappointed if that wasn't their intention. I showed my wife the can and asked her to say it and sure enough, I was not let down.
I have long heard nothing but rave reviews about Hop Butcher, but this is my very first brew of theirs I've tried. The full name is actually Hop Butcher For the World, but everybody simply shortens it to Hop Butcher. I often hear customers at Binny's ask the employees if they have any of the very popular Bedford Park company's beers are in stock. Seems like it gets sold out pretty quickly and after having DUN DUN DUN, I now have a pretty good idea why.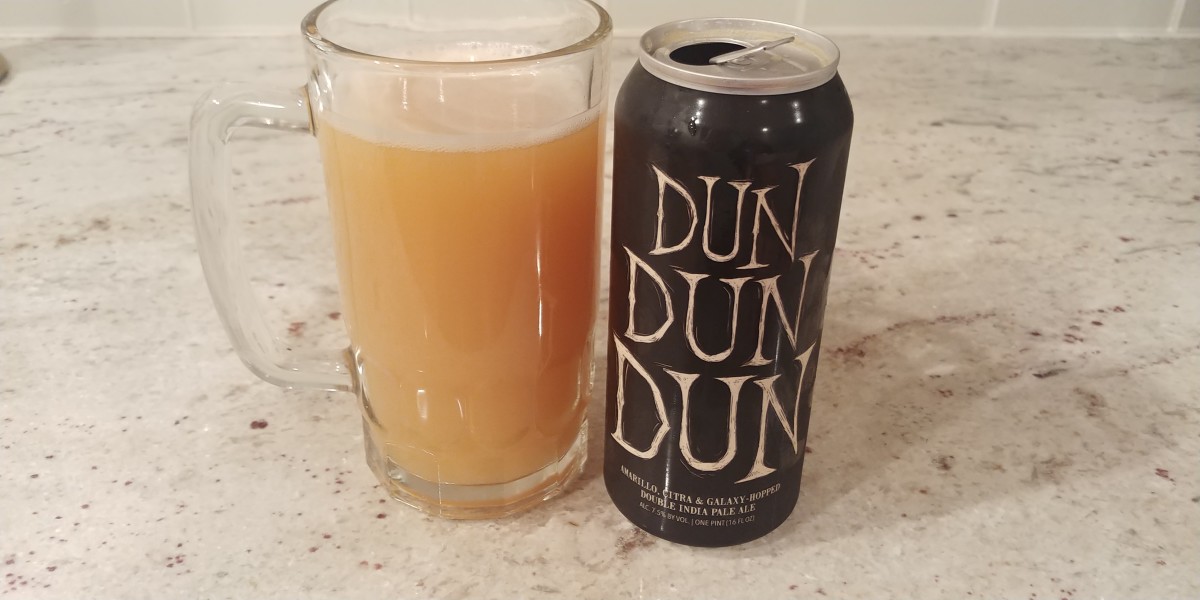 DUN DUN DUN is a double IPA (7.5% ABV) that pours an extremely hazy, pale orange juice color. It has just a thin layer of head but it sticks and leaves a nice bit of lacing. The aroma is all tropical and pine notes and the taste is nothing short of deliciousness. Wow, this is a great beer. There is loads of fruit in this, most notably orange, citrus, and peach. It follows up with just enough bitterness combined with floral notes and then finishes on the way back end with sweetness that I can't quite put my finger on, but is definitely there.
I can see now why Hop Butcher is such a popular brewery. I found this beer in a 4 pack at Binny's for $14.99, which is on par with the popular beers. With a popular brewery like this it's a safe bet that you're getting it fresh. This beer was canned on 5/26 and I actually bought it on the 2nd of June. After counting it out on my fingers, I was drinking this 7 days after it was canned and you can really taste that freshness.
DUN DUN DUN is an absolutely fantastic version of what I would consider a hazy New England IPA. I had my wife try this one and it seemed like is was her favorite of all the beers I've had her try so far. Usually she takes one sip, but on this one she felt compelled to give a 2nd(!) sip. But that's enough, give me back my beer. I give this beer a 9.2/10 so you should absolutely give this one a try.
Happy Drinking!
---