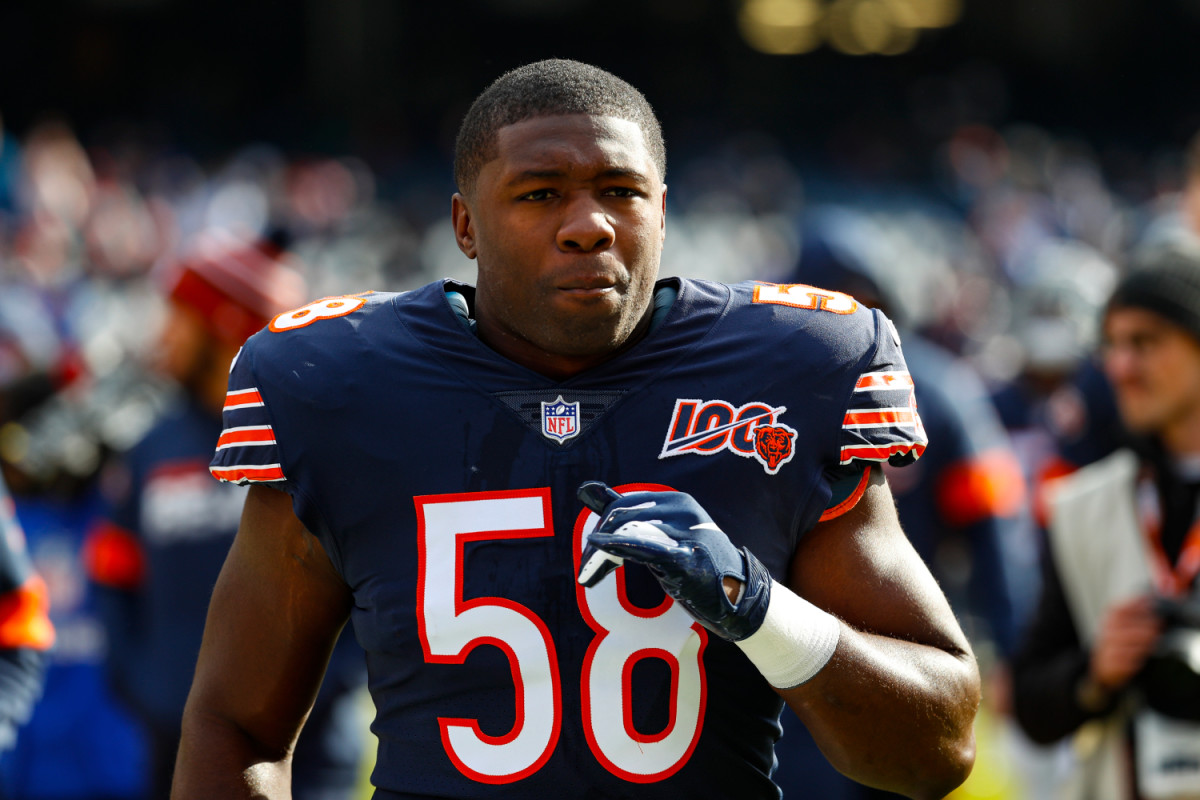 Chicago Bears GM Ryan Pace has a complicated relationship with the NFL Draft, specifically the first round. Kevin White couldn't stay healthy and is currently out of the league. Leonard Floyd showed glimpses of his potential but was released this offseason. Mitchell Trubisky is supposed to be the answer at quarterback but is currently fighting for his job. Then, we have Butkus Award Winner and 2018 first-round pick, Roquan Smith.
In Roquan's first season in Chicago, he was an immediate impact player on a talented defensive unit. Paired with longtime veteran Danny Trevathan, Smith produced 121 tackles, eight tackles for loss, five sacks, and an interception. The Georgia product was seen as the ideal hybrid linebacker in the modern-day NFL. His combination of speed, coverage skills, and instinctual play made him the perfect linebacker for Vic Fangio's blitz-happy scheme.
However, to pretend it was a perfect season would be flawed. While Roquan found himself around ball carriers often, a major flaw in his pre-draft tape was his inability to finish tackles in open space. This showed in his rookie campaign, as Smith had a staggering 13 missed tackles in 2018, 28th-most in the league. He also allowed a 73.2 completion percentage and a 95.9 passer rating to opposing quarterbacks. All things considered, Roquan had an incredibly strong rookie season and inexperience certainly played a factor in his struggles. Many were excited to see what was in store for 2019.
Unfortunately, Roquan Smith's sophomore season in the NFL was overshadowed for his activity off the field. Right before kickoff in a week four contest against the Vikings, it was announced that Smith would be a healthy scratch. The national and local media had an absolute field day with the news, speculating anything from a drunk driving incident to mental health issues to disciplinary action by the coaching staff. Roquan addressed the matter, saying that his 'personal issue' was behind him and that he was ready to put all his focus back into football.
People might not understand how good Roquan Smith was in 2019. In only 12 games, he produced 102 tackles, five tackles for loss, two sacks, and one interception. That would give him an average of 8.4 tackles, 0.4 tackles for loss, and 0.2 sacks per game. By this measure, if Roquan played all sixteen games in 2019, he would've finished with a stat line of 134 tackles, six tackles for loss, three sacks, and one interception. While one can compare these stats to his rookie season and see similar production, what sets 2019 apart are the advanced metrics.
Smith only missed four tackles last season, giving him a missed tackle percentage of 3.8%, the third-lowest in the NFL among players with 100-plus tackles. Compare that to 9.7% in his rookie season, the numbers show Roquan was a far more efficient tackler in 2019. His dominance also showed in the passing game, where Smith only allowed a 75.9 passer rating and a 67.2 completion percentage. He vastly improved on an already impressive rookie season and is hungry to accomplish more going into his third.
At the end of the day, people can make their own assumptions about who Roquan Smith is. Whether you think he has mental issues, makes bad decisions under the influence, has bad judgment in character, or is just a young guy trying to handle stardom, everyone is entitled to their opinion. Just know, Roquan Smith hears all the noise, has a chip on his shoulder, and can't wait to prove his doubters wrong.
---