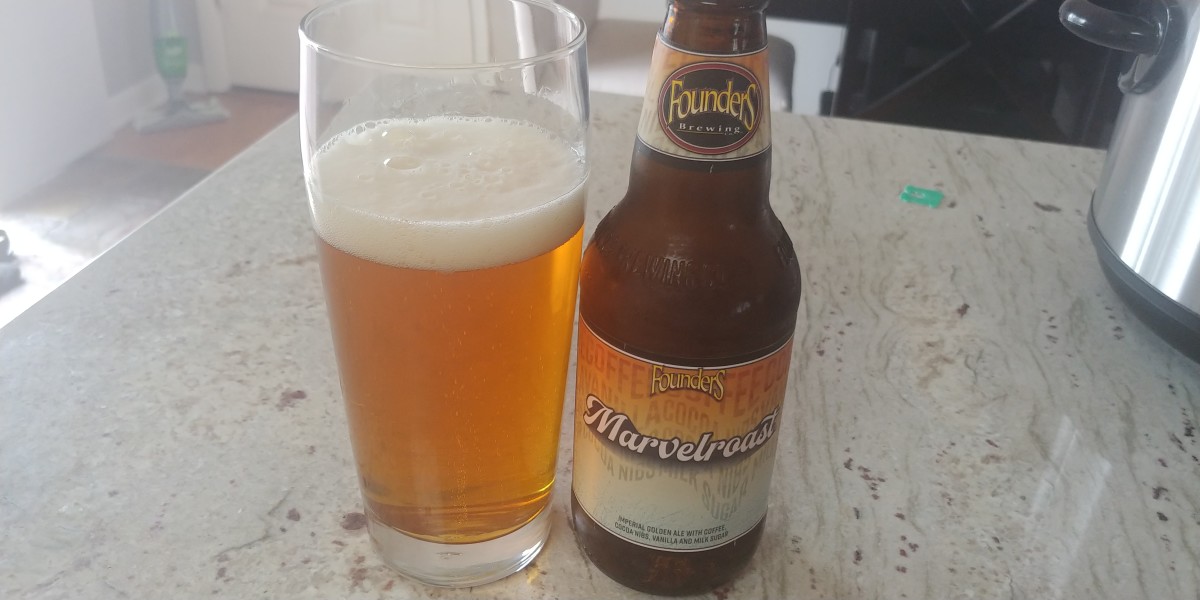 Would you look at this, I'm going to review another beer from one of my favorite breweries. This one caught my eye because, well first of all, it's Founders, and secondly, it's a NEW Founders. Looking at the label its described as an "imperial golden ale with coffee, cocoa nibs, vanilla, and milk sugar." Well now, this certainly sounds a little different and well out of my wheelhouse.
I don't know why I thought this beer was going to be darker, I mean it says it's a golden ale right on the bottle. Anyway, this is a wonderful looking beer. It has a rich golden color with a frothy 3/4 of an inch of head. The aroma really smells like coffee and cocoa. The taste of Marvelroast is unlike anything I've ever had in the beer world. I can taste everything that's described the label. The flavors that really stand out to me are the cocoa and vanilla followed by the sweet finish from the milk sugar (aka lactose). It also clocks in at 8% ABV, so this is nothing to turn your nose up to.
Marvelroast does not feel like I'm having a beer at all. This seems like more of a fancy morning iced latte or something. I'm absolutely happy that I tried out this beer. The only thing I think would make this beer better is if the weather was a little cooler at the moment. One thing I'd also like to note is that I'm mildly lactose intolerant and this is the first beer containing lactose that I've sampled. Thankfully, it didn't seem to have much of an effect on me. It looks like Marvelroast is only available into September, so if this sounds interesting you should check it out!
Happy Drinking!
---