Has this been the weirdest year in NHL history? We have seen a season shortened. A draft lottery took place that didn't make sense to even the most knowledgeable hockey fan. Finally, to round things off, 24 teams will compete for the Stanley Cup. One of those teams is the Chicago Blackhawks, who haven't made the playoffs since 2017.
Now, technically the Hawks have not made the playoffs, as the bottom eight teams in each conference will play a best-of-5 play in round series. Under this one-off formula, the top four teams in each conference essentially receive a bye and will play the winners of these play-in rounds.
In the Western Conference, the defending champion St. Louis Blues, Colorado Avalanche, Vegas Golden Knights, and Dallas Stars are the top four seeds. Out east, the Boston Bruins, Tampa Bay Lightning, Washington Capitals and Philadelphia Flyers will await the winners from the play-in round.
Due to concerns regarding COVID-19, the NHL made the decision to play all of these games in two hub cities. The Western Conference will play all of their playoff games at Rogers Place in Edmonton. The Eastern Conference will run through Toronto (first time that's been said in decades), as games will take place at Scotiabank Arena.
Have there ever been more question marks heading into a playoff? Will these teams be rusty? Will they have their full team? What if star players begin testing positive for the COVID-19? Do the Oilers and Maple Leafs have an unfair advantage playing in their home cities and arenas? The NHL supposes we will find out soon enough. Nonetheless, let's dive into all the matchups and get you ready for playoff hockey.
Toronto Maple Leafs vs. Columbus Blue Jackets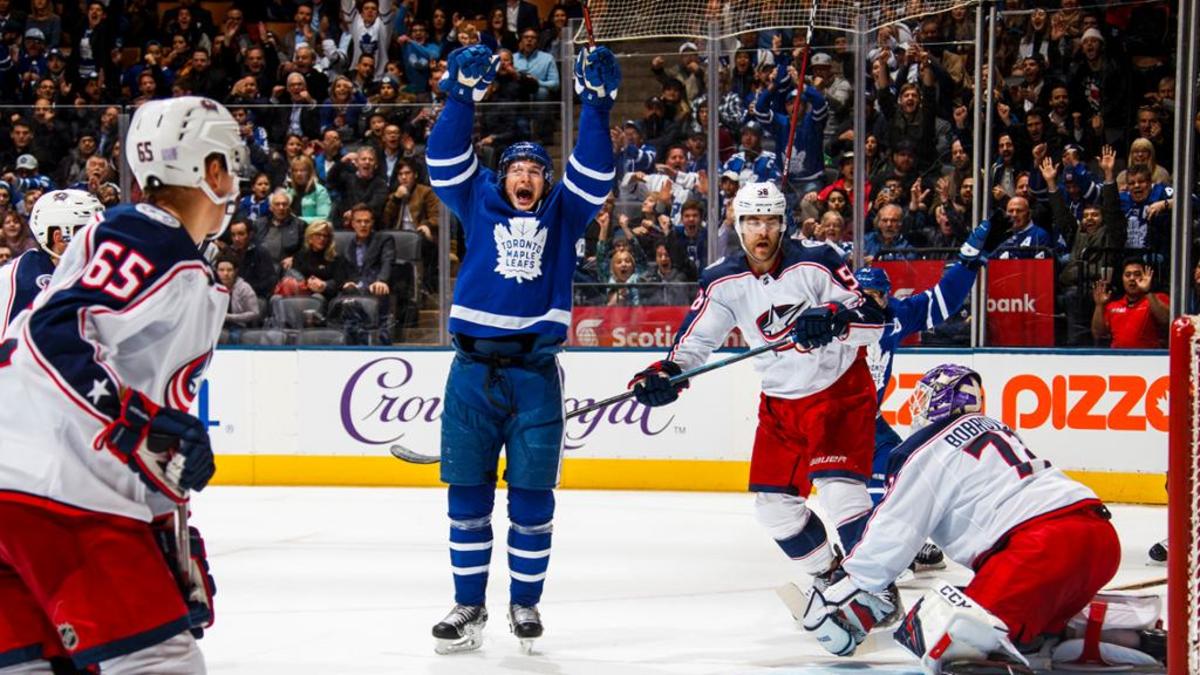 Preview: These two clubs each had 81 points when the season was cut short. Everyone remembers Columbus' historic sweep over the President's Trophy-winning Lightning last season. Can they pull off another upset? Toronto scored third-most goals in hockey this season but allowed the sixth-most. Columbus was essentially the exact opposite, as they ranked 27th in goals scored but allowed the third-fewest goals. Do you like defense or offense?
Goaltender Matchup: Frederik Andersen (29-13-7, 2.85 GAA, .909 SV%) vs. Elvis Merzlikins (13-9-8, 2.35 GAA, .923 SV%)
Leading Scorers: TOR: Austin Matthews (80 P), CBJ: Pierre-Luc Dubois (49 P)
Regular Season Series: Toronto (1-0-1) vs. Columbus (1-1-0)
Predictions:
Comiskey: Blue Jackets in 5.
Something I believe in: John Tortorella. Something I do not believe in: the Toronto Maple Leafs. Look, the Maple Leafs are clearly the better team here, but the better team doesn't always win. Columbus will be ready to go and they sneak past Toronto.
Luce: Maple Leafs in 5.
Don't get me wrong, Columbus is a very good and underappreciated team in the NHL. However, I think the Leafs have too much firepower for the Blue Jackets and will ultimately win this series. However, I will say keep an eye on Elvis Merzlikins as he can definitely steal a series in the Leafs aren't ready.
Nonnie: Maple Leafs in 5.
Toronto just needed a first-round matchup that wasn't against Boston in order to advance. Seriously though, names like Matthews, Marner, and (William) Nylander mean Elvis Merzlikins will have his hands full.
Pedue: Maple Leafs in 4.
John Tortorella will have the Blue Jackets ready to go. His team will be well prepared as they play against one of the most dynamic lineups in the league. But, it won't be enough. No Blue Jackets upset this year. The Leafs have way too much talent and they will move on.
Pittsburgh Penguins vs. Montreal Canadiens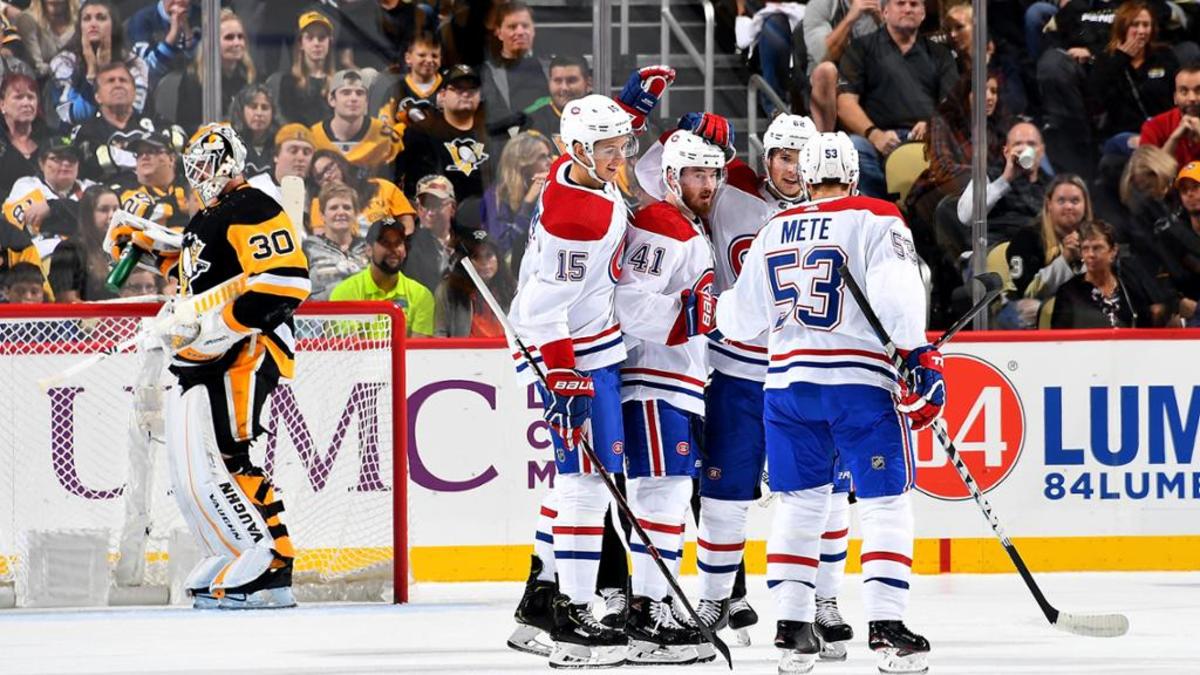 Preview: Do the Penguins have another run in them? Pittsburgh will look to capture their fourth Stanley Cup in 12 seasons as these playoffs begin. Montreal, on the other hand, will look for its first Cup since 1993. Pittsburgh was 15 points ahead of Montreal when play was halted, as this is one of the more lopsided matchups. The Penguins don't lead the league in many categories or even rank in the top five, but they do everything well. As for Montreal, well they have a world-class goalie. They also averaged the second-most shots on goal this season, but that didn't amount to much, as they ranked just 19th in goals scored.
Goaltender Matchup: Matt Murray (20-11-5, 2.87 GAA, .899 SV%) vs. Carey Price (27-25-6, 2.79 GAA, .909 SV%)
Leading Scorers: PIT: Evgeni Malkin (74 P), Canadiens: Tomas Tatar (61 P)
Regular Season Series: Pittsburgh (2-1-0) vs. Montreal (1-1-1)
Predictions:
Comiskey: Penguins in 4.
Now this is what you call a mismatch. The Montreal Canadiens have no business being in the playoffs, but here we are. Carey Price will probably steal a game, but that's all.
Luce: Penguins in 4.
Carey Price will steal one game, but the Penguins should have arguably been one of the top-four teams in the East. They're too good for the Canadiens and will likely wipe the floor with them.
Nonnie: Penguins in 4.
The Penguins played pretty damn well while being injured this season. Now they've had four months to heal, so this is an easy pick. Enjoy your less-than-a-week stretch of Montreal viewership, NHL.
Pedue: Penguins in 3.
The Penguins have too much experience and skill for the Canadiens to compete with. It's over quick.
New York Islanders vs. Florida Panthers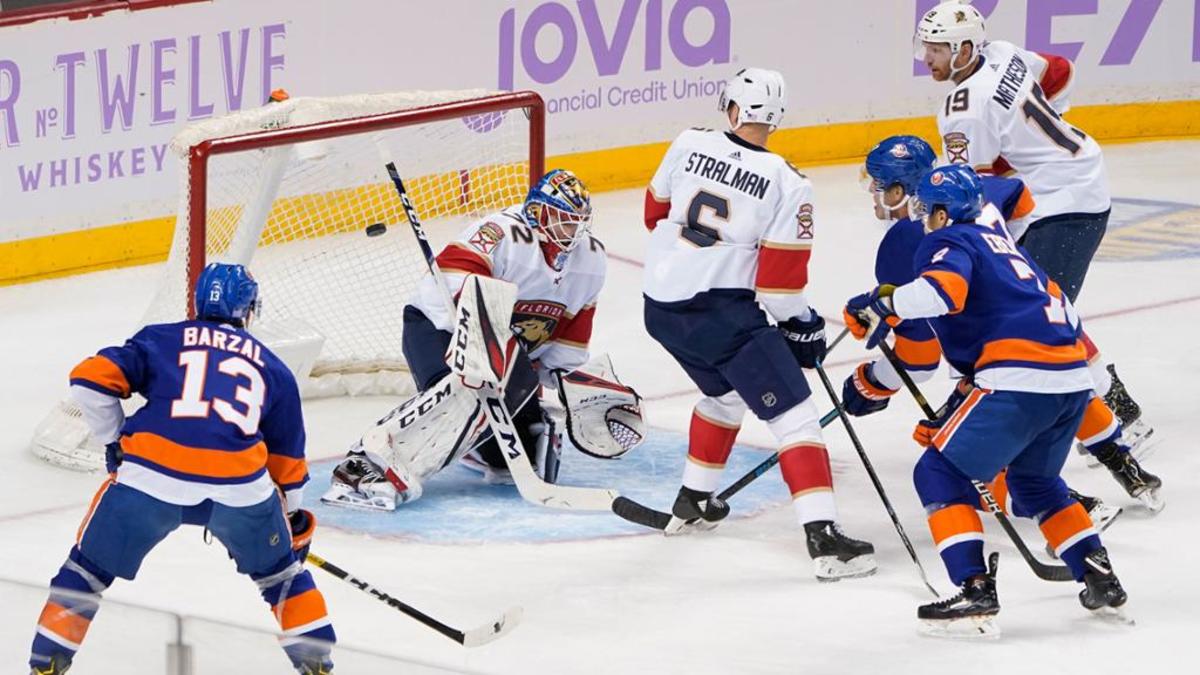 Preview: The Pittsburgh Penguins won't be the only ones looking for their fourth Stanley Cup in recent years. Joel Quenneville is back in the playoffs and looking to hoist the Cup yet again, this time just several miles down south. He'll face off with Barry Trotz, who has also won a Stanley Cup. The Islanders sat at 80 points when play paused, while the Panthers had 78 points with one more game played. Quenneville had his team scoring plenty, as they were the sixth-best scoring team, but they gave up the fourth-most goals in hockey. On Long Island, the Islanders had a below-average offense, ranking 22nd in goals scored, but were top-ten in goals allowed, clocking in as the ninth-best defensive unit.
Goaltender Matchup: Semyon Varlamov (19-14-6, 2.62 GAA, .914 SV%) vs. Sergei Bobrovsky (23-19-6, 3.23 GAA, .900 SV%)
Leading Scorers: NYI: Mathew Barzal (60 P), FLA: Jonathan Huberdeau (78 P)
Regular Season Series: New York: (3-0-0) vs. Florida (0-2-1)
Predictions:
Comiskey: Islanders in 4.
I'd love to pick Joel Quenneville here, but the guy behind the opposite bench is pretty damn good himself. Florida couldn't stop much of anything this season and will now likely struggle to score, as New York limits opponents' offense as well as anyone.
Luce: Islanders in 5.
The Islanders are a damn good team, and they will ultimately win this series. However, in a playoff where numerous teams weren't meant to be here and have nothing to lose, the Panthers are going to give the Islanders a run for their money. Hell, dare I say they actually have a decent shot to steal this series? Perhaps.
Nonnie: Islanders in 5.
The Panthers will score some opportunistic goals to make this one interesting, but Barry Trotz's system prevails in the end.
Pedue: Islanders in 4.
This series presents an all-time coaching matchup between Joel Quenneville and Barry Trotz. The two bench bosses have a combined 1,770 wins and four Stanley Cups. You know each team will be well prepared, but I worry about the Panthers' ability to defend. Sergei Bobrovsky had a career-worst 3.23 goals-against average during the regular season, which is only slightly worse than his career postseason average of 3.14. Though the Islanders struggled to score this season, they won't have any trouble against the Panthers and win in four.
Carolina Hurricanes vs. New York Rangers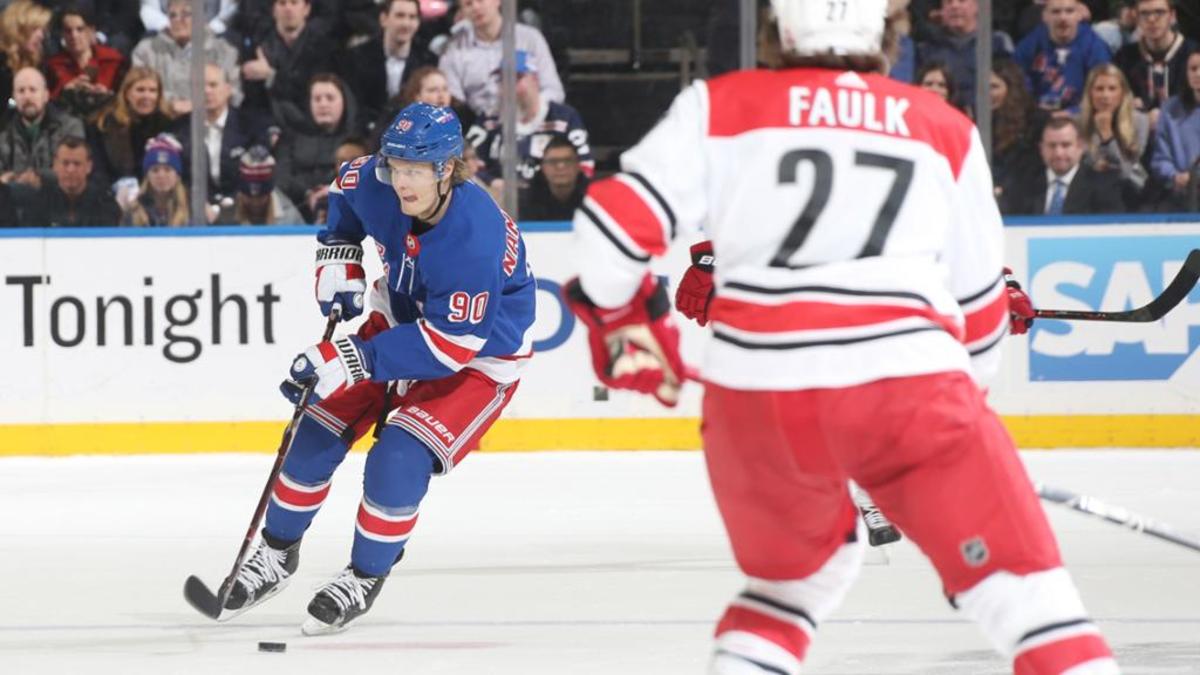 Preview: Blackhawks fans, shield your eyes as we get ready for Artemi Panrian vs. Teuvo Terravainen. That should be fun. Panarin is an MVP finalist this season and led the way for the Blue Shirts. The Rangers pose the threat of being a top-five offense, but they struggled to keep the puck out of their net. The Hurricanes however did both things well, as they scored the 11th-most goals and allowed the 11th-fewest. Carolina had two more points than New York in two fewer games played this season.
Goaltender Matchup: Petr Mrazek (21-16-2, 2.69 GAA, .905 SV%) vs. Henrik Lundqvist (10-12-3, 3.16 GAA, .905 SV%)
Leading Scorers: CAR: Sebastian Aho (66 P), NYR: Artemi Panarin (95 P)
Regular Season Series: Carolina (0-4-0) vs. New York (4-0-0)
Predictions:
Comiskey: Rangers in 5.
Two words: Artemi Panarin. Every series needs a star, and New York has the brightest star. Panarin is a Hart Trophy Finalist; look for him to take over this series.
Luce: Rangers in 5.
I was on the Carolina hype train last year. They rewarded me by beating the Capitals in the first round. This year, I think the Rangers were the hotter team heading into the end of the season. Carolina loaded up at the deadline, but despite a great defensive corps that may be the best and deepest in the league, I'm not sold on Carolina's goaltending.
Nonnie: Hurricanes in 5.
Mika Zibanejad and Artemi Panarin will make every single NHL highlight reel during the Qualifying Round, but so will Sebastian Aho and Teuvo Teravainen. It'll be a high-octane matchup, but I believe Carolina shakes off the regular-season woes against the Blue Shirts to advance.
Pedue: Rangers in 5.
This is a sneaky good matchup. The Hurricanes have turned into an exciting team to watch with Sebastian Aho and Andrei Svechnikov leading the way as the Rangers are led by Hart Trophy finalist Artemi Panarin. The Rangers scored the fifth-most goals this season while the Hurricanes were one of the better teams in the league defensively. This series comes down to which team is able to play their game more effectively than the other. Though each team will dictate play at times throughout the series, the Rangers' offense will be too much for the Hurricanes to overcome.
Calgary Flames vs. Winnipeg Jets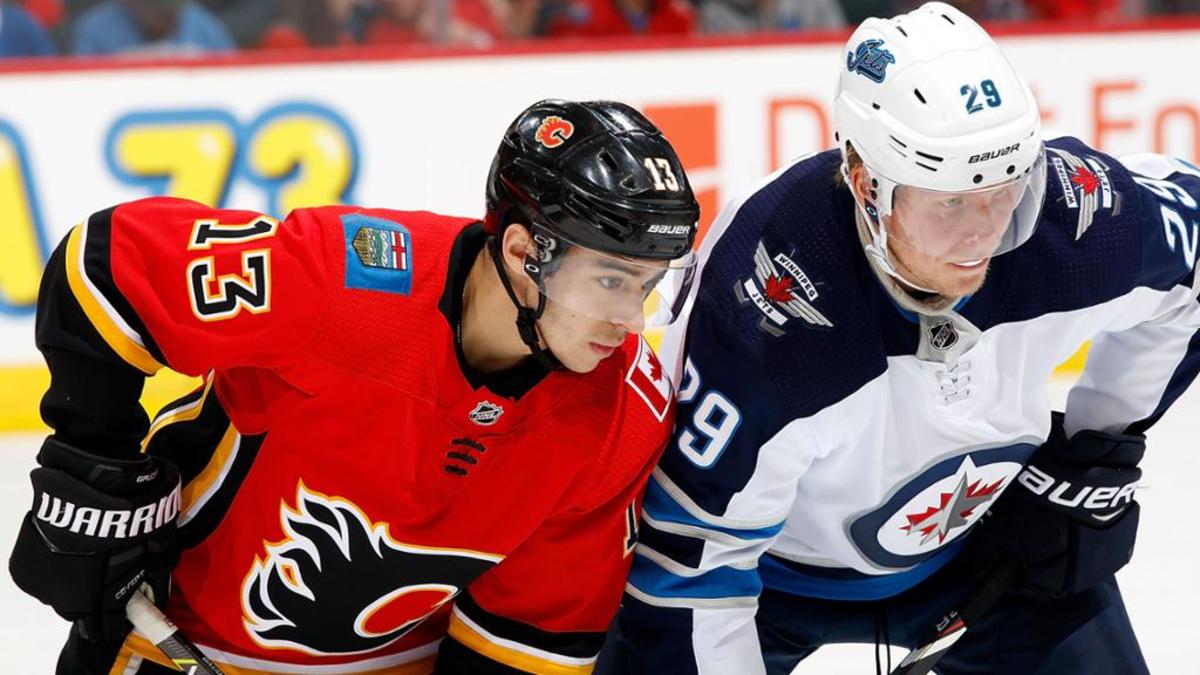 Preview: A Canadian team hasn't won the Stanley Cup since 1993 when a gallon of gas was $1.11. That's a shame, but hey, they love their gold medals. Nonetheless, they'll have at least one team advance to the next round as Calgary and Winnipeg face off. Only one point separated these two teams this season. For Calgary, they were middle-of-the-pack in terms of stopping pucks from going in their net and below average at putting them in the opponents' net. They did have a top-ten penalty kill, however. The Jets ranked 17th in offense and tenth in defense. Thanks for Bieber, may both of you lose.
Goaltender Matchup: David Rittich (24-17-6, 2.97 GAA, .907 SV%) vs. Connor Hellebuyck (31-21-5, 2.57 GAA, .922 SV%)
Leading Scorers: CAL: Matthew Tkachuk (61 P), WPG: Kyle Connor (73 P)
Regular Season Series: Calgary (0-0-1) vs Winnipeg (1-0-0)
Predictions:
Comiskey: Jets in 5.
The only all-Canadian matchup should be a good one. Not getting to see Winnipeg's white-out is a bummer, but look for Connor Hellebuyck to extinguish the Flames.
Luce: Jets in 5.
Connor Hellebuyck is a Vezina finalist for a reason. The Jets were depleted defensively this year in comparison to years past, yet they still found a way to be dangerous heading into a possible playoff birth. Look for Hellebuyck to lead the Jets to a win and a real playoff birth.
Nonnie: Jets in 4.
I'd love to pick the Flames because I want to see Matthew Tkachuk play as much hockey as possible, but it just ain't happening with Connor Hellebuyk in net for Winnipeg. Patrik Laine, Kyle Connor, Mark Scheifele, Blake Wheeler, and Nikolaj Ehlers will provide all the pop up front en route to a relatively easy Jets series win.
Pedue: Jets in 3.
As Ron pointed out, Winnipeg Jets' goaltender Connor Hellebuyck is a Vezina Trophy finalist for a reason. The Jet's netminder led the league with six shutouts and the seventh-best save percentage during the regular season. He continues his excellent play as the Jets win in three games.
Edmonton Oilers vs. Chicago Blackhawks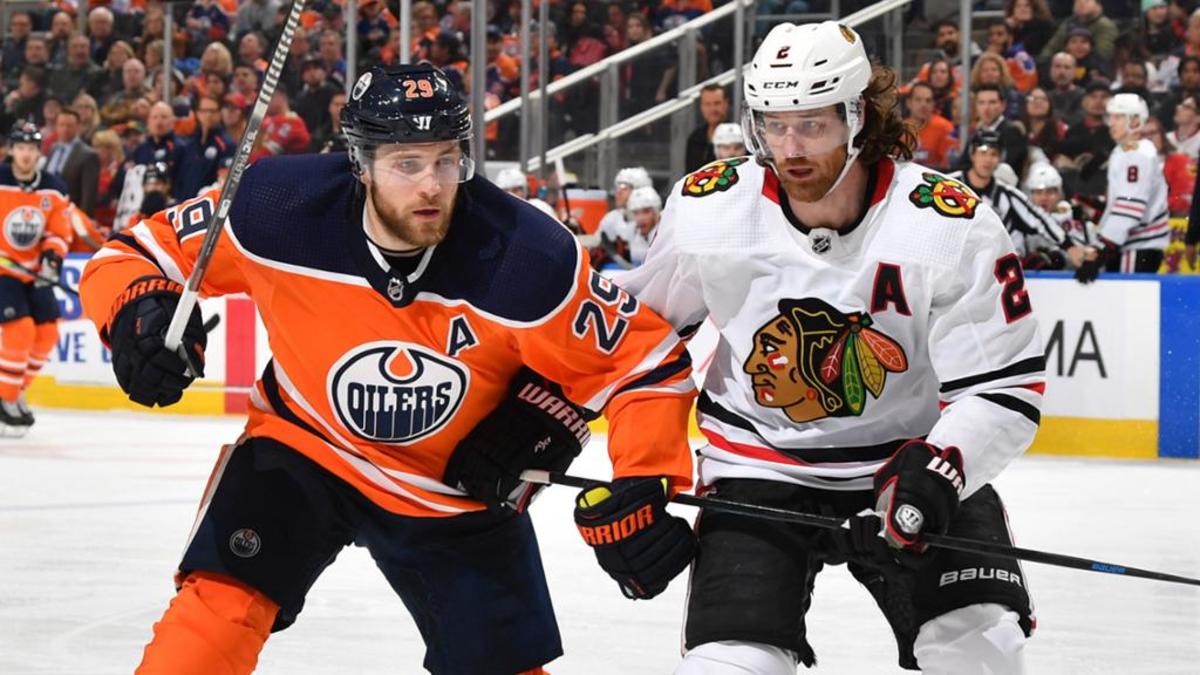 Preview: A lot of the same horses that rode their way to three Stanley Cups for Chicago are still there, but it feels a whole lot different. As for Edmonton, they have two of the best players in the world. Beyond those two guys, there isn't a whole lot, but Connor McDavid and Leon Draisaitl can be enough to take down several teams. The Oilers held the best power play in hockey with a historically great 29.5% scoring rate. They also held the second-best penaly kill in hockey. For the Blackhawks, the ranked dead last in shots allowed but remained in the middle of the pack for goals allowed. Say a quick thank you to Robin Lehner and Corey Crawford.
Goaltender Matchup: Mike Smith (19-12-6, 2.95 GAA, .902 SV%) vs. Corey Crawford (16-20-3, 2.77 GAA, .917 SV%)
Leading Scorers: EDM: Leon Draisaitl (110 P), CHI: Patrick Kane (84 P)
Regular Season Series: Edmonton (1-2-0) vs. Chicago (2-1-0)
Predictions:
Comiskey: Oilers in 4.
The Blackhawks probably couldn't defend a beer league team at this point. Chicago's defense is historically bad. If Corey Crawford wasn't going in this series, they'd get swept and probably be outscored 30-5 in three games. Kane and Crawford will help steal one game, but McDavid and company are going to be way too much.
Luce: Oilers in 5.
As much as we here at On Tap Sports Net love the Hawks, I have to go with the Oilers led by Leon Draisaitl and Connor McJesus… I mean McDavid. The Oilers' special teams are too good for the Hawks to compete. Now that Robin Lehner is out of the fold (thanks Stan), I don't see Crawford being able to shoulder the weight of winning this series. The Hawks will put up a fight, give hope, but lose and take Alexis Lafreniere first overall when they get the pick (insert evil laugh here).
Nonnie: Oilers in 4.
Patrick Kane and Corey Crawford will help the Blackhawks take a game in this series, but Edmonton's speed will be too tough a task for the Blackhawks' league-worst defense. Chasing the play will result in Chicago penalties, where the Oilers' league-best power play will certainly cash in on multiple occasions.
Pedue: Blackhawks in 5.
If, and only if, the Blackhawks can score at least three goals a game at 5v5 and not take any bad penalties limiting McDavid and Draisaitl's time on the man-advantage, the Blackhawks should win this series.
Vancouver Canucks vs. Minnesota Wild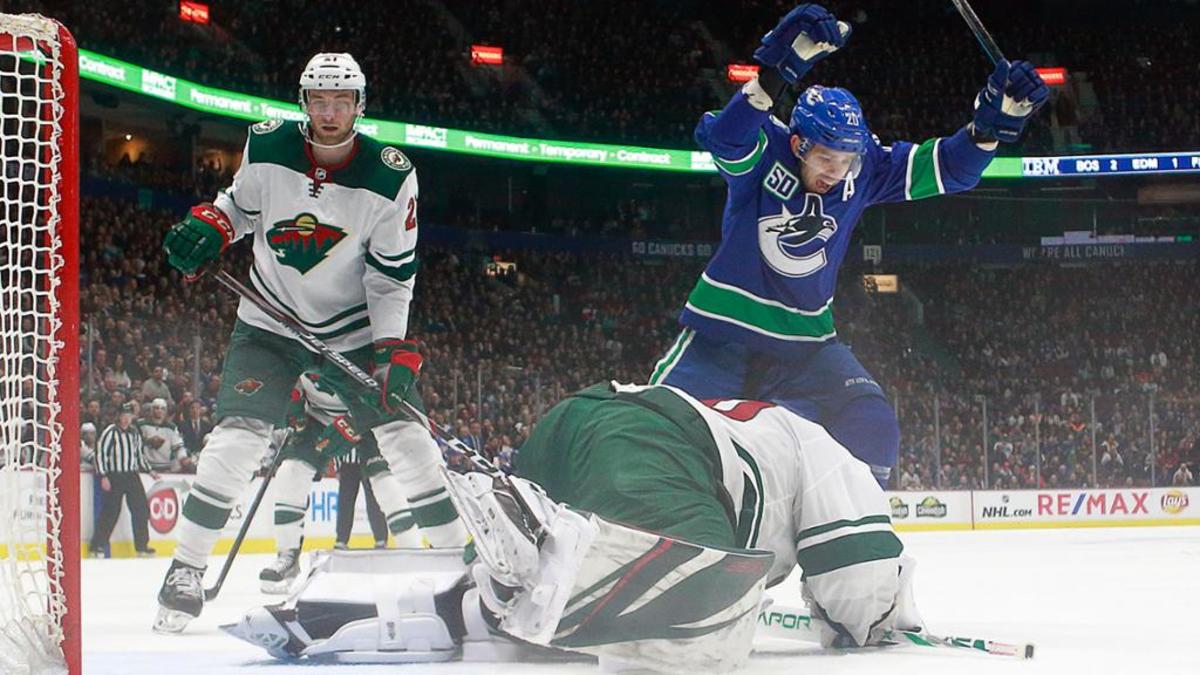 Preview: Say hello to two franchises who have never won a Stanley Cup. Well, that was fun. When the season paused, the Canucks held the Western Conference's ninth seed, while the Wild were in the ten spot. Vancouver was the eighth-best scoring team in hockey and touted the fourth-best power play. The Wild, on the other hand, allowed the ninth-most goals in hockey and had the seventh-worst penalty kill. On the bright side though, Minnesota was the 12th-best scoring team in hockey.
Goaltender Matchup: Jacob Markstrom (23-16-4, 2.75 GAA, .918 SV%) vs. Alex Stalock (20-11-4, 2.67 GAA, .910 SV%)
Leading Scorers: VAN: J.T. Miller (72 P), MIN: Kevin Fiala (54 P)
Regular Season Series: Vancouver (1-1-1) vs. Minnesota (2-0-1)
Predictions:
Comiskey: Canucks in 3.
Name a better combination than the Minnesota Wild and losing in the first round. The Canucks are a sneaky very good team, and they are going to be one of the West's best in the coming years. They'll make quick work of Minnesota.
Luce: Wild in 5.
Yup, I'm going against the grain. Yup, I'm picking a team that I despise. However, I had the pleasure of watching this Wild team play in late February (before COVID-19) and they were clicking on all cylinders. This is a team with zero expectation to do much, so look for them to play like they have nothing to lose. Vancouver is good, but they lack any meaningful playoff experience on the majority of that roster.
Nonnie: Canucks in 4.
The Minnesota Wild are seemingly always in the playoffs, but never for long. Don't expect that to change this year. Elias Pettersson, Tyler Toffoli, Quinn Hughes and co. will take care of business in four.
Pedue: Canucks in 4.
The Wild will try their best to muck up and slow down the Canucks' top-ten offense, but it won't be enough. Even though the Wild's style of play limits their opponents' scoring chances, they can't produce enough offense. Don't expect too many high-scoring games in this series.
Nashville Predators vs. Arizona Coyotes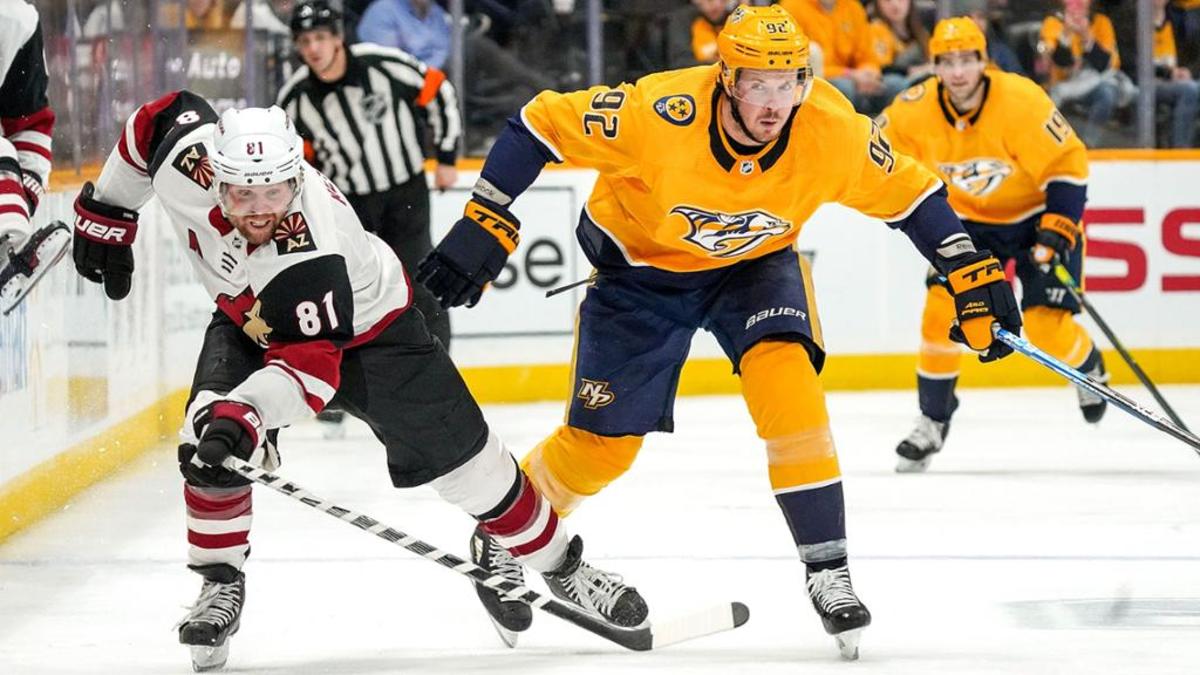 Preview: Speaking of teams who have never won the Stanley Cup, hello Nashville and Arizona. Nashville got oh so close in 2017, but no cigar. Arizona, on the other hand, has never reached the Stanley Cup Final. In 2019-20, Nashville started incredibly slow and fired Peter Laviolette to move on to John Hynes. Hynes turned the team around and got them to the eighth-best record in the West. Only four points separated these two teams, however. The Predators rank near the middle of the pack in most team statistics, while the Coyotes hold a lackluster offense and an elite defense.
Goaltender Matchup: Juuse Saros (17-12-4, 2.70 GAA,, .914 SV%) vs. Darcy Kuemper (16-11-2, 2.22 GAA, .928 SV%)
Leading Scorers: NSH: Roman Josi (65 P) ARI: Taylor Hall (52 P)
Regular Season Series: Nashville (1-1-0) vs Arizona (1-1-0)
Predictions:
Comiskey: Coyotes in 5.
The best thing to come out of this NHL bubble is a playoff without those obnoxious fans in Nashville. Would you believe the Mustard Tigers allowed more goals than the Hawks this season? Arizona is the third-best defensive team in hockey. Hang the '24 team playoff participant' banner.
Luce: Coyotes in 4.
I hate the Predators. Kuemper looked great when he was healthy for the Yotes, and a lot of people forget that Phil Kessel and Taylor Hall are both down there with that great group of youngsters. Give me the desert dogs to take this series.
Nonnie: Coyotes in 5.
Darcy Kuemper is an underrated backstop. Phil The Thrill will find his scoring touch alongside Taylor Hall to help the Yotes squeak by the Preds.
Pedue: Predators in 5.
The Arizona Coyotes, backstopped by their two-headed goalie of Darcy Kuemper and Antti Raanta, are a tough team to score against. They surrendered the third-fewest goals during the regular season and had the third-best team save percentage. The problem is, they can't score. On the other hand, the Predators' depth up front produces enough offense to put them over the edge. Expect a battle between these two as it goes the distance.
Stanley Cup Final Prediction
Comiskey: Golden Knights over Penguins
This is going to be a weird playoff. Do you really even want a bye-round? The other teams gain momentum and come at you while you're still cold. Nonetheless, the Golden Knights are primed for a deep run. They don't allow much defensively and they led hockey in shots on goal. That's a recipe for success. Experience is also going to play a big role in these playoffs, as everyone is cold. Who has more than Pittsburgh? In the end, Vegas will be too fast and too deep for Crosby and company. The Knights will hoist their first-ever Stanley Cup. Don't forget I nailed Blues/Bruins last year.
Luce: Golden Knights over Lightning
This is a weird season, but I have a feeling that the deepest teams with the best goaltending will ultimately reign supreme. In this case, Tampa is arguably the best team on paper to possibly best the Bruins in the East, and the Golden Knights are the best team top to bottom in the West in my opinion. I'll look for our beloved Robin Lehner and company to raise the Cup, and then watch Lehner forgive the Blackhawks organization and return to Chicago on a five-year, $25 million deal to backstop the Hawks into the future.
Nonnie: Lightning over Golden Knights
The Knights were already a good team, and then they went out and make significant trade-deadline acquisitions in Alec Martinez and Robin Lehner. They'll tap into scoring from all throughout their lineup to earn the Western Conference crown. On the other side of the bracket, the Bolts haven't forgotten about getting swept in the first round after winning the President's Trophy last year. Expect them to use that motivation to propel through the Eastern Conference and a hard-fought Cup Final against Vegas.
Pedue: Maple Leafs over Avalanche
I don't necessarily have a lot of in-depth analysis as to why this is my Cup Final prediction. I just want to see the matchup between Matthews/Marner and MacKinnon/Rantanen.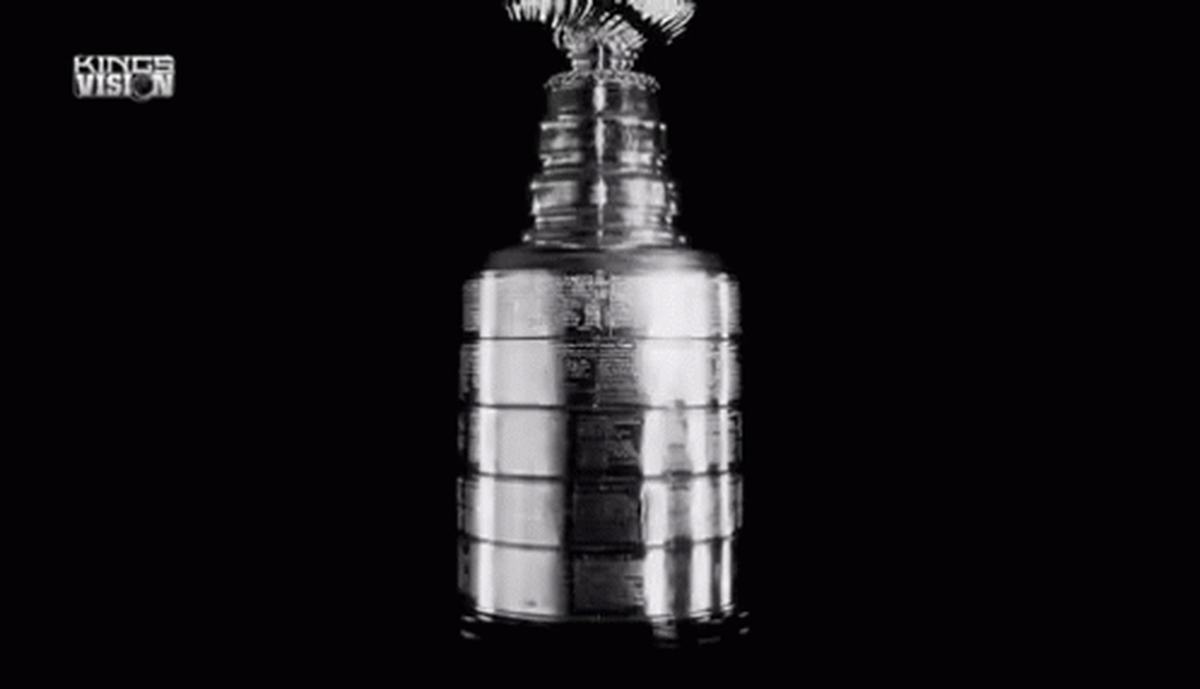 Well, there you have it. The NHL has the best playoffs of any sport in the world. The atmosphere will be different with no fans in attendance, but the intensity will surely be high. What do you think of our predictions? Be sure to let us know what you think on Twitter, where you can find us at @FourFeathersPod. Drop your predictions in our replies and see if you can outsmart the crew. Grab a beer and enjoy what is sure to be one crazy few months of hockey.
---