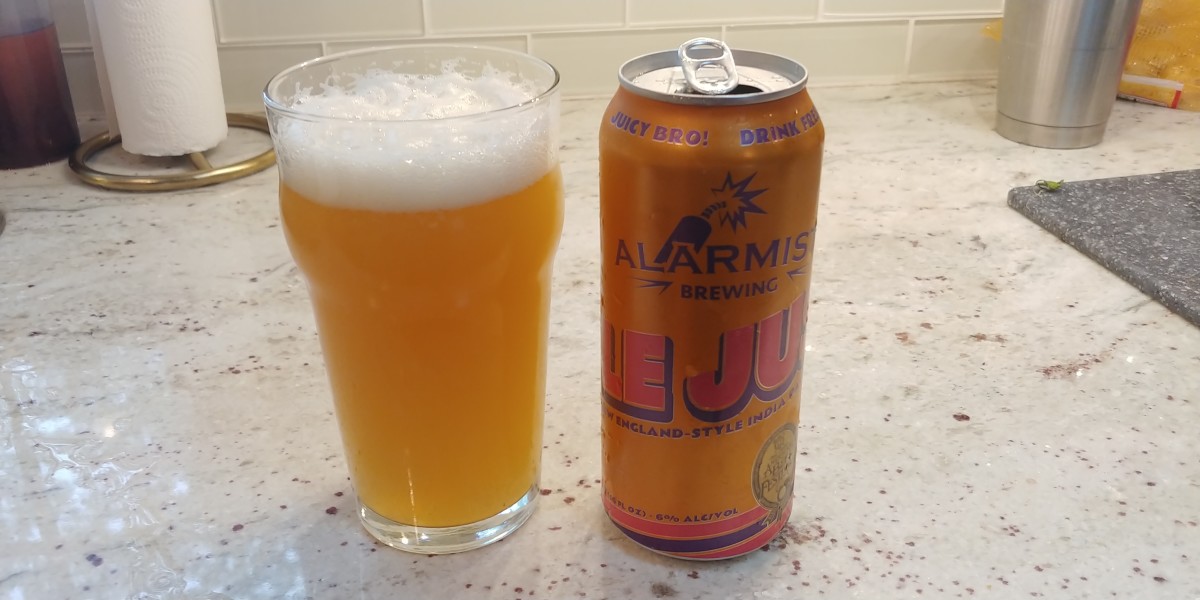 I've heard great things about Le Jus for a long time and I am now finally giving it a try. I'm actually on the fourth one, but that's beside the point. Alarmist Brewing is a Chicago brewery located in the Sauganash neighborhood right off Peterson Avenue. I've only seen a few beers from Alarmist, but I can find Le Jus almost anywhere.
Le Jus is a New England style IPA that sports a modest 6% ABV and a 2018 Great American Beer Festival gold medal winner for Hazy IPA. It pours a glowing orange color with a fluffy inch of head. The foam dissolves slowly to about a quarter-inch that stays for the lifespan of the beer while leaving some beautiful sticky lacing on the inside of the glass. The aroma and taste are all juicy and hazy, exactly what you look for in a NE IPA. It is extremely smooth with no bitterness and finishes off slightly sweet.
What impresses me most about this beer is the fact that it's only 6% ABV and still manages to pack in the flavor. In my experience, I think the higher the ABV the more flavor in a beer, but this is simply not the case for Le Jus. It has loads of tropical fruit with a slight resiny mouthfeel. The only knock I have on this beer is that it costs about $15 for a four-pack, which is getting to be the norm, but it still stings a little bit when I splurge that much for some beer. Alarmist has a wonderful beer here in Le Jus and I encourage everyone to try it out if you have the opportunity.
Happy Drinking!
---