Is this good?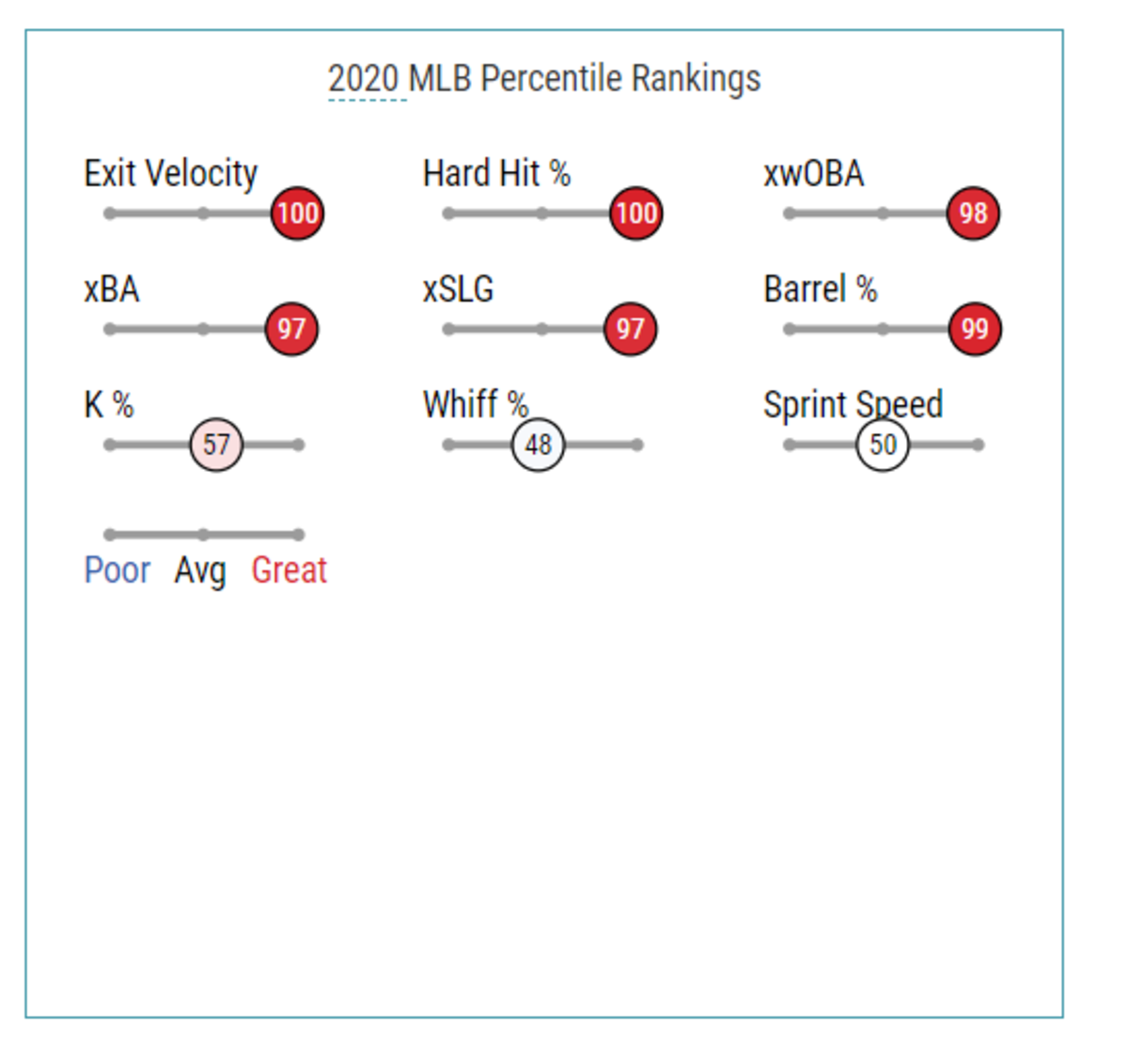 These are the early season Statcast ratings from a very prominent member of the White Sox core. Eloy Jimenez is off to a fantastic start to the 2020 season, to say the least. When he was acquired from the Cubs a little over three years ago, we all assumed he would become a middle-of-the-order force for the White Sox for years to come. It looks as though this is beginning to come to fruition and getting Jimenez out will be a daunting challenge for opposing pitchers for the foreseeable future.
Granted, we are talking about a very small sample size to begin the 2020 season, however, the evolution of Eloy started to take shape following the All-Star break last season. Here's how Eloy's numbers break down prior to the 2019 All-Star break and since:
| | | |
| --- | --- | --- |
| | Pre All-Star 2019 (251 PA) | Post All-Star 2019 (286 PA) |
| Batting Average | .241 | .290 |
| On-Base % | .303 | .329 |
| Slugging % | .482 | .543 |
| wRC+ | 105 | 130 |
Looking at Eloy's numbers, there's a significant jump in his power production.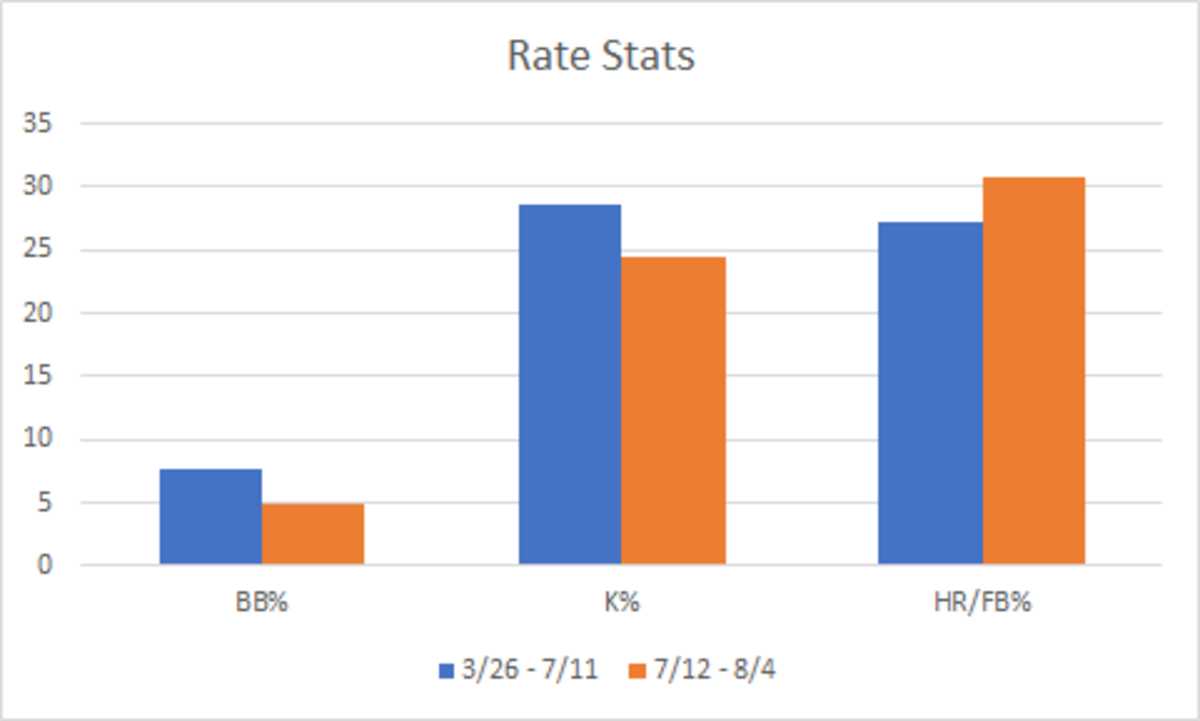 When looking at his rate stats, it's interesting to note the changes in his contact profile. He's getting less selective overall, but when he's swinging the bat he's connecting more frequently and doing significantly more damage. The increased slugging and improved HR/FB rate are exactly what you're looking for out of a middle-of-the-order bat.
Given the Statcast data highlighted at the beginning of this article, it is well within reason to believe that Jimenez will continue to see this improved output as his development progresses. Remember, we are talking about a player with only 537 career PA coming into action today, and he has already adapted to the league in a meaningful way.
Eloy's split data is somewhat perplexing, however. He is quickly developing some odd reverse splits.
vs RHP:
| | | |
| --- | --- | --- |
| | 3/26/19 – 7/11/19 | 7/12/19 – 8/4/20 |
| Batting Average | .255 | .293 |
| On-Base % | .291 | .343 |
| Slugging % | .515 | .571 |
| wRC+ | 108 | 141 |
| BB% | 5.1% | 6.3% |
| K% | 28.0% | 22.2% |
| HR/FB% | 28.3% | 26.5% |
vs LHP:
| | | |
| --- | --- | --- |
| | 3/26/19 – 7/11/19 | 7/12/19 – 8/4/20 |
| Batting Average | .206 | .282 |
| On-Base % | .329 | .291 |
| Slugging % | .397 | .474 |
| wRC+ | 97 | 101 |
| BB% | 13.2% | 1.3% |
| K% | 30.3% | 30.4% |
| HR/FB% | 27.3% | 30.8% |
At this moment in time, it's clear that Eloy is more comfortable in the box against RHP. His data is improving across the board in every metric but HR/FB%. He's making contact more frequently and hammering the ball with consistency when he does. Against southpaws, however, it's quite a different tale. His selectivity against LHP has seemingly evaporated as he's becoming very swing happy, almost looking to get out of the box as quickly as he can. He's starting to drive the ball with more regularity against southpaws, so this will be an interesting development to keep our eyes on moving forward.
With all of this data, it's important to remember that Eloy Jimenez is still only 23 years old and far from a finished product. To me, this marked improvement we've already seen is indicative of a player with elite offensive upside. The walk rate may never be truly elite, but his ability to drive the ball with authority is very apparent and should continue to improve even more as he gets further acclimated to how Major League pitchers are trying to attack him.
When the White Sox acquired Jimenez in July of 2017, they were banking on him being an anchor in the middle of their lineup for much of this decade. It looks as though we are well on our way to seeing this come to fruition. It's going to be an absolute pleasure to watch his continued development and see this offensive force mature right in front of us.
With the significant improvement that has taken place in a short time, I am of the mindset that it's time to take the training wheels off Eloy and move him to a higher position in the lineup. He's been hitting primarily sixth in the Sox lineup to start the season, but given the slow starts of Yasmani Grandal (although he appears to be breaking out of his funk) and Edwin Encarnacion, I believe it makes sense to start getting Eloy more plate appearances in place of these two, particularly Encarnacion.
Continuing to situate him 6th in the lineup is preventing him from accelerating his offensive development and could, in turn, be hampering the Sox from maximizing their run-scoring potential. In 2019, we saw the Sox make the decision to move Yoan Moncada to the number two hole pay dividends and lead to a breakout offensive performance from the star third baseman. It's conceivable that we could see a similar breakout from Jimenez. Given his pedigree and quick ability to already adapt at the highest level, I have little doubt he is up to the task.
The White Sox seem to be going that direction with Eloy, as he will hit fifth in tonight's game at Milwaukee.
I think we can all agree that Eloy Jimenez is going to be an offensive star for much of this decade for our Sox. That star is getting brighter with each passing week as he gains more and more experience and I think it's time to truly let that star shine. We knew Jimenez would eventually settle in as a middle-of-the-order force for a competitive White Sox team, it just looks as though that day has arrived quicker than perhaps we anticipated.
One thing is for certain, I know I'm glad I don't have to worry about Sox pitchers having to face the big Dominican slugger. It's been quite a long time since the Sox had a dominant corner outfield bat, and it's refreshing to know that day is finally here and he's only going to continue getting better. So if you're a pitcher in the American League Central all I have to say is, thoughts and prayers to you.
---