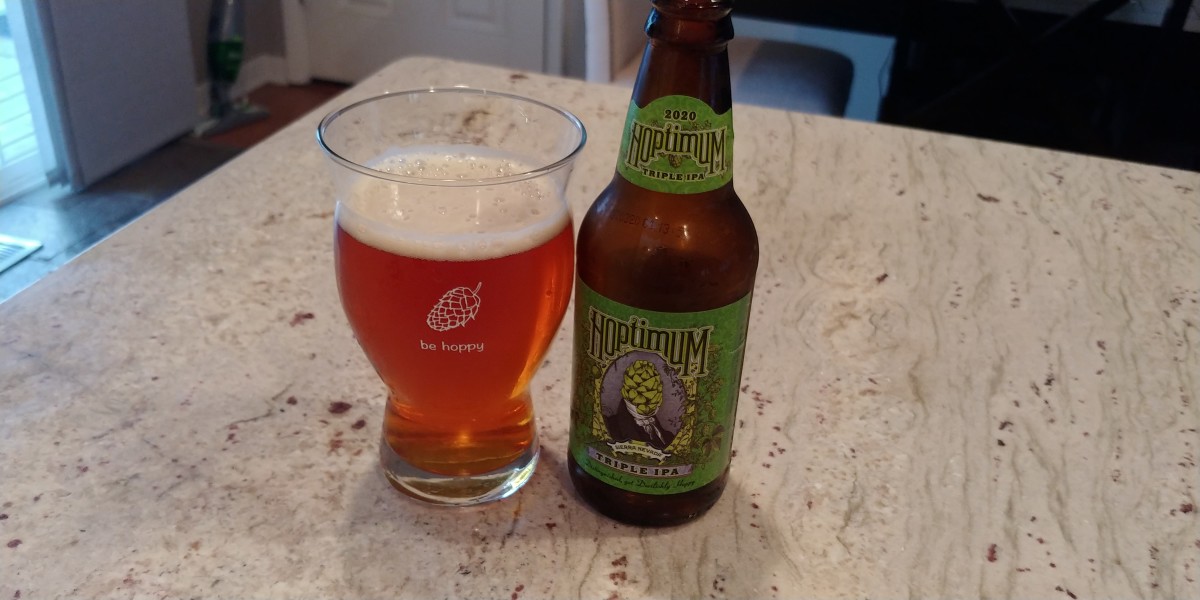 I am very excited about today's review. I first had a Hoptimum from the 2018 release, but I only remember that because I had a picture. I have no recollection on how much I liked that version. Somehow I missed the 2019 drop, but spotted the 2020 this last week at Binny's for $12.99 in a six pack of 10.6% ABV. That is a solid price for today's standards even without considering the quality of the beer yet.
What I love about Sierra Nevada, not only are most of their beers high quality, they still remain a private company, not to be bought out by one of the major beer companies. Even though they are a private company, they seem to be found pretty much everywhere.
First let's take a moment to appreciate one of my new beer glasses. I have touched on the importance of proper glassware in the past and this glass is fantastic. It has etched nucleation in the bottom of the glass which basically creates constant bubbles rising to the top of the beer. Small on the bottom then opens up wide on top to get you the aroma of the beer. Do yourself a favor and invest a couple bucks into some nice glassware and you can see what I'm talking about.
Now, let's focus more on the triple IPA, Hoptimum. In short, this beer is absolutely fantastic. I try out a lot of different beers and rarely do I get the same beer back to back. There are a few brews that I look forward to each year and make a point to pick it up several times when its released. This is now going to be one of those beers. After having the 1st six pack last weekend, I made a point to grab another one this weekend. When poured, it has a beautiful copper color and loads of hops aroma. I think I've said this about several other beers, but this is absolutely my kind of beer. Balance, balance, balance. It's loaded with hops but then it finishes of with a little of that malty sweetness. It has a little of that booziness that I love which is to be expected with a 10.6 ABV beer, but remains smooth all the way through.
Hoptimum is now up there with a handful of my favorite beers, maybe top 10. I'll probably have another six pack or two of this one as I think it's that good. I will also look forward to grabbing it in the following years. The price point is also solid and the beer is fantastic. I definitely recommend getting this one, if you think you can handle it. Hoptimum gets a 9.5/10.
Happy Drinking!
---