No player wants to get sent back down to the minors after his first call up. Not only is it a big hit to a player's confidence, but it also causes that player to rethink everything about his current and future role with that team. At times it can even permanently alter a player's psyche negatively.
Using His Demotion to His Advantage
After a disappointing second half of the 2018 season and a brutal 2019 spring training, Ian Happ found himself in that exact situation last spring. But instead of letting that demotion to AAA negatively impact his mindset, Happ did the opposite. He worked tirelessly to improve every aspect of his offensive approach that was causing his MLB struggles. Most importantly, he shortened his swing and stopped swinging at pitches outside of the strike zone. These were weaknesses in his approach that caused his strikeout percentage to skyrocket in 2018. To no surprise, these adjustments have led to positive results. After a brutal strikeout percentage of 36.1% in 2018, Happ was at 25.0% in 2019 and now sits at 20.8% in 2020. Cutting a strikeout percentage by 15.3% is staggering and seldom seen in baseball, which is a testament to how seriously he took his days in the minor leagues as an opportunity to better himself.
No Longer Just a Slugger, but a Complete Hitter
One would assume that an emphasis on cutting down strikeouts would negatively impact that player's ability to hit for power. But nope, not for Happ. Actually, Happ has significantly improved his slugging ability while simultaneously cutting down his strikeout rate. Fangraphs' ISO sabermetric, which is a statistic that measures a hitter's raw power helps demonstrate this. After a league-average ISO of .176 in 2018, Happ is at .300 in 2020. Not only is this best on the Cubs, even better than known-slugger Willson Contreras, but it also ranks as 20th best in all of baseball.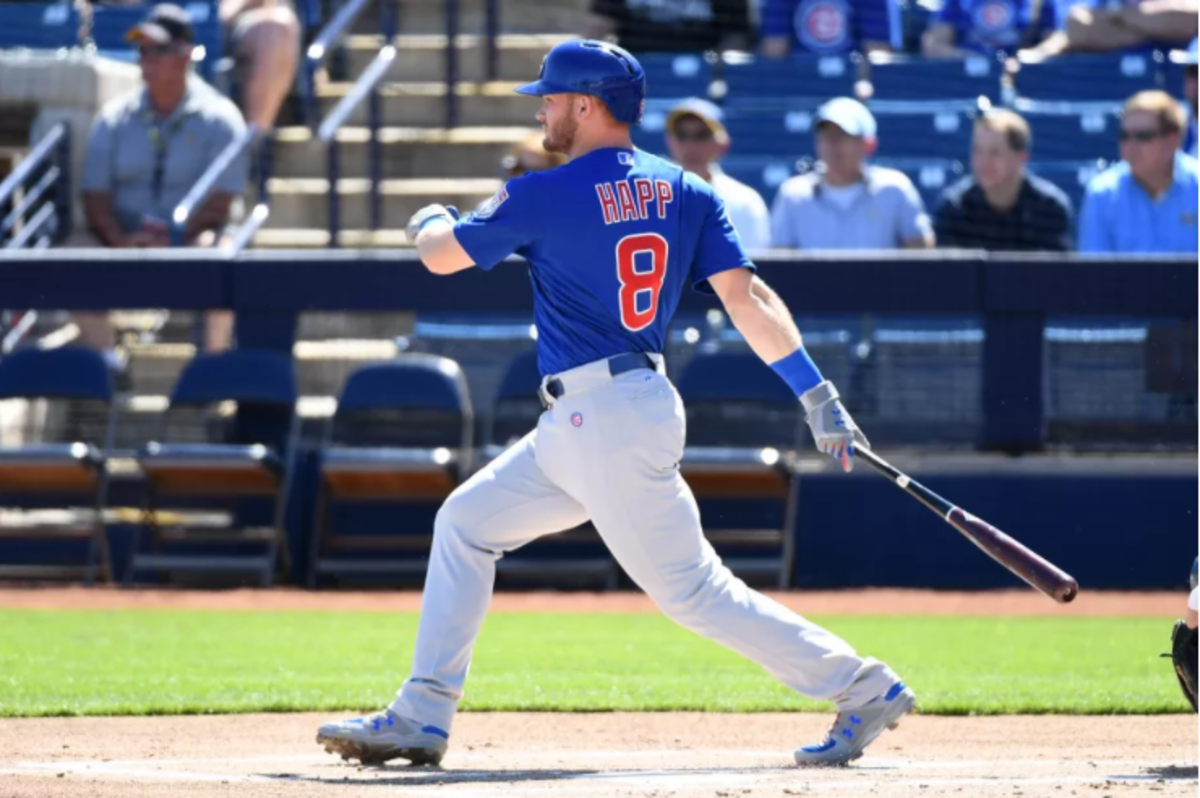 It's not just Happ's raw power that is causing him to burst onto the MLB scene in 2020, he's a complete hitter. His walk rate is 16.7%, 18th best in baseball. Happ's made it a point to stop swinging at pitches out of the zone, which has not only decreased his strikeout rate but increased his walkability. Also, it's not like Happ is either hitting it over the fence or taking a walk. His on-base percentage is .438, good for seventh-best in baseball. And if you need one more indication of just how great Happ has been in 2020, let's take a look at FanGraphs' wRC+ metric, which is an all-encompassing sabermetric that values a player's overall offensive production. Happ sits in at 189, meaning he's hitting 89% above league-average, which is eighth-best in baseball. He has the same wRC+ as Mike Trout, who also sits at 189. How's that for a benchmark of Happ's 2020 offensive production?
A Unicornesque Skillset Points to a Limitless Ceiling
Happ naysayers will say that 2020 is only 14 games in and that all of this could be a statistical outlier, but that is far from the case. Happ has been putting up these numbers since being called up from AAA last July. When putting 2019 and 2020 together, he has ~200 plate appearances of data that proves he's one of the most gifted offensive players not only on the Cubs, but in all of baseball. Below is a list of MLB's top centerfielders based on fWAR as of Happ's call-up date on July 25, 2019.

The fact of the matter is that Happ is the type of player you rarely see: a switch hitter who can play 6 positions and hit for extreme power. Normally, that type of defensive versatility comes with a high contact guy who can't hit for extra bases. Not the case with Happ. This unicorn-like ability points to one conclusion: the guy has as high of a ceiling as anybody on this Cubs roster. Yes, even as high as Javier Baez and Kris Bryant. People forget that Ian Happ just turned 26 (his birthday is today, August 12th), a full 2.5 years younger than Bryant. He is just scratching the surface of his ability, and right now, there doesn't seem to be any weaknesses in his offensive game that point to a limited ceiling. According to fWAR, he's been the best player on the Cubs in 2020 and a top 10 hitter in baseball. Centerfield was a positional sinkhole in 2019 for the club and Happ has turned it into a position of strength. Manager David Ross told reporters that the centerfield job is now his this season this past Sunday. It's about damn time.
---