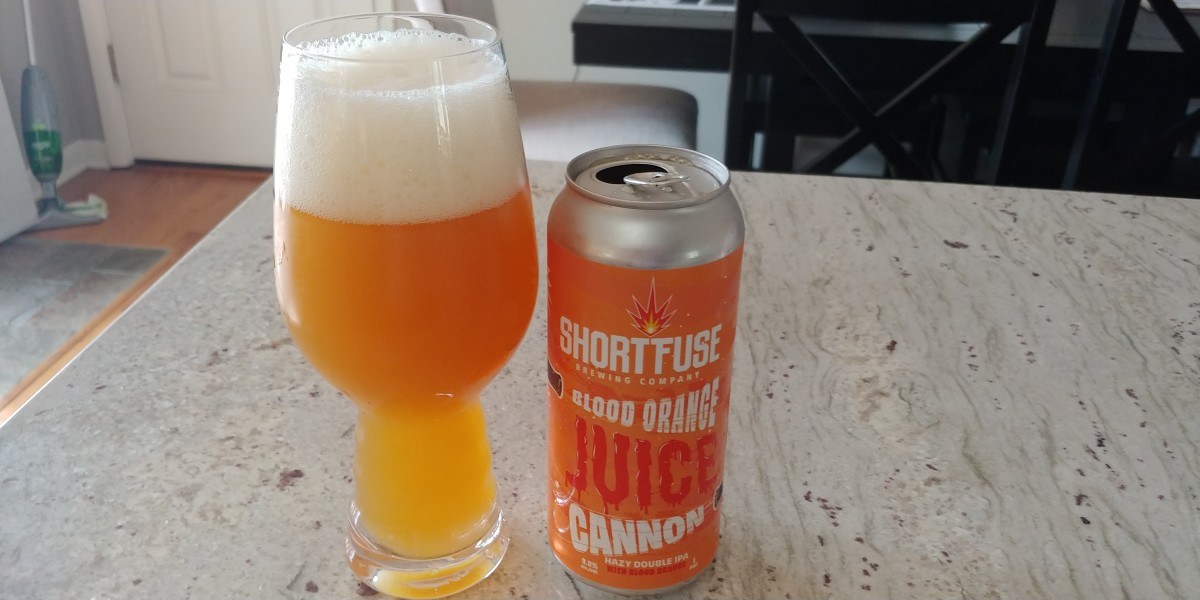 I have had quite a few beers from Short Fuse Brewing out of Schiller Park, but somehow this is the first review I've done on one of their beers. This one is from their Juice Cannon series dubbed Blood Orange. It is a hazy double IPA with a 9.8% ABV.
Once again, take a look at yet another new beer glass of mine. It is a glass specifically made for IPAs. You see how it creates a nice head at the tip. This one is a 19 oz glass so it's great for the 16 oz beers as it leaves plenty of room to breathe.
Blood Orange Juice Cannon is a lovely looking beer with a deep orange color coming through the wider part of the glass and a little clearer in the narrow part. In my fancy IPA glass, it created two inches of foam that receded into a thin layer when it settled. The aroma comes off as mostly orange peel, staying consistent with the name. Bitterness is not much of a factor in this beer, as it's mostly sweet all the way with a bit of a dry finish. Now, this is my second beer that was brewed with blood oranges. The other one I had seemed a little bit overwhelming, taking my attention away from the beer itself. This one seems to be a little more subtle with the blood orange flavor. For me, that works.
Lastly, for a 9.8% beer, it is unbelievably smooth. It does not seem like that at all. Usually I like to feel the strength of the beer, but I was hoping to get something a little more refreshing for the weekend and this hit the nail on the head. It's smooth, refreshing, but still more than strong enough to get the job done out of a four-pack. This one gets my stamp of approval.
Happy Drinking!
---