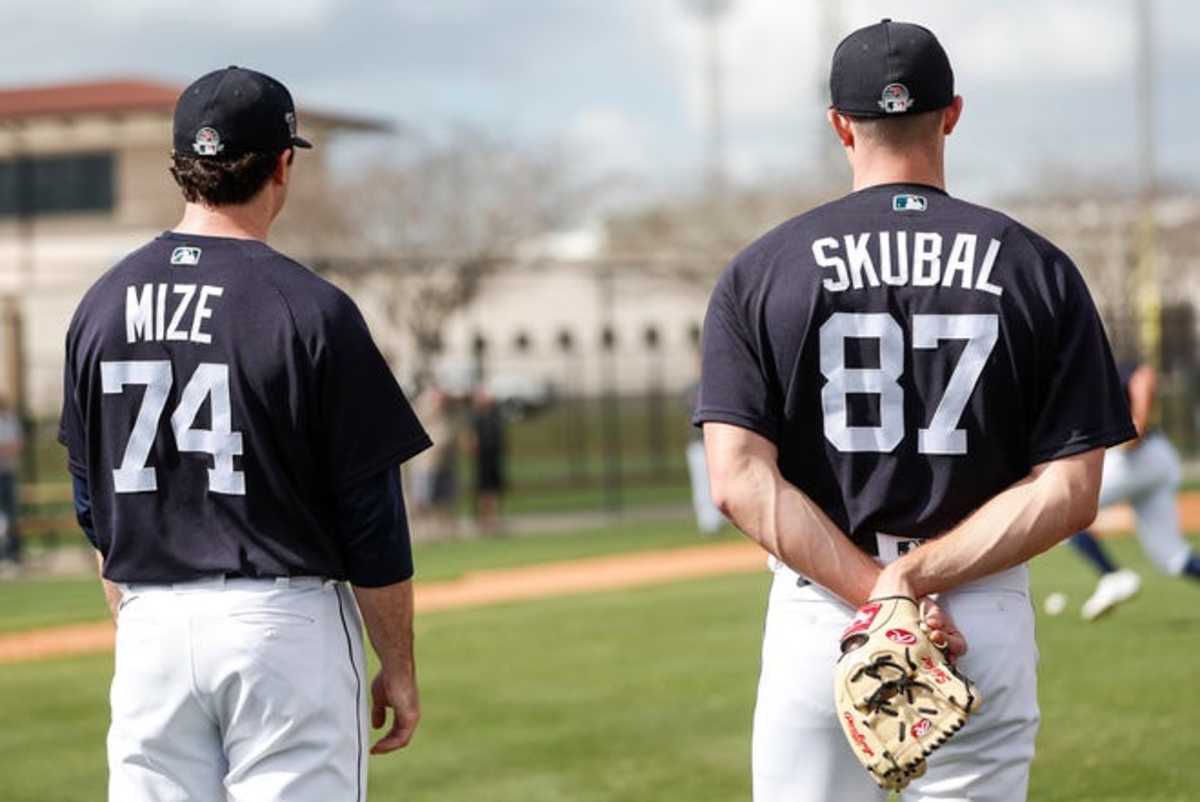 As Chicago sports fans, and White Sox fans in particular, I think we can all agree that few words ring more true than when someone says "Detroit sucks!" Over the next two nights, the White Sox will get a glimpse into the future against their division rivals. The Tigers have called up highly touted pitching prospects Tarik Skubal and Casey Mize to start tonight and Wednesday, respectively.
So who are these two young hurlers and what should Sox fans expect from them over the coming years? We'll start with Tuesday's starter, Skubal.
Tarik Skubal
The 23-year-old southpaw was a ninth-round selection of the Tigers in the 2018 MLB Draft out of small-time Seattle University. During his collegiate tenure, Skubal pitched to unimpressive results. In his junior season, he recorded a 4.16 ERA over 80 IP with 11.2 K/9.
However, the raw stuff was enough for the Tigers to take a risk on Skubal with a ninth-round selection. Since arriving in pro ball, Skubal has really taken off getting him to where he is today. In 145 IP in the Tigers' system, he's pitched to a 2.11 ERA, 13.2 K/9, 2.5 BB/9, and a minuscule 0.4 HR/9.
During his first full season of pro ball in 2019 he reached AA Erie and was truly dominant. In 42.1IP, he had a 2.13 ERA and a gaudy 17.4 K/9. This performance has led to the southpaw being a consensus Top 100 prospect heading into the season, ranked as high as #34 overall by Baseball America.
Skubal will feature a 93-95 MPH fastball that can touch as high as 97 with late life, which will play up from the left side. He compliments this with a plus slider that he often uses to back foot right-handed hitters into the ground, ala Randy Johnson. His curveball is still a work in progress as it has a tendency to get a little loopy at times taking away its effectiveness as a tertiary offering. Skubal buried right-handed hitters in 2019 as he limited them to a .180/.259/.304 slash line in 2019. Long-term, he projects to be a number three starter with upside of a high-end number two if he reaches his ceiling.
Casey Mize
On Wednesday night, the Sox will get their first glimpse at the 2018 first overall pick, Casey Mize. The big righty came to the Tigers after a 2018 season pitching for the Auburn Tigers (#WarEagle) in the powerhouse SEC. During that junior season, Mize went 10-6 with a 3.30 ERA over 114 IP. Throughout his collegiate career, Mize displayed elite control and command — evidenced by his 12.2 K/9 and 1.3 BB/9 — leading to the Tigers selecting him as the top pick in the draft.
Since arriving in affiliated ball, Mize has 123 IP with a 2.71 ERA, 8.8 K/9, 1.9 BB/9, and 0.5 HR/9. His ability to command the fastball to both sides of the plate is his calling card, as he has been a strike-pumping machine. Mize was able to reach AA Erie, like Skubal, during his first full pro season in 2019. There he recorded 78.2 IP with a 3.20 ERA, 8.7 K/9, 2.1 BB/9, and 0.6 HR/9.
Mize is going to feature a 93-95 MPH fastball that can reach as high as 97, again with command to both sides of the plate. He has an improving slider that, should it develop into a plus pitch, will only elevate his position as a potential top-of-the-rotation arm. Mize's true wipeout pitch at the moment is a mid-80s splitter that has late tumbling action. Mize uses this pitch to put hitters away when getting ahead in counts. The late diving action frequently causes opposing hitters to swing over the top of the pitch. Should Mize reach his ceiling, he projects as a number one or two starter for the Motor City kitties.
Looking to the Future
The next two nights will present a little glimpse into the future of what the White Sox/Tigers rivalry will be over the next 6-7 years. If the Sox are going to reach their ceiling as an overall unit, they are going to have to beat the likes of Mize, Skubal, and eventually Matt Manning when he gets to Detroit. For their part, the Tigers are hoping Mize can develop into their next franchise stalwart the way Justin Verlander did upon his arrival in 2005.
The Tigers are rapidly building an impressive crop of young hurlers that they are hoping will lead their rotation back to the postseason sooner rather than later. Ultimately, the success of the team will depend on how they augment these starters and the willingness of the Illitch children to spend the way their father did before his passing in 2019. Nothing would make me happier than to see the Sox provide a roadblock that stands in the way of Detroit ending their nearly four-decade title drought. Hopefully, the Sox can light up the two hurlers over the next few nights so we can all collectively chant and tweet "Detroit sucks!"
---