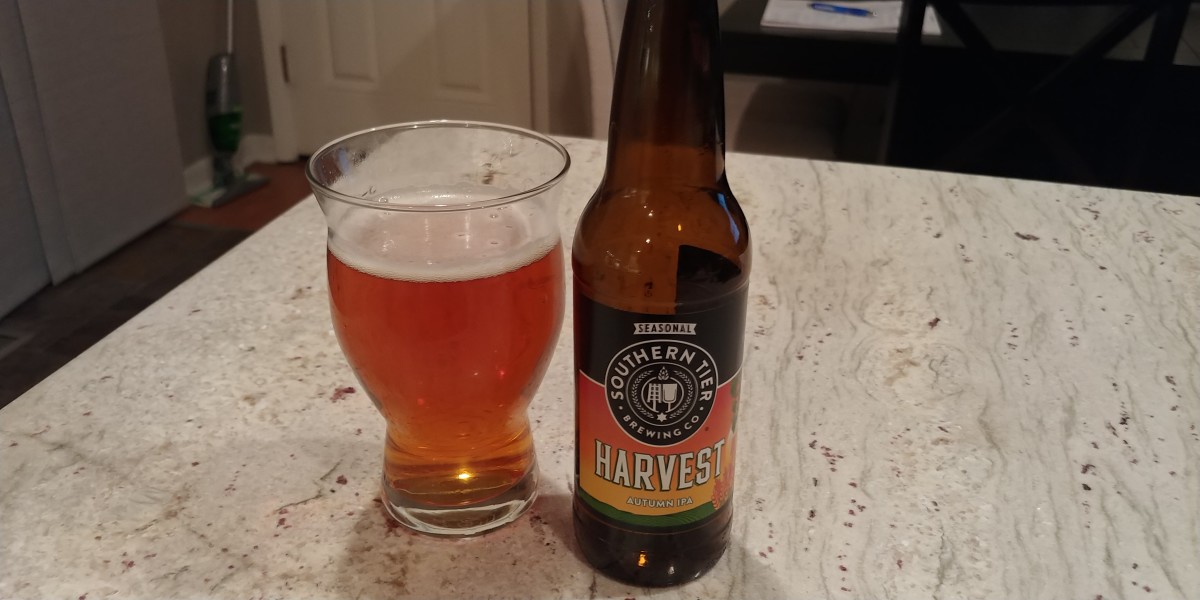 Today we are going back to Southern Tier Brewing Co for Harvest, an Autumn style IPA. What is an Autumn IPA you ask? I guess I will get into that. Personally I think it is way too early for all the fall Oktoberfest, Märzen, pumpkin beers and what have you to be coming out already. I need the temperature to be regularly in the low 70s or 60s to be consuming those. Alas, you will see in your local liquor stores that they are starting to take over. However, I do not quite find Harvest to be in the same categories as those other beers, so for me this is an exception to my rule.
Harvest has a light copper color that does not have much head, but as you can see in the picture it does leave a thin layer for the duration of the beer. The aroma immediately comes off as dank, but not in an overwhelming fashion. The taste is where this one gets interesting. It has your typical IPA bitterness but I can really taste the barley. It keeps this beer a little stiffer. There is nothing sweet going on. If you've ever had a rye IPA, that's closer to what you could expect. It's grainy, bitter, and dry, and I can understand why they release this during the fall season. It tastes great now and as the temperature starts to drop this will be a fantastic beer to drink around the fire. It packs 6.7% ABV as well, which is a little higher than you can expect to see from most other Fall style beers.
This is one of my favorite beers from Southern Tier and I look forward to getting it every year. Another plus is this one is always easy on the wallet. A six-pack was only $8.99 from Binny's.
Happy Drinking!
---