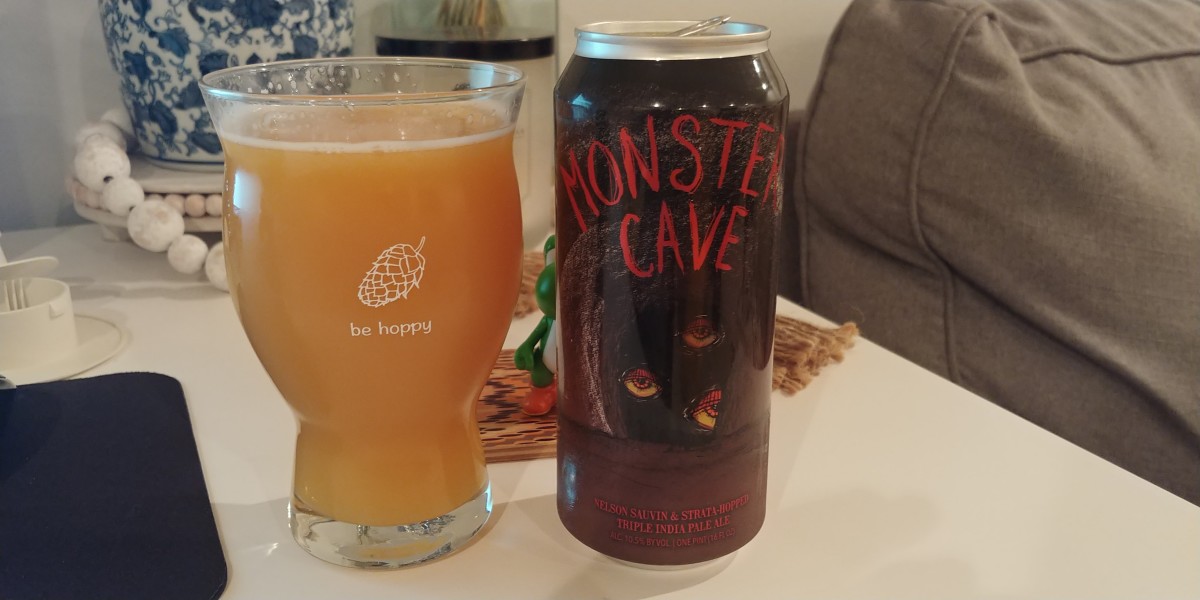 Guys, this is an emergency. No time to talk. Got a little $20 tip today on a delivery so I decided to splurge on a beer. Browsing the Binny's, I spotted the newest Hop Butcher for the World, Monster Cave. It's a triple IPA with a 10.5% ABV and a sweet can. They always have some great artwork.
Long story short, this beer is absolutely phenomenal — easily a top-five beer. It's juicy, hoppy, and just boozy enough. "Wow" is the word that came out of my mouth upon the first sip. The flavors are just amazingly robust and incredibly balanced. Even though it's 10.5% ABV, it's also so damn smooth. I really want to drink all four but I also want to take the time to savor the last two at another time. Obviously it's also a beautiful looking beer. Pouring it into the glass, I could see how hazy the beer was. There was not much of a head but on something like this, it doesn't matter.
I am drinking this on Friday night. If you are reading this, when you are at Binny's on Saturday you need to hunt down this beer and body check anybody standing in the way of the display. At my Binny's in Arlington Heights, they were only allowing one four-pack per person. This beer was $18.99 for a frickin' four-pack. That is the most I've ever spent on a four-pack or even a six-pack of beer. Hop Butcher has the reputation for being one of the best breweries around and so far it's living up to the hype. They usually sell out pretty quick so that's why I am saying grab it while you can. Even though it's a little pricey it's definitely worth it. Monster Cave gets a 9.8 out of 10. Buy it yesterday.
Happy Drinking!
---