Lucas Giolito etched his name into the White Sox history books by throwing a no-hitter yesterday. In his postgame interview, the big righty hurler credited catcher James McCann for it and claimed he only shook off one of McCann's pitch calls.
In the ninth inning, I noticed a rapport between pitcher and catcher that I have never seen before. Giolito was struggling to locate his changeup. It was all over the place, most likely because of the magnitude of the situation.
Just last week, Giolito noted that McCann's pitch selection calms him down. Well, in the ninth inning in the biggest game of Giolito's young career so far, McCann defaulted to using a slider as Giolito's primary offspeed pitch instead of the changeup. This, perhaps, saved the no-hitter. Gio threw 16 sliders all game. Most of them took place during the ninth inning. That is a catcher knowing his pitcher.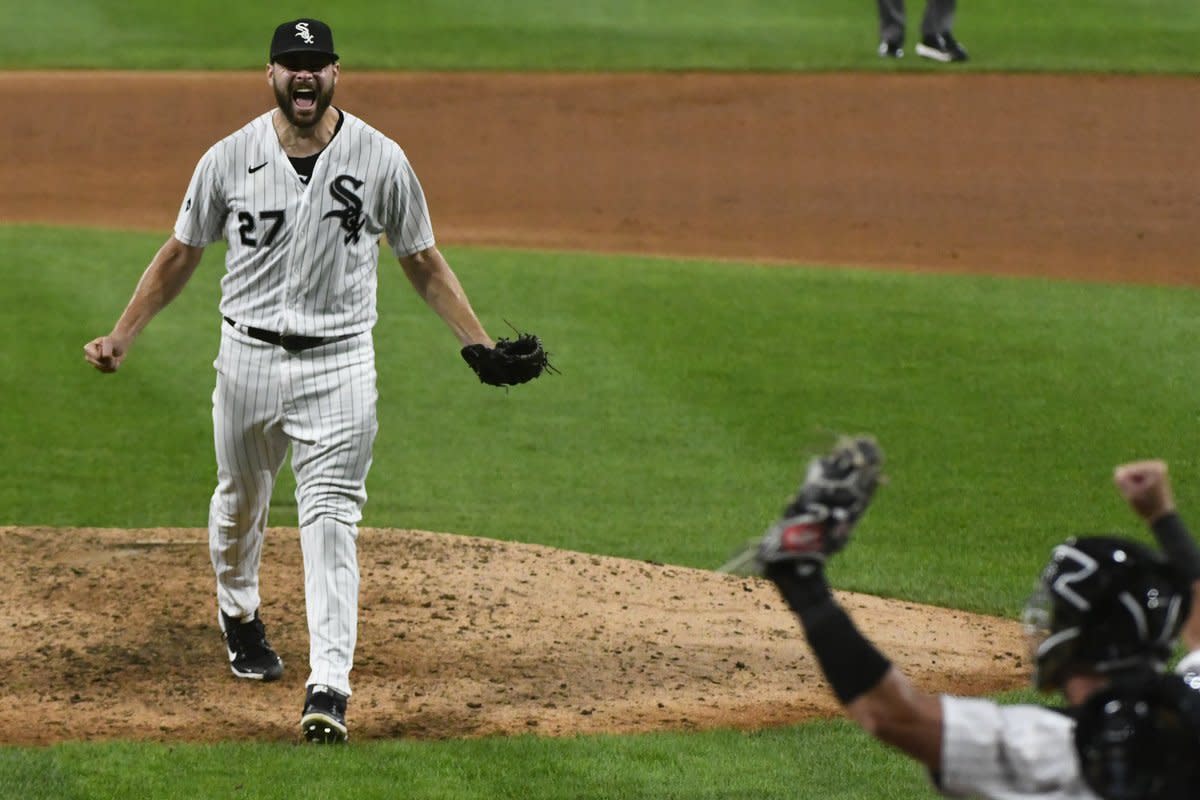 James McCann has been a pleasant surprise for the White Sox ever since he put on the pinstripes. Last season, McCann was not necessarily the best defensive catcher in the MLB. In fact, according to Statcast, he ranked last in pitch-framing metrics, notably in Runs Extra Strikes, a stat which converts strikes to runs for the catcher.
However, he caught every game of Giolito's and the two sported a 3.41 ERA with a .373 slugging percentage. Not to mention that McCann also posted a .273/.328/.460 slash line at the plate for the 2019 season, ranking in the 69th percentile in Exit Velocity and the 79th percentile in Hard Hit Percentage.
McCann has continued his success in 2020 with a Hard Hit Percentage of 47.4%, a .347/.411/.531 slash line, and improving his pitch framing to rank in the 68th percentile of MLB catchers. Yes, this is a shortened season, but it is still a notable improvement.
McCann is on a one-year, $5.4 million contract for the 2020 season. Edwin Encarnacion is on a one-year, $11 million contract for 2020 with a 2021 White Sox team option for $12 million. More than likely, the White Sox will let Encarnacion walk after the season because it seems like age has caught up to him. Top prospect Andrew Vaughn also waits in the wings for his shot with the MLB club.
Lucas Giolito sports a 3.11 ERA in 199.2 innings with McCann behind the dish between 2019 and 2020. The White Sox should let Encarnacion find a new home. Instead of searching for a designated hitter in free agency, the club should bring back McCann to split time behind the plate with Yasmani Grandal and share the DH role with Andrew Vaughn in 2021. Keep the ace of your staff happy, go find some depth in the starting rotation, and go win yourself a World Series in 2021. James McCann deserves to be part of that moment on the South Side.
---