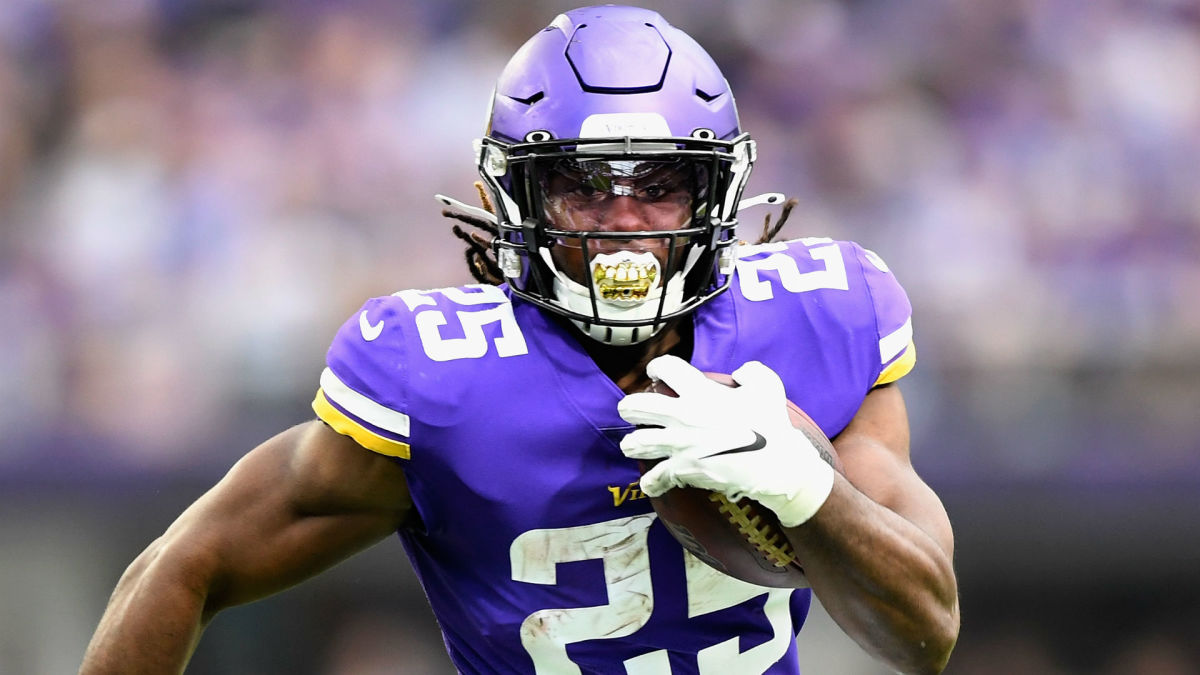 Fantasy football always brings about its own challenges, but this year brings about even more unique and distinct challenges to consider. The COVID-19 pandemic changes the already arduous fantasy landscape. With the utmost respect and sensitivity given to this pandemic and the people affected by the virus in any way, we will explore how the fantasy football season is going to be different this year. While the CDC released their recommendations to address the pandemic, we'll discuss some recommendations on how to navigate this unknown fantasy season.
Handcuffs
As my colleague here at On Tap Sports Net, Premier Amp, likes to state, this could be the year of handcuffs, due to the fact that pretty much any player can miss some time. So, this is the season to branch out and bet on talented backups.
Do not be afraid to pick up players even if they were part of a tandem or not "the guy" yet. I am not saying to load your bench or team with players who will not yield immediate dividends, but this could mean that some lesser known players might end up producing some important fantasy numbers. Try to have a spot or two on your bench to keep that "next man up" on teams in case the starter has to miss time.  
Waiver Wire
Monitor the waiver wire regularly and do not be afraid to strike when a valuable player becomes available. However, your league might have their waiver process set up a certain way, so make sure you familiarize yourself with the rules.
Waiver capita is pretty valuable during the fantasy season, so do your best to position yourself to acquire that player that just became a starter. Some leagues drop players to the bottom of waiver priority with claims, so it could be worthwhile to hold off on claims to prepare for different scenarios that may happen. How players manage and utilize their waiver rules is often what separates the good teams in leagues.
Health Information
I am not an epidemiologist and I'll assume that many of you are not as well. But, there is some information that is relatively easy to obtain and interpret, and that is the prevalence rate in an area. We saw this be a factor in the MLB, where Florida had a resurgence in cases and the Marlins had to suspend games as their team had a COVID-19 outbreak. This information and data may decipher some players who might be at greater risk to miss some time. This changes regularly and is hard to predict, but it could be just another statistic that might factor into fantasy football. Also, there is such a thing as acquired immunity, although there is a debate as to how relevant this is, or if even a COVID-19 infection leads to acquired immunity, so information about a player that has been previously infected could be a factor in acquiring players.
Players just like everyone else have a right to health privacy, but if this information does happen to become available, then incorporating it into your fantasy decisions might be wise. If you do want to believe in acquired immunity for COVID-19, then that could be data that helps to distinguish players that are close in values. 
Diversify Teams
Having players from a variety of teams might be even more valuable right now. I do not know the NFL's plan, if there is one, to address COVID-19 outbreaks on NFL teams. For preventative means, it might be better to not have many players on the same NFL team on your fantasy team. This could help prevent problems if one team suffers an outbreak, as you would potentially have internal replacements. Also, does the NFL cancel or postpone games due to a severe outbreak? There are still a lot of unknowns but I think having a team that has players from different NFL teams might outweigh any benefit of having teammates.
I am not saying to not take a lot of players from say the Chiefs because they are most likely going to have a good offense and have a high fantasy output, but in this landscape there are more factors to consider this year. Furthermore, it might prove wise to have more backups at valuable positions and to not use a roster spot on a backup kicker or a second defense. Positions that can be streamed might not be worthy of having an extra roster spot for positions that generate more points and that are more difficult to stream. 
In this unknown and treacherous fantasy landscape, incorporating this information might just give you the edge needed to win your league.
---