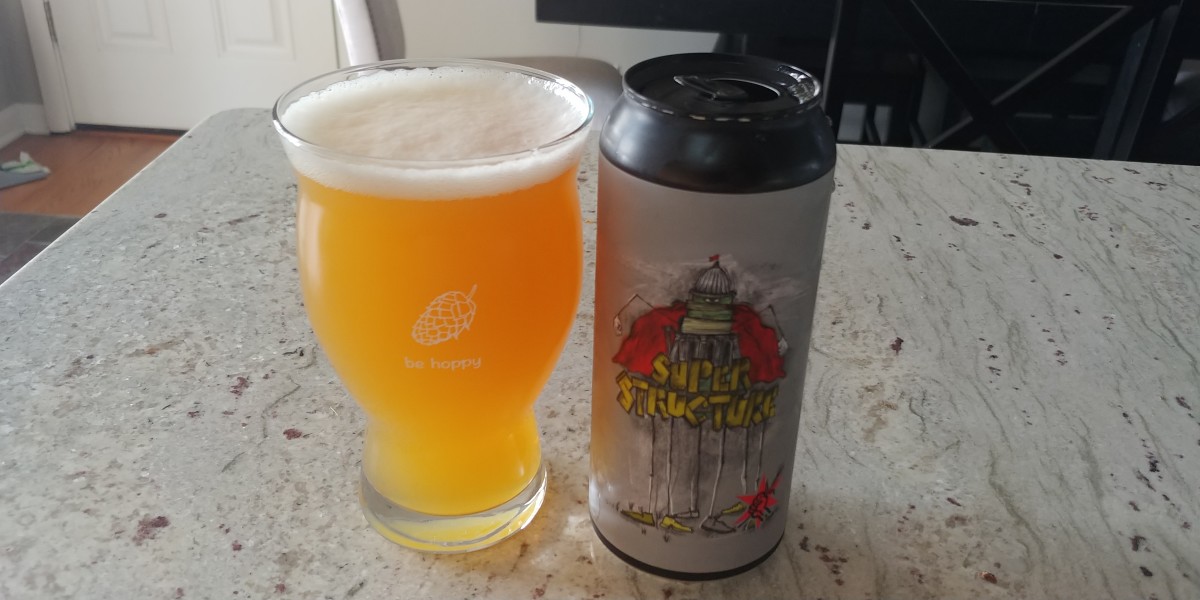 Yes, you read that right. This is a collab by two Chicago craft beer juggernauts, Revolution and Hop Butcher for the World. I first recognized the Hop Butcher artwork on the can and of course wanted to take a closer look. I then saw the Revolution tag on the back of the can, I quickly realized what this was. Revolution is a standard around these parts and Hop Butcher is like a cult following. I wrote a review on Monster Cave the other day, and I went back to Binny's two days later and they were already sold out. So yeah, it's kind of a big deal.
Whoa. I think they put dye or something in there. How else could it be such a glowing orange? Also, look at that perfect 1/4 inch of foam on there. Superstructure is labeled an imperial hazy IPA with a 9% ABV. This particular can was filled on 8/6.
This is an extremely easy drinker with the 9% ABV almost completely masked by the juicy and floral notes of the beer. Personally, I wish it had that bitter or strong finish that I love, but that's just what I like. I think the masses would absolutely love this beer just the way it is. In no way am I saying I don't enjoy this beer, I am going to down the whole 4 pack this weekend. I give this one a 9/10.
There's another couple of beers they collabed on as well. One is called Base, a west coast style pale ale. The other is called Maintains and Shapes, an IPL (India pale lager) that I haven't seen, but sounds very interesting. Any of the three I'm sure are worth checking out.
Happy Drinking!
---